Chinese conglomerate BYD will start production of its first electric vehicles (EV) in Southeast Asia in around 2024. The new facility is expected to produce 150,000 vehicles per year, mostly for export to Southeast Asia and Europe. However, water shortages in the region could worsen tensions with farmers over access, and new planned reservoirs will diminish important animal habitats.
Located in the Rayong 36 Industrial Estate in Thailand's eastern province of Rayong, the BYD venture will cover around 96 hectares, according to a joint statement from BYD and industrial developer WHA. WHA said the land purchase by BYD was the developer's "most significant [deal] in 20 years." 
BYD plans to invest about 30 billion baht (US$865 million) in production, according to Thailand's Eastern Economic Corridor (EEC) Office. Thailand's Board of Investment (BOI), which promotes foreign investment into the country, last month approved BYD's 18 billion baht (US$516 million) plan to manufacture battery-powered vehicles and plug-in hybrid electric vehicles in the country. This deal follows BYD's partnership with local distributor Rever Automotive Co, which announced last month it will start selling BYD cars in dealerships across Thailand by the end of 2022.
Thailand's EEC has been a hotbed of manufacturing for overseas investors for decades, with notable costs to the environment. The BYD plant marks one of the largest single investments ever in the EEC, but the scale of the production plant has raised concerns among people who will be directly affected by it, environmental activists, and some opposition politicians.
Water fight with durian farmers
"I foresee a water crisis. It's my biggest concern," says Tiwa Taeng-on, who's lived near the new Rayong BYD factory site for three decades. "Industries in Rayong are already in a water-shortage situation. The arrival of large investments like that of BYD will add more tension to this crisis. What can be foreseen is a water fight between industries and other sectors. The first, for sure, will be the durian farmers in Rayong and nearby Chanthaburi province."
Durian farming in Thailand occupied around 915,000 rai (1,464 square kilometres) in 2022 and produced 1,321,600 tonnes of durians for domestic and export markets, according to the figures from the Center for International Trade Studies.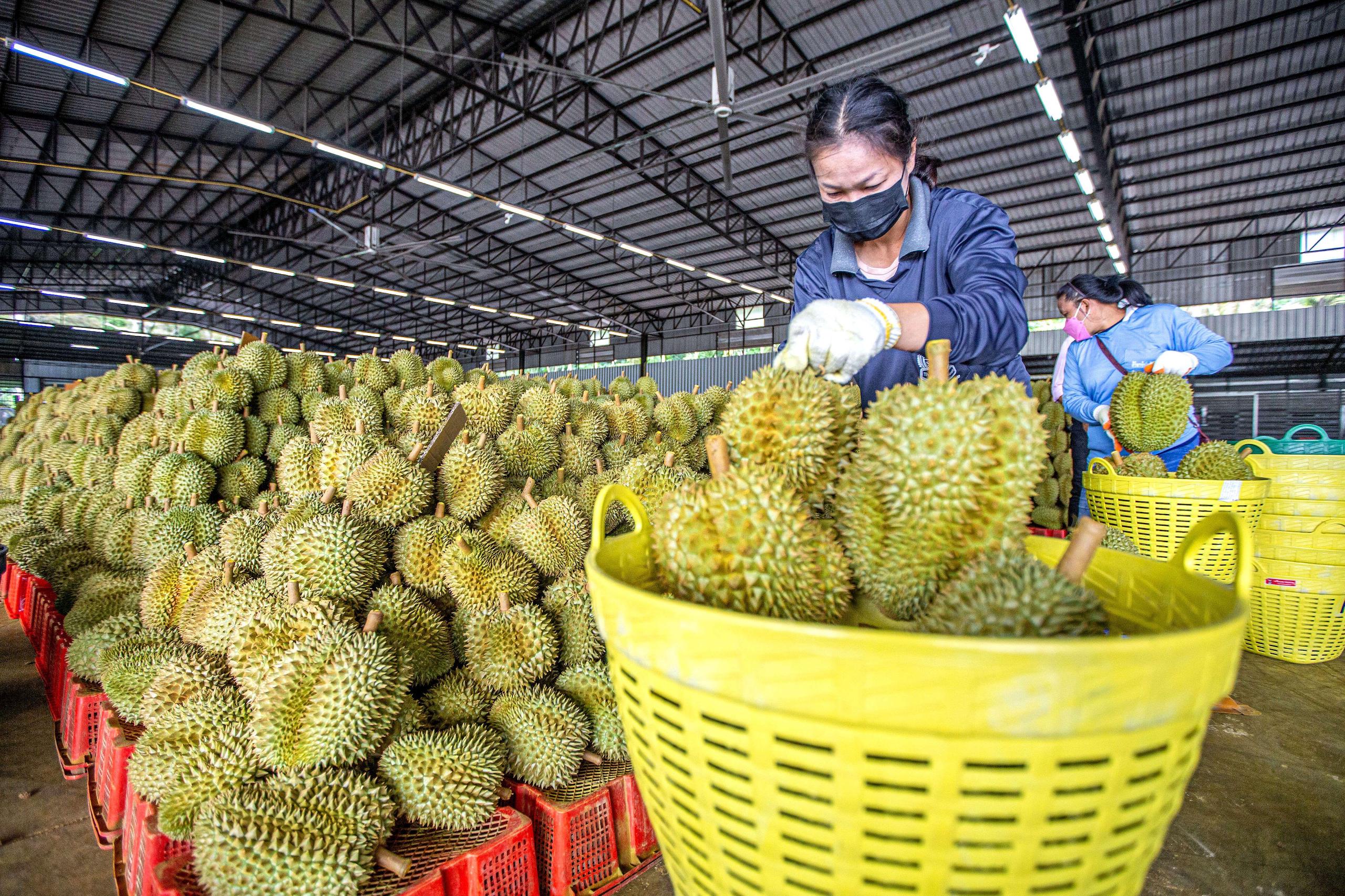 Durian requires water all year round and is a heavy consumer, especially during the fruiting period. The fruit has fast become a high-earning crop for farmers, enticing more farmers to cultivate it, says Tiwa.
"Currently, we have around two million rai of durian farms just in Chanthaburi province," says Somneuk Jongmeewasin, an independent researcher at EEC Watch Group, a local network that monitors industrial developments in Thailand's Eastern region.
"A water fight between Rayong industries and durian farms is only part of the industry versus agriculture water fight," Somneuk says. "While water demand in all sectors is increasing, water supply is extremely limited in the three EEC provinces. We can say that without a water supply from Chanthaburi, industries in Rayong could hardly survive. Every year, Rayong needs an additional 70 million cubic metres of water from outside. What would happen if the entire 35 EEC zones were fully operational?"
Watershed and wildlife impact
The growing water demand in Rayong has put pressure on the authorities to build reservoirs to increase the supply. One such project is Wangtanod in Chanthaburi, a more than 20-square-kilometre reservoir that will be constructed in the forest areas of Khao Sibha Chan National Park and Paa Khunsong Forest Reserve.
"It will significantly affect most wildlife species living in the area, especially wild elephants. The large reservoir will cost them habitat and food and force them into community areas for food, which is mostly agricultural crops, increasing man and elephant conflict," says Phanudej Kerdmali, secretary general of Sueb Nakhasathian Foundation, a conservation group.
The park is part of five connected conservation areas and the largest forest area in Thailand's Eastern region. At 2,350 square kilometres, the area is host to two wildlife sanctuaries and three national parks, stretching across five provinces. It's home to 54 rare species, 12 endemic species, 39 threatened species and three conserved species, according to a park research centre.
Rayong's water comes from three main reservoirs: Klong Yai, Nong Plalai and Dok Kray, with a total capacity of 320 million cubic metres. The Royal Irrigation Department forecasts that more reservoirs are required to cope with future demand and has planned four projects in Chanthaburi, with a total capacity of 240 million cubic metres. This includes the Wangtanod reservoir, which is set to hold 99.5 million cubic metres.
"One has been built, two are under construction, and the most controversial, Wangtanod, is facing strong opposition from environmental groups and local people," says EEC Watch's Somneuk.
Outside the industrial zone, residents in the three EEC provinces face regular water shortages and quality issues, says Bencha Saengchan, a politician from the progressive Move Forward party. 
"In many areas of Chonburi, the water authority will announce a closure every three to four days due to a shortage of supply. A common problem is the rusty colour of tap water," says Bencha, reflecting complaints she's received from residents.
"Buying drinking water is a common practice for EEC residences. What can we do when all water management controls are in the hands of RID or private hands?" asks Tiwa.
In the dark
Thailand is expected to hold elections in mid-2023. The current government has been a major force in promoting EV production in the EEC. Prime Minister Prayut Chan-o-cha said at the APEC (Asia-Pacific Economic Cooperation) summit in November that the goal is to make Thailand one of the world's largest EV manufacturers. Local people at EEC development sites might already be feeling the effects but the issue gets little public recognition.
The Chinese EV manufacturer, which is backed by Warren Buffett's Berkshire Hathaway, is among the latest companies to take advantage of the Thai government's tax incentives to make Thailand "the EV production hub of Southeast Asia". Earlier this year, the Thai government allocated approximately 43 billion baht ($1.24 billion) through 2025 to promote the use of EVs.
"Amid the one-sided information, we found that there's no necessary information available for the public to monitor EEC policy, including basic details of each project that could help with monitoring impacts at sites," says Somneuk. He claims the EEC policy is rooted in the politics of the military coup eight years ago that led to the EEC Administration Board being given powers to overrule regulations, including those of the Environment Act and City Planning Act.

Bencha says that even the House Committee "faces difficulties when requesting basic information that should be disclosed to the public, but is often denied by authorities claiming confidentiality." He says the party submitted recommendations on the EEC to parliament but has received no response from the government.
"If you ask, 'How will the BYD [investment] impact?' I can say we don't know," says local resident Tiwa. "How can we know when the only information available to us is their huge investment and the size of their plan, but no details at all on their plant."