In March, start-up BasiGo became the first company to launch an electric passenger bus in Kenya. The buses, which can travel 250 kilometres on one charge, are assembled locally using parts designed by Chinese car making giant BYD.
"We selected BYD because they are the largest manufacturer of electric buses globally and they are known for battery technology that is state-of-the-art," BasiGo co-founder and CEO Jit Bhattacharya told China Dialogue.
As the Kenyan government pushes EVs in the country, Swedish–Kenyan company Roam Motors (formerly Opibus) is also expanding its presence and sales. In both cases, local actors have teamed up with international partners to find opportunities in the auto market.
Kenya's EV potential
Although producing EVs is not without environmental impacts given the effects of mining and processing lithium, nickel, cobalt and other necessary metals, when it comes to running them, Kenya is well positioned to have an exceptionally green EV market. In 2020, around 90% of the electricity used in the country was generated from renewables, including hydropower, geothermal, solar PV and wind. Kenya is targeting 100% clean energy use by 2030.
Geothermal, which is low cost and has low emissions, contributes over 40% of electricity generation in the country. As of 2020, Kenya was the largest geothermal energy producer in Africa, with some 672 megawatts (MW) of capacity.
The Kenyan power sector currently has an installed capacity of 2,991 MW, and peak loads reaching 1,944 MW. Off-peak loads – such as in the evening, when many people would charge their cars – sit at around 1,200 MW. There is therefore plenty of scope to service the increased electricity consumption that the roll-out of EVs would create, Rosemary Oduor, CEO of national power distribution company Kenya Power, told China Dialogue.
During off-peak hours, Kenya Power has the capacity to supply electricity for the charging of 50,000 buses and 2 million motorcycles, according to Oduor. The company's estimates indicate that charging an electric minibus that each day travels 200km and consumes 120 kilowatt-hours (kWh) would cost 2,400 Kenyan shillings (US$21).
As of September 2021, Kenya's electricity price for households was equivalent to $0.21/kWh. For comparison, Rwanda, another East African country incentivising EV development, sells electricity to households for $0.25/kWh.
Presently, South Africa is the largest market for EVs in Africa with about 1,000 in operation this year, out of a total of 12 million automobiles. Kenya has an estimated 350 EVs, out of 2.2 million registered vehicles.
Policy direction
Since 2020, the Kenyan government has rolled out a series of policies aimed at encouraging the use and production of EVs. In September that year, it launched the Kenya National Energy Efficiency and Conservation Strategy, which first mooted the idea of mainstreaming EVs on Kenyan roads. This was followed by a tender issued by the transport ministry in November 2021, which sought a consultant to develop a national electric mobility policy, funded partially by the World Bank and the Kenyan government.
The government aims to expand EV ownership to 5% of all registered vehicles in Kenya by 2025
Fiscal incentives for EVs have been introduced, including a plan to zero-rate electric vehicle tax. The Nairobi metropolitan Bus Rapid Transit (BRT) system was also established, modelled for use exclusively by EV buses. Meanwhile, Kenya Power is building a network of public EV charging points.
Andrew Kamau, Kenya's principal secretary for petroleum and mining, tells China Dialogue the government aims to expand EV ownership to 5% of all registered vehicles in Kenya by 2025, and to ensure all new public buildings include EV charging stations.
International companies see the signs of an emerging market that may boom.
"Kenya has been the automotive trading and international business hub of eastern Africa. Coupled with its renewable energy generation background, it is a perfect country to demonstrate a case study of how e-mobility can truly impact climate change," says Steve Chang, representative of BYD in Sub-Saharan Africa.
Roam Motors has similarly seen an opportunity in the Kenyan market. In January, the Swedish–Kenyan company also began piloting electric buses in Nairobi, with plans to deploy 10 vehicles for commercial operation later this year. Roam is set to embark on an ambitious plan to mass-produce electric buses and motorcycles after unlocking US$7.5 million in funding. A brand-new Roam electric bus costs $100,000.
"Mid this year, the first electric bus will be launched commercially," Dennis Wakaba, Roam project coordinator of public transport, told China Dialogue. "We shall then scale to 10 buses during the second half of 2022."
Furthermore, in 2017, Roam (then called Opibus) became the first company in Kenya to commercially future-proof diesel and gasoline vehicles by converting old combustion buses into EVs. It has since converted an estimated 170 vehicles.
Local benefits
While Kenya's power sector is extremely clean, air quality in its big cities is not. According to IQAir, Kenya's air quality is "moderate". Nairobi, home to 4.3 million people and ranked the second worst city in the world for traffic congestion, has PM2.5 levels five times higher than the 2021 WHO recommendations.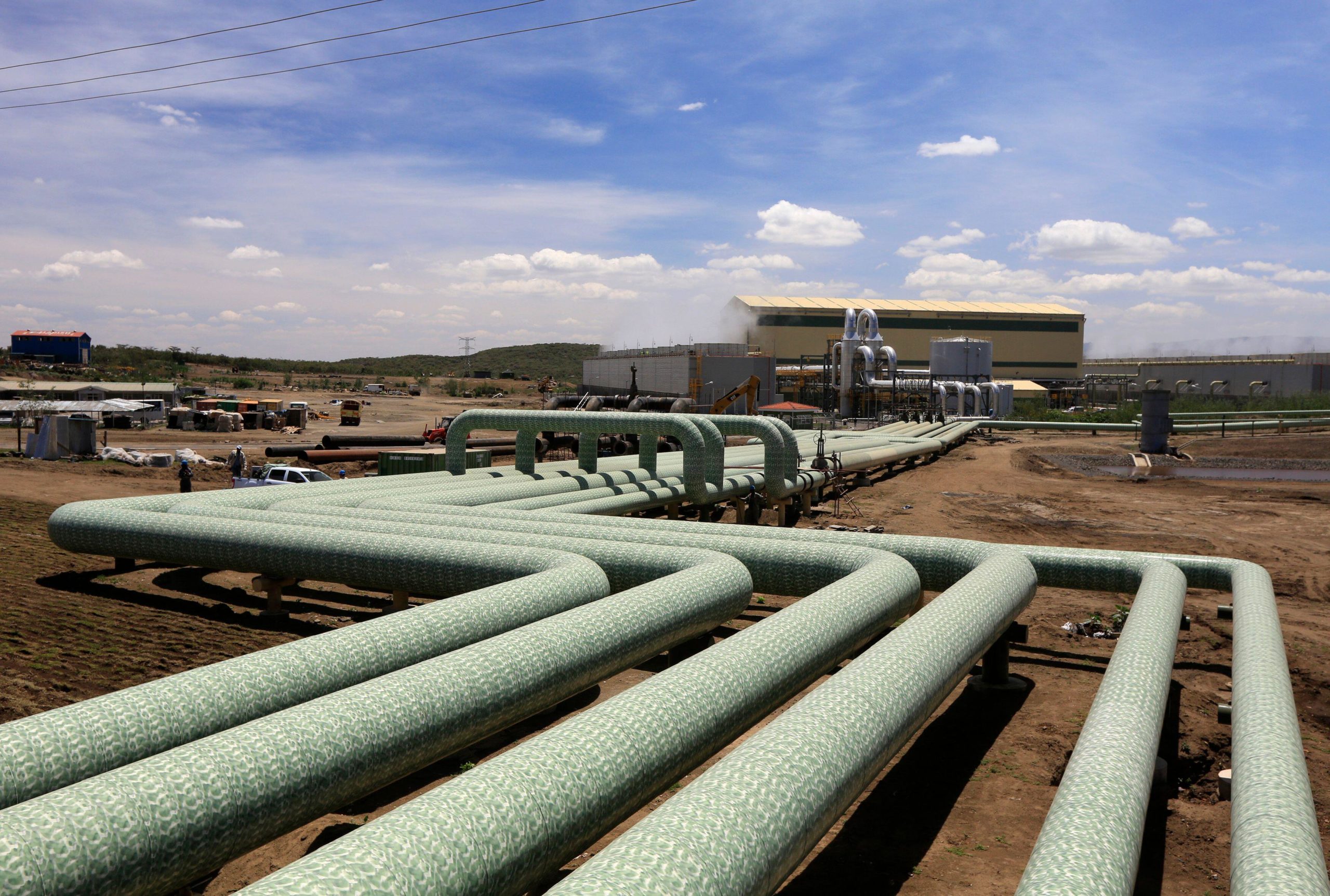 Leonard Kirago, a PhD researcher from the University of Nairobi, told China Dialogue that fossil fuel combustion in the transport sector is a major source of particulate matter (PM2.5) air pollution in Nairobi. Greenhouse gas emissions are another problem, he said.
"The transport sector alone directly accounts for about 13% of the country's total emissions and is soaring faster than in any other sector. This increases greenhouse gas emissions that cause global warming and lead to extreme climate events. That is why it's advisable to quicken the adoption of EVs in Kenya."
A 2018 study by German development agency GIZ estimates that up to 629,000 tonnes of CO2 equivalent emissions could be mitigated by 2030 if Kenya were to electrify its entire transport sector.
Markets across Africa
Rwanda and Uganda currently lead the pack on EV development in East Africa. They have implemented a raft of policy measures including reducing electricity tariffs for EVs, zero VAT on EV parts, exemption from import and excise duties, and rent-free land for charging stations.
BYD is expanding in other African markets too, including by providing vehicles to Ghanaian company Solar Taxi, and electric buses in South Africa, Egypt, Tunisia and Mauritius.
Roam, meanwhile, is also expanding into the two- and three-wheel EV market, which is considered to offer even greater market potential in Africa due to affordability and popularity. According to data from Kenya's Population and Housing Census, in 2019, 6.3% of households owned a car, while 9.2% of responding households owned a motorcycle.
The growth of EVs in Africa presents more than just an opportunity to clean urban air and improve transportation. Local manufacturing can also provide jobs in the green sectors African governments are increasingly targeting for growth. Roam's vehicles are designed and made in Kenya, providing the co-benefits of jobs, skills and technology learning, and industrial upgrade in the country.
Jane Akumu, a programme officer with the United Nations Environment Programme (UNEP), says that, for these reasons, "there is a burgeoning interest in more states to incentivise the uptake of EVs, like Kenya, Côte d'Ivoire, Senegal and Ethiopia and many more."
Electricity generation capacity and access remain obstacles across the continent, however. Over 640 million Africans have no access to electricity, giving Africa an electricity access rate of just over 40%, the lowest of any continent.