Zhang Huiwen bought an electric car a year ago, the first among his friends and colleagues to do so. He remains delighted with his decision; the car's 400-kilometre range is more than enough for his commute and also for family day trips out of Beijing.
​
Zhang is among a growing number of the city's drivers persuaded to try an electric vehicle (EV) by tight limits on new registrations for conventional cars, and generous financial subsidies.
This policy mix is key to the public's growing acceptance of EVs. However, the adoption of EVs is still being held back by the limited number of charging points and the strain on electricity grids from the additional loads from cars.

Credit: Video produced by chinadialogue
License to buy
Like Zhang, fellow Beijinger Li Fang was persuaded to buy an EV by the near impossible odds in the public lottery for license plates for petrol vehicles. At least 2.72 million people are registered in the lottery competing for just 90,000 licenses. Li had taken part since the lottery's 2011 launch, but with no luck. "So I had no choice but to look at an EV," she told a low carbon seminar in August.
By contrast, EV licenses are not awarded by lottery but through queuing. However, as the EV market becomes more established, it too is facing license plate scarcity. An annual quota of 51,000 private car licenses (excluding taxis, trucks and government cars, etc.) was exhausted in August, leaving 4,644 applicants having to wait until 2017.
Beijing's 2016 quota for EVs was 40% of its total new car license plate quota. This is likely to increase, with further cuts due in the quota for traditional-fuel vehicles, and EV buyers anxious to purchase before expected reductions in subsidies happen for domestically produced EVs.
Annual license quota for all traditional and electric vehicles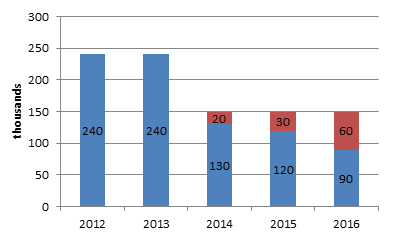 Conventional vehicles are shown in blue, electric vehicles in red.
National and local subsidies soothe worries over the higher cost of EVs: Zhang was pleased to get a 30,000 yuan (US$4,366) car for only 20,000 yuan (US$2,910). Other benefits include exemption from anti-congestion rules, which prevent drivers using their petrol and diesel vehicles one day each week.
Beijing's approach has shown that when purchase options are constrained, consumers care first about owning a vehicle and less about how it is powered. However, Beijing's approach is not reproduced nationally, where EVs are still less than 1.5% of all new car sales.
Fuelling worries
A major issue that risks damaging public acceptance of EVs and limiting adoption is a lack of charging points.
Even in Beijing, which has 14% of China's charging stations, recharging can be difficult. This means EVs still remain impractical for long journeys across the country.
Although automakers are busy developing vehicles with longer ranges, for the time being at least, drivers are legitimately concerned about getting stranded because a charging station cannot be found. Li says she struggled to get home once on a 200 kilometre-round trip to Tianjin, Beijing's neighbouring city, because she couldn't recharge her car.
Beijing had 6,789 public charging stations at the end of 2015, second only to Guangdong. Most cities have far fewer, according to the 2016 China New Energy Vehicle Industry Development Report.
Beijing added 1,000 public charging stations in the first half of 2016, and total private charging stations reached 8,000.
But Beijing has issued licences for 51,000 EVs this year, and the National Development and Reform Commission's target of one charging station per EV by 2020 remains far off.
Power problems
EVs can still require lengthy charging sessions at one of two kinds of charging station. Most private charging stations use alternating current (AC). These are slower but place less load on the grid. Direct current (DC) stations are faster but place greater stress on local grids.
"500,000 EVs recharging on direct current would cause Beijing's electricity grid to collapse," says Liu Chun, deputy head of the New Energy Centre at China Electric Power Research Institute.
Property managers sometimes ban private charging points to protect safety and power supply. But if space is available, a private charging station is good value for drivers. Li estimates her EV's running costs are just one third of an equivalent petrol car.
Zhang's electricity supplier installed his charging point for free, and he profits from renting it out to other EV owners at one yuan per kilowatt hour (US$0.14), roughly double what he pays.
Drivers can face queues at public charging stations; recharging takes time, and EV rental firms hog some venues. Public charging stations are often costly, too, though prices diverge wildly in an immature market that proper pricing regulations. Zhang calculates that recharging her car a public charge point costs 50 yuan (US$7.2) per 100 kilometres, which offers no real saving compared to the cost of refueling a petrol car.
Higher-end EV brands, such as Tesla, offer free, unlimited fast recharges at the company's 11 Beijing stations but such perks are rare.
New infrastructure
To make Beijing more EV-friendly, the city plans to instal 435,000 charging stations between 2016 and 2020, more than twice as many as Shanghai. But more than a million EVs will be sold over the same period, according to the 2016 China New Energy Vehicle Industry Development Report.
Also, as EV ownership increases so too does demand for electricity. Two solutions are being considered: more power sources and better management of existing ones.
The Beijing Development and Reform Commission is leading a project to bring all EVs and charging points onto a single charging platform, said Niu Jinming, director of the Beijing New Energy Vehicle Development Centre. This will make it easier for vehicle owners to connect and pay for electricity at charging stations. The platform, which is operated by a private company, can also be used to charge vehicles in line with user preferences. In future, such platforms could reduce peak demand on the electricity grid.
A solar solution
A team at Tsinghua University has proposed installing small-scale solar farms on city rooftops to power charging points, along expressways and at tourist spots surrounding Beijing, though trials have yet to take place. A similar model may be pursued by Tesla, which merged with rooftop solar power firm Solarcity in November; a step towards linking EVs with locally-produced solar power.
The government's effort to encourage EVs in Beijing is in the hope of cutting emissions and meeting air quality targets. China's coal consumption has been declining since 2014, and an anticipated restructuring of the economy towards high value-added manufacturing and services means that future emissions growth may come from the buildings and transportation sectors. Beijing's 13th Five-Year Plan for Transportation Development and Construction estimated that by 2020, 57 million journeys will be made daily within the city's sixth ring road – up 21% on 2015.
Although concentrated in a few cities, total EV sales in China rose dramatically from 74,000 in 2014 to 330,000 in 2015, according to the China Association of Automobile Manufacturers.
For Beijing, which already has a high rate of car ownership and major congestion problems, the next question on the minds of policymakers may be just how much scope there is for greater car use.