Many locals and wildlife conservation institutions I talked to didn't even know about the existence of the ivory black market in Okahandja.
It was a quiet evening in Zambezi, until a herdsman heard a gunshot in the wilderness. By the time the police arrived, they found an elephant carcass – and the tusks had been taken.
"It could be a good trophy animal. Poachers never take small ones," said chief control warden Morgan Saisai at the Katima Mulilo office of Namibia's Ministry of Tourism and Environment (MET).
The carcass brought the number of elephants poached in Zambezi, in the far north-eastern region of Namibia, to 37 this year.
Namibia is known for its extremely dry climate and desert landscape, but Zambezi is an exception. With the Zambezi River and its tributaries flowing through lush wetlands, it is home to nearly 10,000 resident elephants and thousands of migratory elephants, according to MET.
Poachers take advantage of this. Since 2011, more than 230 elephants have been reported poached in Namibia, more than 90% of them killed in Zambezi.
In the southwest of the country, more than 100 black rhinos have been poached. In addition to these two iconic species, poaching of other animals such as lions and pangolins is also on the rise.
There are indications that Chinese are the buyers behind some of the cases. Despite the anti-poaching messages that can be seen at many places in Namibia, I was frequently approached by locals for illegal deals while I was travelling there.
See also: China's deadline on ivory phase-out looms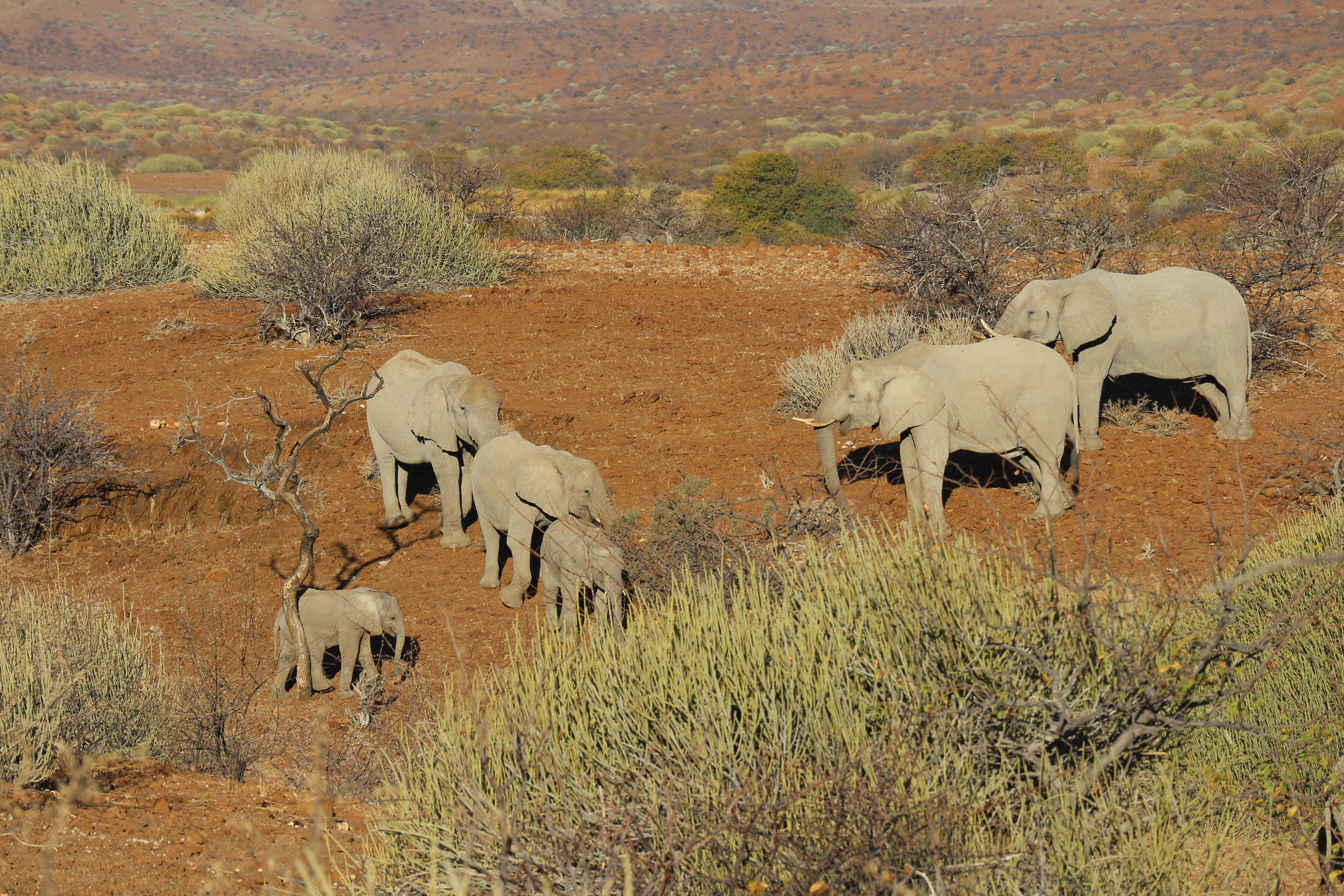 Elephants on the road, in northern Namibia. Image from ThePaper
Deals with Chinese
In Katima Mulilo, the capital of Zambezi, I met Booysen Kabula, a 30-year-old resident, through an intermediary. He said he had been looking for a buyer for a lion skin for a while. He also claimed to be able to find any other wildlife products for his clients, including ivory.
According to Namibian environmental law, hunting and possession of protected wildlife without a permit is illegal. Anyone finding the carcass of an elephant or lion must report it to the government. I wanted to see if Booysen had the lion skin and other things he claimed, so I told him I was a regular buyer.
Katima Mulilo lies on the border with Zambia, with 20,000 residents. After Namibia's independence a few Chinese started to look for business opportunities, with more and more Chinese following. Most of them find it's profitable to sell cheap goods such as clothes and old-fashioned stereos which are no longer popular in China.
Since poaching has occurred increasingly in Zambezi, locals point their fingers at the Chinese.
"It all started when more and more Chinese started flowing in," said John Kamwi, who works for a local environmental non-governmental organisation.
On a Wednesday at noon I met Booysen at a guesthouse. He got out of a white 4×4 vehicle and walked towards me with a smile. There was another guy in his car. "My brother," he said. Whereas Booysen is thin and tall, the other man is short and stocky.
I cut to the chase and asked if he could show me the lion skin.
Booysen looked around. Then he pointed to the driver's seat, behind which was a big black plastic bag. "It's in my car." He opened a corner of the bag.
At my request, Booysen took the bag to the hotel room I had booked. His brother shut the curtains and door.
Here it was, the skin. They took it out of the bag and unfolded it on the floor. Booysen was caressing the fur, then he looked into my eyes. "It was a four-month-old male lion. It's a very good one," he said.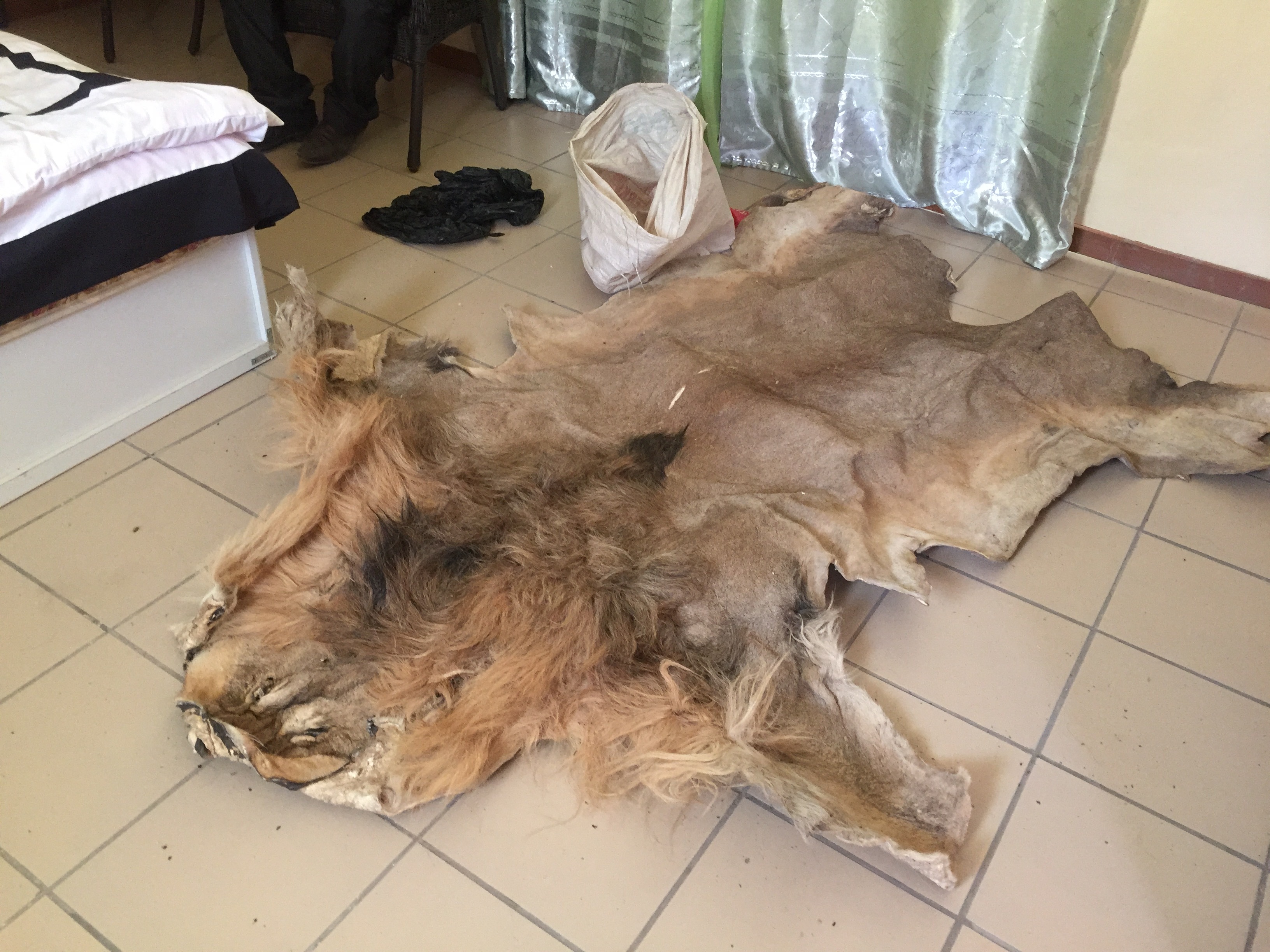 The lion skin. Image from ThePaper
I wondered if they had been doing this business for a while. Soon Booysen showed me that he was experienced. He was a frequent guest at my hotel. I was impressed that he knew the rate for every type of room. He said: "If you do this business you don't want to do it at home, huh? " He shook his head slightly.
"Have you sold anything to anyone before? How much?" I asked, "I'm just curious."
"Ah, last time I also sold a lion skin to a Chinese. He came from Zambia. That one was US$1,000 [9,558 yuan]," he said. For this one he wanted to charge me 8,000 Namibian dollars (N$), or US$600 (3,930 yuan).
According to the United Nations Development Programme's website, 31% of the 2.3-million people living in Namibia live on less than US$1.25 a day, and most of the poor live in the north. Some young people leave their village to look for jobs in towns where, they told me, it's normal for them to make US$50-200 a month.
Booysen comes from a village close to Katima Mulino and lives with his mother, a man from his village told me later. In the traditional villages of the Zambezi region, people live in thatched steeple-style homes, raising cattle and fishing for a living.
After showing me the lion skin, Booysen said if I wanted to buy ivory I'd have to wait for a couple of days since he needed to get the tusks from friends. "We weigh it, N$500 a kilogramme. Usually big ones, people don't poach small elephants," he said.
Lieutenant General Sh Ndeitunga, the inspector general of the Namibian Police, announced earlier this year that criminal syndicates are recruiting locals to kill rhinos and elephants. He warned that sophisticated organised criminal syndicates are wiping out the country's wildlife.
A policeman combating wildlife crime told me there are poachers and middlemen on the supply chain. The middlemen, often found to be locals or from neighbouring countries, hire poachers or simply buy the goods from them, and then sell it to Asian buyers.
Booysen might be a middleman in the illegal trade. When I asked about his suppliers, he answered: "My friends get that stuff for me. You can count on me."
I agreed to wait two days for the ivory. I asked Booysen to bring both the tusks and the lion skin in two days. I told him I couldn't decide on the lion skin yet because I needed to consult my friends on the price.
The police were tipped off, and were waiting at the agreed venue when Booysen and his friends arrived at the agreed meeting time.
Before he was arrested, Booysen was in a party mood as I shook hands with him and his friends in greeting. He pointed to the lion skin wrapped in a plastic bag next to him on the back seat of the car, and said regretfully: "Only the skin today. If you can wait until tomorrow, you can get everything you want."
On October 5, two days after the arrest, Booysen and his two companions were charged with illegal possession of wildlife products.
Booysen is a former Katima Mulio policeman, his alleged accomplices are from Zambia.
An ex-colleague of Booysen's who participated in the arrest recognised him at the site of the arrest. "He quit in 2012 and said he was going back to school," he told me.
This was not the first time Booysen was implicated in poaching. In October 2014, according to the police, he shot a game ranger in the leg when he was stopped from poaching a zebra.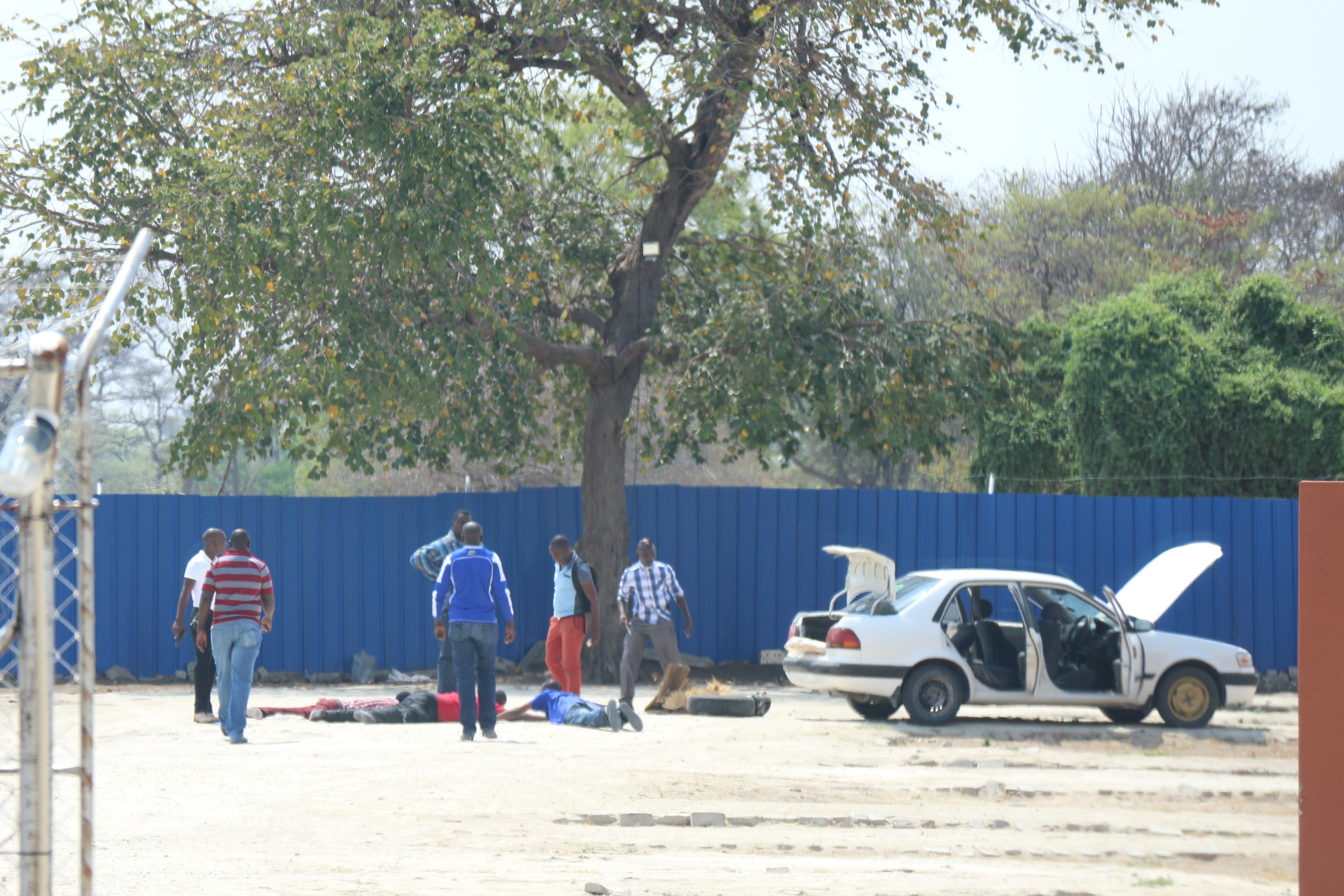 Booysen Kabula and two other people arrested by the police. Image from ThePaper
The booming black market
Namibia's wildlife conservation has long been considered a success story among Southern African countries. Land under structured natural resource management covers 43.5% of the country, according to Community Conservation in Namibia.
About half of the world's critically endangered black rhino population is under Namibia's protection. Today, the country's elephant populations have grown to 20,000 from about 16,000 in 2005, according to the MET.
To protect the wildlife outside national reserves, the government has encouraged community-based conservancies where tourism and trophy hunting are endorsed by both the government and NGOs. The earnings derived from these activities are invested in wildlife conservation.
During the first decade after independence in March 1990, poaching was only sporadic and rarely mentioned in the news.
The peace was broken in 2011, however, when an elephant in the Zambezi region was shot for ivory. Since then, the number of poaching cases has been increasing.
In 2015, up until the end of September 2015, 44 suspects involved in rhino poaching and 17 in elephant poaching had been arrested, I was told by Colgar Sikopo, director of parks and wildlife management at MET.
The poaching surge has swept across Africa. Some analysts believe there were more than 1.3 million elephants in Africa in 1979, but now only about a third of that number still walks the continent.
In warden Morgan Saisai's opinion, soaring black market prices is one of the main drivers behind the local poaching crimes. A few thousand Namibian dollars easily exceeds many locals' yearly income.
"A lot of people want to make quick money, more money than others," he said.
The Namibian government has repeatedly pledged to intensify its efforts to investigate and prosecute poaching cases, and to adopt a zero tolerance policy against poaching as well as illegal traders, but some black markets are still active.
Okahandja market
Upon the recommendation of a Chinese businessman, I found a contraband market in Okahandja, a town one hour's drive away from Windhoek. Although I was warned that the illicit gathering might not reveal itself to an unfamiliar face like mine, I decided to try my luck anyway.
Okahandja is one of the largest markets of arts and crafts in Namibia. The vendors are mostly from Zambezi and neighbouring regions, craftsmen from the north are known to be good. A couple dozen businessmen set up the market on the gateway to Windhoek.
Many locals and wildlife conservation institutions that I talked to didn't even know about the existence of the ivory black market in Okahandja.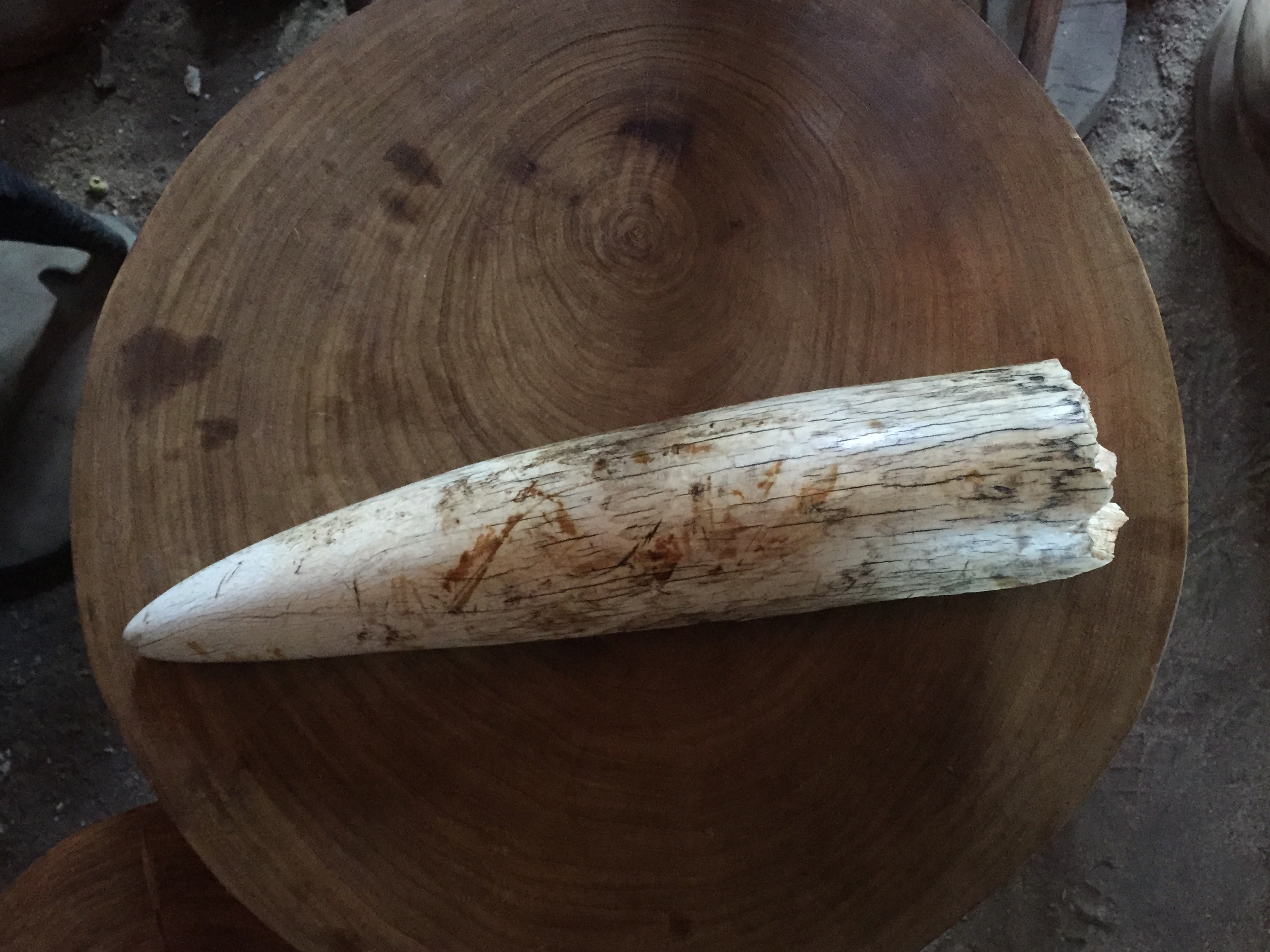 Ivory in Okahandja market. Image from ThePaper
In the first shop I walked into, I was approached by a young man called Kenny. He asked me if I was Chinese and, upon receiving an affirmative answer, he immediately asked, "Hey, I have this, a tusk."
Kenny obviously thought Chinese people would like to buy ivory. He took out a seemingly broken tusk from an obscure corner of his shop and asked N$8,000 for it. I noticed that Kenny wasn't shy to talk about his ivory business in the presence of the other peddlers, who were gathered at the doorway trying to solicit a sale from me.
"I have another one, smaller. Come back if you want it," Kenny said.
I gained confidence for penetrating this market after talking to Kenny. I walked into shops randomly and casually asked for ivory. At one shop, a young man named James excitedly brought me two ivory bracelets, asking for N$300 each. Another shopkeeper pulled out an ivory bead necklace from her handbag, asking for N$500. She said such beads were expensive, so she had to watch out for theft.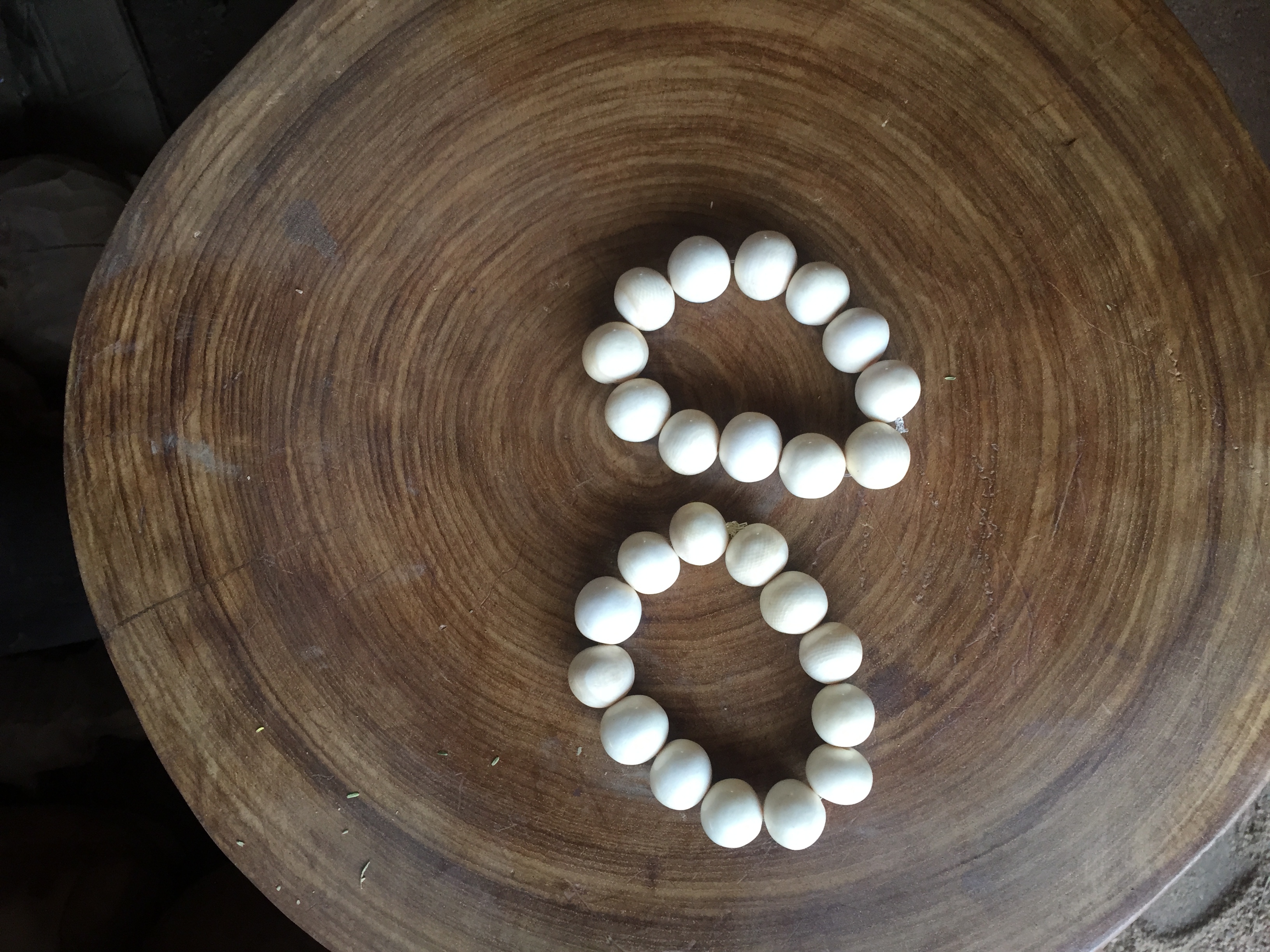 Ivory bracelets in Okahandja market. Image from ThePaper
Even in tourism high season, Okahandja was quiet. The woodcarving handicrafts in the market can be found everywhere in the country.
Kenny's shop was an important source of income for his family, who were nearly a 1,000 kilometres away from Okahandja. He told me most of his artefacts were handmade by his family. Kenny said he was rarely able to take the day off, not even for the weekend, because he didn't want to miss any business.
I went to the Okahandja market twice in mid and late September. Each time I was approached by ivory sellers.
I took pictures of the ivory products before I ended negotiations with the sellers, saying I doubted if they were real ivory. Sadly, judging from my photos, the anti-poaching organisations I talked to afterwards believed they were the real deal, not fake tusks.
Several Chinese people I spoke to said they had been approached for ivory deals in the centre of Windhoek. "Just go to shopping malls in the capital. Sometimes they come to you in front of the mall," one advised.
Chinese buyers
A veteran Chinese businessman who has stayed in Namibia for 16 years told me that the tricky part was not buying the tusks, but delivery to China.
"Tusks are worthless here if you can't ship them back to China," he said.
Recent exposure of Chinese involvement in these crimes has intensified locals' suspicions. I discovered that local police, environment protection organisations and community workers had all reached the conclusion that Chinese "fortune seekers" in Africa have accelerated the illegal hunting of wildlife.
Since Namibia's independence, its political stability has attracted thousands of Chinese businessmen. They comprise the biggest population among Asian immigrants in the country, and run major wholesale and retail centres dubbed "Chinatowns" in Windhoek and Rundu in the north.
Some Chinese people who have been doing business for more than 10 years in Namibia have acquired land and property for long-term development. But I was told that the majority in the Chinese community wanted to go back home.
In some towns, a Chinese grocery store is the only choice on weekends. The Chinese shopkeepers live in their premises at night, transforming a store into a bedroom by using a curtain.
In the north-west town of Opuwo, a young couple complained to me that they had been there for five years yet they couldn't spare the time to travel. The wife recalled, "My husband showed me around a national park briefly once." And the short trip impressed her profoundly.
Working long hours overtime was nothing compared to home robberies. The couple in Opuwo told me that their neighbour, who was also Chinese, had closed up business and moved back to China after a break-in.
Despite the hiccups, Africa has them hooked. "Life in China is too fast, it is very difficult to adapt," said the wife.
Lion nails
The locals' suspicions of Chinese involvement in poaching are not groundless.
In 2011, for instance, Chinese innkeeper Guo Yunhui in Katima Mulilo was arrested for illegal purchase of two tusks. He was fined N$20,000. The police have been notified that Guo Yunhui is still involved in similar illegal transactions.
In June 2014, New Era, a Namibian national newspaper, reported on Chinese businessman Hou Xuecheng's arrest. The police found four tusks and two cheetah skins in his car, according to the report. Shortly thereafter, the police found him in possession of stolen animal skins from a taxidermy that had allegedly been sold to him by two local bandits.
In Katima Mulilo, illegal transaction in the Chinese community is hardly a secret. When I asked them for some ivory products to take home as souvenirs, I was told the situation was tense at the moment and the local police were using entrapment tactics.
"You may find black people at your doorway selling that stuff when the police aren't looking," advised one Chinese resident.
Many Chinese people have been approached by local poachers. But the Chinese told me that they didn't keep the poachers' phone numbers, and they took no initiative to contact the poachers.
"The local people have got everything, from small beads and pendants to tusks," said Zhang, who has been in Namibia for 10 years. He told me that he himself kept an ivory necklace for fun, but "I don't sell the stuff back to China because it's way too risky."
A Mr Ma who is in his 30s kindly let me know that because tusks and rhino horns had become too hot to handle, the focus had shifted to less risky things, such as lion nails.
"Lion nails will protect you from evil spirits. They can be made into gold or silver pendants. You won't find them in China," Ma told me.
I found dozens of lion nails in his store, which he said had already been reserved for clients. Ma said lion nails are sold at N$200-300 in Africa, but cost a lot more in China. The profit could be more than 10 times the purchasing price.
My dealer Booysen confirmed that Chinese had started to trade lion nails. He wasn't sure why Chinese wanted them, but said he had had inquiries from interested buyers. He also offered some to me: "I have more than 30 nails if you want."
Transnational poachers
All the Chinese people I talked to were aware of the illegal nature of the trade in wild animal products, yet hefty profits have emboldened them.
In March 2014 three Chinese men were captured at the Windhoek International Airport trying to smuggle 14 rhino horns and a leopard skin. Many Chinese considered this arrest as a signal of strengthened law enforcement and heightened risk.
"Even two years ago, it was not too difficult to hide tusks in a container or in your luggage when departing Namibia," said Zhang.
Police evidence indicates that smugglers are taking advantage of the geographical location of Katima Mulilo to transport ivory products and other illegal items to neighbouring countries like Zambia, where wildlife law enforcement is relatively loose, and then ship the goods to China.
A policeman said he once investigated a smuggling case in which a Chinese man was suspected of shipping tusks to Zambia, disguising them as wood logs. But in the end the case was left unsettled because he couldn't catch the suspect in the act.
The Zambezi region is located next to Zambia and Botswana, and the three countries share a long borderline. People can swim across the Zambezi River or walk through a village to reach one of the other countries. Checkpoints on the borderline are the weakest link in combating transnational smuggling.
The border control police don't search every car, and they don't have scanner machines like in airports. Warden Saisai acknowledged that the lack of effective border control has been abused by the transnational poachers, and this posed great difficulties in combating poaching and smuggling.
Compared to the number of elephants and other wildlife that have died as a result of poaching, what has been discovered so far is clearly only the tip of the iceberg.
I was told by a policeman who asked to be quoted anonymously that the anti-poaching effort is being overwhelmed by poachers and smugglers.
Shi Yi is a reporter with the paper.cn and is the winner of our China Environmental Press Awards 'Journalist of the Year' Award. Last year she worked with Oxpeckers Investigative Environmental Journalism on a three-month environmental journalism fellowship investigating wildlife poaching in Namibia. Her series of articles on transnational wildlife crimes were supported by the Wits China-Africa Reporting Project and Oxpeckers Investigative Environmental Journalism. On October 19 last year, this article was originally published here by the China-Africa Reporting Project.
Editor's Note: This, and other outstanding reports by Shi Yi, won her the Journalist of the Year award. In the southern Africa country of Namibia she investigated the illegal trade in ivory, posing as a buyer to make contact with traders of illegal animal products. On publication of her report local police raided an illegal marketplace. Such reports bolster the international fight against poaching and demonstrate China's increased awareness of her international responsibilities.