This report was written by Li Xianfeng of Beijing Youth Daily and published on October 3, 2015.
It is the winner of the 2016 China Environmental Press Awards 'Most Influential Report' prize.
Tang Manhua lived on his pig farm right up to the day he died. Amongst his possessions were receipts showing he had received deliveries of 14,000 tonnes of chemical waste – but nobody knew where he'd put them. If it hadn't been for Yunnan businessman Zhou Jiangang posting about the case online, the secret of what lay under the pig farm in a village in Jingjiang, Jiangsu, may never have been uncovered.
In late September Yunnan businessman Zhou Jiangang posted online about "10,000 tonnes of chemical waste" being buried under his pig farm. The site had previously been home to the Houhe Petrochemical Factory, which had been run by Tang Manhua, now deceased. For more than 10 years Tang had disposed of waste for fertiliser manufacturers.
Once the situation came to light in September last year, the Ministry of Environmental Protection formed an investigation team to work with the provincial environmental authorities on handling the case.
A food, drug and environmental case team from the provincial public security office also opened an investigation. Chemical experts worry that if the reports are true, then the cost of cleaning up soil (known in the jargon as remediation) will be enormous.
Outbreak
On September 22 Zhou posted the below message on his Weibo account. Two days later he published a letter under his own name giving more details, calling for a rapid official investigation. The news caused a stir locally and on September 25, Zhou "disappeared", his mobile phone turned off.
"This is happening next to a river that flows into the Yangtze, in Houhe village in Jingjiang. It used to be a petrochemical factory, now it's a closed-down pig farm in an ordinary village, but hidden underneath it there's an illegal dump of chemical waste…"
On September 27 last year, a Beijing Youth Daily reporter met with Zhou in Yunnan and he spoke of how he found what was hidden underneath the farm.
Zhou is originally from Shaoxing in Jiangsu, just over the river from the village of Houhe. In 2014 he decided the site of the pig farm would be a good location for a logistics warehouse, and on February 8 2015, he signed a deal to take it over. The following month, he turned up at the site with a team of workers – and over the next ten days his skin broke out in scales, ulcers and rashes.
Zhou rushed to Shanghai where the doctors diagnosed psoriasis. Zhou recalled having the same problem some 20 years earlier: his skin disease meant he was looked down on at home so at the age of 15 he'd moved to Yunnan, where it had cleared up.
And now the skin disease was back, but worse than previously. The doctor said normally it would take five or six years to develop to such severity, and something in the environment may have triggered an acute outbreak. They suggested he kept his eyes open and avoided any chemical plants.
In early April he returned to work on the former pig farm. And during that process he discovered a secret.
The pig farm lies very close to the river, just over from the town of Guangling in Shaoxing. It is rectangular in shape – 370 metres long, but only 50 wide, covering 18,500 square metres. The pig pens are built of sheet steel, and at the south-east corner there's a muddy pond three metres wide. Zhou noticed a powerful smell of chemicals there.
One of the pig farm employees, Shang, used a steel pole to scoop up a clump of the mud. Zhou described it as "like crude oil residue, black and sticky, with a nauseating stench." Shang told him this was chemical waste from the Jiangsu Farm Chemicals plant.
Zhou was shocked and repeatedly quizzed Shang as to whether or not it might be toxic. No, Shang insisted, adding that "it's the same under the whole farm."
"I realised this was a problem, as I wanted to build here, I needed to lay foundations." Zhou went on: "Shang said I couldn't, the ground wasn't solid, I'd need to dig down 10 metres. I asked why, he said it was all holes underground, they'd dug them out year ago with excavators so they could dump the waste in there."
Shang kept on saying the waste wasn't toxic, but Zhou wasn't sure. To test the ground he improvised a drilling tool from steel pipe and started investigating.
"It was strange, because the concrete was really thick, up to 30 centimetres in places. You don't use that much concrete to build a road. In some places it was reinforced with steel. Even if you had the money, you wouldn't waste it like that. Why use reinforced concrete to build a pig pen?"
Zhou was left stunned by what he found. "The tool came back up covered in oily mud, black as pitch and two metres deep. And it stank, like fertiliser."
The next day Zhou had his employees use a four-metre pole to keep investigating. "We got three metres down and I thought that was the bottom, but with a bit more effort, the ground softened and it kept going. Between 3.3 and 4 metres down it was a kind of black ash."
Zhou drilled 25 holes, each separated by five or six metres. 20 of them found the same thing – black sludge. He had his employees took samples in plastic bags.
Initially he talked with Shang about removing that top layer and bringing in new soil before building. Shang objected: "You can't do that, this stuff's hard to handle and where would you put it?"
Finally Shang came clean: There were two areas under the farm, one used for burying waste from Jiangsu Farm Chemicals and one for chemical waste, mainly from Jiangsu Changqing Agricultural Chemicals. So just how much chemical waste was buried under the farm? Shang said he didn't know.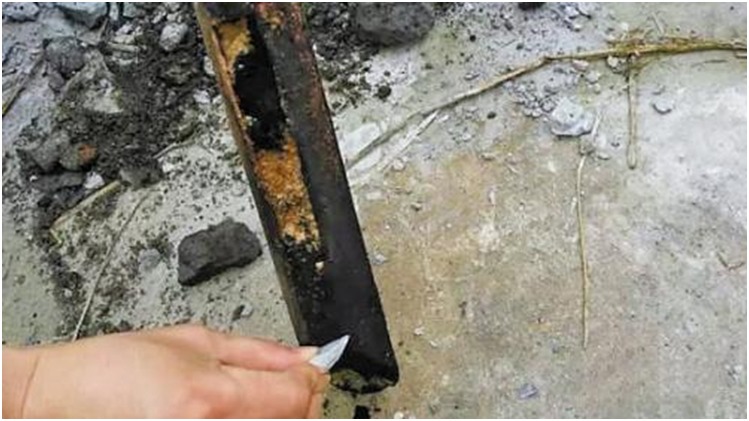 Zhou Jiangang dug 4 metres deep into the ground, which released a strong chemical smell.
Paper trail
The farm was founded in 2012, but prior to that this was the site of the Houhe Petrochemical Factory. The locals had been used to a smell coming from the plant since 2000, and even when it became a pig farm they covered their noses as they passed. The petrochemical factory was founded in 1987, by the now deceased Tang Manhua.
Local villager Sun Jun (not his real name) explained that Tang was a local who had worked at the Gushan coal mine, then gone into business for himself, setting up the factory and trading in diesel and engine oil. Shang, who had told Zhou the truth about the farm, was one of the earliest employers.
According to Sun in about the year 2000 the factory started to accept deliveries of chemical waste from fertiliser factories, mainly from Jiangsu Farm Chemicals and Jiangsu Changqing Agricultural Chemicals. And the proof was in the farm office. A locked cabinet was found stuffed with contracts and receipts, all of which came into Zhou's possession.
Zhou provided images of some of the contracts. They show that from the year 2000 Houhe Petrochemical Factory started to sign agreements with Jiangsu Farm Chemicals and Jiangsu Changqing Agricultural Chemicals to handle hazardous waste.
There are agreements, transfer notes for hazardous waste, and numerous receipts for "processing costs" and applications for approval to transfer hazardous waste from the provincial authorities.
Zhou told the Beijing Youth Daily that waste from Jiangsu Changlong Chemicals and Yancheng Limin Chemicals was also accepted here, neither of which are in Jingjiang.
According to the documentation the factory accepted over 14,000 tonnes of waste between 2000 and 2011.
The villagers remember this well. Sun Jun lives just 200 metres away from the south side of the farm, separated only by fields. He recalls that at the busiest times seven or eight truckloads were arriving a day, and even at quieter times there were two or three a day.
They were all loaded with barrels and left a stench as they drove past. Sometimes some kind of liquid would drop from the truck and kill the grass where it landed.
Each barrel weighed hundreds of kilogrammes. When the factory's own staff couldn't cope the villagers would be taken on to help.
"You'd get 40 or 50 yuan for a day's work shifting barrels. The driver would keep the empty barrels though, back then you could make quite a bit selling the empty ones."
But the money they earned doesn't mean they can overlook the harm they've suffered. Thirty households live near the site, and over the river there are several more in Guangling.
"As soon as summer arrives it just stinks, you can't open the doors or windows, you can't sleep at night. Even the folk from Guangling have come over to complain."
The locals confronted Tang Manhua and tried blockading the factory gate, but he always managed to smooth things over. But there is proof that he made annual compensation payments to the village government and Party group, worth from several thousands of yuan to several tens of thousands of yuan. Some villagers also received direct payments.
Sun Jun said that they had phoned the city environmental protection bureau to complain, but all that happened was "they had a drive round and left." And so the arrangement between Tang and the chemical plants went on for over 10 years, until 2012 when he decided to turn his business into a pig farm.
Environmental authorities plead ignorance
So where did those 14,000 tonnes of waste go? Nobody knows.
Sun Jun recalls that prior to 2000 the factory was mainly involved in "recycling old oil", and back then you would still see goods leave the factory. But later all he can say is that "the barrels went in full and almost always came out empty." Where did all the foul-smelling sludge go? Sun says Tang had it buried.
Tang ordered his employees to dig out three-metre deep trenches with an excavator. Some of the waste could be recycled by mixing with a base oil; what couldn't be recycled was dumped into a trench. Finally the trenches were covered with a thick layer of concrete. A fish pond outside the factory was also filled in, and crops are planted next to it.
Qu Ruijing, a senior expert with the China Circular Economy Association, and experienced chemical industry researcher, pointed out that waste from the fertiliser industry contains a range of toxic substances, some very dangerous.
Burying these without treatment damages the environment and causes pollution; threatens the nearby soil, surface and ground water, and crops; and has a subsequent impact on the health of livestock and humans. Such illicit dumping is illegal.
This went on for over 10 years – did the authorities know? Zhou's exposure of the case put the local government under the spotlight. Zhu Jing, head of the Jingjiang Environmental Protection Bureau, said in an interview with the People's Daily that the bureau had been entirely unaware until Zhou reported the case, at which point it promptly dispatched staff to investigate.
On seeing some of the waste at the site, they immediately asked Taizhou Environmental Monitoring Centre to take samples for testing and made an initial estimate that there were at least three tonnes of hazardous waste buried under the farm. The case was later transferred to the public security authorities for possible prosecution.
One informed source said that on September 29, the authorities took 50 pigs away for "testing".
Zhou told the Beijing Youth Daily that he made a report to the bureau in July. He showed a photo taken on July 10, showing him standing at the gate to the bureau holding two large files. Zhou said that after two months with no result he complained online.
Zhu Jing told the People's Daily that the Houhe Petrochemical Factory was first licenced to handle hazardous materials in September 2005, and then again in 2006, with the licence valid until 2011. After 2011 it was unlicenced, the permit was cancelled, and it became a pig farm. However he avoided the question of whether an environmental impact assessment should have been carried out for that change.
And even if it did have a licence, the site was handling far greater quantities than permitted. The permit issued in 2005 allowed for the handling of 200 tonnes of pryrethrin residue. But evidence supplied by Zhou indicates that in 2003 and 2004 alone Jiangsu Changqing Agricultural Chemicals delivered ten batches of waste weighing a total of 971 tonnes, and in 2005 a further 11 batches weighing 1,361 tonnes.
According to Qu Ruijing, the company was only licenced from 2005 – any handling of hazardous waste prior to that was illegal, regardless of whether it was properly disposed of or not. Also chemical waste cannot just be buried – it needs to be incinerated or otherwise treated.
The Ministry of Environmental Protection set up an investigation team and the revelations about pollution in Houhe prompted a chain reaction. Between September 28 and 30 the share prices of the two chemical firms involved plummeted. Both issued statements denying any involvement.
That same month, the Ministry of Environmental Protection held a special meeting and formed an investigation team to work with the provincial environmental authorities in handling the case. The food, drug and environmental cases unit of the Jiangsu public security authorities also dispatched a team to the site. For days, the Taizhou Environmental Monitoring Centre and the Ministry of Environmental Protection's Nanjing Institute of Environmental Science have had staff on site monitoring and taking samples.
On September 29 a Beijing Youth Daily reporter approached the site by stealth. Shang, who was guarding the site, said that the authorities had told him not to let anyone go inside. Within the farm, towards the east, a three metre pit was covered with plastic. Not far to the north, there was a hollow in the concrete floor, and the entire farm stank of chemicals. An oily foam could be seen on the river to the north. On the morning of September 30, workers were drilling for samples at the fish pond outside the farm, which had also been used to dump chemicals.
According to a message posted on the Jingjiang government's official Weibo account on September 28, hazardous materials had been found on the farm, so the Ministry of Environmental Protection's Nanjing Institute of Environmental Science and other authoritative bodies carried out urgent tests of the impact on the soil nearby, with the city environmental bureau already implementing a plan for safe handling of the incident.
To date, the city has not published details of what monitoring has found. Zhou said that on September 14 the head of the bureau's monitoring team phoned to say that results of his samples submitted in July had been received: organic toxins had been identified, making this an environmental crime, and so the police would investigate.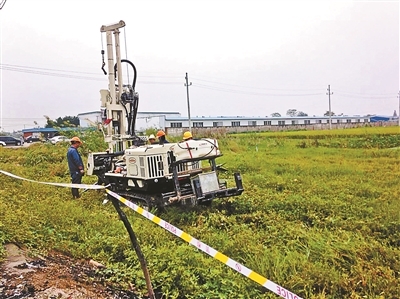 Equipment used to investigate the soil pollution
What's in the soil?
On April 24 this year Zhou sent two samples to the Chinese Academy of Sciences' Zhejiang Institute of Advanced Technology for analysis. The report returned on May 18 showed that 3% of the organic matter in the sample was made up of 35 different volatile compounds, with 21% of this being toluene and 10% 1,3,5-trichlorobenzene.
After reading that report Qu Ruijing commented that the soil contained high levels of toxic semi-volatile substances such as chlorobenzenes, toluene and mesitylene. "It's not a question of what the safe levels are, these simply shouldn't be there. Any amount at all is in breach of regulations."
Li Qinglu, a professor at Shenyang Chemical Univeristy, has been following the case. He told the Beijing Youth Daily that proximity to the river means it will be difficult to control the damage caused by the chemicals, and that the contaminated soil should be removed and made harmless. If all 14,000 tonnes of chemical waste referred to in the documents were just buried, the cost of soil remediation would be enormous.
After seeing the soil analysis obtained by Zhou Jiangang, Li said that the majority of the contaminants were toxic and would spread through ground and surface water. The local government should therefore immediately tell the locals not to eat food grown nearby and arrange for health checks.
But the villagers are less worried – their water comes from a treated supply, and while many have fields to the south of the pig farm the villagers know not to eat anything grown there – those crops get sold onwards.
But since 2010 the village has seen a series of deaths from cancer.
The most prominent of these was the boss of the Houhe Petrochemical Factory himself, Tang Manhua, who lived on the factory site and suffered from nasopharyngeal carcinoma for nine years, died in 2014.
The most recent death was that of Chu Xiaoping a 50-year-old man who died of intestinal cancer on August 26. He lived 200 metres to the south of the site, separated only by fields.
In late September 2015 a source reported online that over 10,000 tonnes of chemical waste were buried under a pig farm in Jingjiang, Jiangsu province in eastern China. Beijing Youth Daily reporter Li Xianfeng was the first to find the source, gather first-hand evidence and gain access to the, now-sealed off, farm to verify it.
Editor's Note: Li's exclusive interview with the source was key to picking up mainstream media interest, which triggered rapid interventions by the Ministry of Environmental Protection, the Ministry of Public Security and the Supreme People's Procuratorate, and 4,000 barrels of hazardous waste being removed. This is a fine example of reporting in the public interest, and Li is therefore awarded the Most Influential Report award.