China's central and local governments have barely made a start in trying to clean up China's heavily-polluted water, despite fast-approaching deadlines for improvements and the launch of a comprehensive 'ten point plan' over a year ago.
Behind the apparent inertia is a lattice of overlapping responsibilities in government departments, contradictory statements from officials, incomplete and undisclosed data, and a lack of monitoring of just how big the problem of water pollution really is.
This is preventing policymakers from getting a clear picture of what needs to be done so that China's main watersheds can be made less polluted and that hundreds of millions in China can get access to clean, drinkable supplies.
Ma Jun, a high-profile environmentalist in China and a director with the Institute of Public & Environmental Affairs (IPE), points out that air quality, by its very nature, is more easily observed, but water pollution is often hidden from public view or isn't as obvious to the naked eye.
"A failure to make data public could result in ineffective treatment – or even no treatment at all," Ma told chinadialogue.
Last year's ten point plan called for nationwide improvements in water quality by 2020, with 95% of water sources used for urban drinking supplies required to reach Class III or better, and to reduce the share of Class V (defined officially as 'very poor quality') to just 15%. China has five classifications for drinking water, with Class I defined as the best, most drinkable water, while water ranked below Class III is deemed to be undrinkable.
Under the same plan, areas currently failing to meet those targets are required to come up with improvement programmes, including specific measures and timetables, while a range of water-intensive industries will be subject to stiff penalties if they continue to pollute rivers, lakes and the coastline.
These were to be regularly made public from 2016, but few local authorities have done so, putting 2020 targets at risk and rendering water policy a clear laggard in efforts to curb air pollution.
Two government departments – the Ministry of Environmental Protection (MEP), and the Ministry of Water Resources (MWR) –  are responsible for prevention and control of water pollution, while a third, the Ministry of Land and Resources (MLR), is also responsible for monitoring water quality.
To fix the huge problems of water pollution in China, and to raise the standards of drinking water, the multiple authorities responsible need to have some idea of the scale of the problem.
The challenge could be summed up by a maxim used in western business: "if you can't measure it, you can't manage it."
A major lack of information makes it a huge challenge for  policymakers to map out the milestones they need to reach if China is to meet its targets on clean water.
Much-reported figures released last month underline the scale of the problem with the data provided on China's water pollution.
The figures, which were contained in a monthly update on groundwater quality issued by the Ministry of Water Resources, generated headlines that 80% of China's groundwater was not fit to drink.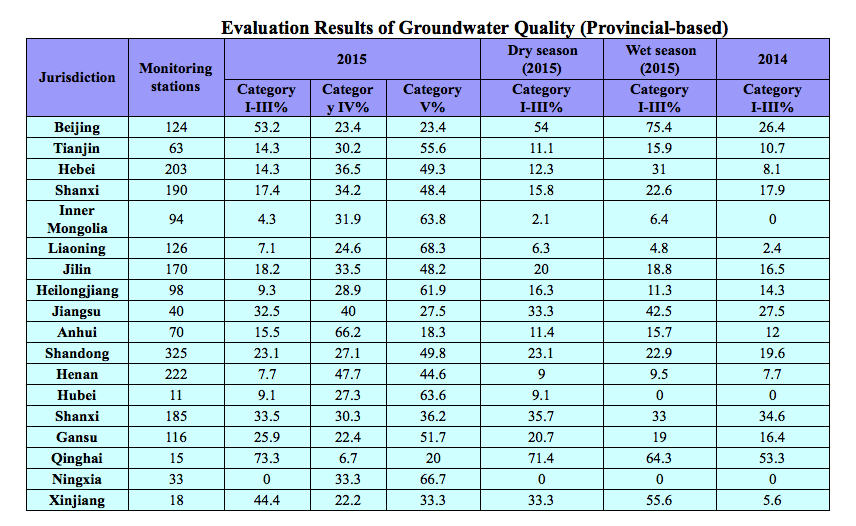 Source: Groundwater Monthly Update, Ministry of Water Resources, January 2016
However the MWR said these reports were inaccurate.
Chen Mingzhong, head of the MWR's department of water resources, said that the data is related to shallow groundwater on the plains of northern China, which tends to be of worse quality than elsewhere.
He added: "This data doesn't refer to sources of drinking water. Currently drinking water comes mostly from deeper underground."
Chen contends that around 85% of China's groundwater sources are up to the required standards.
However, it is hard to reconcile this assertion with figures in a 2014 report on the state of China's environment, which indicated that water at 60% of groundwater monitoring sites was of 'poor' or 'extremely poor quality'.
Meanwhile a 2015 report from the MLR said that in testing of groundwater from 5,118 sampling points across 202 cities over 60% were found to be of 'poor' or 'extremely poor quality,' with only 9% of 'excellent' quality.
Discrepancies
Peng Yingdeng, is a member of the MEP's database of experts who contributes to environmental impact assessments, and a researcher at the State Laboratory for Urban Pollution Control Technology, gave several reasons for the contradictory findings in official figures.
These include the use of different monitoring locations, varied methods of sampling and inconsistent expectations of the outcome.
China has allocated funding for water quality monitoring, but the work is usually split between different departments and much of the allocated work hasn't been completed.
According to a recent report in the Southern Weekend, well known in China for its investigative reporting, the State Council in 2011 approved a 2 billion yuan (US$300 million) programme to test groundwater quality nationwide, to be completed by 2017.
The programme envisaged the construction or upgrading of over 20,000 monitoring points, to be carried out by both the MWR and the MLR, with each department in charge of approximately half of the locations.
But so far, the MLR has built only 326 of those 20,000 monitoring points, while it is unclear how many the MWR has established.
The MWR failed to disclose details on the progress of the project requested by Southern Weekend. 
Its journalists wanted to know why there had not been any disclosure on why progress has been slow, and asked for details  about penalties if the monitoring programme is delivered late.
Meanwhile, not much is known about who is meant to be overseeing the project.
Data on drinking water is also clear as the proverbial mud.
An attempt in 2009 by the Ministry of Housing and Urban-Rural Development's (MOHURD) Water Quality Centre to "broadly clarify" the quality of drinking water in a nationwide survey of 4,000 sites has never been made public.
MOHURD officials have said that "authorisation" is necessary to see those results, effectively closing the figures off from public scrutiny.
In 2012, Chinese media reported industry insiders as saying the survey found half of all drinking water was not up to standard.
MOHURD responded that the latest samples, from 2011, showed 83% of drinking water supplies met standards when leaving the water plant, and that overall urban water supplies are safe.
Nanjing-based lawyer Feng Ding submitted a freedom of information request to MOHURD.
The ministry failed to answer the lawyer's questions, which included requests for information on where the 17% of sites were, and the metrics by which they failed.
MOHURD's own regulations on management of urban water quality oblige the ministry to collect and publish water quality data every year, Feng said.
He added: "But I have never been able to obtain these reports or data".
Meanwhile, the MEP publishes data from only 100 monitoring points, despite monitoring 1,000 of them, points out Liu Chunlei of environmental NGO Shanghai Minhang Qingrui Environmental Information Technology Services Centre.
Liu says openness and sharing of information should be a two-step process. First, each government department should carry out its monitoring and share that information. Then the MEP should be in charge of publishing that data.
When data differs across departments, an explanation should be provided. Are different monitoring points used, do instruments vary in accuracy, are different indices used, or is there some other reason?
None of this should be hidden, campaigners said.
Data-sharing
Using Beijing as an example, Peng Yingdeng explained the problem with data sharing often lies where environmental quality reports lack the input of full figures.
"Without a full data set it's hard to see the changes and trends in water quality over time and carry out a systematic analysis or come up with targeted solutions," explained Peng.
Ma Jun said data on water has been long regarded as a "departmental resource" to be hidden from the public.
He stressed that this data must be freely shared so that departments can compare figures, carry out analysis and then produce a more accurate and authoritative water quality data set, which one department should take the lead in publishing.
Lessons
Transparency and dissemination of good quality data on water lags far behind that of air quality, after public pressure prompted the wider collection of data and its public circulation.
Until the US embassy in Beijing in 2009 started collecting and publishing air quality data, few in China were aware of just how much smog they were breathing in, particularly PM2.5, one of the most toxic forms of pollution.
For a time, Chinese officials objected to the US embassy's actions. And when the US embassy was describing the air quality in Beijing as "hazardous", the city's environmental authorities classed it as "lightly polluted". Beijing officials were forced to explain the discrepancy.
Environmental officials admit that the contrast with the US embassy data showed that China wasn't not being open or accurate enough with realtime air quality information, and that the data released needed to be more accessible.
By 2012, the MEP said that data from all monitoring stations nationwide would be published, so the public could keep up to date with monitoring data. The Air Action Plan, launched in 2013, was a major turning point in management of air quality.
To ensure the plan was implemented, the State Council had provincial governments commit to targets, with annual audits of progress and officials held to account for failures.
On air quality, Chinese citizens can easily access realtime information that can be used to evaluate pollution levels and where the smog is likely to be coming from.
A smartphone app updated by the IPE last year tracks pollution from 9,000 companies and gives users forecasts and advice on whether or not they need to wear gas masks, open windows, or undertake outdoor activities.
Measuring performance
Nationwide, 338 cities now publish live air quality monitoring data and are ranked accordingly by the government. The responsible officials from the lowest ranking cities, or those which see air quality worsen, are summoned in for often-awkward 'chats' with senior officials.
But the modest improvements in China's air quality seem a long way off for water quality. Peng Yingdeng said: "If we don't get disclosure of information (in the way China got for its air), auditing performance on water management is going to be a problem."
Crowdsourcing
But there are signs of solutions starting to emerge on tracking water pollution and closer scrutiny of the likely culprits.
A recently-updated version of IPE's pollution tracking map suggests that local governments (such as Beijing's city government) are being more transparent on the extent of water pollution.
For instance, IPE has secured the agreement of the MEP and MOHURD in a crowdsourcing initiative that will draw upon the experiences of the capital's citizens to identify the city's most polluted rivers.