Since China's minister for environmental protection, Chen Jining, took office a year ago, public interest in – and scrutiny of – environmental issues has intensified.
The Environmental Protection Law, which came into effect at the start of 2015, gave Chen an opportunity to make real changes, and according to official data and other sources, is already delivering results in China's "war on pollution".
At the annual gathering of the NPC and the CPPCC in March 2015, Chen said that the new law would be no "paper tiger" and would have "real teeth".
A year later, and the law appears to be making major advances – and the most obvious impact has been in tackling smog.
"There have been improvements in the number of good air quality days, the number of poor air quality days, and year-round PM2.5 levels," Chen said at political meetings in Beijing earlier this month.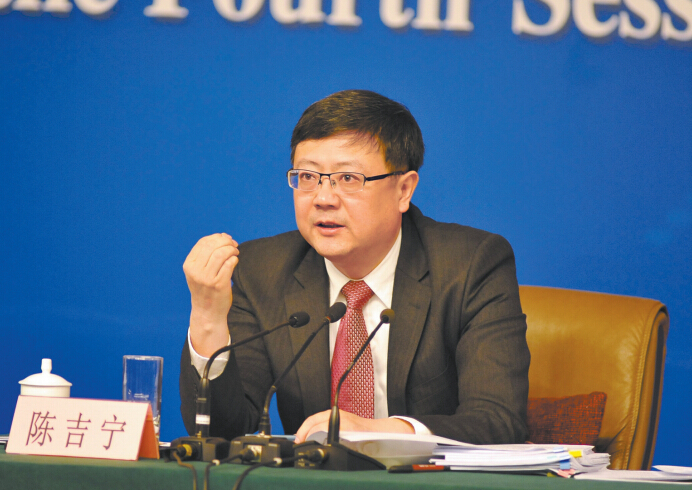 (China's minister of environmental protection Chen Jining)
In 2015, 74 cities (the first wave to implement new air quality standards) saw average PM2.5 levels drop by 14.1% year-on-year, according to government data.
"NASA satellites recorded falling levels of particulate matter in China's east and central regions. The entire Pearl River Delta met annual PM2.5 standards last year, and to achieve that in such an important region has increased our confidence," Chen said at this year's conference.
International environmental organisations also believe that China has achieved meaningful improvements in curbing its air pollution last year, from extremely high levels recorded in 2014.
A recent study from Greenpeace found that from 2014 to 2015, PM2.5 levels (the dangerous fine particles that cause pollution) fell by 10.3%. However, the same report pointed out that 80% of cities still have poor quality air.
In addition, China's economic slowdown has prompted shutdowns of factories that are major causes of smog.
See also: The impact of polluted air on life expectancy 
Three stages
Public sentiment has reacted cautiously to claims of clear improvements in air quality. In the winter of 2015-2016 (when pollution is typically worse because of the greater demand for heating), many parts of the country have suffered severe fog and haze.
In Beijing, the first ever red smog alert was issued, cars were banned and schools closed.
When discussing China's efforts to deal with air pollution, Chen explained that the curbs on smog will be delivered in three stages. In the first, emissions far exceed the ability of the authorities to deal with them effectively and efforts made during this stage only manage to yield small improvements.
In the second stage, government effort and regulations are ramped up, but outcomes fluctuate hugely, and are vulnerable to environmental factors such as, wind speed, humidity and rainfall.
In the third stage, pollution is reduced to the point where outcomes aren't so dependent on weather conditions, and eventually, smog is reduced to manageable or 'safe' levels.
According to Chen, "China is currently in the second of those three stages, and moving towards the third."
Stronger oversight of local government
Li Yan, deputy programme director at Greenpeace East Asia, told chinadialogue that the implementation of the central government policies at a local level can be challenging.
Last year, the Ministry of Environmental Protection (MEP) shone light on polluting enterprises and targeted local governments. The leaders of the steel-producing city of Linyi in Shandong were the first to be summoned by the ministry under the new law's powers.
In the following five days, the city shut down production at 57 plants while action to improve air quality was taken.
The crackdown was so drastic, and swift, that it disrupted cash flows between firms, led to mass job losses, and increased the risk of a local financial crisis.
At that time, the environment ministry was castigated on social media networks for hampering economic growth and employment through draconian and arbitrary measures. Some commentators said that environmental protection rules should be relaxed during times of economic uncertainty.
"The Ministry withstood that pressure and gave prompt rebuttals, shifting mainstream opinion to the view that China should not give the green light to polluting firms during tough economic times," explained Ma Jun, head of green NGO the Institute for Environmental and Public Affairs.
The handling of Linyi's pollution problems has underlined how the MEP has taken decisive action in response to shortcomings at a local level, where there is often a shortage of manpower and resources, and a weak grasp of environmental issues.
At a press conference at this month's Lianghui, Chen was critical of the view that protecting environment was incompatible with economic growth.
"We need to use environmental protection to encourage economic transformation and upgrading," he said.
As ever, enforcement at a local level will be crucial. The updated environmental law has given legislators more powers to oversee local government and delivery will be monitored closely by the National People's Congress, China's main legislative body
"Those responsibilities need to be enforced, local governments need to abide by the law if the companies are going to abide by the law themselves," said Chen.
Sharper teeth
One sanction included in the new law should, in theory at least, focus minds among  companies about the consequences of pollution. These include daily accumulative fines which are imposed when the law is breached. The law hugely increases the cost of those breaches, by removing the previous cap on fines.
Daily fines were imposed in 715 cases in 2015, with a total of 569 million yuan (£57 million) collected. But application of fines has been patchy and, a case covered in Chinese media last week has garnered much attention.
In mid-March, the MEP ordered an investigation after a provincial environmental protection body fined a factory in Jiangsu province just US$90 for dumping waste water.
Ma Jun says fines need to be much tougher. "It seems that not many firms were actually given daily fines in this past year." He added that there still is not enough disclosure of environmental information, either by government or businesses.
A notable achievement of the Environmental Protection Law has been its support of public litigation. Last year national courts accepted 53 environmental public interest litigation cases, which is major progress, said Wang Canfa, professor at the China University of Political Science and Law, and the founder and director of the Beijing-based Center for Legal Assistance to Pollution Victims.