More than 5.5 million people die prematurely every year around the world due to household and outdoor air pollution, with around half of these deaths occurring in China and India, according to research published in the past week by the Institute for Health Metrics and Evaluation.
Particulate matter from power plants, factories, exhaust fumes from vehicles, and the burning coal and wood, are shrouding many of the world's major cities in toxic smog.
This poses a major threat to human health that could worsen despite efforts in countries including China to curb emissions, said a report presented at a conference in Washington on 12 February.
"Air pollution is the fourth highest risk factor for death globally and by far the leading environmental risk factor for disease," said Michael Brauer, a professor at the University of British Columbia's School of Population and Public Health. He added: "Reducing air pollution is an incredibly efficient way to improve the health of a population."
For the American Association for the Advancement of Science meeting in Washington last week, researchers from Canada, the US, China and India presented estimates of air pollution levels and calculated the impact on health.
See infographic here: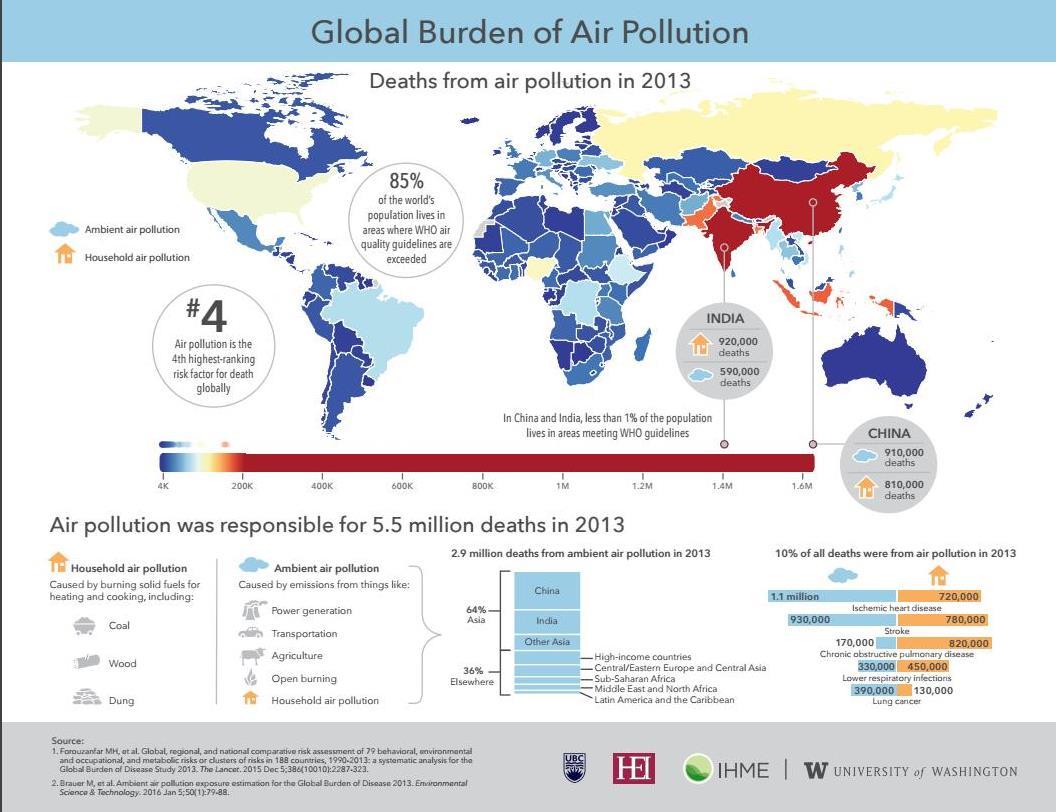 About 1.6 million people died of air pollution in China and 1.4 million died in India in 2013, the researchers estimated.
In China, burning coal in power plants, factories, district heating and individual households is the biggest contributor to poor air quality, pointed out Qiao Ma, a PhD student at Beijing's Tsinghua University, who contributed to the UBC-led study.
Qiao Ma said outdoor air pollution from coal alone caused an estimated 366,000 deaths in China in 2013.
Ma also calculated the expected number of premature deaths in China in the future if the country meets its current targets to restrict coal combustion and emissions through a combination of energy policies and pollution controls.
She found that all air pollution – outdoor and indoor – will cause anywhere from 990,000 to 1.3 million premature deaths in 2030, unless even more ambitious targets are introduced.
"Our study highlights the urgent need for even more aggressive strategies to reduce emissions from coal and from other sectors," said Ma.
In India, a major contributor to poor air quality is the practice of burning wood, dung and similar sources of biomass for cooking and heating. Millions of families, among the poorest in India, are regularly exposed to high levels of particulate matter in their own homes, the research found.
"India needs a three-pronged mitigation approach to address industrial coal burning, open burning for agriculture, and household air pollution sources," said Chandra Venkataraman, professor of Chemical Engineering at the Indian Institute of Technology Bombay in Mumbai who also contributed to the report.