Surayah was tending to her cows when we arrived at her house in the village of Celukan Bawang. She and her husband are one of the few households left after dozens sold their land to the developers of a coal-fired power plant on 40 hectares of north Bali's coast.
The pair live just 100 metres from the smokestack of the plant, which was built with Chinese investment and expertise.
"I want to continue farming and raising cattle," said Surayah, who is 65 years old. She believes ash from the plant has contributed to her pneumonia. Since the plant began operating in 2015, she has suffered the noise of its generator 24 hours a day.
Surayah once grew a range of crops including aubergine, bananas, chillies, corn and tomatoes on her farm. She says they have succumbed to disease caused by the ash. Now she only has the cows beside her house.
She and her husband say they received no information about the coal plant before construction started near their home.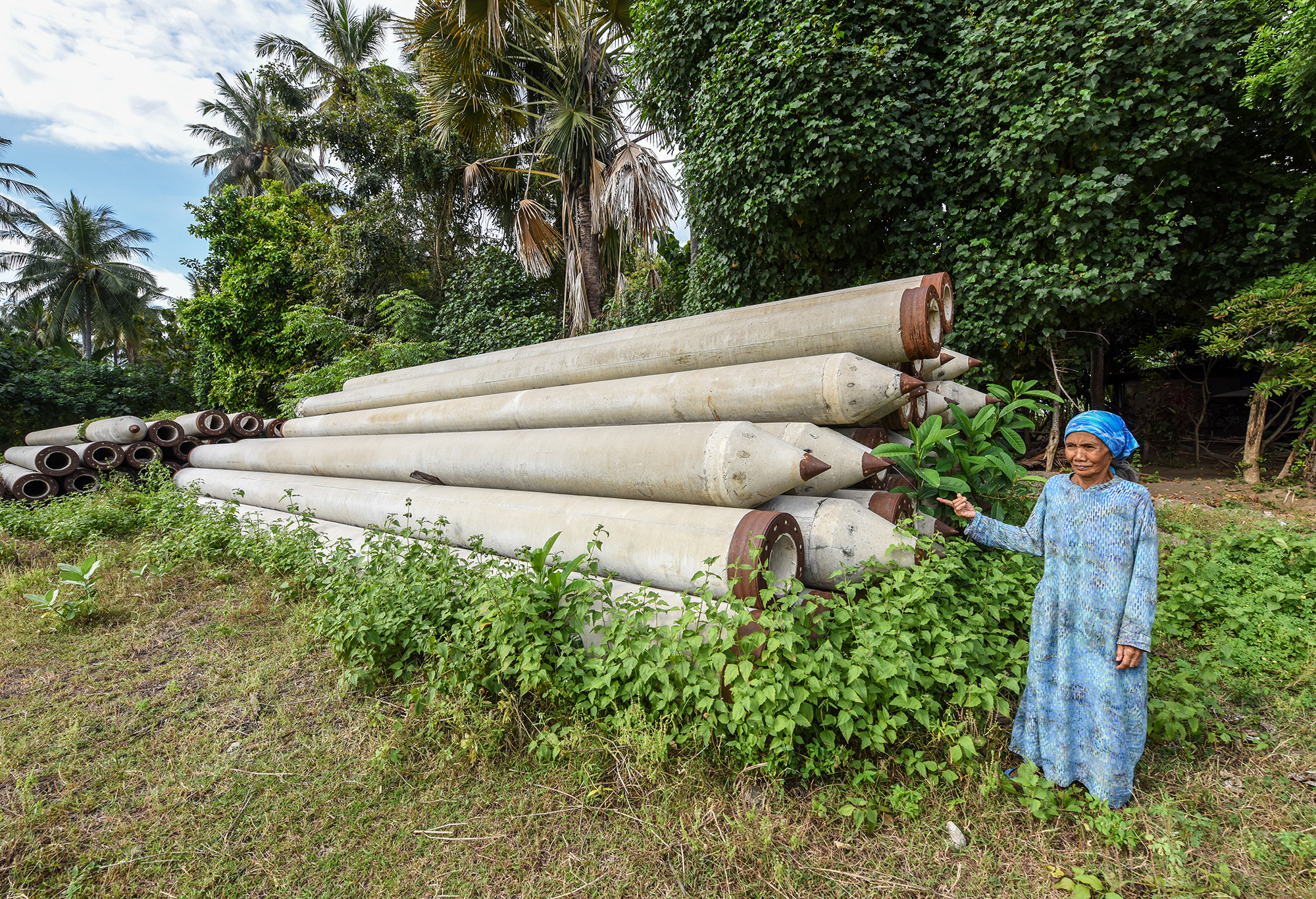 Foundation piles dumped on the edge of Surayah's land when the power plant was built in 2015 (Image: Ade Dani)
The plant has three units totalling 426 megawatts of capacity, and produces up to two-fifths of Bali's electricity. The addition of two units would more than double the plant's capacity to 1,086 megawatts.
But in this remote part of Bali, 100 kilometres north of the tourist hotspot of Denpasar, farmers and fishers have not experienced any benefits.
In a 2018 report, Greenpeace found inadequate compensation for land acquisition, damage to local livelihoods and health, and harm to the environment on land and at sea.
Corruption
The plant was built by PT General Energy Bali, which is majority owned by China Huadian Engineering, (Singapore-based) Merryline International Pte. Ltd, and PT General Energy Indonesia. The latter's shares are now controlled by PT Singa Energy Indonesia. State-owned China Development Bank provided a loan of around US$700 million and Export-Import Bank of China also invested, according to Quitcoal.
There were problems with the project from the outset. Director of PT General Energy Bali, Tjandra Limanjaya, and his wife Irnawati Sutanto were imprisoned for fraud after falsifying a bank guarantee letter from state-owned Mandiri Bank to secure a loan from Morgan Stanley. Corruption in Indonesia's coal sector is a known problem.
There were also suspicions about the involvement of illegal labour from China in the plant's construction and operation. The Buleleng Manpower and Transmigration Office found Chinese labourers lacking work permits.
Legal challenge
In January 2018, three local residents launched a legal action backed by Greenpeace to stop the plant's expansion. The case was rejected by the Denpasar State Administrative court, a decision upheld on appeal at the Surabaya High Court. An appeal in the Supreme Court was also rejected in July this year.
One of the plaintiffs, Mangku Wijana, says he was not consulted about the plant's original construction either.
"We were told a soy sauce factory was being built. If we had known it was the coal plant, we would have refused to accept it," he said.
Fifty-year-old Mangku Wijana manages coconut plantations covering 3.6 hectares. He says that before the coal plant was established, he could harvest between 6,000 and 8,000 coconuts every two months. That has now decreased to between 4,800 and 6,800. Many coconut trees have died because of the ash and harvests are continuing to decline.
"There is no dust other than from the coal power plant," he said.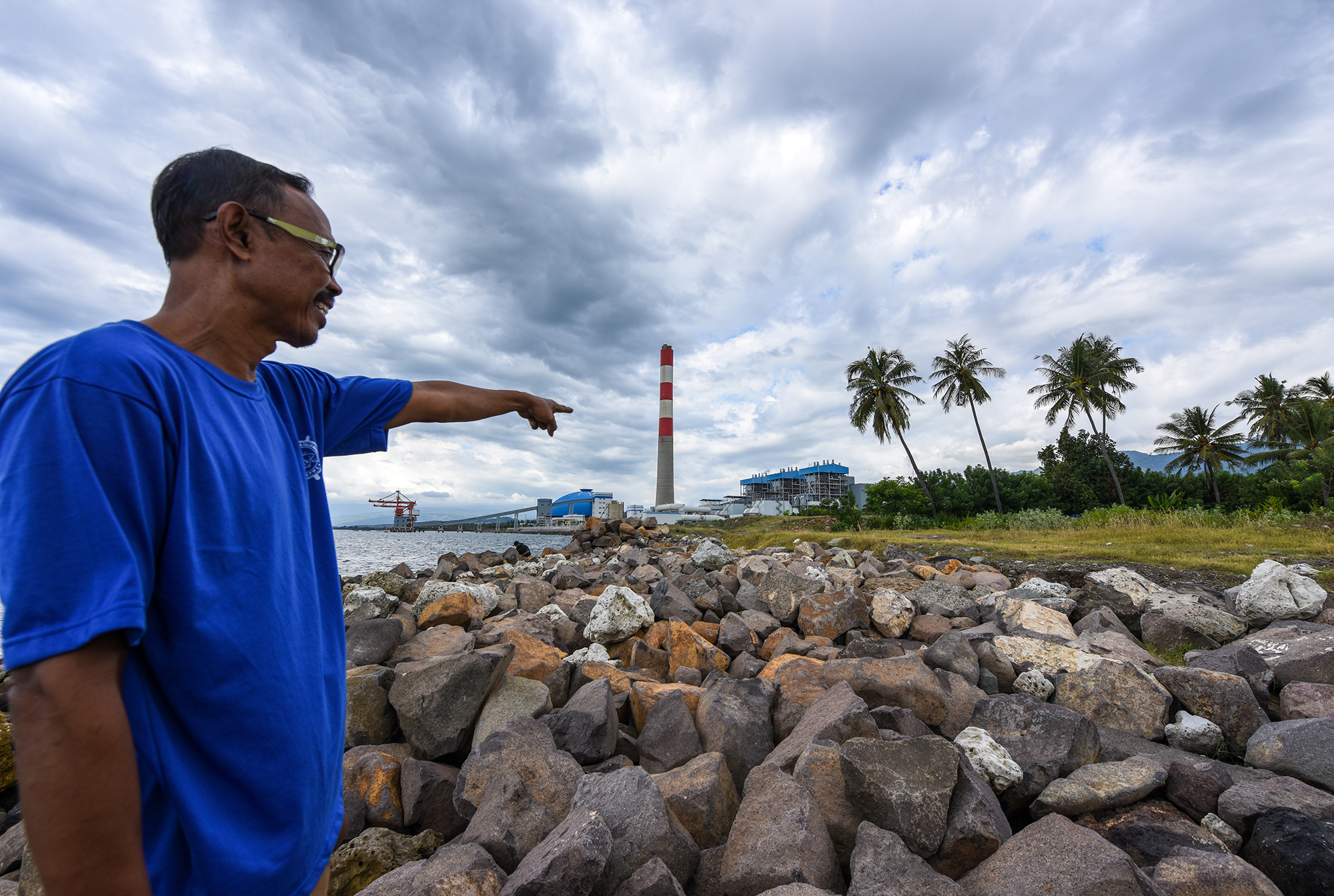 Harvests from Mangku Wijana's coconut trees have declined due to pollution from the power plant (Image: Ade Dani)
Threats to Bali
Baidi Suparlan, chairman of the Bhakti Kosgoro fishermen's group, said that after the coal plant came online, fish catches fell. Before, it was possible to catch enough using a rowing boat close to shore. Now you need a motorboat.
"Maybe it's because the seawater is getting hotter due to waste disposal from the plant."
I Putu Gede Astawa, chairman of Mekarsari, another fishermen's group, felt similarly. He said the plant had made it more challenging to spot dolphins and whales. "Now the dolphins stay 300 to 400 metres from the beach."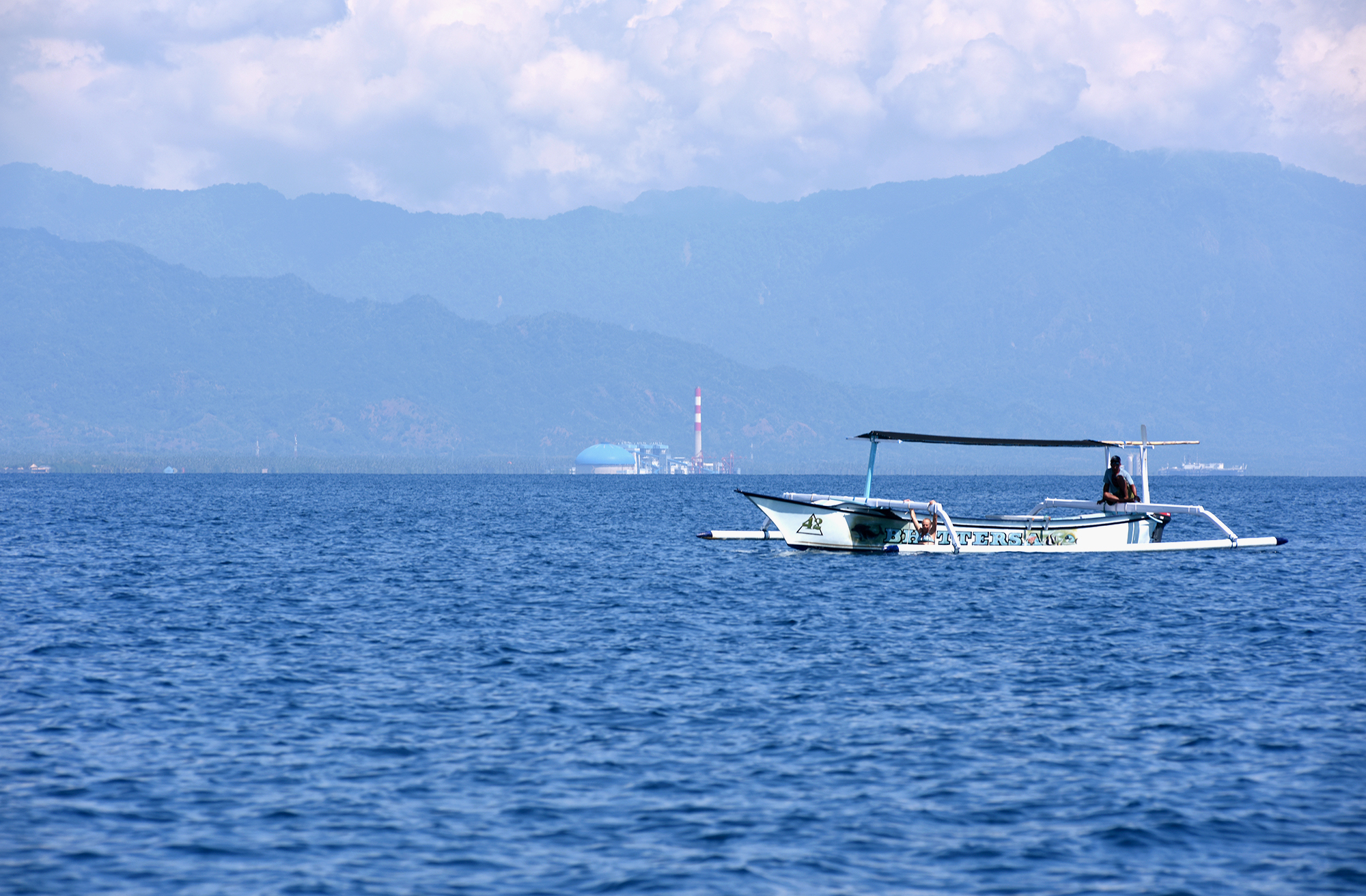 A tourist boat waits for dolphins off the north coast of Bali near Celukan Bawang. Dolphins and whales have become harder to spot since the power plant started operating. (Image: Ade Dani)
Twenty kilometres further along the coast is Lovina beach, a popular destination for cetacean watching. Astawa was afraid that increasing the capacity of the power plant would drive the dolphins further away and hurt local fishers.
Mercury deposits
Greenpeace air pollution expert Lauri Myllivirta has stated that the plant's environmental impact assessment failed to fully explain or provide data on the effects of mercury pollution. The heavy metal is toxic to health even in low concentrations. "Mercury pollution poses a serious risk for the development of children," Myllivirta said.
Mercury may fall along with coal ash directly into the sea or into groundwater. Contaminated water could then drain into the Lovina coastal ecosystem, impacting marine life, and fishers' catches. If 15 kilograms of mercury are deposited on land per year, then this could have harmful effects on around 30,000 people, within a radius of 15 kilometres.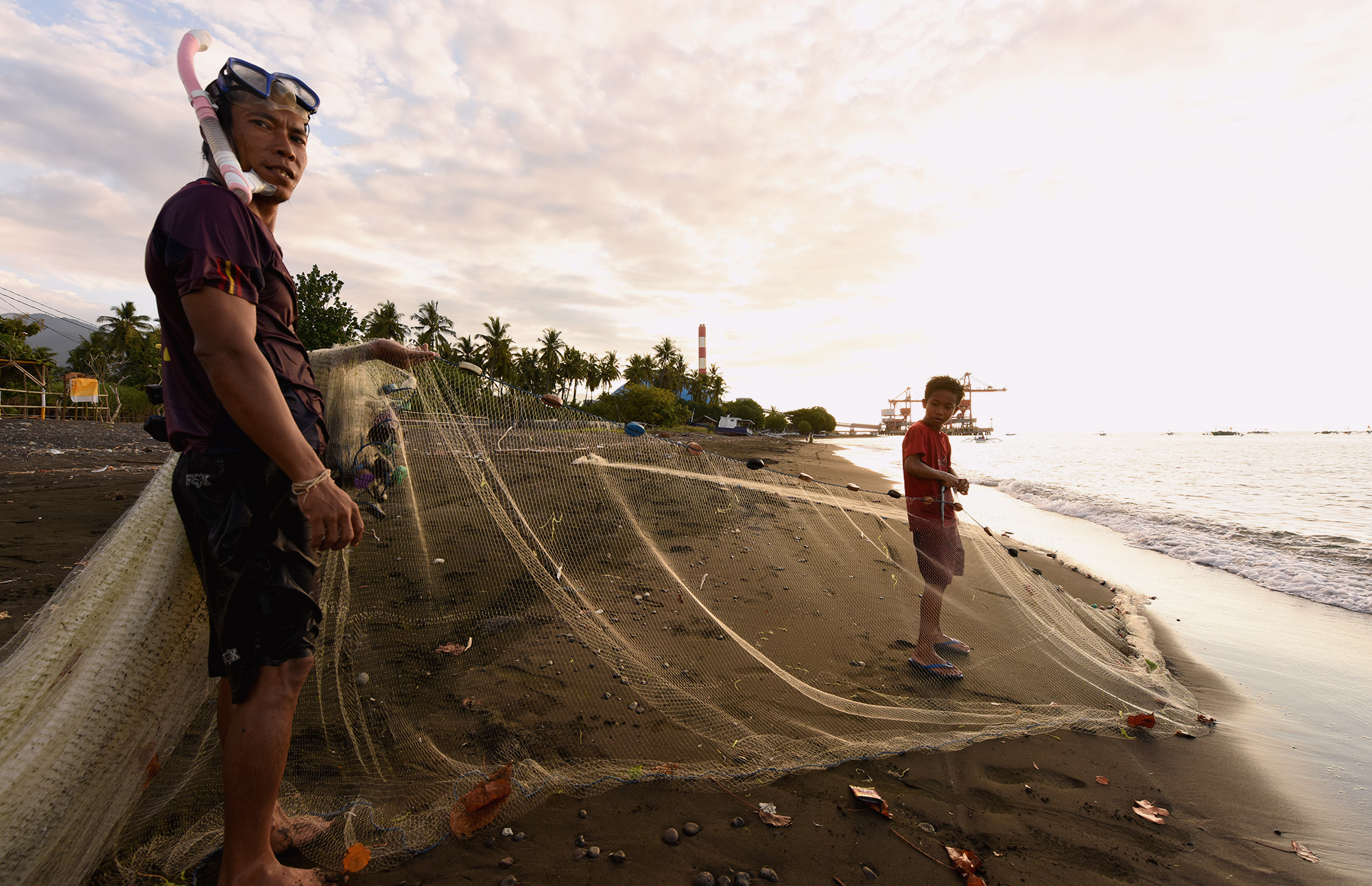 A fisher and his son on Celukan Bawang beach near the power plant (Image: Ade Dani)
Nitrogen dioxide emissions
The Greenpeace report also mentions high emissions of fine particles (PM2.5) and nitrogen dioxide (NO2) from the power plant. These pollutants increase the risks of respiratory and heart diseases, and other illnesses. Greenpeace estimates that the plant exposes 170,000 people to concentrations of NO2 above the World Health Organisation's safe limit.
Exposure to NO2 and PM2.5 from the plant is expected to cause 190 premature deaths each year, increasing to 290 by 2030. If the plant operates for 30 years, the total number may be 7,000. And if it is expanded, it could reach 19,000.
What next?
In response to the complaints, the governor of Bali, I Wayan Koster, has asked the Celukan Bawang plant operators to switch coal for a less polluting fuel, such as gas.
"The people behind the coal power plant cannot ignore its environmental and social impacts," Koster said.
As well as being the world's largest coal exporter, Indonesia has a growing domestic energy demand. President Joko Widodo has pledged to develop 35,000 megawatts of new power by 2024. His government sees coal as a cheap and easy means to achieving the target, according to the Financial Times. However, the country has a large potential for developing renewable alternatives, particularly geothermal, wind and solar.
China Dialogue's requests for comment from PT General Energy Bali and China Huadian Engineering went unanswered.