It's everywhere around us but cement is not a material we tend to give much thought to. The powdery substance is a key ingredient in concrete, which has been called "the most destructive material on Earth".
Cement is responsible for around 7% of global carbon emissions. If the cement industry were a country then it would be the largest carbon emitter after China and the US.
To be in line with the Paris Agreement, the cement industry must reduce its annual carbon emissions by at least 16% by 2030, according to a report published by UK thinktank Chatham House last year.
However, economic growth in the next 30 years, particularly in developing countries, is predicted to increase cement demand from four to over five billion tonnes a year. The largest producer of cement is China, followed at a distance by India and then the EU, according to Chatham House.
How can the cement industry lower emissions?
Changing the recipe for cement, making cement kilns more efficient, powering them with biofuels and using waste heat to generate electricity can all reduce carbon emissions.
Chatham House notes that replacing fossil fuels and making cement kilns more efficient has already achieved an 18% fall in CO2 per tonne of output globally. But total emissions from the cement industry have risen significantly because demand has tripled since 1990.
More than half of the emissions come from producing the ingredient clinker. CO2 is a by-product of the chemical reaction and cannot be reduced by changing fuels or increasing factory efficiency.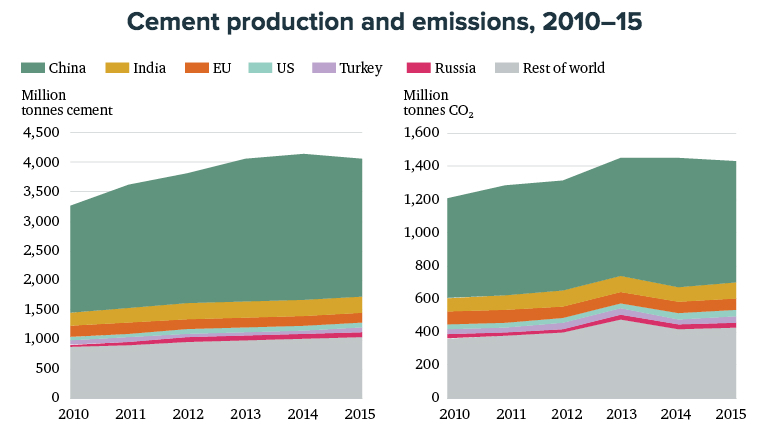 Source: Making concrete change (Chatham House)
"Even if you recover all the waste heat and displace all fossil fuels, you will still have process emissions from the conversion of lime to clinker," says Madeleine Rawlins of engineering consultancy Mott MacDonald. "Looking longer term, either we need to have carbon capture and storage [CCS] for the cement industry, or we need to be looking at alternative materials."
The proportion of clinker in cement can be reduced by blending in alternative materials, such as fly ash, a by-product of coal combustion. So-called "high-blend" cements can quarter emissions, according to Chatham House.
The Global Cement and Concrete Association (GCCA) says that CCS technology is "essential" in the short to medium term, since modern cement plants operate at, or close to, the theoretical limits of efficiency.
HeidelbergCement promises carbon neutral concrete
Germany's HeidelbergCement is the world's second-largest producer of cement, and third in ready-mix concrete. Like other cement companies, it's carrying out research and development into new technologies and processes. In May, it announced that it was aiming for carbon-neutral concrete by 2050 "at the latest", which puts it in line with the goals of the Paris Agreement to limit global warming to well below 2C. That target has been assessed against the criteria of the Science Based Target initiative (SBTi).
The SBTi is run by the UN Global Compact and several non-governmental organisations including the World Resources Institute, WWF and the Carbon Disclosure Project. Around 200 companies worldwide have had their CO2 reduction targets approved by the scheme, but HeidelbergCement is the first in the cement sector.
The firm is focusing research on CO2 sequestration and use. It has developed a "recarbonation" process that recycles concrete into fine fractions of cement that absorb CO2. These are then used in the production of new cement and concrete.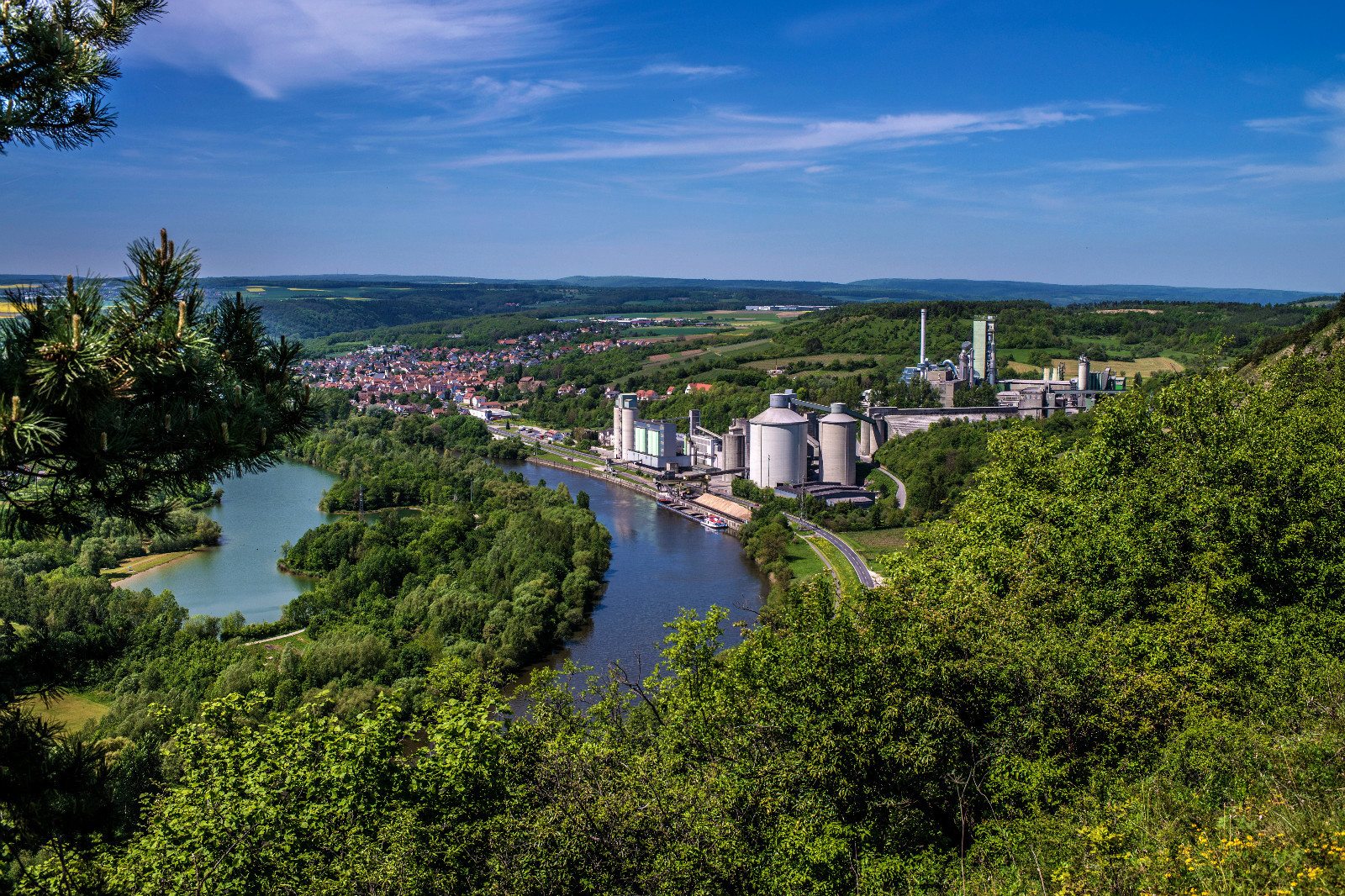 HeidelbergCement plant, Lengfurt, Germany (Image: HeidelbergCement)
The firm is also aiming to build the world's first zero carbon cement plant in Brevik, Norway. The Norcem plant has already managed to substitute 70% of its fuel use with waste alternatives such as paper, textiles, plastics and hazardous waste. Together, this could remove around one-third of the plant's total CO2 emissions.
To deal with the CO2 emitted during clinker production, it is planning to instal carbon capture and storage technology. If an initial project to capture half the plant's emissions is successful, HeidelbergCement will start working on plans to reach 100%. Construction of the plant depends on public funding – a final feasibility study due in August this year will inform government investment. If approved, full-scale carbon capture could be in operation from 2024.
Progress in the sector?
Industry organisations are also working on CO2 reduction. The GCCA is encouraging its members to act through the Sustainability Charter it launched in 2018. This requires full members to implement sustainability initiatives across five categories including climate change and energy, environment and nature, and circular economy. They also have to develop climate change mitigation strategies, publish targets, report progress and share best practice with other members.
However, analysis published by the Carbon Disclosure Project (CDP) last year warned that the sector risked missing the Paris targets unless it more than doubled its emissions reduction efforts. It noted the importance of CCS to the sector but said that CCS projects were largely at the pilot stage, and that progress by companies other than HeidelbergCement was limited.
The Chatham House research meanwhile assessed the amount of innovation underway in the sector. By analysing some 4,500 patents filed over 14 years it found considerable innovation, in particular around substituting clinker and producing novel cements.
The analysis also revealed China to be a hub of innovation, investing more than any other country in cement research and development, and dominating other countries in terms of the number of patent filings.
"This is encouraging from a decarbonisation perspective, as China is projected to continue to account for a major share of global cement production," the researchers noted.
However, the research also noted that few of the patents had been commercialised, and none had reached widespread application.
The development of new materials and technology to decarbonise cement has significant barriers to overcome. Chatham House cited the domination of the sector by a handful of major producers wary of pioneering new products that challenge existing business models. Such producers are likely to be sceptical about whether the products will be ready at the scale required. Meanwhile architects, engineers, contractors and clients may prioritise safety over carbon frugality.
Carole Ferguson, head of investor research at the CDP, believes that regulation could drive the change needed. "Traditionally, building regulation and environmental certification for buildings has focussed on the operational emissions of buildings. However, there is a move which is at a very early stage to look at the embodied emissions of buildings."
Embodied emissions are those produced in constructing a building. Attempts have been made to include them in UK policy. The construction standard run by BREEAM to assess sustainability of infrastructure and buildings is one example. The rating given to a building depends on the number of credits it receives against criteria decided by BREEAM. In an update to the standard last year, the number of credits a building could be awarded for reduced embodied carbon were increased, reflecting a wider acknowledgement by BREEAM of the growing importance of considering embodied carbon, according to the CDP.
A spokesman for HeidelbergCement agreed that industry efforts to reduce emissions could be boosted by policy intervention. "Building codes [which regulate design, construction and materials used] would need to be adjusted, and obviously it would help if there were incentives or regulations driving the use of low-carbon building materials," he said.