India is now more than three-quarters through the world's largest election, in a process administered by over 11 million officials, and set to determine who will rule the country for the next five years. Around two-thirds of 900 million eligible voters will have cast their votes by May 19. How important are environmental issues to them and the politicians seeking their support?
India's economy is still growing at around 7% a year, and it is now the world's sixth largest. But fast-depleting groundwater, foul air and poisoned soils have called into question the sustainability of this growth.
That is something neither the government nor the opposition want to talk about; settling instead for pious pronouncements in manifestos that lack action plans.
Opinion polls and reports from the ground indicate that the current prime minister, Narendra Modi, and his Hindu right-wing Bharatiya Janata Party (BJP) will form the next government, probably with a reduced majority in the lower house of parliament.
Modi, 68, is continuing to run a muscular campaign based on confronting Islamist terrorists and giving no quarter to Pakistan – seen by the majority of Indians as the main sponsor of such terrorism, though Pakistan has always denied it.
Modi's speeches have a receptive audience. "Who else has the guts of Modiji [ji is an honorific]," asks Jagdish Singh, a grocer in Behrin, one of the thousands of villages dotting India's most populous state Uttar Pradesh. He adds that India "entered their house and beat them," in reference to the February 26 strike by the Indian Air Force on a suspected terrorist base in Balakot, Pakistan, in response to an attack on February 14 in Pulwama, Kashmir, which killed over 40 Indian paramilitary personnel.
It is a sentiment heard repeatedly from shopkeepers, lawyers, restaurant owners and people in similar professions, but not from farmers or labourers.
The situation on the ground
Rainfall made more uncertain by climate change has affected crops in large parts of the country. Input costs have gone up and whenever farmers have produced a bumper crop in recent years, the glut has led to a loss for them. In many states, farmers have protested the failure of the Modi government to pay remunerative prices. This has come on top of a continuing spate of suicides by farmers unable to repay loans. Most farmers know that the rainfall pattern has changed for the worse, though few overtly make the connection to climate change.
Given the state of air, water, soil and the level of agrarian distress, it is no wonder that ruling party politicians do not want to talk about it during the campaign. Opposition politicians do talk about these issues, but only in passing. They're aware that they may not be able to defend themselves if held to account later. Nor do voters talk about their everyday problems due to environmental degradation unless they are asked.
"No political party wants to talk about the state of the Ganges because they are all guilty," says Pradeep Manjhi. Decades of government efforts to clean up the country's holiest river have only seen water quality deteriorate further. "We boatmen of Varanasi know this because we are on the river every day. That is why we do not accept all this talk of Modiji cleaning the Ganges. The river is dirtier than ever… It doesn't even flow." He stops rowing, and the boat stays still in the black water.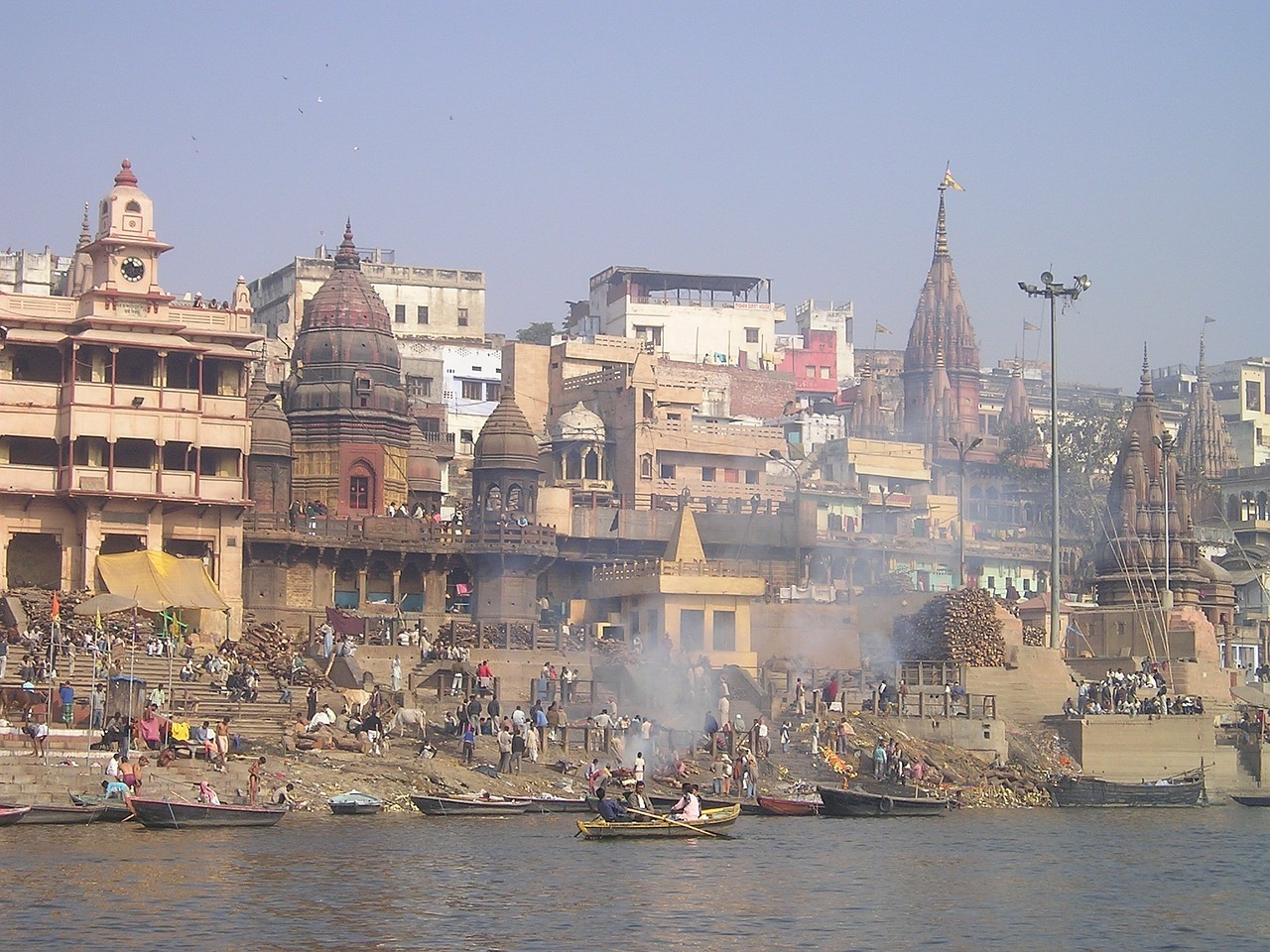 Varanasi (Image: Simon)
Nobody in Modi's constituency of Varanasi, which is also in Uttar Pradesh, thinks he can be defeated in the elections. Though there is discontent over rising joblessness, there is a reluctance to blame Modi for it.
Prabal Sonkar is playing cricket in a wasteland, the only vacant plot between the Varanasi neighbourhood of Phoolwariya and the railway tracks, as pigs, goats and cows root among plastic bags in an adjacent garbage dump. "What else can I do? I am 25. I have completed my BA, I have sat for every recruitment examination, I have looked for a job everywhere, I have not got anything." He will vote against Modi's BJP, though he's sure the BJP will win.
The shopkeepers in the narrow lanes of ancient Varanasi have a different tale. "Modiji has been very good for business," says Ghanshyam Tiwari, who runs an ice cream parlour. "Many more people are coming to Varanasi from all over India and all over the world. They spend money. There is a lot more money going around. Then Modiji organised the Pravasi Bharatiya (non-resident Indian) summit here. Thousands of people came and spent so much money. It has been very good for us. Of course, we shall all vote for him."
Stray cows and dust
The direct road from Varanasi to Lucknow, the capital of Uttar Pradesh, is under construction. Trucks raise choking clouds of dust, through which one can dimly see huge herds of cows blocking most carriageways.
"They have become an absolute menace on the roads," agrees Shashi Tyagi, owner of a new restaurant in Jaunpur, a town on the route. "You know this BJP government has stopped cow slaughter. So what will farmers do after a cow has stopped giving milk? They can't afford to keep feeding the old cows. So they're just pushing the cows out of home, and all these cows are ending up on roads and in garbage dumps."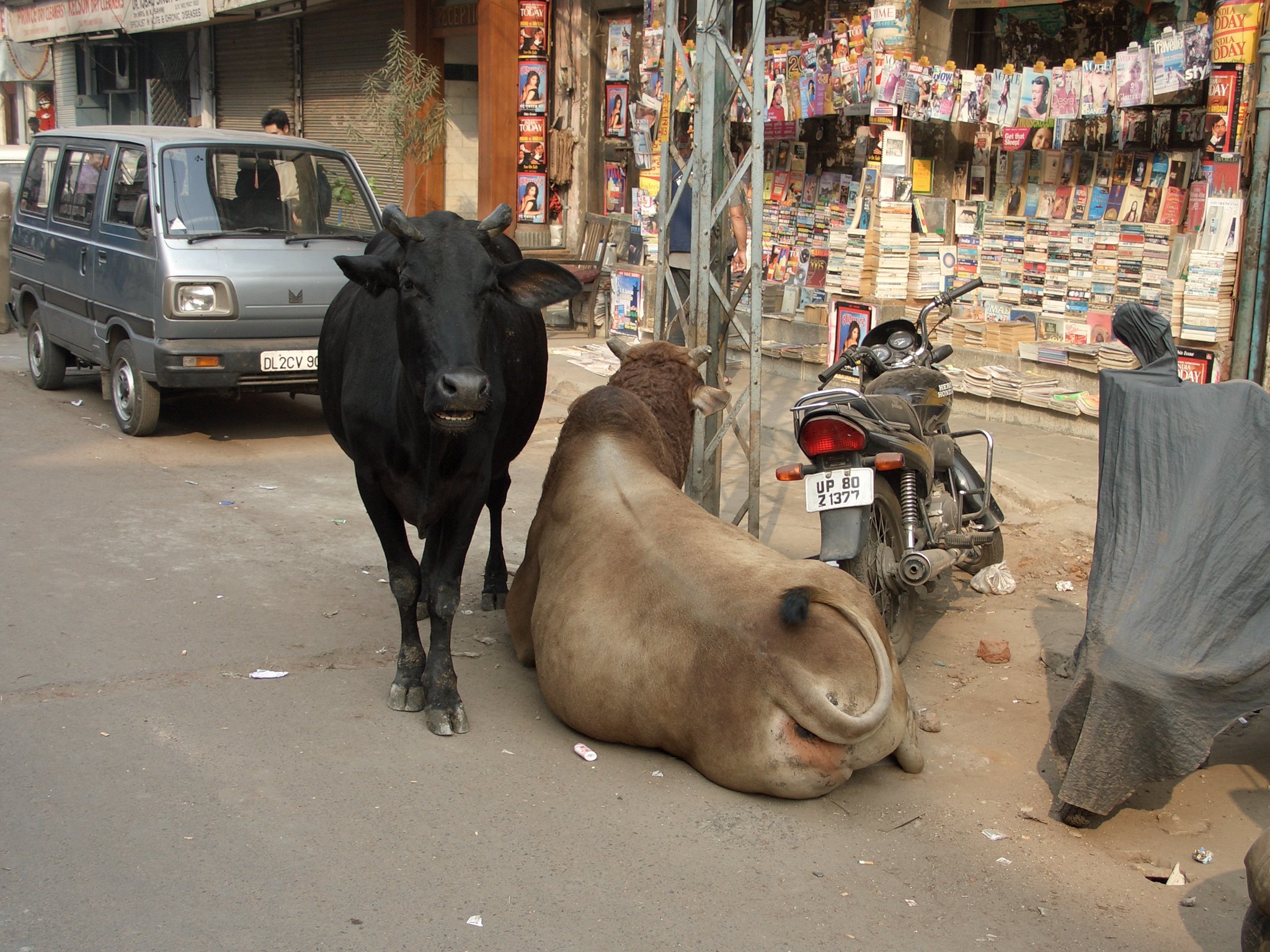 Delhi (Image: Skandalman Dan)
Protection of the cow – considered holy by most Hindus – has been the biggest unifier of BJP supporters. Since the party came to power in 2014, vigilantes from various Hindu groups loosely affiliated to the BJP have lynched Muslims they suspected of storing beef at home. Muslim dairy traders transporting cattle have been set upon and sometimes killed on roads because the vigilantes believed they were taking the cows to slaughter. Hindus of so-called lower castes who traditionally made a living by skinning dead cattle have also been savagely beaten up.
Ministers of the Indian government and other BJP leaders have publicly lauded the vigilante groups, and police action against them has been tardy, to say the least. The result is an atmosphere of fear across India – especially in BJP-ruled states such as Uttar Pradesh – and farmers are no longer trying to sell old cows.
Farmers have been complaining bitterly about the thousands that now dot the countryside. The government's response has been to open cattle shelters. But they are few and far between and underfunded, so the mortality rate is high. Getting rid of the carcasses is another big problem.
BJP supporter Jagdish Singh of Behrin agrees that stray cattle are a major menace. "But what can Modiji do? … It is Modiji's job to keep the country safe, and he's doing that."
Farmers and labourers have a different reaction. "How does the strike on terrorists in Pakistan matter to me," asks Jagdish Kushwaha, who runs a bicycle repair shop in Behrin and farms one-hectare plot. "This BJP government has only increased my problems by imposing this ban on cow slaughter. Now there are stray cows everywhere and they get into farms to eat the crops. We have to stand in our field with a stick through the night. I'm 55, I'm falling ill having to do this every night after working the whole day." What about the cattle shelters the government promised? "There's none here. This government is all talk. We're voting for the [opposition] Samajwadi Party."
The opinions are as divided as the seats are likely to be.