China's emissions are projected to grow by around 4.7% this year following a rise of 1.7% in 2017, according to an assessment of global carbon emissions published on Wednesday.
The latest growth is a blow to hopes that China's emissions had more or less plateaued after three years of static or declining emissions between 2014-2016.
The question now is whether emissions will continue to grow in 2019. The government's fiscal policy is already providing a strong clue.
Driven by industry
The rise in emissions is the result of increased coal consumption driven primarily by industry. The latest official data from China's National Bureau of Statistics shows that steel production from January to October this year increased 7.8% compared to the same period last year, while cement production increased by 2.6%. The increased industrial output also led to the fastest growth in electricity demand in six years. All of which led to a rise in coal consumption of around 3% for the first three quarters of the year.
The government is trying to steer the Chinese economy toward high quality growth, a move that is recognised as critical to reducing carbon emissions. But as the latest data shows, carbon-intensive sectors are still delivering record-breaking output.
In a recent commentary piece for People's Daily, Dr Yang Fuqiang of the Natural Resource Defense Council, said the government needed to tackle overcapacity across heavy industry.
Fiscal stimulus
At a workshop in Beijing a few weeks ago, professor Du Xiangwan of the Chinese Academy of Engineering put the issue plainly. "China produces 60% of the world's cement," he said. "Do we really need that much cement?"
The answer appears to be no. Demand for steel, cement and other construction materials in China has long been supported by local government infrastructure projects, often financed by debt from regular government stimulus packages. This support is illustrated in a graph from Unearthed, which shows how rising carbon emissions from coal, oil, gas and cement production follow the issuance of new debt by a few months.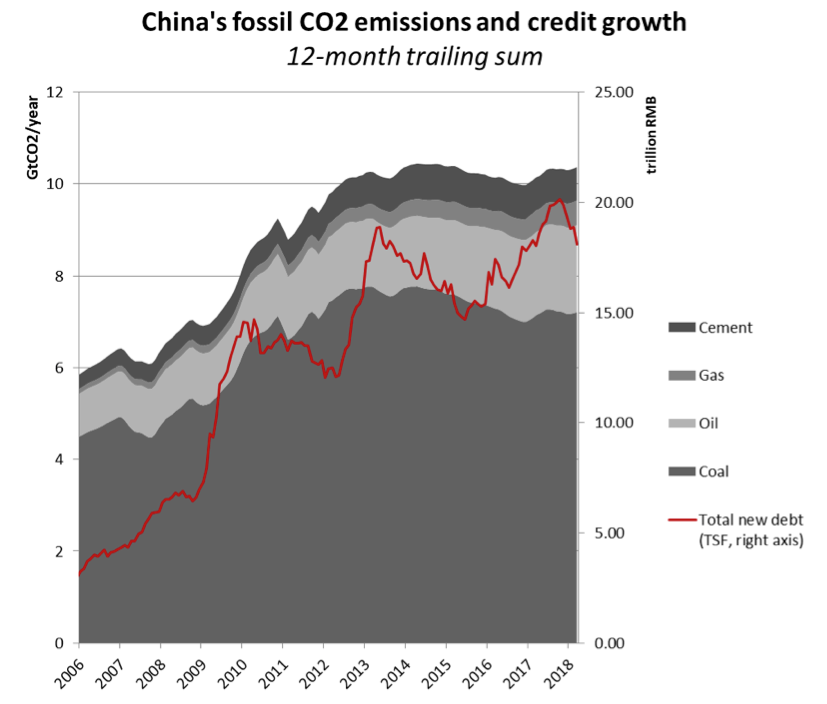 Worryingly, rumours are already swirling that the government is planning to inject enormous stimulus into the economy over the next two years. A recent analysis by ING estimated the package could be around 9 to 10 trillion yuan (US$1.3-1.5 trillion), comparable only to the 2009 package after the global financial crisis.
ING analyst Iris Pang wrote: "Though some fiscal money will be used for debt repayment and loan rollovers, the rest will go into infrastructure projects, which will support manufacturing activities."
However, on a visit to Jiangsu province last month, Premier Li Keqiang emphasised that the government is committed to transitioning the country's economy and has no plans for a large scale stimulus.
How this plays out over the next few months will be of critical importance to global emissions. If ING's predictions are correct, it is almost inevitable that 2019 and 2020 will see high industrial output, growing coal consumption and a third or even fourth year of rising emissions from the world's largest emitter.