Nairobi – The third United Nations Environment Assembly held in Kenya's capital, Nairobi, brought together over 4,000 government officials, scientists, businesspeople and representatives from non-governmental organisations. Their primary task this year was to identify ways of addressing the many different types of pollution that are degrading environments.
Air, land, marine and chemical pollution are all in the spotlight, according to head of the UN Environment Programme (UNEP), Erik Solheim.
"Given the grim statistics on how we are poisoning ourselves and our planet, bold decisions from the UN Environment Assembly are critical," he said. "That is as true for threats like pollution as it is for climate change and the many other environmental threats we face."
Working from the theme "Towards a Pollution-free Planet", UNEP suggested five ways to improve environmental governance: strengthening links between political leaders at all levels with their partners; striking hard against the most severe pollution challenges; changing lifestyles; encouraging investment in low-carbon technology; and more public education.
Environmental degradation accounts for nearly one in four of all deaths, or 12.6 million people a year, according to UNEP. Air pollution, which is the single biggest killer, claims 6.5 million lives each year.
Technology and the environment
Prior to the conference, UNEP held a forum on science, policy and business, aiming to strengthen links between scientists, policymakers, businesses and civil society, and promote low-carbon and sustainable development solutions.
New technologies and improved connectivity will be key to addressing environmental issues. In Kenya and Ethiopia, for example, satellite technology is providing a cheap and effective method of monitoring the environment, helping to reduce crop losses to drought and flood.
Another example is the Chinese-firm Mobike, which with other companies, has launched a shared-bike revolution over the past year, transforming the face of urban transport in many Chinese cities. Research shows these shared bike schemes have to some extent reduced the use of cars and the associated pollution – although the rapid spread of the bikes has encroached on public space and caused concerns about waste.
At the conference one of Mobike's founders, Hu Weiwei, told chinadialogue that production costs for bikes are falling as the technology matures, while big data analysis is expected to help companies increase the use of the bikes and improve the overall environmental footprint.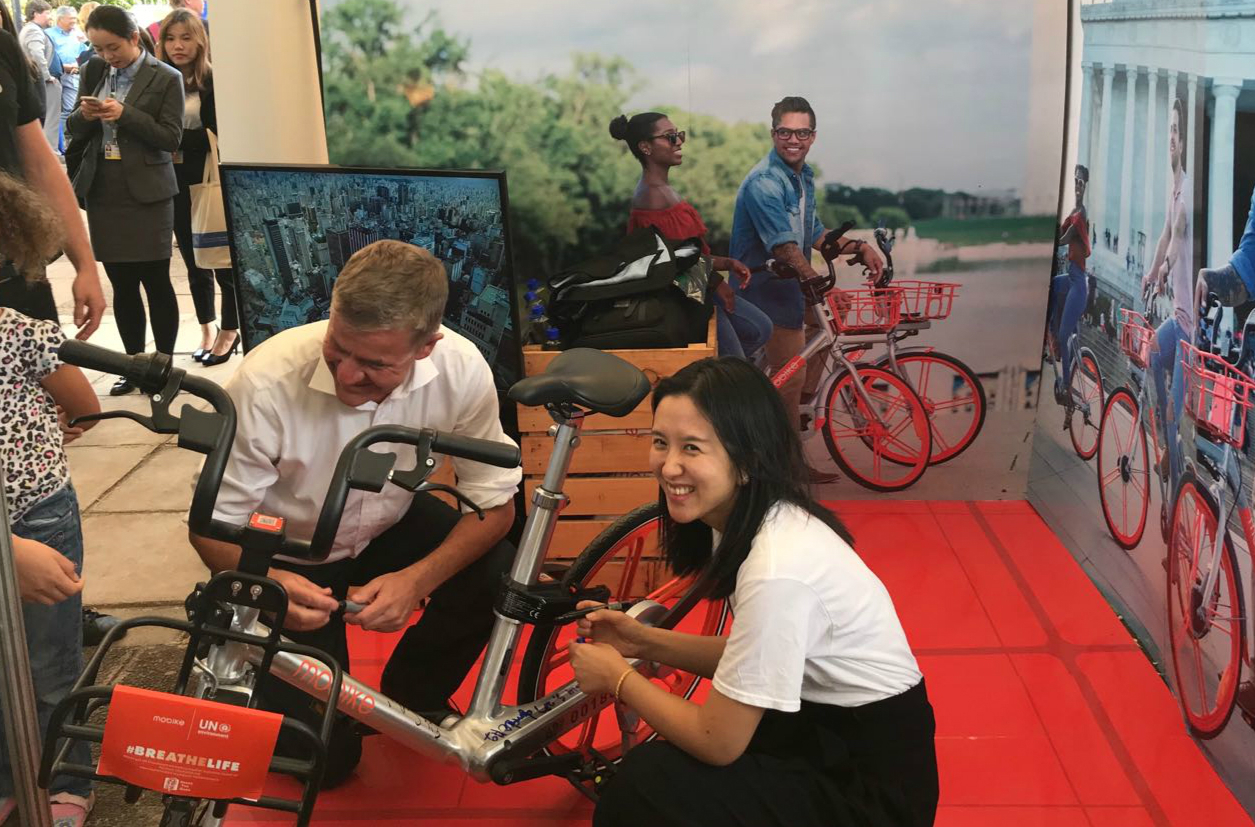 UNEP Executive Director Erik Solheim and Mobike founder Hu Weiwei sign a Mobike bike. (Image: Liu Qin)
Solheim pointed out that technology and businesses can be most effective when governments provide support through prompt policy interventions, an oversight and management framework, and sustainable financing policies.
"Both science and business are providing tools for environmental governance, but it is government which has the key role to play," he said.
This is happening now for China's bike-share schemes. Major Chinese cities are either considering or implementing measures for regulating shared bikes, and setting standards for their placement and use.
China is showing how effective environmental governance can make rapid progress on challenges such as air pollution, but also how these policies need to be carefully designed.
He Kebin, a member of the Chinese Academy of Engineering and head of Tsinghua University's School of the Environment, noted that the Chinese government's 2013-2017 air pollution action plan has helped Beijing cut levels of tiny particles and nitrogen oxides, among other pollutants, by at least 20%, with levels of sulphur dioxide falling by more than 60%.
However, China's aggressive effort to reduce air pollution by replacing coal with natural gas has also led to problems recently. While air quality has improved in Beijing, people in towns nearby were left without heating in sub-zero temperatures after coal heating systems were removed before natural gas infrastructure was in place and gas supplies guaranteed.