It's a sunny summer day with a clear blue sky and drifting white clouds in Dali, a historic city in Southern China. Despite the fine weather, we see only a handful of tourists as we drive around Erhai Lake, a sharp decline from the crowds in previous years.
Tourists haven't come this year because of a decision made in April by the Dali municipal government to suspend operations of the inns and restaurants in the area until they pass inspection by the local environmental protection authority.
For a long time, waste water and sewage from hotels, restaurants and car washes within the Lake Erhai basin have been discharged into the lake. Very few facilities for pollution control have been put in place by the many tourism service providers that operate here.
This isn't the only problem facing Lake Erhai, which provides drinking water for 800,000 people. An even bigger challenge stems from runoff from the chemical fertilisers and pesticides applied to the surrounding farmland, which account for at least 60% of the pollutants entering the lake.
Cleaning up
Apart from reducing sewage discharge from tourism, Dali has been mobilising public-private-partnerships (PPPs) to tackle Lake Erhai's pollution problem. A total of 13 billion yuan (US$2 billion) has been earmarked for seven long-term PPPs focused on environmental protection, based on a Ministry of Finance website dedicated to registered PPP projects.
However, these expensive projects are mainly designed to restore the wetlands and improve the management of household sewage. They fail to address the excessive application of agriculture fertilisers and pesticides in surrounding rural areas.
Despite their huge investment in restoring the environment, local officials are still deeply worried about the diffuse sources of pollution originating in the surrounding fields.
Is garlic to blame?
High in nutritional content and economic value, single-clove garlic has been the backbone of economic development in Eryuan, a national-designated poor county at the upper reaches of Erhai Lake. Eryuan is the only county in China to grow single-clove garlic at scale.
Garlic farming has boosted incomes to more than 10,000 yuan per mu (US$22,547 per hectare) for local farmers in the county. As a result, Eryuan is expected to become one of the first counties in Yunnan province targeted by the government's poverty-relief strategy to have officially alleviated poverty by 2017.

Farming single-clove garlic has boosted local incomes in Eryuan County (Image: baike)
But increasing garlic production is taking a heavy toll on the environment.
Local garlic growers use almost 200 kilograms per mu (3,000 kilograms per hectare) of chemical fertilisers, and significant amounts of water to increase yield of crops. The high nitrogen and phosphorus content in the fertilisers are worsening eutrophication in Erhai Lake, leading to regular blue-green algal blooms. The pesticides, which contain high concentrations of toxic residue, are adding to the damage. In contrast, the United States and Japan set a limit of 15 kilograms per mu for the same condition.
Policymakers seem to be faced with a choice between environmental protection or economic development. Reducing or abolishing garlic production would significantly reduce widespread pollution from the overuse of fertilisers and pesticides, yet doing so would drag local garlic growers back into poverty.
However, it is possible to strike a balance between producing garlic and protecting the environment.
Growing sustainably
To explore how eco-farming might reduce pollution, Beijing Goldenway Bio-tech (BGB) has been working closely with the Agricultural Technologies Promotion Centre (part of the Agriculture Bureau of Eryuan County) and other organisations. BGB's impressive efforts in this area won it the 4th Paulson Prize for Sustainable Cities.
BGB rented 51 mu (3.4 hectares) of local garlic-growing farmland for experiments during the 2016-17 garlic planting season. They conducted experiments aimed at reducing the application of chemical fertilisers and pesticides by 30% and 100%, respectively, replacing them with organic fertilisers, biological pesticides, and physical pest controls such as traps.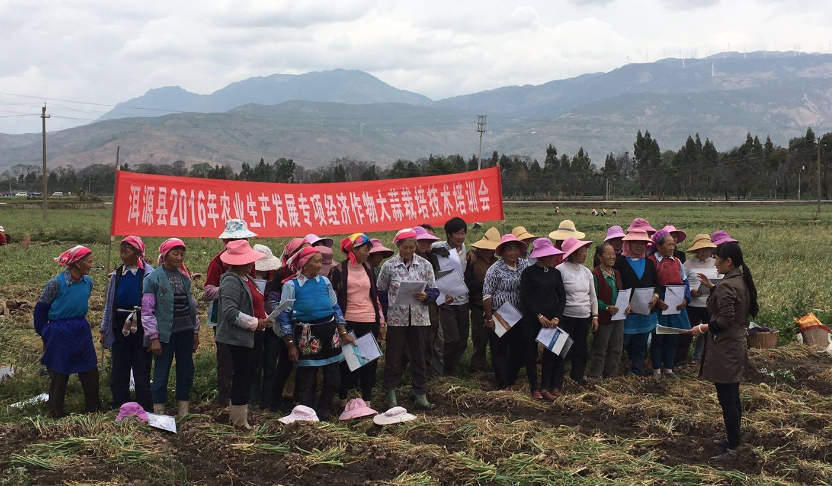 Garlic farmers receive hands-on training in eco-farming (Image: Paulson Institute)
The results were encouraging. The total nitrogen and phosphorous levels in water bodies under the total ban on chemical pesticides and fertilisers went down by 78% and 74% respectively, while under the partial ban levels were reduced 55% and 53%, respectively.
This means that by using BGB's eco-farming methods, chemical pesticides and fertilisers in all the three river basins could be reduced so much that Erhai Lake's water pollution classification could go from Class IV (untouchable for humans) to Class II (considered safe for protected aquatic life).
Even by simply planting with less chemical pesticides and fertilisers, the water quality could be enhanced to Class III (good for aquaculture).
More importantly, under the eco-farming pilots the content of garlicin, a major bioactive ingredient in garlic, increased by 33% and 13% for the full and partial bans on chemical fertilisers and pesticides respectively compared to traditional planting method.
This means that sustainably grown garlic has a higher nutritional value and a higher potential market price. Although the yield is lower compared to high-input farming, the reduction in fertiliser and pesticide costs and the rise in product quality, makes eco-farming an economically sound proposition.
Next steps
Instead of simply stopping the application of pesticides and fertilisers, sustainable agriculture requires innovation in husbandry techniques, support for planting science research and eco-farming techniques, soil testing and data analysis.
Public awareness and demonstrations also play a crucial role, as most farmers are unwilling to risk trying new planting practices. Chinese policymakers are accustomed to investing in infrastructure rather than working with Chinese farmers to change behaviour.
Ultimately, sustainable urbanisation depends on sustainable agricultural development. Essential services such as safe food and drinking water cannot be guaranteed for urban areas without a clean rural environment.
The experiments in Eryuan County provide valuable ideas and inspiration about how to balance economic development and environmental protection. But eco-agriculture isn't just about ensuring healthy rivers and mountains, it's also a means of improving the quality of local crops and enabling farmers to grow themselves out of poverty.