China, the world's largest producer and consumer of pesticides, is changing its approach to regulating the chemicals.
The Ministry of Agriculture announced Tuesday that it had established the Pesticide Management Office, which will regulate the production, sale, and use of such chemicals. Previously, oversight of pesticides was divided among several departments.
China leads the world in both pesticide production and consumption at 3.75 million tons and 1.7 million tons, respectively, in 2015. Through its exports, China is also a major international player, and in June, state-owned ChemChina announced it was acquiring Syngenta AG, then the world's largest pesticide manufacturer.
According to research by the International Academy of Ecology and Environment Science (IAEES), a nonprofit organization, pesticide use in China helped avoid the loss of more than 167 million tons of grain and vegetables in 2007. But pesticides use in China is a double-edged sword. Zhang Wenjun, a professor of ecology and environmental sciences at Sun Yat-sen University in Guangzhou, capital of southern China's Guangdong province, co-authored the IAEES research. He told Sixth Tone that the current use of pesticides poses health risks to people who ingest food that still has chemical residue.
One reason for this is overuse of pesticides. A government report in 2016 said that Chinese farmers use up to three times the global average. For example, annual pesticide use in the U.S., which has about one-and-a-half times as much arable land, is about a third of China's.
In 2013, the environmental group Greenpeace reported that 70 percent of pesticide used in China was not absorbed by plants, but instead seeped into the soil and groundwater. The report concluded that pesticides had polluted at least 13 million hectares, or around 10 percent of the country's arable land.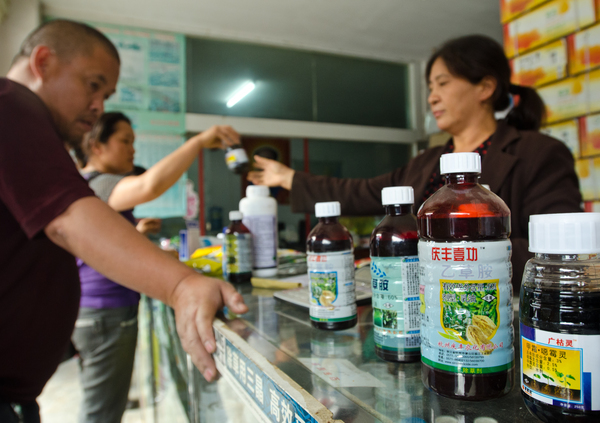 Farmers buy pesticides from a store in Wenshan, Yunnan Province. (Image: Simon Lim/Greenpeace)
Farmers and their families are at risk, too, as are animals. A study published in June found nearly 3,000 children were poisoned by pesticides in eastern China's Zhejiang province between 2006 and 2015, with most cases occurring during the farming season. In August, a farmer in eastern China was detained after over 100 sheep died from eating scallions that he had sprayed with a banned pesticide.
Aware of the problems, the Chinese government in 2015 set a target of zero increased pesticide use by 2020, aiming for "an efficient, environmentally friendly, and sustainable system to manage pests." Since June of this year, stricter regulations introducing a new licence for pesticide production and more specific rules for pesticide use have been put into effect.
Zhang, the ecology professor, welcomes the increased oversight. "The government previously implemented laws and regulations regarding pesticides," he said, "but the results were far from ideal."
This article was originally published on the Sixth Tone.