With just a few words, Xin Guobin, vice-minister at the Ministry of Industry and Information Technology (MIIT), sent the shares of Chinese electric car firm BYD up by 16% over two days.
"Some countries have already set timetables for ending the manufacture of traditional-fuel vehicles. The MIIT has started researching this and will, along with other relevant ministries, set a timetable for the process in China," said Xin at the 2017 International Forum on Chinese Automotive Industry Development, held in Tianjin on September 9.
This was the second time the matter had been raised in the past few weeks, following comments by Xu Dingming, head of the National Development and Reform Commission's National Energy Administration on August 25, at a car industry summit, that the countdown had started.
However, Xin Guobin's statement was the first from a minister with responsibility for the car industry.
Apart from saying China was looking at the issue, Xin did not provide any further information. But a timetable for ending the manufacture of petrol and diesel vehicles would mean huge changes for both the transport and energy sectors.
Questions remain
China had 1.09 million new energy vehicles on the roads in 2016, with all-electrics accounting for more than 60% of the total, meaning China is now home to half the world's electric vehicles. New energy vehicles include plug-in hybrids, electric vehicles and those powered by methanol and hydrogen. However, vehicles running on methanol or hydrogen fuel cells are not commercially viable yet.
But those are tiny numbers when compared to the total number of vehicles on China's roads – almost 200 million. And experts have quite different ideas about how the reform of China's car industry will play out.
Jiang Kejuan, a researcher at the National Energy Administration, is optimistic about technology innovations and thinks that the transition from conventional vehicles will happen quickly.
Under the National Development and Reform Commission's plans, electric vehicles will achieve a range of 700 kilometres somewhere between 2020 and 2025, with significant drops in electricity consumption per kilometre. He thinks that once electric vehicles make up 50% of those on the road, the remainder could be replaced quickly, perhaps even within two years.
In contrast, the China International Capital Corporation bases its predictions on the cost of batteries, which are a major bottleneck to reducing vehicle costs. It estimates that between 2025 and 2030 the lifetime cost of an electric vehicle will equal or fall below that of a traditional vehicle, which will be key to tipping the balance in their favour.
Yan Jinghui, a car industry analyst, doesn't expect the transition to happen within a decade. Replacing China's 200 million cars will have to be a gradual process as issues with the development of new energy cars are resolved and existing cars are phased out.
Kang Liping, senior project manager with the Innovation Centre for Energy and Transportation, thinks a ban on petrol and diesel vehicles will be impossible before 2040: "China's a huge and varied country, and that means varied needs. Traditional vehicles will still be used for a long time, sharing the market with electric and hybrid vehicles. I think that'll be the case until 2040 at least."
He Jijiang, an assistant professor at Tsinghua University who researches energy innovation, thinks it'll be between 2030 and 2040. He agrees regional differences within China are a major factor, and says that alongside a national timetable the government should also put regional timetables in place. He suggests Beijing stop the sale of petrol and diesel vehicles in 2020 due to air pollution issues in the city. "If the government makes the decision, the electric car industry can meet all new demand."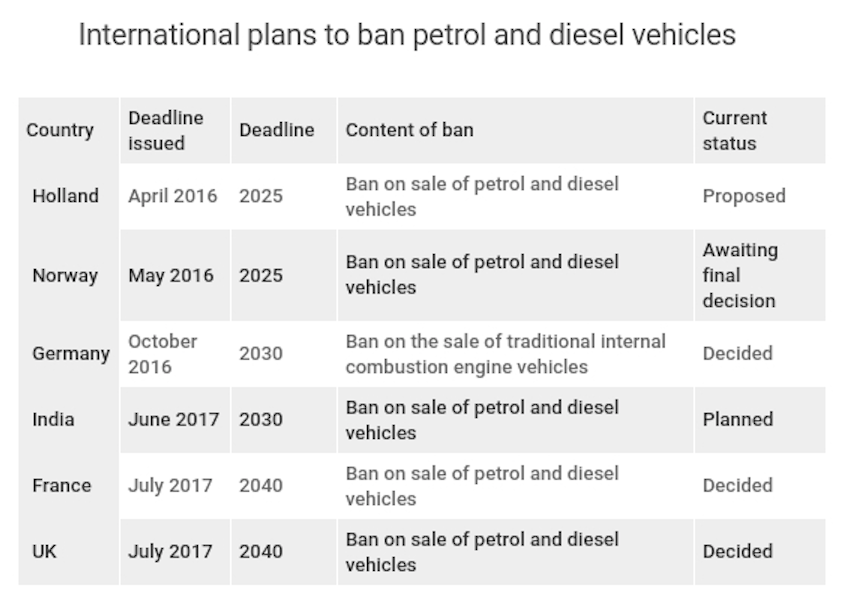 Inevitable, but still difficult
But sooner or later there is no question that petrol and diesel vehicles will be phased out. There are 28 million new cars sold every year in China and passenger vehicle efficiency lags behind international norms, which is hampering China's effort to reach a carbon emissions peak in 2030. Vehicle emissions are also a major cause of urban air pollution – a problem that is in urgent need of resolution. He Jijiang told chinadialogue: "We can't wait for new energy vehicles to be ready before replacing petrol and diesel vehicles – the smog problem won't wait."
Subsidies for new energy vehicles, both from central and local government, have been offered since 2013, and a new system will be launched soon that will require car manufacturers to both improve fuel efficiency of their petrol and diesel vehicles and produce a certain number of electric vehicles. These moves are forcing manufacturers to shift to new energy vehicles. The new energy vehicle sector also listed in the 13th Five Year Plan as an emerging strategic sector.
But the transition of such an important sector will spell huge costs for car makers as existing equipment is written-off and production lines changed. Add in the range and recharging problems that face new energy vehicles and the replacement process will be a complex and difficult one.
Reform of the electricity system to accommodate charging infrastructure, and the development of cleaner sources of energy to power electric vehicles, are also issues that need addressing. The adoption of electric vehicles is one change that will have many effects so coordinated, long term and careful industrial and urban planning is needed.
Some cities are already moving ahead with ambitious plans. In September 2016, Taiyuan became the first city in the world to move its entire taxi fleet to electric vehicles. But Taiyuan was lucky: the fleet numbered less than 9,000 vehicles and most of it was due for renewal at the same time. The Taiyuan government also offered subsidies double those of the national government, providing a much stronger incentive for drivers to switch. BYD has also been persuaded to invest in the city. It is hoped this will ease the industrial transition in the area from an economy that relied on coal-mining.
Taiyuan was well placed to initiate a vehicle transition but has still had problems with the distribution of charging points, which have at times overloaded parts of the power grid. If the city wants to increase the number of electric vehicles it will have to consider their placement more carefully.
Replicating Taiyuan's success elsewhere will also be challenging. Managing the new infrastructures required will be far more difficult in a major city such as Beijing, which has 66,000 taxis, and 5.5 million cars.
Liu Chun, deputy head of the China Electric Power Research Institute's New Energy Research Centre, once said at a seminar on electric vehicles that just 500,000 electric vehicles could cause the city's power grid to collapse.
Nonetheless, the broader benefits are appealing. Northern China is still wasting enormous amounts of wind and solar power due to grid connection issues. Introducing electric vehicles, upgrading the grid, and reforming the power market must all be carried out simultaneously.
Drivers' range anxiety is also an obstacle. Tesla and BYD are the leaders here, offering range of 500 and 400 kilometres, respectively. But the range of many electric vehicles is still insufficient for long unbroken trips and is a key factor discouraging buyers.
And there may still be major advances in the efficiency of traditional fuel vehicles. Dr An Feng, director of the Innovation Centre for Energy and Transportation, believes the transition from traditional vehicles will be gradual and the pace will depend on the country. It may be quicker in smaller countries, but not in China: "Traditional vehicles will be with us for quite some time to come," he said.