"We bury a GPS tracker in the wood. We call them rabbits," says Cheewapap Cheewatham, director of Thailand's Forest Protection and Fire Control Bureau, part of the forestry department. He tells China Dialogue that they used to just impound as evidence cut rosewood they found in the forest. Now they follow it. "We even stopped a shipping vessel from leaving."
For years, Thailand's authorities have been fighting a deadly war on the border with Cambodia and Laos to prevent the poaching of rare and valuable Siamese rosewood (Dalbergia cochinchinensis). The forestry officials chase their "rabbits" all the way to China, where the wood is usually made into furniture and can fetch as much as US$100,000 per cubic metre.
Forestry officials are also implanting rabbits in uncut trees and developing versions that can monitor sound within a one-kilometre radius, keeping a digital ear open for cars and saws.
Technology for protecting Siamese rosewood, and the other endangered trees of Thailand's national parks, continues to improve – motion sensors, camera traps, drones – but decades of illegal smuggling mean there are few full-grown Siamese rosewoods left in the wild.
"Trees that were big enough to be sold and used were all cut down. Only smaller trees are left," Cheevatham says. A single mature tree can be 200 years old and fetch huge sums, but after about 60 years of growth, loggers may consider a tree big enough to cut. "One of the problems of losing the big trees is that they are parents that will shed seeds… We now have to wait at least 10 years for the smaller trees to grow. When parent trees are cut down, the whole ecological system changes."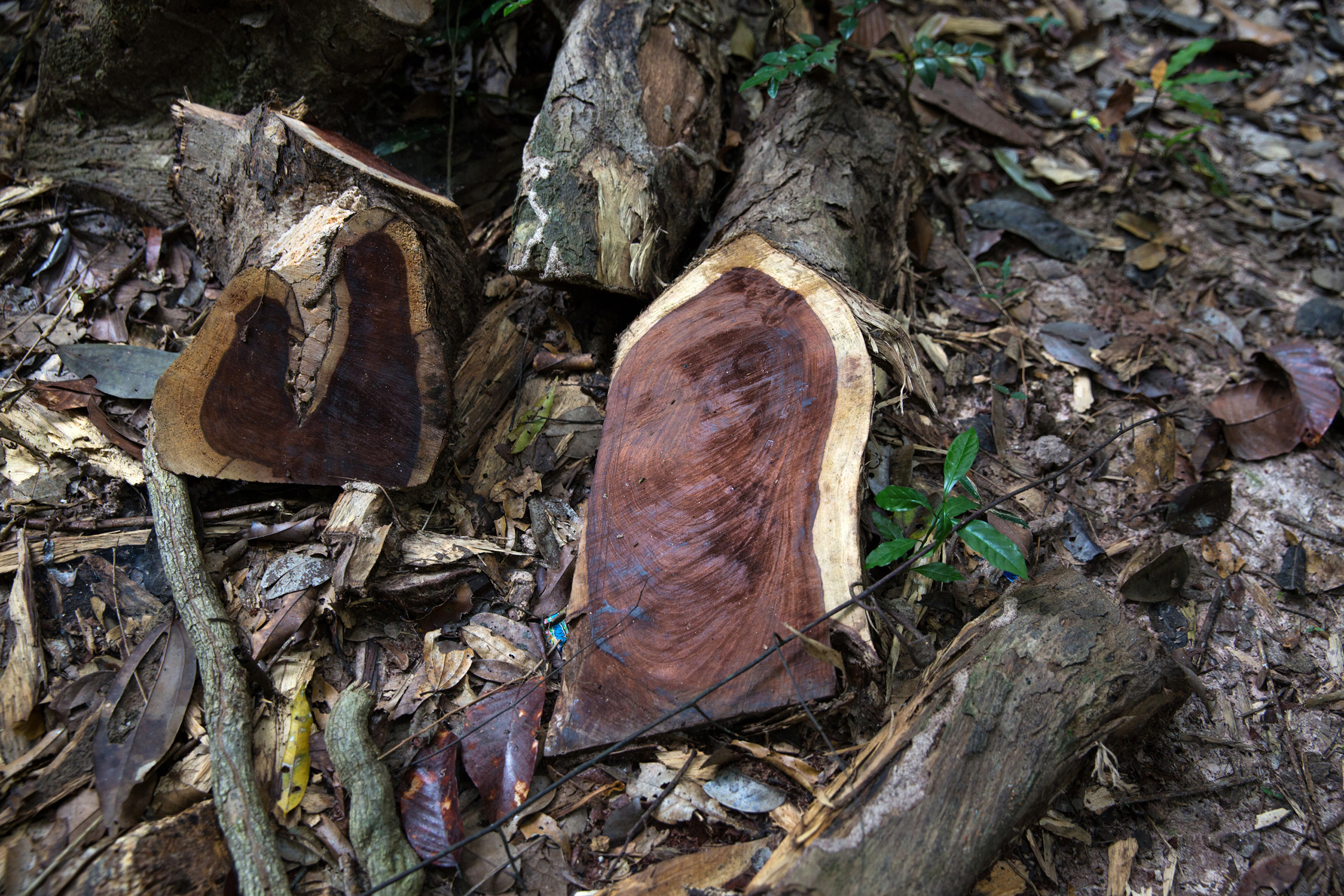 To prevent the illegal logging and trafficking, rangers in rapid response teams patrol from the Khao Yai National Park, just 120 kilometres from Bangkok, to Ta Phraya on the Cambodia border. They have become well-known for their intense training and jungle battles with smugglers.
Between 2009 and 2013, 40 rangers were reported to have been killed in shootouts with people smuggling timber out of Thailand. In 2015, seven more were reported killed. The Thai marines at the border and the navy on the Mekong also guard against the trafficking of timber, but demand from China keeps the trade alive and lucrative.
Road to China
Siamese rosewood grows sparsely in Thailand's east. It is the most valuable of the kingdom's poached trees, which also include Burmese rosewood and teak. From 2009 to 2015, Siamese rosewood's market price as a raw material grew from US$3,220 a tonne to more than US$23,000 a tonne.
Thailand had found little use for Siamese rosewood prior to the boom, but it is extremely sought after in China, where it is known as hongmu (red wood).
"There are very sophisticated networks now that involve people from Thailand, Cambodia, Laos, and pipelines that go through Vietnam and China," says Tim Redford of Freeland, a global, non-profit organisation concerned with wildlife trafficking and human slavery. "There's overland from northern Cambodia to Vietnam. There's through the Cardamom mountains to… Vietnam. There's over the Mekong, which is a favourite route – lots and lots of different trafficked items, pangolins, and tigers and that sort."
The most active smuggling routes are found on Thailand's eastern border with Cambodia and Laos. For Siamese rosewood, all roads eventually lead to China, Redford says, where some see the wood as an investment commodity.
"They're banking on extinction. Every year, it gets harder to find and the value increases." Redford claims that only about 2% of rosewood is legally obtained.
Poachers find various ways to smuggle their quarry across the 52km border between Ta Phraya National Park in Thailand and Banteay Meanchey in Cambodia. They drive it to one of the five unofficial, unguarded border crossings between Poipet and Thapthai, or they carry it on their backs over the border. Once the wood is out of Thailand, it is laundered and exported, or smuggled to China.
"You've got the guy who finds it, the guy who cuts it, the porters to carry it out, and then the transporters who take it from the edge of the forest to the border. And then you've got places on the border where you can just pass it across," Redford says.
A logger's part in the transboundary trade may net them US$200 per load, much more than they'd usually make. Some of the smugglers themselves may be trafficked, with one group of press-ganged Cambodian loggers turning themselves over to the police in 2015 after being sent to chop down rosewood over the border.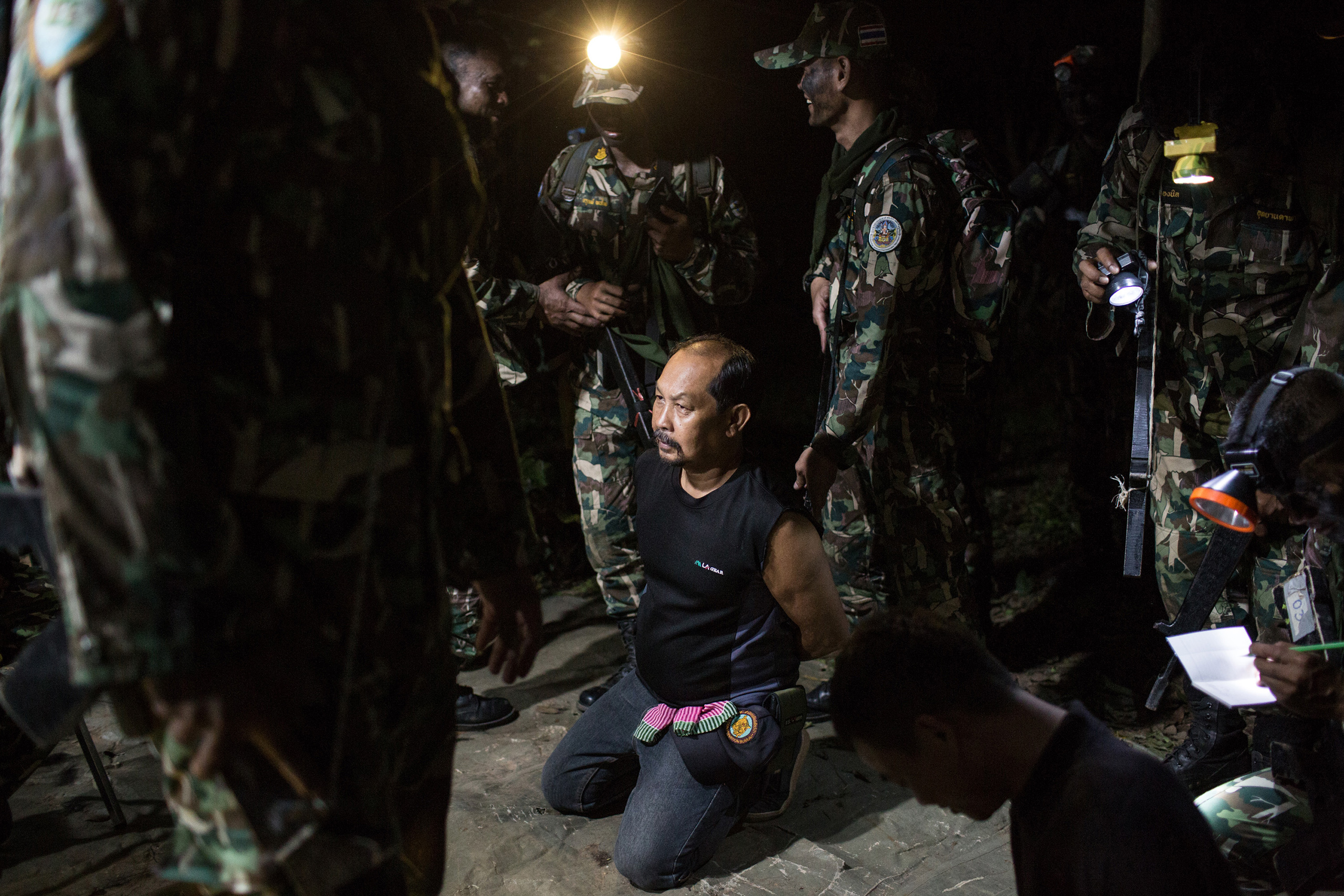 Breeding corruption
The authorities and rangers find themselves pitted against a well-organised, international crime network. The fight often involves Thailand's Department of Special investigation (DSI) and the Anti-Money Laundering Office, as they track both wood and funds to China. On the ground in Thailand, the profits of poaching timber and animals make enforcement difficult.
"In the past two years, the department of forestry has investigated its own officials, and 10 of them were fired because of their involvement in wood smuggling," Cheewapap says, adding that the smuggling has even invaded their evidence lockers.
In one incident in January 2019, the department investigated their own officials for selling Siamese rosewood indirectly to "Mulan", an infamous and elusive Chinese national and ex-wife of a military officer at the heart of an illegal timber empire for the last decade.
"[Poachers] have relationships with the local police – bent police," Redford says. "They're able to create windows where they can get stuff out. The military has gotten involved and they're thankfully harder to corrupt – at the field level anyway."
It has been estimated that there were 80,000 Siamese rosewoods left in the wild in 2011. Little is known about how many remain. With a change in the law in 2018 giving permission to log privately owned Siamese rosewood, the struggle to protect them has moved from the national parks to private property.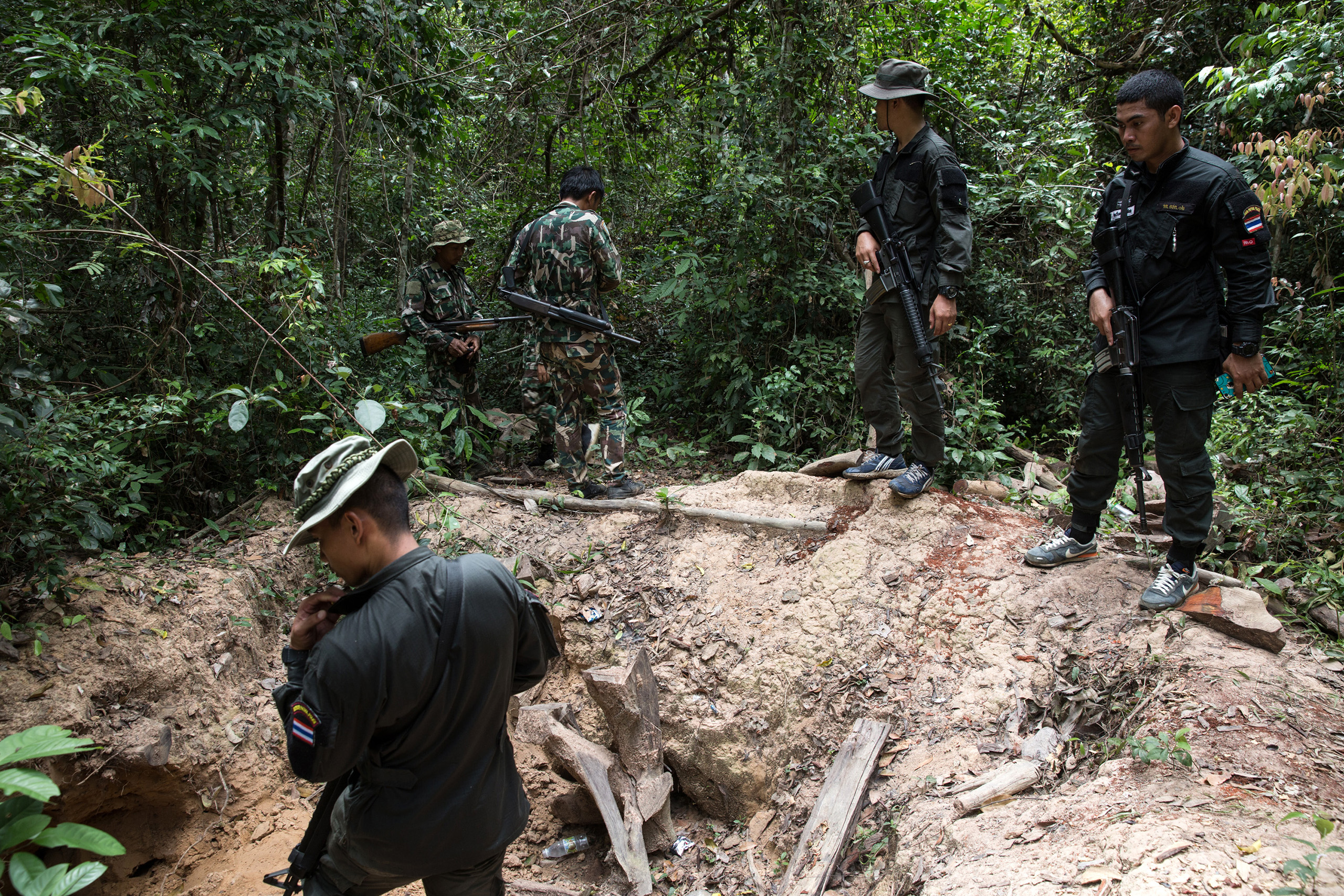 On a rainy night in May of 2019, Chaipor, a village in northeastern Thailand, lost its electricity when someone tried to cut down and steal a Siamese rosewood on private land and it crashed on power lines. Prior to that, a US$40,000 rosewood was taken from a private garden, and poachers have even invaded temple grounds to cut down the valuable tree.
Meth for wood
In October last year, the DSI raided the home of a deceased drug lord west of Bangkok in Samut Sakhon. Rather than drugs and piles of cash, they found US$5.3 million worth of rare timber.
"The groups and syndicates, they pay [poachers] with methamphetamines," says Sombat Teungwiwat, who previously served as deputy superintendent of the Narcotics Suppression Bureau for the Royal Thai Police and now advises Freeland on intelligence analysis.
"They are scary," says Cheewapap. "They fight back and are armed. The ones that fight back are Thais, too, and they are high on yaba… The people that use drugs more than the others are the ones cutting the trees down. When we arrest them, we find yaba with them nearly 100% [of the time]."
Yaba is an inexpensive mix of caffeine and methamphetamine. Drugs play an important role in the trafficking of Siamese rosewood and other illegal timbers to China as both a way to launder money and pay for labour.
"They're taking this meth problem back to these little communities, and then these kids get addicted, so to get more money they need to commit more crimes, and it just goes around and around," Redford says. "So it's not just illegal logging. It's poaching, it's smuggling of anything. It's theft and burglary and more drug sales in the communities. You wouldn't believe the damage this is doing."
With Siamese rosewood now so rare, the bloody days of the early 2000s are largely over for the wildlife rangers, as confrontations with poachers become fewer. But just as the forestry officials and regulations have evolved, so have the timber poachers' methods.
Loopholes and corruption
Siamese rosewood was put in Appendix II of the Convention on International Trade in Endangered Species (CITES) in 2013, so as to protect it. This meant strict trade controls on Thailand exporting the wood. But corruption and the exploitation of CITES exemptions have kept the rosewood trade alive.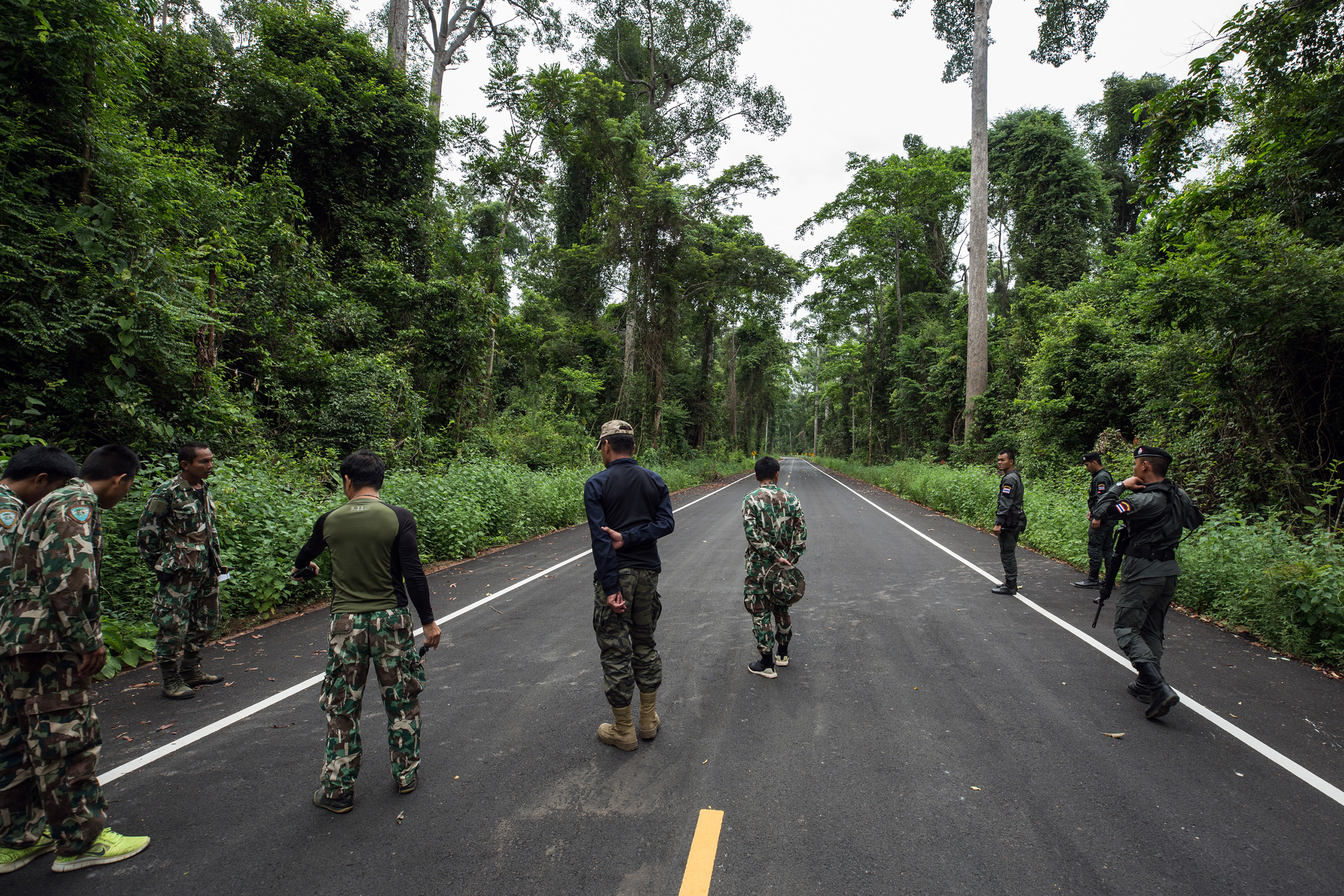 "Partially finished furniture and musical instruments are exempt, things like that," Redford says. "The traffickers are sophisticated and know how to use the laws to their advantage. They know the loopholes."
After it has made its way out of Thailand, traders launder the wood by turning it into a product or type that escapes CITES restrictions. Cheewapap says his department's rabbits help them to better understand how illegal timber is laundered.
"So somebody gets hold of a signature of the Cambodian permanent secretary, who is a CITES management authority, and they make a stamp," Redford says. "Then they turn up in Vietnam with paperwork and Customs allows it in." Redford claims that when the official certificates are tabulated by the CITES Secretariat in Switzerland, the figures show zero exports from Cambodia, Laos or Thailand, but thousands of tonnes being imported into Vietnam.
Prior to 2016, "logs, sawn wood and veneer sheets" could be sold with CITES certification, and by the time this particular loophole had closed, Siamese rosewood had all but disappeared from Thailand's national parks. In 2014, there were 5,884 arrests for cases involving valuable wood, according to official statistics from the Ministry of Natural Resources and Environment. By 2019, the number had dropped to 1,255, largely due to the decrease in stock.
It may be too late to see a resurgence of Siamese rosewood in the medium term. Meanwhile, the trade of "replacement" timber such as Burmese rosewood is increasing, threatening those species in Thailand as well.
Despite the uncertain future for wild Siamese rosewood, Cheewapap thinks the hard-line tactics of the rangers and the Thai authorities are having an effect. "In the last year, we haven't seen much of the big gangs. I think it's because they might be scared of us."