Nature was given prominence at the UN COP26 climate talks in Glasgow. It was the focus of the first major announcement at the world leaders' summit which opened the talks, when more than 130 countries committed to "halt and reverse" deforestation by 2030. If made good, that pledge would simultaneously cut carbon emissions, increase carbon absorption, help lower temperatures and protect wildlife.
Moreover, the UK presidency had scheduled one whole day of the COP around the theme of nature to try and raise the profile of "nature-based solutions". Nbs are "actions to protect, sustainably manage, and restore natural or modified ecosystems, that address societal challenges effectively and adaptively, simultaneously providing human well-being and biodiversity benefits", according to the IUCN (International Union for Conservation of Nature).
NbS actions have the potential to provide up to 37% of the cost-effective CO2 mitigation needed to give the world a 66% chance of keeping global warming within 2C, according to research by an international group of scientists. Such actions should also help protect biodiversity in line with the post-2020 targets set through the UN Convention on Biological Diversity, which will be finalised at the second session of the COP15 biodiversity talks in Kunming this spring.
The final agreement of COP26, known as the Glasgow Climate Pact, recognised the importance of "protecting, conserving and restoring nature and ecosystems… including through forests and other terrestrial and marine ecosystems acting as sinks and reservoirs of greenhouse gases."
Participants in the UN climate negotiation process now have a broader understanding, which goes beyond forests, of how nature can help tackle carbon emissions and climate impacts, according to Xiaoting Hou-Jones, senior researcher in biodiversity and natural resources at the IIED (International Institute for Environment and Development).
"The Glasgow Pact focuses on recognising different ecosystems, which is really encouraging to see – it's not just about forests. That also gives us a stepping stone towards looking more at nature-based solutions for adaptation at the next COP as well, which is great because I think that has always been lacking," she says.
The term "nature-based solutions" was absent from the final text, having been removed in an earlier draft version. This illustrated that political support was not yet unanimous, often due to concerns driven by some projects that described themselves as NbS turning out to be poor quality, says Will Baldwin-Cantello, director of NbS at WWF UK.
The same concerns may limit explicit support for NbS at COP15 unless there is sufficient emphasis on the involvement and support of local communities and indigenous peoples, and that a wide range of funding options are appropriate, not just the carbon market, he adds.
NbS projects are being brought forward through the carbon emission reduction plans of individual countries, known in UN climate negotiations as nationally determined contributions (NDCs). Of NDCs submitted by 12 October 2021, 105 out of 114 countries had included NbS, according to an analysis by WWF.
The majority of NbS policies in those NDCs – 96 – related to cutting emissions and improving the ability of ecosystems to draw carbon from the atmosphere, while 91 contained plans to use nature to improve resilience to climate change risks.
Some 85 countries had increased policies for NbS in their NDCs compared with earlier versions, though 19 had reduced them. There was also a rise in the number of NDCs that mention wetlands, mangroves and marine ecosystems.
However, there is a long way to go in terms of actual projects on the ground, says Andrew Deutz, director of global policy, institutions and conservation finance at The Nature Conservancy. "What we tend to see is pilot projects, exemplifying NbS or ecosystem-based climate adaptation, but not very many examples of where countries have a systematic strategy and plan," he says.
This is beginning to change, he believes. For example, the US Army Corps of Engineers – one of the world's largest water sector infrastructure developers – has started to use NbS alongside traditional hard engineering techniques. And last year, it produced guidelines on NbS for managing flood risk.
"The practice is evolving now, and we're starting to see big infrastructure developers figure out how to do hybrid and natural infrastructure solutions as a mainstream way of doing business, rather than NGOs doing a bunch of small projects," he says.
In Uganda, the government is working to restore wetlands with US$24 million from the Green Climate Fund, the body established by the UN climate negotiation process to mobilise and distribute climate change finance. The wetlands regulate flooding, remove pollutants from surface runoff and recharge groundwater.
But Uganda has lost around 30% of these ecosystems due to degradation and encroachment in the last 15 years. It is now helping people living in wetland areas to find alternative sources of employment so they can move away from the wetlands to enable them to regenerate.
Another project receiving money from the Green Climate Fund supports the restoration of urban wetlands and stream ecosystems in Laos to regulate water flow and reduce flood risk. The project is expected to benefit 10% of the country's population, who will see reduced flood risk and improved green spaces, decreased temperatures and more tourism opportunities, according to UNEP (United Nations Environment Programme).
Despite these positive examples, the successful implementation of NbS faces several challenges. One of the greatest is finance. Currently, around $133 billion is invested in nature each year, according to a report by UNEP, leaving a funding gap estimated at $500–970 billion a year.
Negotiators at COP26 made some progress on finance. Twelve countries, including the UK, US and Japan, put forward $12 billion over five years to support developing countries to tackle deforestation. This will include actions such as supporting smallholder farmers to restore degraded land, strengthening land tenure systems and mobilising private sector investment.
Meanwhile, the Bezos Earth Fund pledged $2 billion to restore forest landscapes in Africa and the US. Canada announced CAD$1 billion in international support for nature-based solutions, a fifth of its climate finance.
The Lowering Emissions by Accelerating Forest Finance (LEAFF) Coalition – a voluntary global coalition of governments and the private sector to provide finance for forest conservation – pooled $1 billion, with the governments of Costa Rica, Ecuador, Ghana, Nepal and Vietnam signalling interest in receiving payments in return for reductions in deforestation.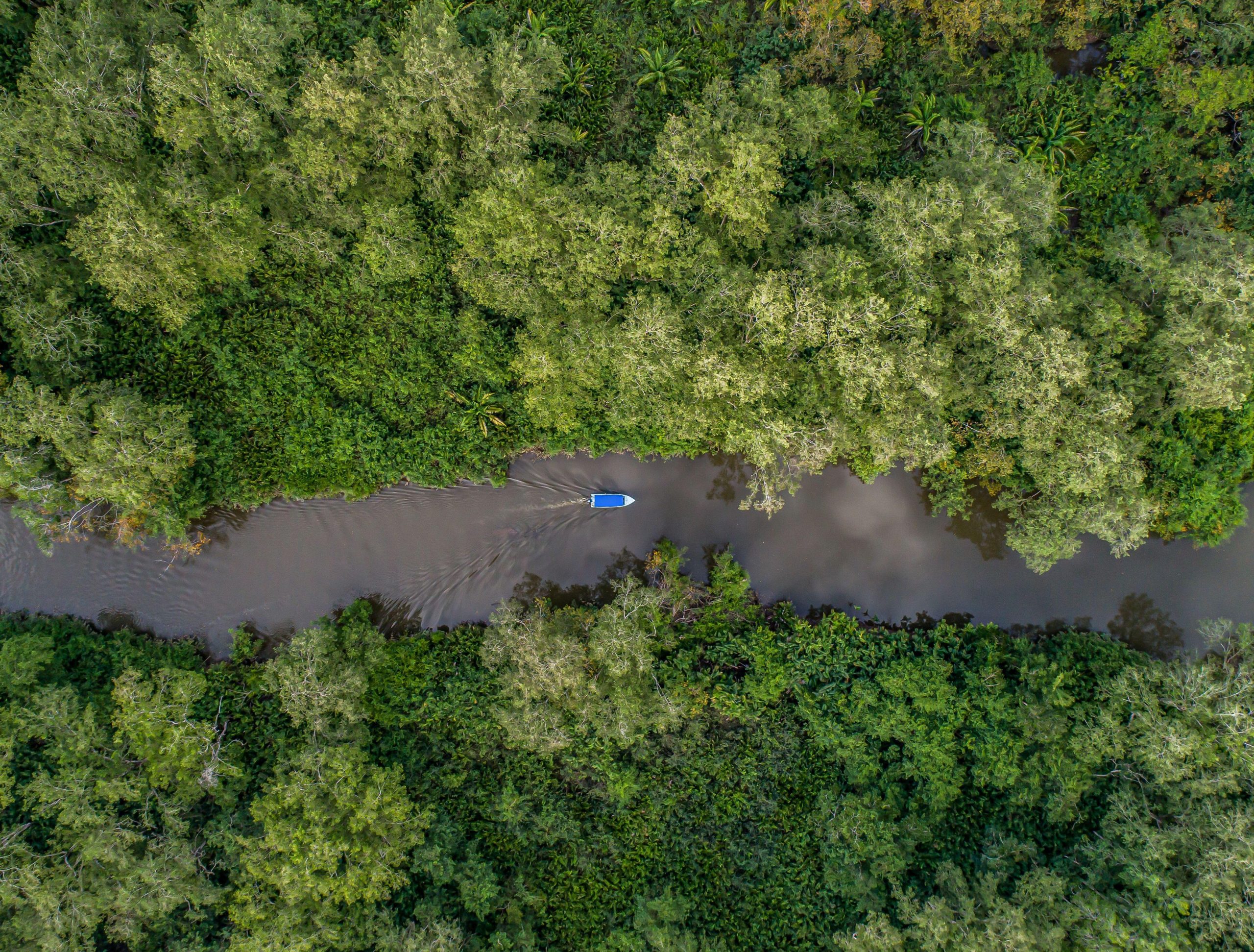 Ten multilateral development banks, including the World Bank, European Investment Bank and the Asian Development Bank, pledged to make "nature-positive" investments. Though they have yet to define this term, the banks are committed to developing schemes, business models and financing instruments that will fund projects that protect or restore nature or facilitate its more sustainable use.
They also pledged to support governments to develop policies and investments that improve the way nature is used to benefit people, climate and wildlife, including through climate adaptation and mitigation plans, and national biodiversity strategies.
"The world's businesses and governments appear to be waking up to nature as the most fundamental form of capital," says Baldwin-Cantello.
He is encouraged by the scale of the commitments. "It shows a growing share of climate finance going towards NbS, the long-called-for reflection of their larger share in mitigation potential. It also shows a greater role for private donations and the promise of a more coordinated package of initiatives going forward," he says.
Deutz notes that between the UN General Assembly last September, the first session of the COP15 biodiversity talks in October and the COP26 climate talks in November, around $7-8 billion a year in new foreign aid commitments were made for biodiversity and NbS. "That's almost a doubling of the foreign aid float for biodiversity, so it's significant."
However, finance for NbS is much smaller than climate finance and relies more heavily on public finance, UNEP's report noted. Private sector finance accounted for 56% of climate finance in 2020, but only 14% of NbS finance.
Overall, finance for NbS needs to at least triple in real terms and increase four-fold by 2050 if the world is to meet its climate change, biodiversity and land degradation targets, UNEP said. Scaling up private finance for NbS is "one of the central challenges of the next few years," it concluded.
COP26 has set a new tone of high ambition on addressing nature loss and climate change simultaneously. We must see that at least maintained in the biodiversity COP in Kunming.
Baldwin-Cantello, director of NbS at WWF UK
This year will see nature take centre stage once again at the final session of COP15 in China. Although the timing of this faces more uncertainty due to the Omicron variant of Covid-19, which has already delayed technical talks scheduled for January, they represent another opportunity to ramp up action on nature.
So far, negotiations on climate and nature have been somewhat siloed at the UN level, undertaken by separate government negotiating teams. However, observers believe there is work going on behind the scenes to link the two agendas.
According to Hou-Jones, though discussions are not necessarily integrated through the presidencies of COP26 and COP15, there have been informal talks, for example, at side events during the first session of COP15 in October.
The Chinese government hosted parallel events to look at the linkages between climate change and the protection of nature, attended by representatives from the UN Convention on Biological Diversity, academia and think tanks.
Speaking at one of these events, China's special envoy for climate change affairs, Xie Zhenhua, said: "At present, the global biodiversity protection and response to climate change are showing a trend of strengthening coordination and mutual promotion."
This demonstrated the barriers that had typically existed between climate and biodiversity within the Chinese government had begun to break down, Hou-Jones believes.
Baldwin-Cantello says: "COP26 has set a new tone of high ambition on addressing nature loss and climate change simultaneously. We must see that at least maintained in the biodiversity COP in Kunming."