The world's forests continue to shrink. In a recent WWF report, we found most of the destruction to be concentrated on 24 "deforestation fronts" in the tropics and sub-tropics. This is so alarming because tropical forests alone support more than two-thirds of the world's biodiversity. Between 2004 and 2017, over 43 million hectares of forest – an area roughly the size of California – were lost on these fronts.
Commercial agriculture is the leading cause, with trees often cleared to make space for livestock and crops. Expanding oil palm plantations, for instance, have caused extensive deforestation in Southeast Asia and parts of Latin America and West Africa, with severe consequences for wildlife.
Two of the nine deforestation fronts located in Asia are on the islands of Sumatra and Borneo. Significant deforestation has been caused there by the expansion of oil palm and pulpwood plantations, as well as road infrastructure and processing plants. Palm oil development accounted for an estimated 36% of deforestation in Sumatra between 1985 and 2016, and 42% in Borneo between 1973 and 2015.
Most forest loss is clustered in 24 deforestation fronts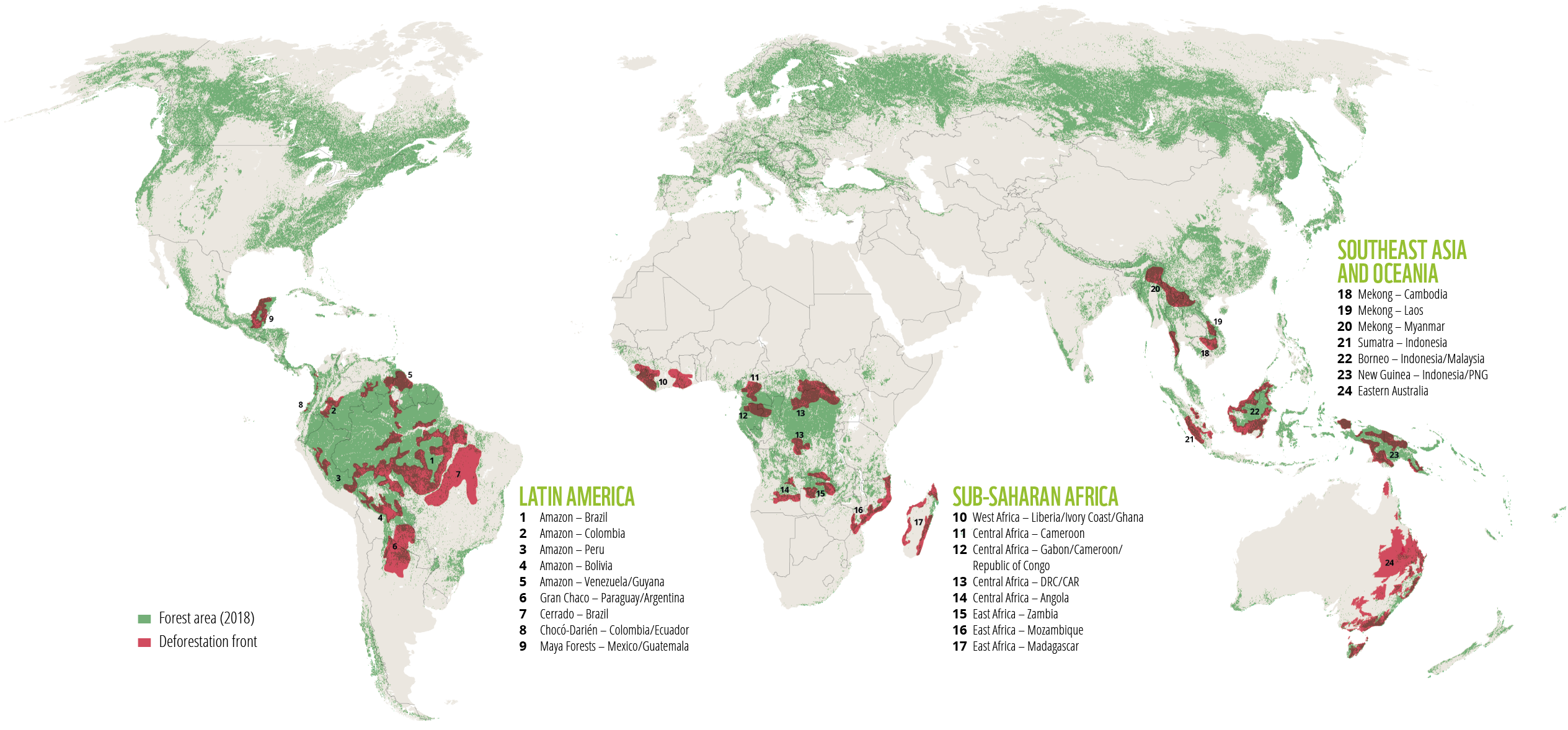 Encouragingly, this has triggered actions to curb the expansion, particularly in primary forests and peatlands, whose conversion is also an important source of carbon emissions. In the Malaysian part of Borneo, the state governments of Sabah and Sarawak have committed to keeping at least 50% and 57% of their total landmass under forest cover. Meanwhile in Indonesia, the government has issued a range of moratoria that have contributed to reducing deforestation and pressure on peatlands.
Recent official data suggests that deforestation has begun to slow. Palm oil plantation expansion in both Indonesia and Malaysia has been steadily declining in the past decade, after a rapid increase in the 2000s. But challenges associated with the monitoring and enforcement of government moratoria have limited their effectiveness in halting deforestation. More ambitious and concerted action is needed if we are to maintain and accelerate the progress made so far. Smallholders also play an important role in palm oil production, accounting for approximately 40% of global production. With limited capacity, support and incentives, smallholders have few resources at their disposal to adopt more sustainable production practices – a situation that has resulted in continued land clearance. Supporting smallholders to take up more responsible practices is therefore key to reducing the industry's impact.

Certified sustainable palm oil only represents 19% of global production
Global demand for palm oil is set to continue to rise dramatically, from 76 million metric tonnes today to an estimated 264-447 million by 2050 – particularly in Asia, where more than 60% of the world's palm oil is currently consumed. The way we produce and consume the commodity needs to change if the industry is to become a positive force for forests.
Considering the trail of environmental destruction its production has been leaving, palm oil may seem the enemy but it can be produced responsibly. It has a higher yield per hectare and requires less fertilisers and pesticides than any other vegetable oil. It also creates employment and often lifts people in rural regions out of poverty.
What we need isn't an alternative to palm oil, but rather sustainably produced palm oil. Fifteen years ago, the Roundtable on Sustainable Palm Oil (RSPO) was established to promote the growth and use of certified sustainable palm oil. Today, certified oil still only represents 19% of global production.
The market for sustainable oil is growing but not fast enough. Protecting our forests means accelerating the transition towards it. If used in isolation, certification cannot address all the negative impacts of palm oil. What we need is a multi-faceted approach involving all stakeholders.
We all have a role to play in creating a sustainable palm oil industry that doesn't harm forests, nature and people. Producers should adopt sustainable practices. Governments in producer and consumer countries alike need to create and enforce laws and policies that help to end deforestation and ecosystem conversion, and that promote sustainable palm oil. Banks and investors should require all of their clients to adopt and implement policies for the sustainable production, sourcing and financing of palm oil. And consumers need to ask their favourite brands where they source their ingredients, to make sure they commit to certified sustainable palm oil.
Companies that use palm products also have a unique responsibility to drive industry-wide transformation. They should not only ensure their supply chain is sustainable and free from deforestation and the destruction of natural ecosystems, but also take action beyond their supply chains.
Addressing challenges around smallholder production is a key part of the puzzle. Government investments in agriculture and extractive industries, as well as regulations and standards, need to take into account the needs and perspectives of smallholders, indigenous people and other local communities. Improving smallholder access to global certification schemes is a critical step towards transparency. Businesses can also play an important role by investing in projects that support smallholder farmer sustainability and their inclusion in global palm oil supply chains.