The coastal wetlands near the mouth of the Linhong River in Lianyungang, Jiangsu province, are of huge ecological value. Between 2014 and 2020, five species on China's Class I protected list were spotted here, along with seven Class II-protected species and 15 species classed as threatened or near-threatened worldwide. The wetlands are a key feeding and resting ground on the East Asian-Australasian Flyway, a migratory route for waterbirds, and are essential for many species' breeding and survival.
Yet they are currently being damaged in the name of "restoration". Satellite imaging shows that since 2019 a series of projects sharing the name of "Blue Bay" have begun, with the aim of creating supposedly picturesque beaches. The work has included the creation of encircling dykes, constructed beaches, land reclamation and the filling in of natural shoals, badly damaging the feeding grounds migratory birds rely on. If the work continues, rare and endangered waterbirds, and the wetlands, will suffer irreversible ecological impacts.
In response, Friends of Nature, a Chinese environmental organisation, submitted a public interest lawsuit to an environmental court in Nanjing, the provincial capital, in May 2021. The court immediately agreed to hear the case. Then, in January this year, Friends of Nature applied for an injunction, appealing to Nanjing's intermediate people's court to order the construction firms involved to halt all work related to the Blue Bay projects.
53.3 million hectares
The total area of wetlands in China, representing about 10% of the global total
This case demonstrates how wetland restoration projects can, due to skewed philosophies and a lack of legal processes and standards, end up further damaging the ecosystems they are meant to protect. The problems do not stop there. China has long lacked legislation protecting its wetlands, leading to a mishmash of different regulations and approaches to wetland conservation across the country. Frequent problems have been seen in the identification of wetlands eligible for protection, and their restoration, as well as government transparency and public participation in such processes.
Wetland ecosystems are complex, including land, water, wildlife and diverse vegetation over wide areas. Legislating for their protection is no easy task. In 2005, a draft statute for protecting wetlands was submitted to the State Council's Legislative Affairs Office, and rounds of consultations and hearings followed. However, these regulations never came into force, partly because of the need for action at a higher legislative level. There has been no regulatory movement since the National Forestry and Grassland Administration's Regulations on Conservation and Management of Wetlands in 2018. These were low-ranking, ministry-level rules that did not put adequate mechanisms in place. Many key issues remained unresolved.
But on 24 December last year, the Standing Committee of the National People's Congress passed the Wetlands Protection Law, which is set to come into force on 1 June this year and mark a new era for wetlands conservation in China.
Wetlands to be defined and listed
To date, Friends of Nature has filed six lawsuits over wetlands destruction. The first of these, which concerned a housing development in Beijing in 2015, was the city's first public interest environmental lawsuit.
The development, in Changping district, was home to a 200 mu (13.3 hectare) area of wetland. The developer and property management firm were dumping construction and excavation waste into a lake, damaging the ecosystem. Beijing has had wetland conservation rules in place since 2012, requiring a list of wetlands within the city limits to be produced. But at the time of the case, no such list had yet been published. This hampered efforts to ensure the urban wetland got the protection it was due.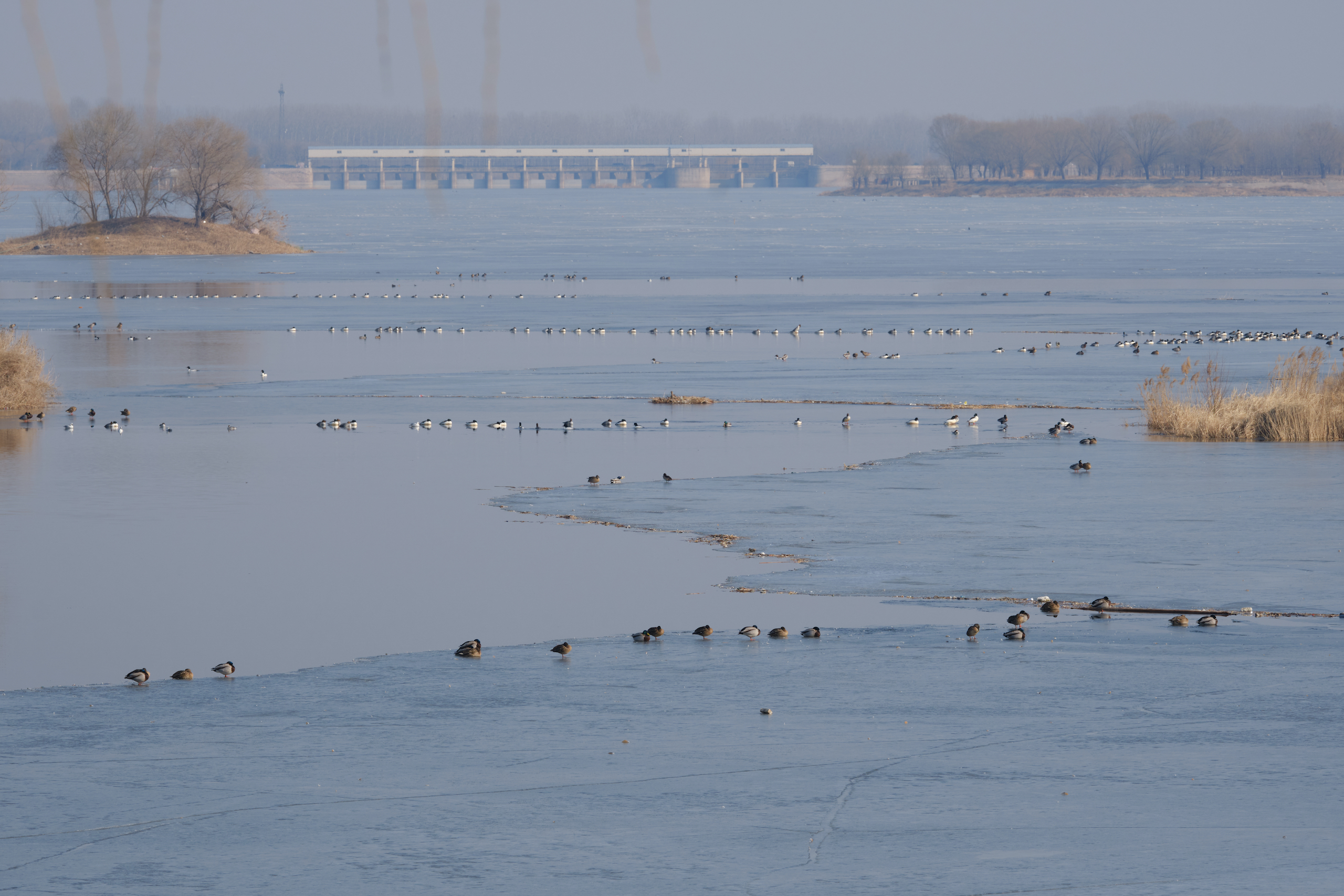 Article 2 of the new law defines the areas it protects: "Natural or artificial, year-round or seasonal waterlogged zones or bodies of water, including sea areas of less than 6 metres in depth at low tide, with significant ecological functions, but excluding paddy fields or artificial areas of water or shoals used for aquaculture." The same article states that China will operate a graded system of conservation, one that is based on lists of wetlands eligible for protection. The three grades will be wetlands of "national significance", "provincial significance" and "ordinary significance". Lists will be produced at the corresponding level of government.
The new law is not the first document to try to define and list wetlands. There has often been controversy over exactly what is protected, and how.
We believe that the letter of the law requires all wetlands, as defined in Article 2, to be protected – not just those featured on the graded lists. But the lists will provide a concrete enumeration, and the definition will complement them. The inclusion of wetlands on these lists can be used to override any lack of clarity arising from language such as "significant ecological function", providing government bodies with a clear basis on which to enforce the law. Meanwhile, the Article 2 definition can be used to ensure that protections are not restricted to areas on the lists, making up for any failures of coverage. However, we have observed different understandings of this: local law enforcement and judicial practice habitually focuses on lists, holding that anything not listed does not require protection.
So, we hold that the status of the legal definition of a wetland should be affirmed, and that protected wetlands should be added to the list promptly for complete clarity. This will require central and local governments to carry out comprehensive surveys and monitoring of wetlands, and improve regulations on the defining and listing of wetlands, so that these registers can be produced and updated promptly.
We also think that the listing of wetlands of ordinary significance is the most important of the three levels, for two reasons.
First, few of China's many wetlands will achieve provincial or national status, but a huge number are of ordinary significance. Despite the lower status, the ecological functions and value of those wetlands should not be overlooked.
Second, rules for identifying and listing these wetlands lags behind that for the more important wetlands, with significant differences across different localities. Although the new law does not specifically call for the these rules to be produced, they are essential for wetland conservation.
At the national level, the National Forestry and Grassland Administration published regulations in 2019 on identifying and listing nationally significant wetlands, with an associated national standard, GB/T 26535-2011, also providing a legal basis for the process. This list of wetlands of national significance is being regularly updated.
The situation with animal conservation – with long gaps between updates of protected species lists – must be avoided
However, at the provincial level, progress has not been uniform. All provinces have published lists of wetlands of provincial significance and rules for identification and list management, but there are obvious gaps between provinces. These differences are even more apparent with regard to wetlands of ordinary significance, where the lists are managed by county-level governments.
For example, in 2014, the province of Yunnan published a process and associated standard for identifying provincial-level protected wetlands. In 2017, the Yunnan prefecture of Honghe did the same for wetlands of ordinary significance, as did the city of Mile, under Honghe, in 2019. This level-by-level process provides the necessary information for a graded system of wetland protection. In comparison, the province of Hubei has published a list of provincial wetlands, and a process for managing that list. But Wuhan, the provincial capital and so-called "city of a thousand lakes", has yet to produce its own.
We know very well that it is not easy to get a wetland added to the lists. It requires significant input of government resources and a balancing of interests of various stakeholders. But conservation work must go ahead. Friends of Nature suggests local governments speed up publication of lists of local wetlands, as well as rules and standards for their identification. Ordinary significance wetlands must not be overlooked during this process. We must also ensure lists are compiled in a scientific manner and kept up to date. The situation seen with animal conservation – where long gaps between updates of lists of protected animals has hampered conservation – must be avoided.
Scientific standards for restoration are crucial
China's successes in wetland conservation and restoration in recent years have been encouraging. However, some restoration projects have actually caused more harm, with the Linhong River wetlands a case in point. Many more problems exist. Restoration work sometimes focuses solely on vegetation cover and water quality, but fails to create a diverse habitat. The creation of steep banks is still the norm, which does not suit some emergent plants (that grow at the water's edge) and bottom-dwelling animals. Other problems include original wetlands being destroyed in favour of attractive, park-style replacements, supposedly in the name of "ecology". There is a tendency to pursue large investments and focus on quick high-impact projects, with frequent failures to carry out follow-up monitoring and water-level management.
Behind these failings lies the lack of a single, practical and mandatory standard for wetland restoration, the failure of the environmental impact assessment system to play its preventative role, and a lack of public participation and transparency in government information.
The new law dedicates an entire section to wetland restoration. It sets a principle of "natural restoration first, and a combination of natural and artificial restoration". It also requires that restoration plans be drawn up for wetlands of national and provincial significance. However, the same requirement is not in place for wetlands of ordinary significance, leaving it unclear which processes to use in these locations.
Article 16 of the new law addresses the lack of a national standard for wetland restoration, by requiring one to be drafted. The speed with which that happens, and its quality, will determine whether or not "restoration" carried out is worthy of the name.
More space for public participation needed
The Shahe reservoir sits between Beijing's fifth and sixth ring roads, a rare example of a still partially wild wetland nestling in a megacity, and one that is home to a rich variety of birdlife. A project to build a Shahe Wetland Park, which aims to restore wetland ecology, has come under scrutiny a number of times since its inception. In September 2017, the environmental impact assessment report for the project was approved, despite a number of issues that would have badly affected birdlife. These included fountains for a "water dance show" and several boat piers. In 2020, a new project proposal and feasibility study were produced, with the more obviously damaging ideas removed from construction plans. However, what appears in a feasibility study is not always what happens on the ground. Since July 2021, Friends of Nature has been requesting that the parks and gardens bureau of Changping district, where Shahe is located, make final plans public, but to no avail. Nor will there be any further opportunity for public participation – the process is now a black box. Controversy over the project reflects a lack of openness of information when it comes to wetland conservation, and a lack of safeguards ensuring public participation.
Public participation is important for wetland conservation. Members of the public are often experts on their own local wetlands and can help carry out long-term studies through surveys and monitoring. They can also provide information to law enforcement. The data on species at the Lianyungang wetlands was provided by long-term monitoring by knowledgeable members of the public, experts and social organisations.
The Wetlands Protection Law gives the public the right to report and sue in cases of damage to wetlands, and requires governments at all levels to publicise information about their conservation. But the scope of public participation remains limited. Full public participation in wetlands conservation cannot rely on the new law alone: the systems of environmental impact assessment and openness of government information will also need to be improved to work in tandem with the law.
We make the following suggestions in order to promote public participation: Before approval for projects is granted, issuing bodies should make documents available for public comment, including zoning plans related to wetlands, their area targets, assessment criteria, wetland lists, standards and technical norms, restoration plans and construction proposals. That will ensure the public can participate earlier in the process and help support scientific decision-making, providing better routes for their participation in conservation, and bringing public knowledge and capacities into play.