Palm oil is the most widely consumed vegetable oil in the world, found in everything from chocolate to noodles, shampoo and soap, to frying pans and car fuel tanks.
Grown in the rainforests of the tropics, global consumption of the crop has more than doubled since 2000. This has come at a heavy cost environmentally, particularly in Indonesia, the world's largest producer.
Clearing land for palm oil plantations has resulted in the destruction of tropical forests and peatlands. When these are drained, carbon and methane stored in the ground is released into the atmosphere, contributing to global warming. Palm oil has also exacerbated the spread of forest fires, an even bigger contributor to warming, and a public health hazard.
During the last massive outbreak of fires in Indonesia in 2015, daily emissions of greenhouse gases were sometimes larger than those of the entire US economy. Thousands of hectares are burning again this year, in more than 35,000 separate fires.
Fires and land cleared for palm oil have destroyed the unique habitat of indigenous people and species such as orangutans, tigers and rhinos. Last year a study found that the population of orangutans on the island of Borneo, where forests have been extensively logged and cleared for crops, has more than halved in 16 years.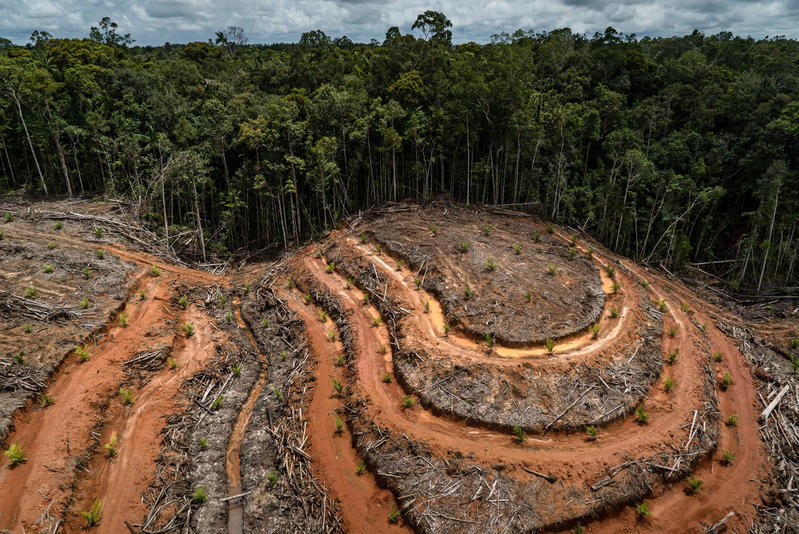 Deforestation caused by oil palm cultivation (Image: Ulet Ifansasti / Greenpeace)
In response to increased consumer awareness and demand for palm oil not linked to deforestation, major palm oil producers, companies and governments have stepped up their commitments to more sustainable production, through standards created by the Roundtable on Sustainable Palm Oil (RSPO) or polices such as No Deforestation, No Peat, No Exploitation. But such measures only account for a portion of the market; most sustainable palm oil goes to developed countries.
At the same time, there has been a significant growth in demand from India – where it is mostly used for cooking – and China – where it goes into foodstuffs. Standards are weaker in both countries and there is less willingness to pay for sustainability. Experts are concerned that more stringent sustainability standards in markets such as the US and Europe will see unsustainable palm oil exports grow to meet demand in new markets.
New centres of growth are also opening up – in Colombia, Peru and Ecuador in Latin America, and the Congo, Ghana and Ivory Coast in Africa – where palm has traditionally been grown for cooking oils but plantations are now expanding to meet global demand.
Trying to increase levels of sustainable palm oil within the market is difficult, as supply chains are complex, making it difficult to identify and trace truly sustainable palm oil.
A complete ban is not the answer either, as oil palms have a very high yield and lower production cost than other oil crops. So any alternative would require more land to be cleared for its growth.
China Dialogue will examine this complex picture with a two-year project of in-depth reporting and analysis of the global palm oil industry, its supply chains and role in driving deforestation and biodiversity loss. We will look at sustainable policy options and examine how effective existing policy and practices are, drawing on our network of reporters around the world, with teams in London, Beijing, Latin America, India and Southeast Asia.
Producing palm oil sustainably is key to reducing global carbon emissions and deforestation in the tropics. But this can only happen with increased demand for and awareness of sustainability. Through articles and other media we aim to help grow these, and to better understand the unique circumstances of the Chinese and Indian markets.
This article is part of our ongoing series on palm oil. Explore the series to date here.