In November last year, Anne Rosenbarger, a co-chair at the Roundtable on Sustainable Palm Oil (RSPO), gave the closing address at the organisation's annual conference. Speaking to an audience that included producers, buyers and NGOs working across the palm oil industry, her speech made a plea for faster action on sustainable palm oil. "In just eight weeks we're into 2020, and many of the companies here in this room have made commitments that we're going to fall short of reaching," she said. "While it's imperative that we recognise we've made progress in all areas, this should also be a wake-up call."
Palm oil is one of the most widely traded and omnipresent agricultural commodities, an ingredient that appears in food, cleaning products and toiletries. But the expanding industry and growing demand has left a trail of deforestation and human rights abuses in its wake.
Rosenbarger works to improve corporate sustainability in the palm oil sector through her two roles in this domain. At the World Resources Institute, as the Southeast Asia Commodities Manager in the Food, Forests and Water Program, she has helped develop Global Forest Watch Pro. The monitoring and alert system brings together satellite imagery and open source data, to provide analysis that will help make palm oil supply chains more sustainable.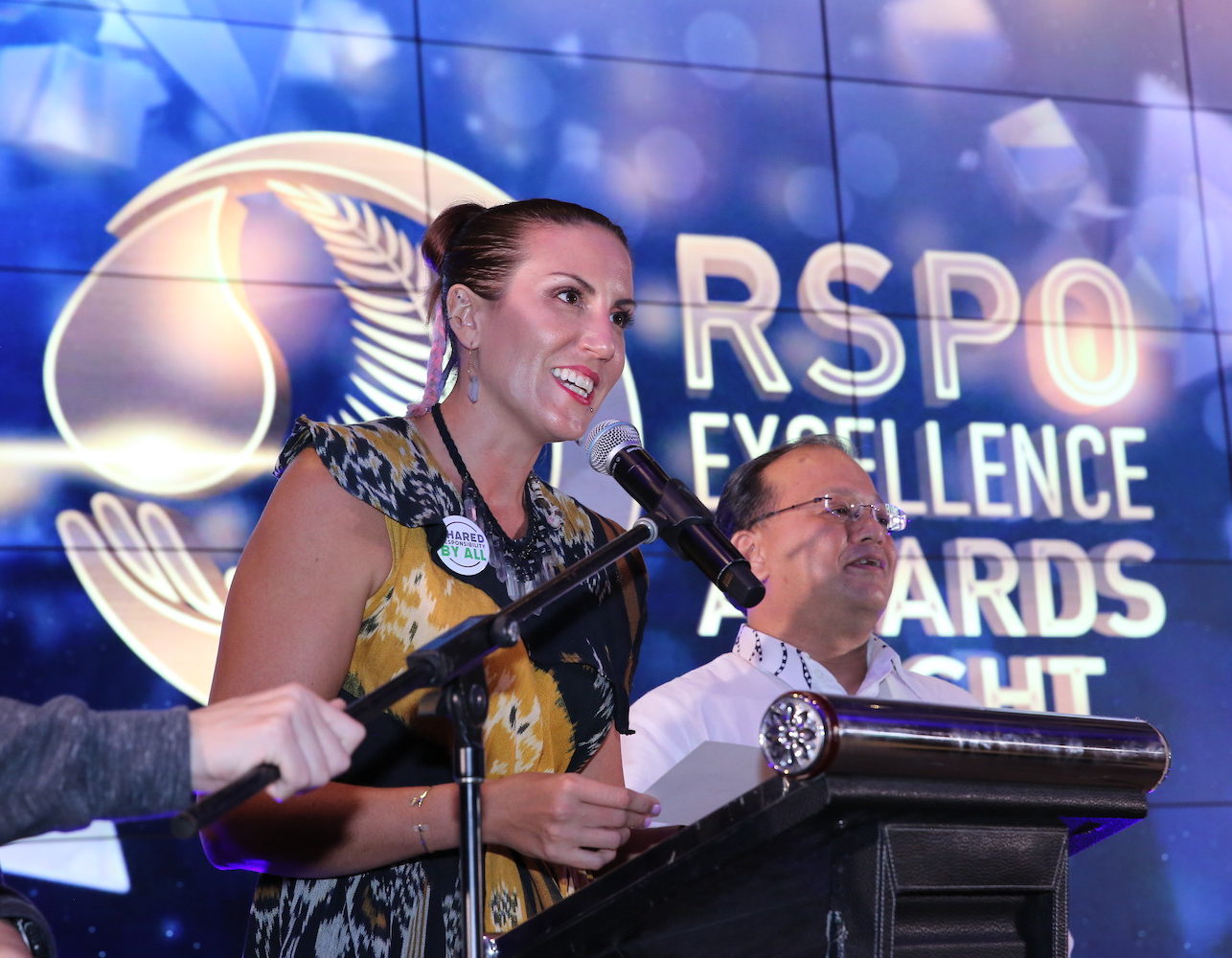 Meanwhile, as co-chair of the board of governors with the RSPO, Rosenbarger supports the organisation's work to bring together members from across the industry, to make commitments that limit the environmental destruction of oil palm plantations, improve worker conditions, and protect indigenous people's rights. The collective goal of these efforts is to increase the share of certified sustainable palm oil in the global market – which currently stands at just 19%. In 2020, that goal has become even more pressing in an industry slowed down by the pandemic.
Here, Rosenbarger speaks to China Dialogue about what the industry needs to do to catch up on its 2020 commitments, the importance of a strong sustainability message in China and India's expanding palm oil markets – and why boycotting palm oil isn't the solution to the industry's environmental ills.

China Dialogue: Where are we with sustainable palm oil in 2020 globally, and what are the industry's main challenges?
Anne Rosenbarger: As the impact of Covid-19 continues to reverberate globally, the RSPO is considering how we can push forward with the important work of making the palm oil sector sustainable and resilient – despite difficulties in carrying out certification and audits of plantations in the current circumstances. Pushing on with this work is critical to ensure that standards for sustainable palm oil are upheld, for smallholder farmers who depend on sustainable palm oil for their livelihood, as well as for consumers who rely on our certification to make the right choices.
We've heard so much about corporate 2020 commitments – No Deforestation, No Planting on Peatland, No Exploitation, or "NDPE" policies, as well as RSPO sourcing goals and targets to eliminate deforestation. But the reality is – and was even before Covid-19 struck – that a number of the companies who've made these bold commitments are going to miss those targets. That's not to say a tremendous amount hasn't been achieved thus far, but rather to highlight that we're running out of time.
The next steps determine whether corporate sustainability commitments will be seen as a greenwashing exercise, or a fundamental shift in core values
It's imperative that companies who are falling short of their 2020 targets act with a renewed sense of urgency to evaluate their approaches and swiftly make up for lost time. We're at a critical juncture – and the next steps determine whether industry actors will be seen as part of the problem or as real catalysts for positive change; and whether corporate sustainability commitments will be seen as a greenwashing exercise, or a fundamental shift in core values and priorities designed to protect the wellbeing of future generations.

China and India are playing a growing role in the global palm oil trade. How important are these markets?
As the largest palm oil importers globally, India and China are crucial – not only for the global palm oil market, but also for the sustainable palm oil sector. Last year, India imported 10 million metric tonnes and China imported 7.2 million metric tonnes. However, the [percentage] uptake of certified sustainable palm oil in these markets is in the low single digits. Trying to transform an entire industry is a process, and we recognise that different markets move at different speeds in terms of their sustainability journey and commitments. Our goal is to work with our members in these markets to help them take the initial steps to reach entry points such as RSPO Credits and the Mass Balance supply chain.

What are the specific challenges in these countries?
Demand is low in China and India for sustainable palm oil. Consumers and the industry's perception of palm oil and its environmental and social problems is relatively vague, or not known at all. For example, in China, the World Wildlife Fund interviewed 5,000 people in a 2018 survey, and only 13% of those respondents were aware of the deforestation caused by oil palm plantations. Results are similar in India. Non-certified palm oil can easily find buyers in China and India, and like all markets they can be price-sensitive. So, many companies lack the motivation or value proposition to join the RSPO and become certified. We have to work to create that value proposition in these markets.

What efforts is the RSPO currently making to change the situation?
In China, since 2011, RSPO has been engaging with stakeholders to jointly promote the purchase and use of sustainable palm oil. Those stakeholders have included Chinese government agencies, NGOs, industry associations and private enterprises. At first, growth was slow, but now the Greater China Region has 206 members – 150 on mainland China, 21 in Hong Kong and 35 in Taiwan. The Secretariat has two team members in China now – in Beijing and Shanghai – and we're committed to making an impact in the Greater China market. For example, the China Sustainable Palm Oil Alliance, formed in 2018 and jointly launched by RSPO, the China Chamber of Commerce of Foodstuffs and Native Produce, and the WWF, continues to grow. We're also working with the China Store and Franchise Association to support their sustainable consumption week every year.
Despite ongoing problems, supporting sustainable palm oil is the more effective strategy to shift the industry in the right direction
In India, we're working closely with members of the Indian Sustainable Palm Oil Coalition, WWF, the Sustainable Trade Initiative, the Centre for Responsible Business and others to develop a roadmap that includes smallholder inclusivity, consumer engagement and government engagement. We're looking for our existing and new members to help us lead the way in this market, and ensure their sourcing policies apply to India – and China for that matter.

What role can NGOs play in the push for sustainable palm oil?
The damage we've done to our planet is lasting and it will take the collective action of industry, government, civil society and the public at large to achieve meaningful change. We need more environmental and social NGOs to join the RSPO, to participate in our series of 'Dialogue' virtual conferences, and take seats in the working groups and task force groups that inform the revision and development of the RSPO standards. Additionally, NGOs can play a critical role in raising awareness around sustainable palm oil, as this message is more meaningful and credible when it's supported by civil society, than when it comes from companies and industry actors, alone.

What would you say is the main focus for the industry, going forward?
The recognition that it is our shared responsibility to make sustainable palm oil the norm is largely what brought the RSPO together as a multi-stakeholder roundtable, in the first place. All members have a requirement to commit to this spirit of shared responsibility – where the RSPO, as a system, is a facilitator of a solution, not a fixer.
This was cemented in 2019 by the RSPO's Shared Responsibility rules, which are designed to enforce sustainable practices equally across all levels of the palm oil supply chain. For instance, one of the most critical, albeit hotly debated elements of the RSPO's new Shared Responsibility approach has been volume targets for buyer members. These are built to ensure that a certain percentage of a member's purchase is made up of certified sustainable palm oil. Growers have already committed to more stringent standards of production. So it's only fair, as well as absolutely necessary, that buyers now step up in a similar way and commit to increasing their purchases of it. A benefit of the new Shared Responsibility rules is that they give the RSPO the ability to nudge those who are slow to meet their commitments.
16.8%
of Malaysia's total oil palm area is cultivated by independent smallholders
Yet, shared responsibility is also about more than just increasing volumes. It's about raising awareness around sustainable palm oil in a way that's more meaningful, and engaging more stakeholders from across the globe. It's about finding ways to effectively communicate to consumers the sometimes quite nuanced message that despite ongoing problems, supporting sustainable palm oil is the more effective strategy to shift the industry in the right direction, compared to a boycott.

In some countries, boycotting palm oil is increasingly seen as a way to tackle the industry's environmental problems. Can you talk a little bit about the argument against that?
A boycott of palm oil means companies will buy alternative oils that require more land and could cause more damage to the environment. Boycotting could also affect the livelihoods of smallholders. In Malaysia alone, 250,299 independent smallholders cultivate about 16.8% – 979,892 hectares – of the country's total oil palm area.
Billions of people consume palm oil every day, with the largest markets being India, China, Indonesia and the European Union. For these consumers, it's imperative to raise awareness of sustainable palm oil, and for them to realise that they have a role to play in breaking the link between "good" and "bad" palm oil. As a consumer, buying products that only use sustainable palm oil is the best choice you can make, in contributing to a more sustainable palm oil industry.
This interview is part of our ongoing series on palm oil. Explore the series here.