Palm oil is regarded as the third-worst commodity for deforestation, after beef and soy. Southeast Asia, where most palm oil is produced, is home to the most biodiverse tropical forests, which are also important carbon sinks. China does not produce palm oil, but it is, after India, the world's second-largest market for the commodity. And with the world facing dual crises of climate warming and biodiversity loss, China cannot stand apart.
For seven years, the world's dominant sustainable palm oil certification body, the Roundtable on Sustainable Palm Oil (RSPO), has been trying to increase the proportion of sustainable palm oil sold in China. It had a target for 2020 of 10% of palm oil sold in China to be RSPO-certified. But the figures have fallen far short. Data from last April show the actual proportion was less than 2%. Sources in businesses, government and NGOs told China Dialogue that take-up of sustainable palm oil has been slow, as various parties are working separately, rather than pulling together, and there is no agreed-upon roadmap towards a breakthrough. However, talks on such a roadmap are underway.
A tough market for international certification
The RSPO was founded in 2004, when rapidly growing demand for palm oil was causing deforestation and social grievances in the two main producer nations, Malaysia and Indonesia, neither of which had sufficient environmental regulation. This led western NGOs to criticise and boycott companies importing their palm oil. In response, multinationals such as Unilever and AAK, an oil and fats giant, teamed up with the WWF and the Malaysian Palm Oil Association to found the RSPO. The aim was to use certification to tackle the environmental and reputational challenges the companies were facing, with a private sector initiative compensating for the lack of oversight in producer nations. This would "transform markets to make sustainable palm oil the norm", as RSPO's slogan goes, end the destruction of ecosystems, and respect the rights of workers and local communities.
Despite significant challenges, the RSPO is the world's leading sustainable palm oil certification body today, with RSPO-certified palm oil accounting for nearly one-fifth of all production. Almost 90% of EU palm oil imports are RSPO-certified. With certified sustainable palm oil now the norm in the EU, the third-largest market for palm oil, the two biggest markets, India and China, are becoming ever more important. If these two countries do not expand use of sustainable palm oil, production of the commodity will continue to bring severe environmental and social risks.
In 2013, the RSPO signed a memorandum of understanding with China's chamber of commerce for foodstuffs (CFNA), establishing a long-term partnership and marking the RSPO's arrival in China. Then, in 2018, the RSPO and the WWF joined with multinational firms, including palm oil merchants, processors, retailers and banks, to form the China Sustainable Palm Oil Alliance and guide the transition. That alliance has 15 members today. The majority are multinationals that already use significant amounts of sustainable palm oil in their supply chains, or have made ambitious commitments on sustainability. But in China, sustainable palm oil has failed to take off at scale, with use by Chinese firms remaining minimal.
Escaping the prisoner's dilemma
Yang Jiaming once worked for an international certification body, managing RSPO certification for the Asia-Pacific region. He says that sustainable palm oil advocacy in China has had some isolated successes, but there has been no pooling of efforts, so they dissipate rather than synergise. Yu Xin, project coordinator of WWF China's Sustainable Food Consumption and Supply Chain programme who oversees the chapter's palm oil campaign, has seen the same thing. When asked about the biggest challenge for promoting sustainable palm oil, she says: "Challenges are coming from all directions, but the core challenge is that government, the industry and consumers aren't making coordinated moves."
She describes the status quo: "Industry asks if there's a policy, the government asks industry if there are any examples, consumers say there are no certified products on the shelves, and businesses say consumers won't pay the extra."
Government, the industry and consumers aren't making coordinated moves.
Yu Xin, WWF China's Sustainable Food Consumption and Supply Chain programme
Price is the main factor preventing Chinese firms from buying more sustainable palm oil. Certified palm oil costs between 3% and 30% more on the Chinese market, because of the costs of receiving the certification and all the improvements necessary to meet the standards.
Palm oil is used in a vast range of applications: in catering, in processed foods, in health and beauty products, and in the oleochemical industry. But it is not eaten directly and is often missing from ingredient lists, so it has little visibility. That makes promoting certification tougher.
So, Chinese firms tend to get certification only when needed for export orders. If those orders stop, so does certification. Multinationals in the EU use high proportions of sustainable palm oil, sometimes up to 100%. But use in products destined for the China market remains low.
At a seminar on China's sustainable palm oil supply chains held in August last year, one attendee suggested palm oil traders – the link on the global supply chain that first reaches China – should take the lead. But a representative from a major global palm oil producer and trader said his company was already able to supply plenty of sustainable palm oil – "as much as you want." The problem is, with no demand from consumers, processors weren't buying it, and so there was no incentive for traders to increase procurement.
Globally, RSPO's certification of sustainable palm oil is running far ahead of demand, and every year half of certified production is sold as non-certified.
There are virtually no certified sustainable palm oil products on the Chinese market, making it hard to discern what consumers actually want. And so, stalemate. It's a prisoner's dilemma: anyone who cooperates runs the risk of losing out when others fail to do the same, and so nobody cooperates.
How to move past this? A number of experts told China Dialogue that a big obstacle for sustainable palm oil is the commodity's lack of visibility. A key step towards solving that would be listing it as an ingredient on packaging. The current food labelling regulations allow for "vegetable oil" to be used as a catch-all term covering palm oil. Even new draft food labelling regulations, a public consultation period for which ended in August 2020, only require the type of vegetable oil to be specified for baby milk formulas. Labelling rules for beauty products require all ingredients to be listed – but not the raw materials used to produce those ingredients, like palm oil.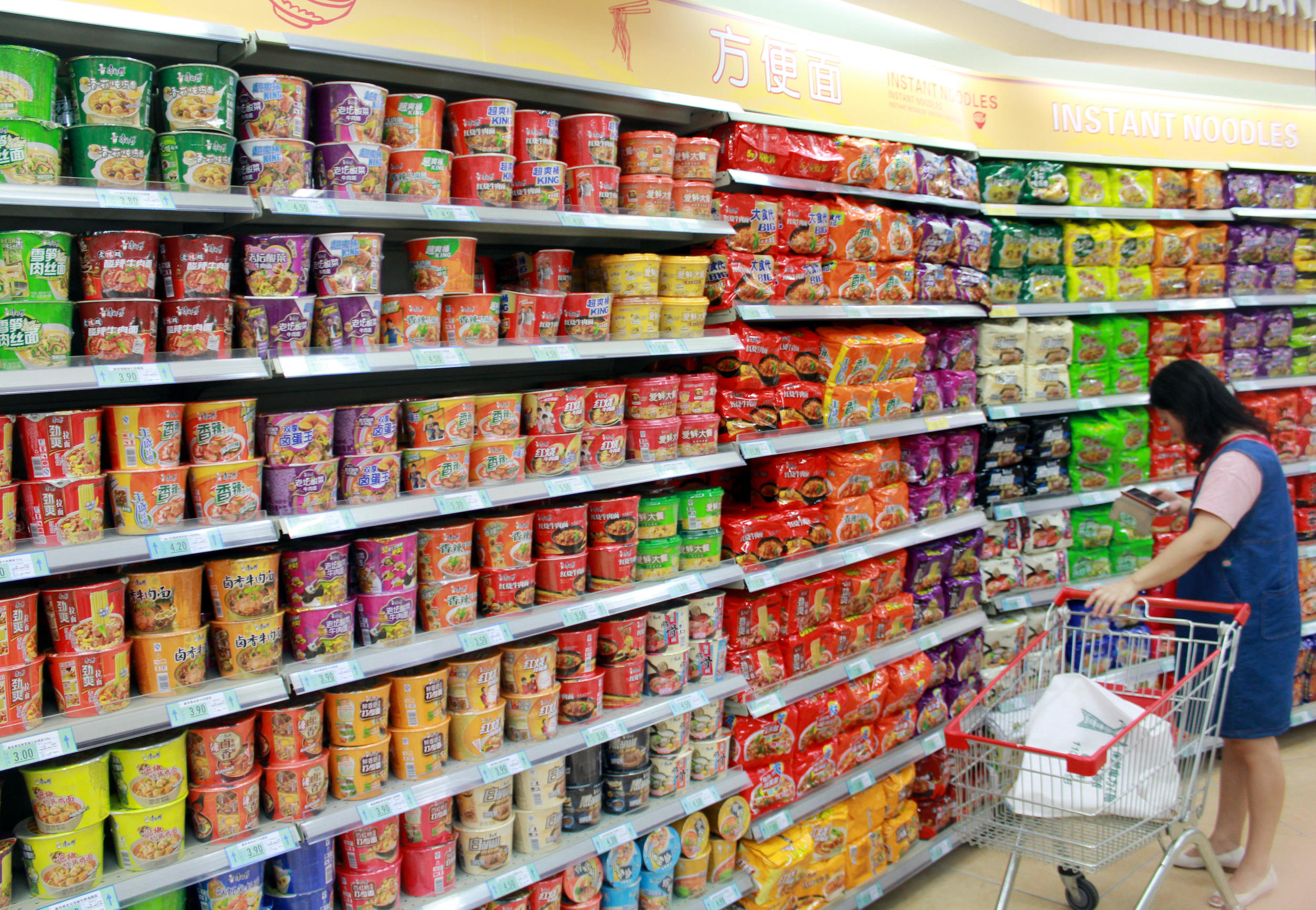 Encouraging Chinese consumers to show concern for the environmental impact of products sourced from overseas could take some time, and there is little hope of a near-term impact on supply chains. A more realistic approach may be to have actors in the supply chain take the initiative. Yu Xin says: "If any particular part of a supply chain can come up with a 'product', then they can be linked up." WWF China hopes to see some trials within the supply chain, with upstream and downstream firms working together on actual sustainable palm oil products, so that the more aware firms aren't just talking about their own achievements. The organisation is also set to publish a guide to procurement of sustainable palm oil for Chinese firms, in cooperation with the CFNA. This is intended to raise awareness of the issue among downstream businesses and encourage cooperation between them on supply chain issues.
According to Yang Jiaming, a sustainable palm oil breakthrough will require a combination of top-down and bottom-up efforts. The bottom-up part will be Chinese manufacturers and retailers making commitments on sustainable palm oil and getting the ball rolling with its use in luxury products. That would give consumers more choice, and allow the extra cost to be reflected in the price tag. That demand would then move up the supply chain, sending signals to palm oil traders and increasing imports of sustainable palm oil.
For the top-down part, government intervention will be needed. Yang suggests the government uses green finance and other support to reward firms that import sustainable palm oil and increase supply chain transparency. He also suggests mutual recognition of RSPO certification and China's own green product certification, which would allow sustainable palm oil to benefit from support in the form of tax breaks, financing and government procurement. According to Yang, the stalemate will only be broken when each part of the supply chain and the government are "doing their bit".
Getting more from the private sector
Discussions on a Chinese sustainability standard are underway, in the hope of boosting bottom-up efforts from the supply chain.
Wan Xusheng, head of the South-North Institute for Sustainable Development (SNISD), studies sustainability standards. He told China Dialogue that the Chinese government and companies are "unlikely to do all they can" to promote an overseas standard such as the RSPO's. He says: "a more practical approach is for China to come up with its own national standard, with mutual recognition between that and the RSPO certification." In the area of sustainability certifications, China has established mutual recognition with Global Good Agricultural Practices (GlobalG.A.P.), Programme for the Endorsement of Forest Certification (PEFC) and New Zealand's organic certification.
But he admits that establishing a national standard will take several years, and so a voluntary industry standard would be a good place to start. That could show some benefits, as long as firms sign up. And if that goes well, the industry standard could be adopted on a regional basis, and then upgraded to become the national standard.
As the first step in this process, SNISD and the RSPO translated the text of RSPO's latest supply chain certification standard and systems. Supply chain certification is applicable for firms using but not producing palm oil, and all Chinese companies fit into this category. The translation resolved inaccuracies and inconsistencies in the previous version, and brought it into line with Chinese norms. Chinese certification bodies, industrial associations, businesses and regulators were consulted during the process.
But there are other sustainable palm oil standards besides the RSPO's. In 2011 and 2014 respectively, the Indonesian and Malaysian governments, representing 85% of global palm oil production, issued binding national standards, ISPO and MSPO. Both those national standards are less demanding than the RSPO's. However, as both national governments regard the palm oil industry as crucial for alleviating poverty, more effort is made to help small-scale producers gain certification. Wan Xusheng and Yang Jiaming both said that if China does produce its own national standard, decisions on mutual recognition with overseas standards will be needed.
Professor Zhang Jianping, deputy head of the China Association for Social and Economic Systems Analysis and Research, has worked on a number of sustainability documents, including the above-mentioned guide for sustainable palm oil procurement. He told China Dialogue that the Chinese government has repeatedly called for mutual study of international green standards under the Belt and Road framework, and that this will help improve China's own standards.
Wan Xusheng said that, alongside the possibility of promoting an industry standard to national standard status, another route being discussed is localisation of the RSPO's standard. He pointed out that the Forest Stewardship Council, another international private sector certification body, had produced a China-specific standard in order to allow certification in the country. China's rules on certification mean that bodies can offer certification based on overseas standards if their certifying activities are properly registered with the government.
All this is very new, and it is too soon to say what route will ultimately be taken. As Zhang Jianping says, drafting a standard is a long process of gathering stakeholder views and forming consensus – which in itself raises awareness and encourages action.
Public-private cooperation
Many of the experts China Dialogue spoke to also blamed the stalemate of sustainable palm oil in China on the fact that no single government authority is taking the lead in promoting it. Palm oil is an agricultural product that is all imported used extensively in both food and chemical industries, and involves environmental issues. This means it enters the remits of the Ministry of Agriculture, Ministry of Commerce, Ministry of Industry and Information Technology and the Ministry of Ecology and Environment (MEE), but actually none is fully responsible for this commodity. Zhu Chunquan, China Head of Nature Initiatives and Tropical Forest Alliance for the World Economic Forum, said that "palm oil issues won't be solved at the ministerial level and need to be dealt with higher up." So, which ministry should be setting policy? According to Zhu, a 2020 report from the China Council on International Cooperation on Environment and Development (CCICED, a high-level advisory body to the Chinese government) on greening of global agricultural product supply chains suggests an answer: an inter-ministerial high-level coordination mechanism.
Zhang Jianping, a senior advisor on the report, said a cross-ministry consensus on sustainable palm oil is yet to be built, with a great deal of coordination needed. In October and November, the United Nations will hold major biodiversity and climate change meetings, with the former to be held in Kunming, China. According to Zhang, this makes 2021 a key year for the construction of an ecological civilization. He thinks the MEE can play a crucial role in promoting this, by taking the opportunity to communicate widely and push the development of cross-ministerial mechanisms on sustainable palm oil. Meanwhile, Wan Xusheng hopes the government will use the Kunming biodiversity conference to publish policies supportive of sustainable palm oil, and then use the 2022 Beijing Winter Olympics to promote sustainable palm oil products.
On the issue of extra sourcing costs, the above-mentioned CCICED report points out that if China sends signals that it will prefer sustainable palm oil and gradually increase market share, producer countries will have both the time and motivation to increase output, ensuring prices remain stable.
For 20 years, tackling the environmental impact of palm oil production has been an international effort, with the combination of private sector initiatives and government policies, voluntary approaches as well as legislation.
The process in the EU could be instructive: On 7 December 2015, eight national industry associations and three EU-wide groups jointly issued a commitment to have the EU use only sustainable palm oil by 2020, with the RSPO certification seen as the minimum standard for sustainability. The same day, seven EU governments signed a different document committing to the same goal, indicating that they would cooperate with the private sector and other EU governments to support the private sector initiative. By 2019, 86% of palm oil used in the EU was certified sustainable. Data for 2020 is not yet out, but indications are the 100% target has not yet been met. However, in May 2020, the European Palm Oil Alliance, made up of European palm oil refiners and producers, decided that voluntary standards would not be enough to reach 100% sustainable palm oil and called for legislation requiring firms to do due diligence on their supply chains in order to plug those final gaps. This aligns with an ongoing European Parliament effort to legislate for compulsory due diligence for companies operating in the EU to prevent environmental and social damages and corruption in their global supply chain.
Admittedly, in the EU powerful consumer and environmental movements provided crucial early impetus, something which is unlikely in China. But China's undertakings on building the "ecological civilization", "a community with a shared future for mankind" and the "green Belt and Road Initiative" are other conditions unique to China. It remains to be seen if these conditions would make all positive forces on the supply chain resonate and trigger a chain reaction that leads to the greening of one of the world's most important vegetable oil.
This article is part of our ongoing series on palm oil. Explore the series to date here.