Aquaculture is seeing record high levels of growth. Between 2009 and 2014 the farming of fish, crustaceans and other aquatic organisms saw output grow from 55.7 million tonnes to 73.8 million tonnes, according to the United Nations Food and Agriculture Organization (FAO).
In the same period, fish farming increased from 38% to 44% of the total output of fisheries worldwide, with average growth of 5.4% each year.
In contrast, the capture of wild fish grew just 0.6% annually, with their contribution to total output declining. Today almost one third of wild fish stocks are overfished, estimate the FAO.
With wild fisheries stagnating, the growth potential of aquaculture is even greater. Yet the consumption of resources involved in aquaculture is placing an increasing burden on the planet.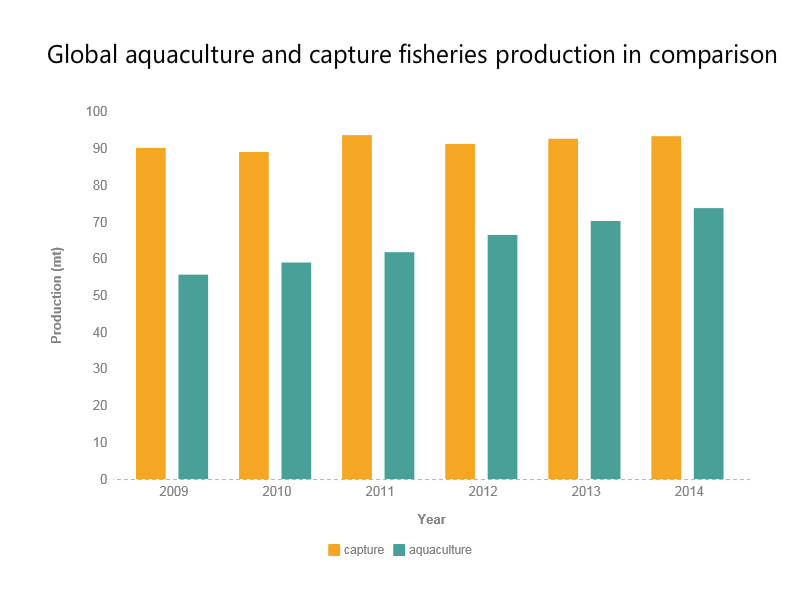 Data source: Unites Nations Food and Agriculture Organisation (FAO)
Broken food chains
To ensure the nutritive and calorific value of aquaculture products, fishmeal is added to the feed of almost all farmed fish and shrimp. Fishmeal is manufactured from small, wild-caught marine fish and contains a high percentage of bones and oil. But the industrial production of protein-rich fishmeal is placing an unsustainable burden on vulnerable marine ecosystems.
On average only 10-15% of raw materials used in fishmeal are made from the by-products of the aquaculture sector itself, with the rest caught from ocean fisheries, Professor Kevin Fitzsimmons of the University of Arizona told chinadialogue.
The fish used to produce fishmeal are often found at the lower end of the food chain and therefore tend to also be sources of food for carnivorous species, such as salmon, dolphins, sharks and tuna, as well as for penguins and marine birds. Harvesting these sources on a large scale threatens the entire food chain.
Catches in the Mediterranean and Black Sea have fallen by almost a third since 2007, according to the FAO.  This has been attributed to the falling number of smaller fish at the lower end of the food chain, such as sardines and anchovies.
Fish-free food
The search for an alternative to fishmeal has become an urgent priority worldwide. The aquaculture sector has been on the hunt for a new fish formula for some time. Aside from the environmental impacts there is an economic motivation as fishmeal is expensive to produce. One tonne costs 9,500 to 11,000 yuan (US$1,400-1,600), according to a Chinese website for feed traders, which means buyers are seeking cheaper alternatives.
To promote the research and development of a cost-competitive alternative that can support the sustainable development of fisheries, Fitzsimmons and a group of concerned scientists launched the F3 Fish-Free Feed Challenge.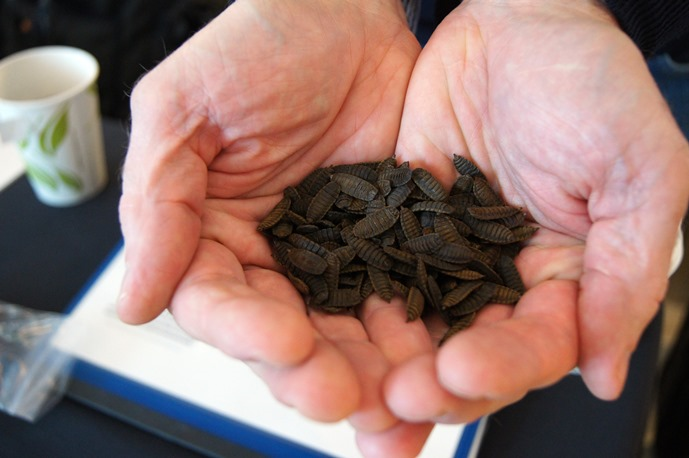 Desiccated black solider flies are proving popular with farmed fish (Image: F3 Challenge/Annie Reisewitz)
Launched in November 2015, the contest challenges aquafeed companies to produce a formula that omits marine animal oil. The first company to produce or sell 100,000 metric tonnes (mT) will be awarded US$200,000 to support their business. If none of the contestants have met the 100,000 mT target by September 15, 2017, the prize will go to the company closest to the target.
So far seven different companies from seven nations, including China, Myanmar and Thailand, have entered. A number of leading farming firms have already committed to using feed from the winner, including Norwegian company Marine Harvest, which is the world's largest farmer of Atlantic salmon, and Chinese feed firms Award Global and Guangdong Yuehai Feedstuff Group, as well as Japanese fish farming firm Dainichi.
Fitzsimmons calls this "a turning point toward viable and cost-effective alternatives to fishmeal and fish oil."
China steps up
The level of Chinese interest in the competition has been striking and is especially important. According to industry statistics, China's aquaculture sector produced 49.37 million tonnes in 2015, more than all other countries combined.
FAO figures show that China accounted for 60% of global aquaculture output between 1995 and 2014.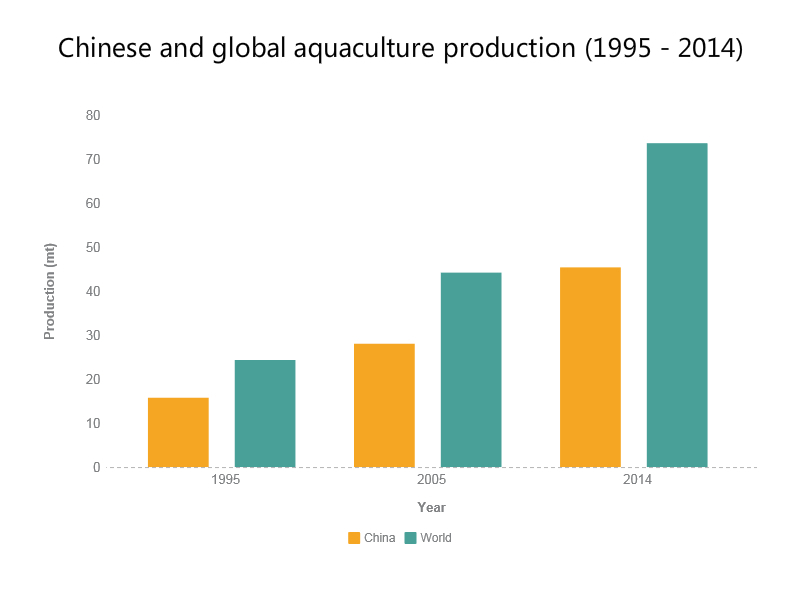 Data source: Food and Agriculture Organization (FAO)
Operating at such scale, Chinese firms have clear incentives to develop an alternative fish feed as it could reduce the cost of fish farming and reliance on imported fishmeal.
According to French fishmeal analyst Jean-Francois Mittaine, China's production of fishmeal has already significantly increased, reaching 310,000 tonnes in 2016, almost half of the output of Peru, which is currently the world's biggest fishmeal producer.
But domestic production cannot keep pace with demand. Production in Peru, China's main source of fishmeal imports, is regularly interrupted by El Niño, an irregular warming of ocean water in the equatorial Pacific region. China needs a more sustainable and consistent source to buffer its industry from climate and market-related disruptions.
The Chinese firm participating in the competition is Guangdong Evergreen Feed Industry Co Ltd. The competition records show that as of the end of 2016 the company was far in the lead, having sold 48,000 tonnes of feed free of fish oil or fishmeal. A Myanmar company is in second place and has sold 28,000 tonnes.
​
Cheng Chengrong is in charge of research and development at Evergreen Feed. Via email he told chinadialogue that the company has been working on fish-free feed for years. He also explained the sales of fish-free feed during the period of the competition accounted for 16% of the company's total feed sales, and that feedback from customers had been positive.
​
Cheng added that the feed the company has entered in the competition is targeted primarily at freshwater fish such as grass carp and tilapia, which require less protein, making it easier to create a non-meat substitute.
Figures from the company indicate that tilapia fed on the new feed, which consists of wheat, soybean meal and rapeseed meal, grow to similar average weights as fish fed on traditional feed. China produces almost one half of the world's tilapia.
​
Fitzsimmons is excited about the Chinese firm's entry. "It's one of China' s largest fish feed firms and their participation will help prompt Chinese fish farmers and other firms to switch to feeds free from fish meal and fish oil. We are very happy about that," he says.
Step-by-step
Despite the progress, it is impractical for companies to shift completely to the new feeds.
Cheng pointed out that his company's tilapia feed is used in the middle and later stages of farming. Han Han, founder and executive director of the China Blue Sustainability Institute, which works to encourage sustainable farming of tilapia, told chinadialogue that it is not yet possible to raise tilapia without any fishmeal use.
However, the percentage of fishmeal in fish feed worldwide is falling. Prior to developing the entirely fish-free version, Evergreen Feed had cut its fishmeal content from 33% to 5%.
Fish-free feed may not yet be able to meet all of the industry's needs, but the competition is still of huge significance. It is encouraging both the feed manufacturers and the fish farmers to work together to reduce reliance on fishmeal and move to a more sustainable aquaculture model.
According to Cheng Chengrong: "Traditional fish farming requires large quantities of fish meal, but global fish catches and fish meal production are already saturated. How to reduce the use of fish meal is now the important issue."