In the Amazonian city of São Félix do Xingu there are nearly 20 cows for each human inhabitant. With more than two million, São Félix has more cattle than any other city in Brazil.
It is also the Brazilian city with this year's third-highest number of fires, which have been destroying the Amazon and shocking the world.
The blazes around São Félix are partly the result of farmers clearing land for cattle; almost 80% of deforestation in the Amazon is associated with creating this pasture, according to a 2016 report by the UN's Food and Agriculture Organization. The deforestation largely results from the "slash and burn" method. When conditions are dry, fires can spread uncontrollably.
Brazil is the world's number one beef exporter, with China and Hong Kong its main buyers. The country is also the largest exporter of soy to China. As soy growing expands in other Brazilian regions, it sparks a chain of events that involves the displacement of other farmers and ranchers who, sometimes in cahoots with illegal loggers and miners, clear swathes of the Amazon.
Brazil's president Jair Bolsonaro insists that economic development in the Amazonian region, one of the country's poorest, should prevail over forest preservation. In a meeting about the fires with Amazon region governors, Bolsonaro said that new reserves would "make Brazil unviable".
However, research shows that the destruction of the Amazon could also destroy Brazilian agribusiness, a central pillar of the local economy.
The Amazon on fire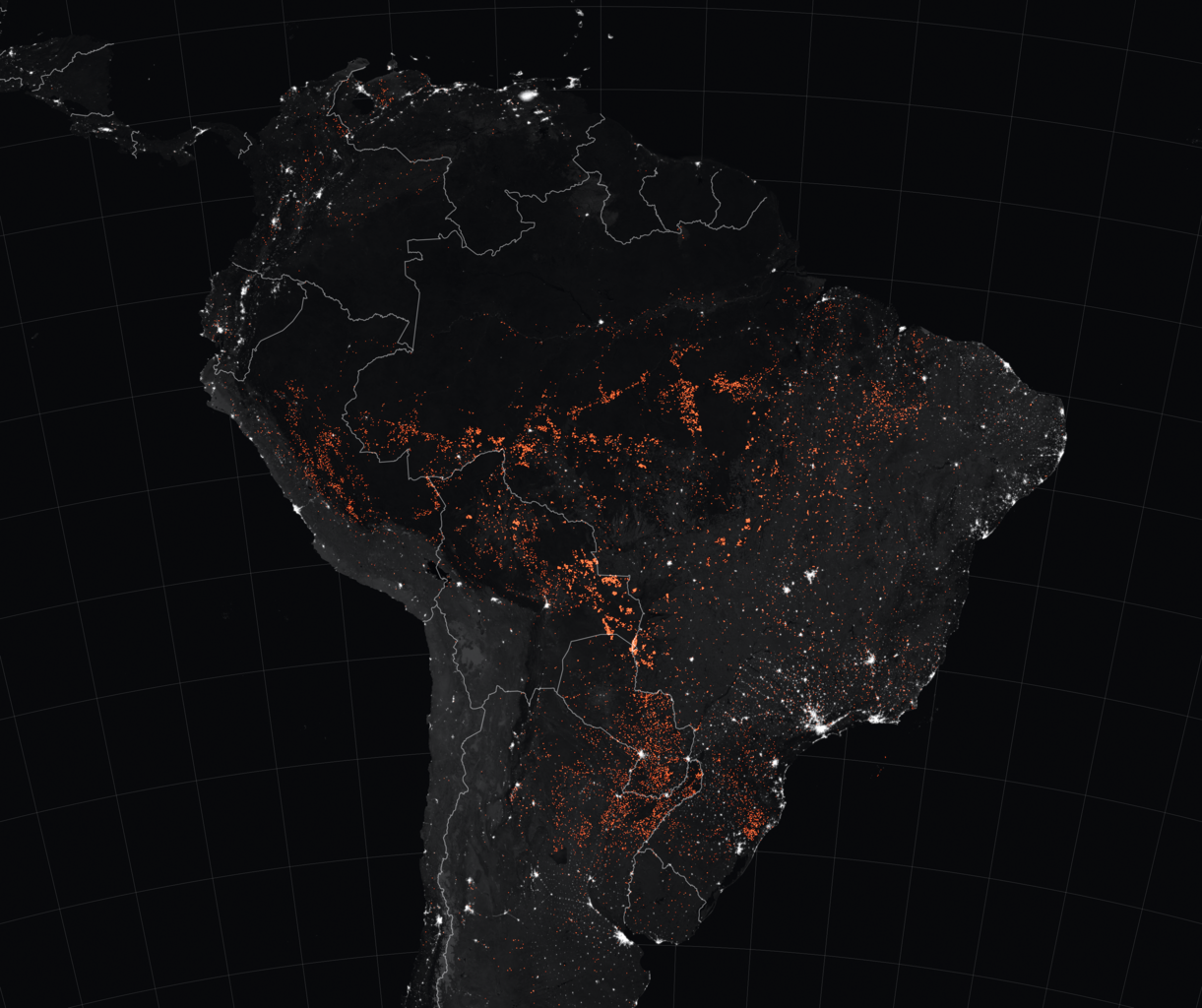 Source: Locations of fires, marked in orange, imaged by a NASA satellite from 15-22 August 2019 (Image: Wikimedia Commons)
More than 90% of Brazilian agriculture is not irrigated and depends on the rain the Amazon creates. Amazon deforestation reduces the amount of water produced by evapotranspiration and increases temperatures, also generating higher CO2 emissions, according to André Guimarães, executive director of the Amazon Environmental Research Institute (IPAM).
"China is among those most interested in safeguarding the water produced by the Amazon region because it makes commodity production cheaper," he said.
Agribusiness fights back
Some members of Brazil's agribusiness lobby are attempting to distance themselves from reports linking them to Amazon deforestation. The culprits, they say, are land grabbers seeking to profit from real estate speculation, not profitable and legal businesses.
Luiz Cornacchioni, executive director of the Brazilian Agribusiness Association, says he's in discussions with the government on how to take more effective action against illegal deforestation and one of its main causes – land fraud.
"Sustainability is the name of the game. The sector cannot be harmed by criminals," he said. "Brazilian agribusiness has already shown that it is possible to produce as well as preserve. We have a Forest Code that must be complied with. The government needs to apply the law and the penalties it establishes."
In 2017, the amount of soy planted in deforested areas grew by 27.5%, according to a report by the Soy Moratorium, an environmental accord between soy producers, the government, and civil society to refrain from purchasing or planting in deforested areas in Amazon states Mato Grosso, Maranhão, Tocantins, Pará, Rondônia and Amapá.
Approximately 76% of crops planted in deforested areas are in Mato Grosso, the number one producing state nationwide. Nevertheless, there are signs that the accord works. The average rate of deforestation in Mato Grosso is 6.5 times lower since the 2006 soy moratorium. Only 1% of soy in the Amazon region is planted in recently deforested areas.
The notion that deforestation increases production is misleading, according to Ricardo Abramovay, an economist at the University of São Paulo. He argues that land investments should not concentrate on turning forest to pasture, but on technology to make it more productive.
Between 1991 and 2017, Brazilian soy production soared 312%, while the planted area expanded 61%, demonstrating an increase in productivity, according to the watchdog Climate Observatory.
Nor is deforesting in order to plant more yielding great results in Brazil. Between 2007 and 2016, the average yearly deforestation of 7,400 km2 translated into a 0.013% increase in Brazil's GDP, according to the Zero Forestation Working Group.
"Destruction of the forest is not necessarily required to increase soy production", Abramovay wrote in his 2018 book The Amazon Needs a Natural Knowledge Economy.
IPAM's Guimarães made a distinction between productive law-abiding agribusiness and environmental crimes committed in the Amazon.
"More than 90% of deforestation is illegal, the result of criminal acts by land grabbers, loggers and gold miners," he said. "If it is crime, the forces of the just and honest must all be aligned, including the buyers of Brazilian commodities."
The most vulnerable regions of the Amazon produce much more meat and soy for the domestic market than for export, researchers say. However, foreign demand for products from parts of the country where agriculture has less impact on the forest pushes producers focussed on the domestic market towards regions with high deforestation rates.
The complexity of the meat production chain and the lack of transparency in meatpacking operations also encourage bad practices, known as "cattle laundering", by processing plants and their suppliers.
An investigation by Repórter Brasil found that large companies in the sector, such as JBS, Marfrig and Frigol, buy cattle from ranchers who have received fines in regions notorious for deforestation, which are also at the epicentre of fires currently raging in the Amazon.
Amazon cattle ranching is also relatively unproductive. The Amazon Environmental Research Institute (IPAM) showed that 65% of deforested land is used for low-quality pasture. On average, each cow in the region occupies an area equivalent to a football pitch.
In total, an area twice the size of Germany has been deforested in the Amazon, according to Abramovay. Almost one fifth of it has been destroyed. In 1960 the proportion was 1%.
Brazil has shown that it can slow deforestation. Between 2003 and 2012, rates fell by 80%.
However, since 2012 the pace has picked up and Brazil has begun to backtrack on an international commitment to bring annual deforestation down to 3,800 km2 next year.
Some researchers predict that deforestation in the Amazon could surpass 10,000 km2 this year.
China's response
In contrast to French president Emmanuel Macron, who appeared to take up protecting the Amazon as his newest political cause, the Chinese government has largely remained tight-lipped on the fires.
However, it has downplayed suggestions that the country bears some responsibility for driving deforestation in the Amazon.
"The correlation is new to me," foreign ministry spokesperson Geng Shuang said at an August 26 press conference, in response to a question about global beef consumption and the fires, which noted China's possible role as a major importer.
China was aware of the fires and supported the Brazilian government in its efforts to fight them, he added.
In a meeting with representatives from Brazilian agribusiness last month, Jingtao Chi, chairman of COFCO International, China's largest trading company, which imports a quarter of Brazil's soy, repeated "sustainability" several times, according to IPAM's Guimarães.
In January, Jun Lyu, another COFCO executive, caused a stir by publishing an article urging the international community to combine efforts in combatting deforestation.
Isabel Nepstad, a senior consultant for the Solidaridad Network, which monitors global supply chains, said that by joining the ranks of major international trading companies, COFCO is setting a good example for other Chinese companies.
"Its announcements caught the attention of other companies in China and abroad," she said. "But because other companies do not yet have sustainability departments and COFCO has the advantage of being a state-owned company with global operations, it will take time before we see more public commitments from Chinese players".
Global Canopy, an NGO which maps production chains and their impact on tropical deforestation, has investigated supply chains in the beef and leather trade between Brazil and China, which are exposed to a "deforestation risk".
The top 20 Chinese companies in these sectors do not have sustainability policies related to deforestation, despite their significant impact, Global Canopy found.
"It is in fact a consumer market that directly impacts the expansion of Brazilian agribusiness," said André Vasconcelos, a Latin America researcher at Global Canopy, who also works on the supply chain transparency tool known as Trase.
In an interview with UOL, Qu Yuhui, Minister-Counsellor at the Chinese embassy in Brazil, said that the current crisis was "a bit fabricated" and that Brazil has one of the best standards for environmental conservation in the world.
"Brazil has been consistent in protecting the environment," he said. "It is not me recognising this [fact], but rather the Chinese government."
This article is republished from Diálogo Chino