This week Malaysia began exporting whole durian to China by plane. It hopes to fly 8,000 tonnes of the fruit to China every year, at a value of around 800 million yuan (US$111.6 million).
With demand for durian skyrocketing in China, Malaysia is bracing itself for a leap in production. A new agreement signed in August last year allows the Southeast Asian country to export frozen whole durian to China for the first time, but demand is fuelling deforestation.
Malaysia grows about 300,000 tonnes of durian every year, with most of it consumed domestically. Total exports in 2018 were 23,381 tonnes, worth RM118.2 million (US$29.4 million), according to Malaysia's Department of Statistics. A total of 20,793 tonnes or 88.9% of this went to Singapore. And only 236 tonnes were exported to China in the form of pulp and paste.
In a June statement, Malaysia's ministry of agriculture and agro-based industry said it expected total durian exports to China to increase to 22,000 tonnes by 2030.
This growth is small compared to China's growing appetite for the fruit. According to Trade Map, the value of fresh durian imports to China was almost US$1.1 billion in 2018, double the figure for 2017. Imports have grown from about 200,000 tonnes in 2008 to approximately 430,000 tonnes in 2018.
Almost all of China's fresh durian imports are from Thailand, which is the world's top producer and exporter. Malaysia's official share is small because of trade restrictions that limit durian exports to China to pulp and paste form, although reports suggest some illegal imports do find their way into the country.
Following the inking of the new protocol, Malaysia's first exports of frozen whole fruit durians occurred on 17 June, with five companies approved to export the fruits to China, said Salahuddin Ayub, the minister for agriculture and agro-based industry, in a statement announcing the exports.
Whole fresh fruit can be sold for significantly higher prices. Salahuddin said the ministry expects 1,000 tonnes of premium variety durians from Malaysia to enter the Chinese market every month, which will contribute RM500 million (US$120 million) annually to the value of the nation's exports, the statement read.
He also said the ministry is confident that Malaysia's output will be able to satisfy local demand, the current international market and the new, burgeoning market in China. He said durian farming has been recognised by the ministry under the New Source of Wealth policy, which is supporting replanting and rehabilitation of farms.
Last year, Malaysia's durian output increased by 61.9% to 341,000 tonnes from 211,000 tonnes in 2017 and is expected to increase in the following years, particularly premium varieties such as the Musang King and Black Thorn, the statement read.
Malaysia's department of agriculture said exports must meet China's stringent food safety standards and import regulations.
Nevertheless, demand is already outstripping supply, sending prices soaring.
Although this price boom has so far benefited Malaysia's farmers, with durians of the most expensive variety, the Musang King, selling for up to 125 yuan (US$30) per kilogram in 2017, some exporters are warning that the growth is unsustainable.
Dulai Fruits grows 4,000 tonnes of durian a year, 90% of which is sold to China. Managing director Eric Chan says both the lack of supply and the soaring prices are hurting his Chinese buyers, many of whom sell via e-commerce channels in China.
"A lot of our clients cannot grow their business because we cannot promise them the volume," he said.
He added that without stable prices, buyers are unable to properly plan their expenditure, making expansion difficult. "When they cannot grow, sales cannot grow. When the sales cannot grow, the durian business is not sustainable," he warned.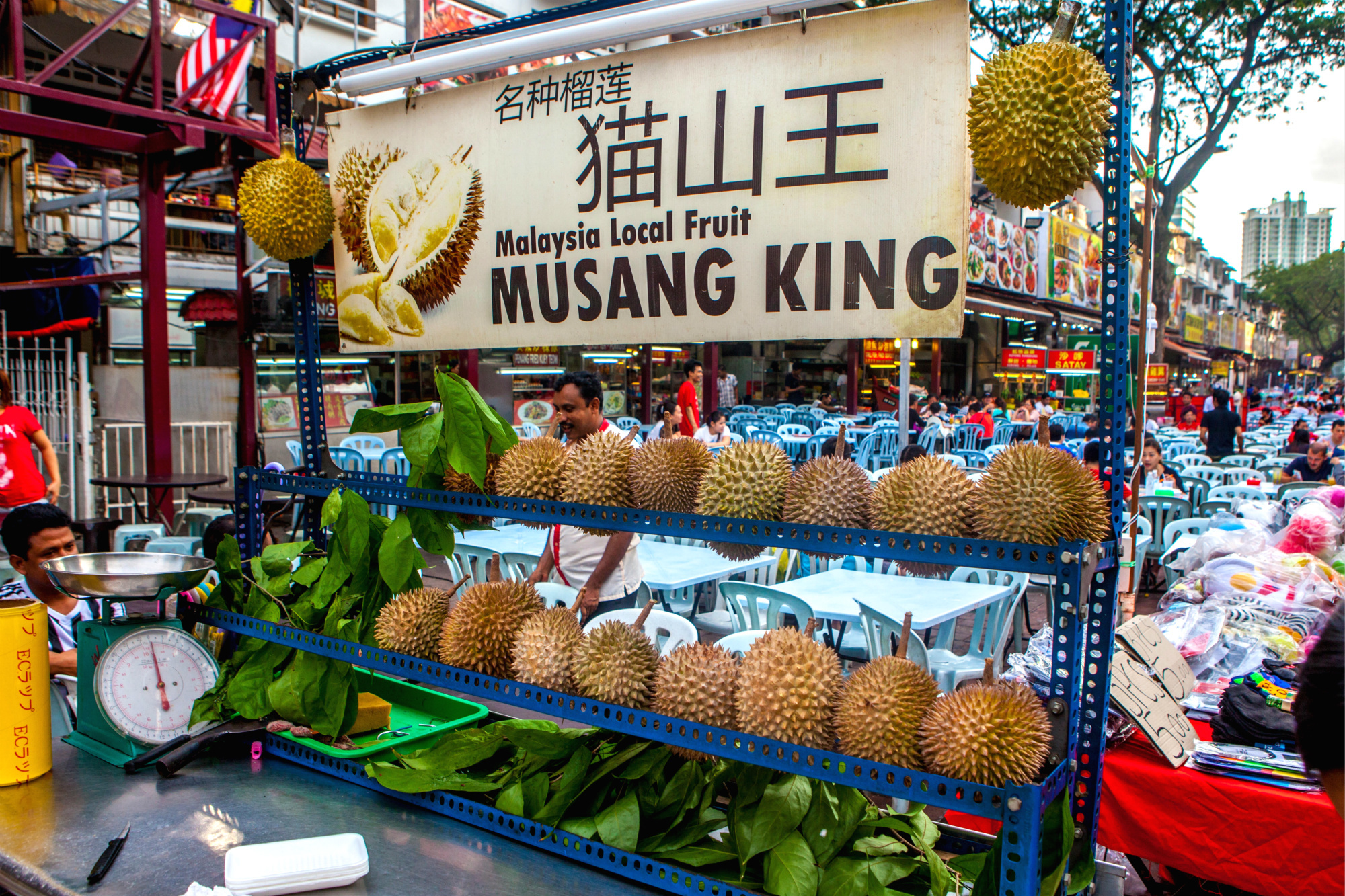 (Image: Alamy)
Hands-on farming
To stabilise the market and meet China's growing demand, the Malaysian government is keen to boost productivity. It has brought in the Durian Industry Development Programme to generate interest among farmers and support them with information and training.
The department of agriculture has acknowledged the challenges, saying increases in operating costs are making it difficult for farmers.
"There are increased prices of agricultural inputs such as fertiliser, chemicals and agricultural machineries, as most of these are obtained from abroad," it said.
Researcher Salehudin Md. Radzuan of the Malaysian Agricultural Research and Development Institute (MARDI) warns that climate change also poses a significant problem.
With an intensification of El Niño, farmers must increasingly guard their plantations against changes in the weather such as temperature swings.
According to Salehudin, farmers in Malaysia follow the "plant, leave and harvest" approach, which requires few agricultural inputs. But adapting to climate change and boosting production will require more hands-on, intensive farming practices.
"If a season is too hot, the trees will be stressed. The fruits will be small and not very good quality," said Salehudin. "You must have a better fertiliser system, better irrigation system if you want a good yield."
To help, MARDI is researching high-yield durian varieties. But as Salehudin pointed out, this is no quick fix. "We have to test the taste and whether the varieties will thrive in all locations across agricultural zones. Durians take a long time to grow and bear fruit so that's why this research is going to take years," he said.
Growing deforestation
With high-yield varieties still a long way off, growing demand has led to increased deforestation to make way for durian plantations.
Puan Sri Shariffa Sabrina Syed Akil, president of the Association for the Protection of the Natural Heritage of Malaysia (PEKA), described the situation as "very serious".
"Now that China wants more of our durians, Malaysians are going crazy because there is so much money to be made," she said.
Instead of turning underutilised land into plantations, the authorities are "more than happy to open up our forests … because they can make more money from the logging".
To cash in on this bonanza, state governments in Peninsular Malaysia, where durian production is concentrated, are removing the protections that keep forest reserves safe. And as state governments are in charge of local land matters, there's not much the federal government can do to control this.
"I have seen the impact with my own eyes. The entire ecosystem is affected. The rivers are gone," said Shariffa. Indigenous people are losing ancestral lands to the plantations.
This was also claimed by Mustafa Along, chairman of the Kelantan Network of Orang Asli Villages during a June forum in Thailand.
He said that Kelantan, a state on the east coast of Peninsular Malaysia, has witnessed an alarming rise in threats from activities such as logging, mining and plantations. He added that durian farming by Chinese-financed companies is increasingly encroaching upon indigenous land.
Mustafa said in one instance, the Kelantan state government had approved 10,000 acres (4,000 hectares) of forested land in Pos Simpor, Gua Musang to be opened for Musang King durian farming.
The indigenous community there banded together to stop the company's hired workers from entering the forest by erecting a blockade in Pos Simpor.
However, he said this did not deter the company, which has taken legal action and used intimidation and violence to force the community to back down.
"They sued me for millions of ringgits because they claimed that they had lost millions during the entire duration of the blockade. I am only an indigenous person who earns about US$50 a month," he said.
Mustafa elaborated that in Kelantan, the encroachment into native customary land for durian farming, among other developmental activities, was driven by a Kelantan state policy from 2006 called the People's Farm programme. Under the programme, one-third of a 600,000-hectare forest reserve has been set aside for monocrop plantations such as palm oil and rubber. These lands include indigenous lands, which are recognised under Malaysian law as native customary lands.
After the blockade in Pos Simpor hit national headlines, the federal government, in an unprecedented move, took the Kelantan government to court in January to protect local indigenous land rights.
Risk to genetic diversity
With growers catering increasingly to the Chinese market, the loss of genetic diversity could also become a problem for the sector. This is already the case in Thailand, which exports most of its durian crop to China.
But unlike Thailand, Malaysia consumes the majority of its durian domestically. Per capita consumption is 11 kilograms each year, making it the world's largest consumer.
The department of agriculture has downplayed the potential impact that focussing on exports could have on genetic diversity. "There are 204 varieties of durian registered and planted in Malaysia. Each of these has their own niche market," it said, adding that while international demand for the Musang King and the Sultan has increased, "the consumption of other varieties of durians in the domestic market remains high".
Despite the challenges facing farmers, Dulai Fruits' Eric Chan is optimistic about the future of Malaysia's durian industry. He hopes that Chinese demand will attract more young people to work in the industry. He sees a great deal of potential for development, especially in innovative offshoot sectors such as food engineering.
"It can help with food processing industries as well. It will involve a lot of engineers because we need the machinery to produce all the downstream products … The durian industry is not only about planting the trees and shipping it out. There is a whole ecosystem to it. That's why I feel positive about it," he said.
But PEKA's Shariffa laments that the increase in appetite for Malaysia's durians is fuelling short-term interests rather than long-term benefits.
"The state governments have too much power over our forests. They have no understanding of the need for sustainability. They think logging will make them a lot of money. They're only thinking about the short term," she said.