In September, the Chinese province of Hubei – where the first outbreak of Covid-19 occurred – announced 90 billion yuan (about US$14 billion) of investment in the coal, electricity, oil and gas sectors over the next three years. Provincial bosses described the move as intended to "promote the post-pandemic recovery and high-quality development". In October, work started in Guizhou on a 5.6-billion-yuan coal power plant, which planning documents say will create about 5,000 direct and indirect jobs.
Because of Covid-19 China's carbon emissions dropped 11% in the first quarter of 2020, compared to the same period last year. But emissions grew in the second quarter, up 5.4% year-on-year in May as the economy recovered. That trend continued after June. An earlier analysis by China Dialogue found that investment in traditional infrastructure was driving second quarter GDP growth – and creating emissions concerns.
In late November, the climate thinktank Ember reported that the contribution of the industrial sector to GDP growth in the second quarter was 61%, compared to a 35% average for the last three years, while the contribution of the service sector shrank significantly. Correspondingly, industry and infrastructure construction meant coal-power generation remained unchanged year-on-year between January and October, but grew 3% from May to October, once the epidemic was under control. Given reductions in coal-power generation elsewhere in the world, China's share of global coal power generation in 2020 is expected to increase from 50.2% to 52.9%. According to the report, thermal power generation – mainly from coal – would have been even greater if high rainfall over the summer hadn't increased hydropower output. It also described the government as seeking "to pull the economy out of the post-pandemic doldrums, through recourse to its old stimulus playbook, though at a lesser scale this time, as compared with the post-2008 stimulus package".
The old four-trillion-yuan approach?
So recent data is causing concern, and long- to mid-term stimulus policy is not offering cause for optimism.
In May, the National People's Congress approved a 6.35 trillion yuan (US$970 billion) stimulus package, including an extra 1 trillion yuan in deficit funding, a 1 trillion special national bond issue, 375 million in special local bonds, and 600 billion in investment from the central budget. This amounted to around 6.4% of GDP for 2019. Chinese Premier Li Keqiang made no reference to how "green" these moves were when announcing them.
Jorrit Gosens and Frank Jotzo of the Australian National University have said China's recovery plan is no "Green New Deal". Although this is the first year China has not set a target for economic growth – indicating it will not, as it has in the past, pursue growth at any environmental cost – funding is still flowing to fossil fuels, while there is little support for renewable energy to report.
In October, strategic consultancy Vivid Economics and Finance for Biodiversity, an advocacy organisation formed by dozens of global financial institutions, issued an assessment of the greenness of post-Covid stimulus packages of G20 countries. According to that assessment, China has put some good policies in place but registered a low overall score, beating only Russia, Turkey and Saudi Arabia. This was due to its support for environmentally harmful infrastructure in the energy sector, relaxation of environmental oversight, failure to attach green conditions to relief funds, and subsidies or tax breaks for environmentally harmful products. "Significant extra action is required to achieve Paris Agreement targets and environment-related sustainable development goals," the report stated.
Analysis of China's post-pandemic stimulus policy has focused on provincial "major project lists" as indicators. These lists are issued annually, and while inclusion is no guarantee a project will go ahead, they do provide a guide to investment. As of September, projects worth 40 trillion yuan (US$6.1 trillion) were listed, with 8 trillion set to be invested this year alone. In general, these are high-carbon projects.
Lauri Myllyvirta, chief analyst with the Centre for Research on Energy and Clean Air, has said that eight major energy-producing and consuming provinces in East China are planning to invest trillions in fossil fuels – three times as much as in low-carbon energy. "The 'major project lists' continue the policies and investment patterns of previous years," Myllyvirta told China Dialogue. "These patterns are far from green – energy sector investment is still dominated by fossil fuel projects."
Concerns China is repeating the route it took after the 2008 financial crisis have been frequently raised. About 38% of the 4-trillion-yuan stimulus package announced that year was spent on infrastructure construction, accounting for 4.7% of GDP for 2008. The recovery and expansion in the steel, cement and coal industries increased China's carbon emissions, which in 2012 exceeded the US and EU combined.
Fu Sha, director of the Energy Foundation's Low Carbon Economic Growth Program, said it's hard to say that provincial governments are not following the 2008 model. "Both central and local governments have learned some lessons, for example on overcapacity, but in some localities there's been no real change… they go looking for big projects that can drive the economy and create jobs. What's different from the 2008 stimulus is perhaps more focus on the digital economy and innovation."
But the central government, at least, is working to reduce reliance on traditional infrastructure construction as the means for underpinning the economy.
Though 6.35 trillion yuan might sound a lot, it is more moderate than the 4 trillion yuan of 2008. In today's yuan, the 2008 figure would be 5.3 trillion yuan – but China's GDP is twice what it was 12 years ago.
The announcement of the stimulus package was also accompanied by measures designed to provide stability for jobs and livelihoods. At a press conference during the Two Sessions, Li Keqiang said the country's economic structure had changed significantly, with consumption now driving growth – and so the bulk of the money, about 70%, would go to supporting incomes, rather than new infrastructure.
Chen Ji, principal of the China Program at the Rocky Mountain Institute, a thinktank dedicated to accelerating the global energy transition, told China Dialogue that China realises the post-pandemic economic recovery plan should differ from that of 2008. China's economic growth has shifted from being driven by production to being driven by innovation. It has begun to approach the end of its urbanisation, while Chinese people's demands for environmental quality and liveability are constantly increasing. In addition, China's labour force and its structure are also changing. All of these factors mean China's demand for traditional road and railway infrastructure construction has significantly reduced.
On the way to an ecological civilisation
Wang Yi, a member of the National People's Congress Standing Committee and deputy head of the Chinese Academy of Sciences' Institutes of Science and Development, leads a "Green Recovery" research group looking at China's post-pandemic stimulus policies and is trying to clear China's name over its recovery plans.
He told China Dialogue that the government has never actually described its post-pandemic policies as an "economic recovery plan". He said that policies in China are consistent, and this is also the case with "green" policies. In 2012, the report from the 18th Party Congress called for "construction of an ecological civilisation" and a Five-in-One approach to economic, political, cultural, social and ecological progress. According to Wang, that was a milestone moment, marking a shift from GDP-centred government to a focus on environmental improvements and green development – and post-pandemic policies have continued on this line. "Even if there's no actual "green recovery plan", the measures taken do include green content," he said.
Commenting on discussion about the extent of this green content, Wang said: "I don't think anyone would have expected President Xi to announce the 2060 carbon-neutrality target." When President Xi Jinping surprised the UN General Assembly in September by committing China to carbon neutrality by 2060, he called on the world to seize the opportunities arising from technological revolution and industrial transformation to promote a post-pandemic green recovery. Wang hopes people will see that China's building of an ecological civilisation is deepening and, to an extent, going ahead regardless of the cost. It is essential to look at the overall trend, rather than discussing whether particular aspects are green or not, he added
He described post-pandemic green policies as "intensive", covering renewables, green manufacturing and green consumption, and climate funding and investment. And the government's work report, published at the Two Sessions in May, and proposals for both the 14th Five Year Plan, which will guide the next half-decade of development, and 2035 vision, all repeatedly mention "innovation in technology". The "neo-infrastructure construction" part of this has received the most attention.
Statistics compiled by Wang Yi's Green Recovery research group show that six types of neo-infrastructure project (5G, data centres, electric vehicle recharging points, AI, the industrial internet and rail transport) account for 11.4%, or 955 billion yuan, of provincial major project spending for 2020. According to the group, this prominence is not because these are expensive undertakings, but because they can promote industrial upgrading, speed up the elimination of out-of-date capacity, and drive sustained economic growth.
But their report also admits that China does not have a specific directory of neo-infrastructure projects, and many projects are being approved under the banner of neo-infrastructure, leading to a risk of over-investment. Also, power consumption issues with some projects, including 5G infrastructure and data centres, could hamper power-saving and emissions-reduction efforts. These two issues, along with an overreliance on coal-power in investment plans and the consumption of materials such as steel and cement during infrastructure construction, are listed in the report as the 4 factors risking the locking-in of high carbon emissions during the recovery.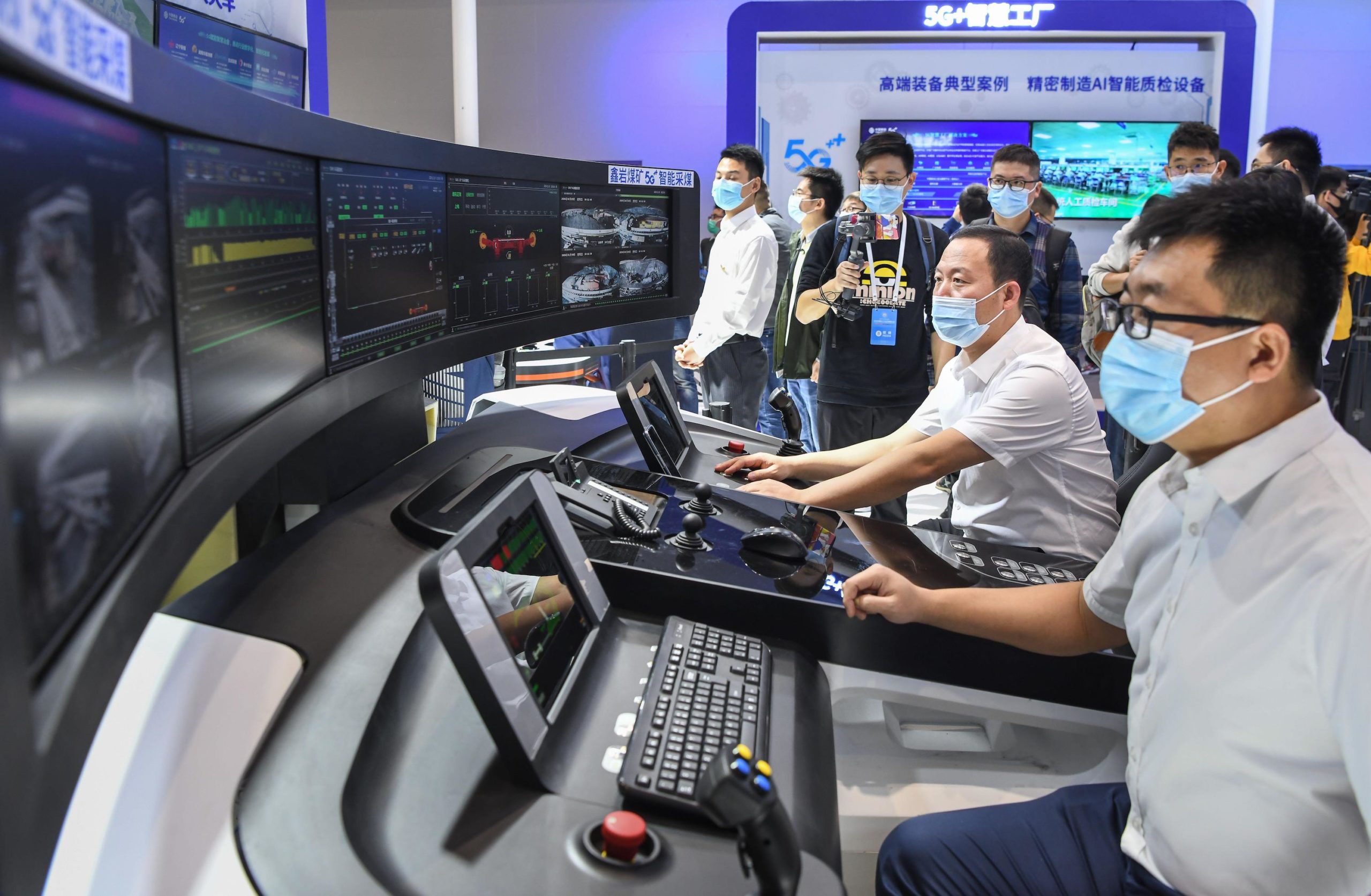 Wang Yi says short-term recovery goals are always limited, in any country, and aimed at easing immediate impacts. "You need to rescue what's at risk," and so plans may not look very green. The high-carbon tendencies reflect some local issues, and the fact that central government does not make all the decisions. For example, approval of coal power plants now rests with local rather than central government. And with the lasting effect of the pandemic, the quickest and most direct route to recovery is via industry and the supply side – while a green recovery needs a more comprehensive policy approach.
All eyes on the 14th Five Year Plan
Wang Yi's Green Recovery research has explored the prospects for cooperation between China and the EU. Late last year, the bloc released its Green New Deal, aiming for carbon neutrality by 2050 and sketching out routes to this goal for different sectors of the economy. The EU's 750-billion-euro (US$912 billion) post-pandemic package focused on green development and digital transitions, with 37% of funds earmarked for green investments, including reducing reliance on fossil fuels and boosting energy efficiency.
But Wang Yi objects to a direct comparison between the post-pandemic approaches of China and the EU, as a developing country like China has to rely on increased energy use to support economic growth. He thinks the important issue currently is how to combine the short, medium and long term. This explains why China is both issuing economic recovery measures and setting the medium- and long-term goals in the 14th Five Year Plan, and using those to bring about structural changes and a green transition.
Hu Min, head of iGDP, a non-profit Chinese thinktank, says the widely differing views on China's green recovery are down to the lack of a quantitative target. The EU's recovery plan "had a very clear target – it was in service of the 2050 carbon-neutrality goal. We don't have a similar target".
China doesn't yet have an official roadmap to carbon neutrality. But the 14th Five Year Plan will lay the foundations for that, and so it is being closely watched.
The Green Recovery research group's report points out that weakening climate change measures in the 14th FYP would seriously hamper China's efforts to achieve its 2030 Nationally Determined Contribution (NDC), made under the Paris Agreement and updated last weekend. It therefore suggests a new set of green goals in the new FYP, with total carbon emissions to replace the energy consumption target, and the inclusion of measures such as area of ecosystems protected. It also recommends updating the NDC to include tougher and wider-ranging targets, the green recovery and nature-based solutions.
Commenting on low-carbon issues at the local level, Wang Yi said the advantages of the Chinese political system need to be brought into play: "There is a lot of top-down power, and work needs to be done at the top on strategies, planning and legislation. The first thing to do is to bring about a consensus and bring that into targets for 2060 carbon neutrality. Of course, harnessing local innovation is also very important."