Last year was the first in which climate policies, rather than shocks like the 2007-09 financial crisis, caused energy-related CO2 emissions to fall in G20 countries. Emissions fell by 0.1%, compared with a 1.9% growth in 2018 and the longer-term annual average growth rate of 1.4% between 2005 and 2017.
However, governments' Covid-19 recovery responses risk reversing, instead of locking in, these positive trends. At least 19 of the G20 countries have provided financial support to their domestic fossil fuel sectors, 14 countries bailed out their national airlines without attaching climate conditions, while seven provided unconditional support to the automobile industry.
These were the key findings of this year's Climate Transparency report, an assessment of G20 countries' performance on tackling climate change by a collaboration of think-tanks and campaign organisations.
53.5%
of the G20's $393-billion stimulus for the energy sector has gone to fossil fuels
Previously known as the Brown to Green Report, the annual review is compiled by analysis of the latest data sets such as those by the OECD (Organisation for Economic Cooperation and Development), World Bank, and International Energy Agency. It analyses G20 performance on climate adaptation, mitigation and finance against benchmarks for keeping global temperature rise within 1.5C.
The researchers found that before the pandemic hit, progress was being made due to various climate policies, such as renewable energy targets, coal phase-outs, carbon pricing, restriction of financial support for fossil fuels, and national green finance strategies.
For example, 2019 saw coal consumption fall by 2%, while CO2 emissions from the power sector fell by 2.4%, and energy-related agricultural emissions by 0.5%. Renewables grew to 27% of power generation, up from 25% in 2018, with the proportion of power generated from renewable sources increasing in 19 of the G20 countries.
Though emissions from buildings, transport and industry continued to rise (by 0.9%, 1.5% and 1.2% respectively) the researchers still described the progress as "a remarkable departure" from previous emission growth trends. Looking at this year, restrictions put in place to curb the pandemic saw emissions fall by an estimated 7.5% in G20 countries compared with 2019, with global aviation emissions collapsing. However, they have already rebounded in many places, and even surged past 2019 levels in some countries, such as China, where emissions in May were 4.5% higher year on year, according to research cited by the report.
Covid-related stimulus from G20 governments to the energy sector (up to mid-October 2020)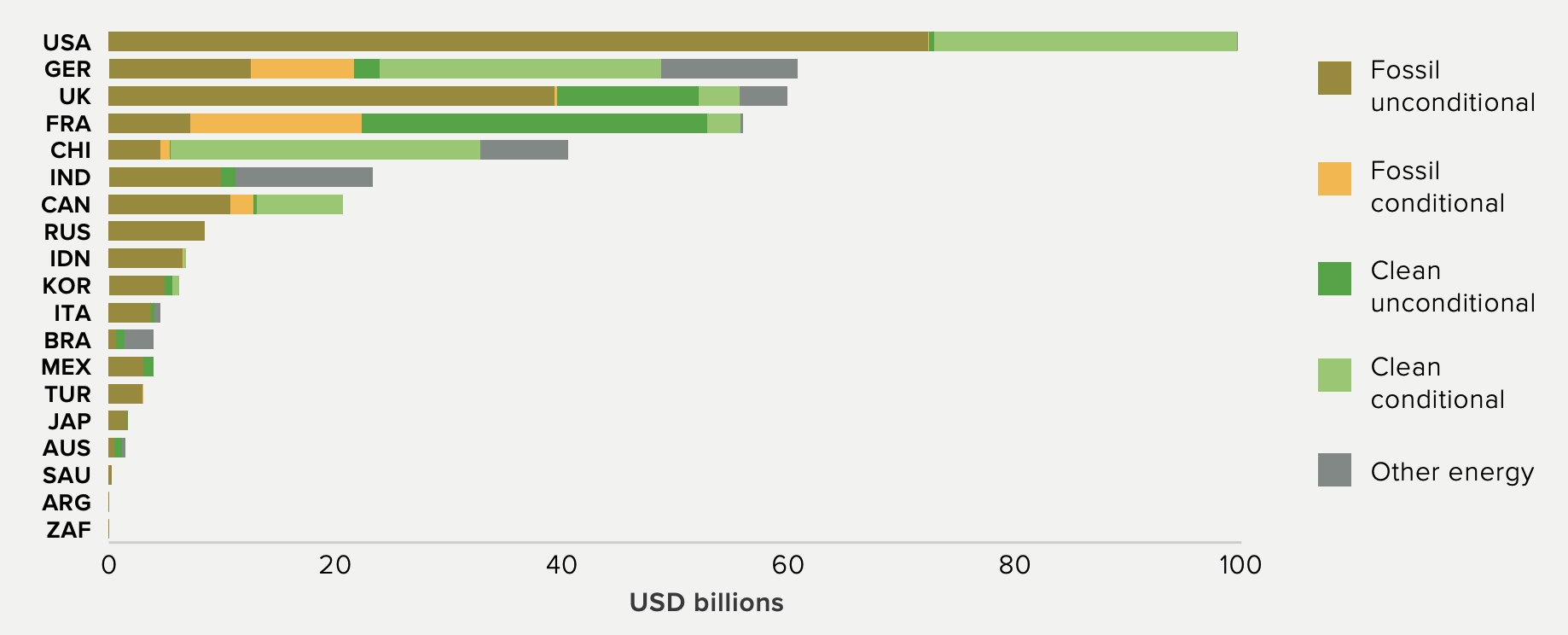 "Before the pandemic hit, results of climate action were coming to fruition in some energy-related sectors and the crisis consolidated those trends in the majority of the G20 countries," says Jorge Villarreal of campaign organisation Iniciativa Climática de México.
"But without further climate action these effects will be temporary and concentrations of CO2 in the atmosphere will continue to rise. The political choices in the coming months will determine whether G20 countries manage to sustainably bend the emissions curve," he adds.
Emissions rebound
The economic stimulus plans so far could undo the progress made in 2019, the researchers warn. Many countries have made commitments to reach net zero by 2050, with South Africa, Japan and South Korea the most recent, and China aiming to get there by 2060. But short-term policy frameworks and investments are not yet consistent with these long-term plans, they commented.
Emissions could rebound after the pandemic due to governments tending to direct more money to emissions-intensive and environmentally destructive industries, they warned. Airlines and airports have received at least US$90 billion in support, with only France providing conditions on bailouts.
About 54% of a total of $393.4 billion G20 stimulus support in the energy sector has been directed towards fossil fuels, they said. Oil and gas industries have seen $174.7 billion of support, while coal is benefitting from $16.2 billion, they noted.
4.5%
China's emissions were 4.5% higher in May 2020 than May 2019
Only four G20 members – Germany, the UK, France and the EU – provided more funding to green sectors compared with fossil fuel or other emissions-intensive industries such as airlines, it found.
The researchers stressed that it was not too late for governments to switch to a greener path, as recovery packages were still being rolled out. "Governments must align current policies, investments and recovery efforts with their long-term emissions goals," says Dr Kim Coetzee of Climate Analytics, a non-profit climate science and policy institute.
The conclusions of the Climate Transparency research echo those from a similar report published a week earlier by the Overseas Development Institute, International Institute for Sustainable Development (IISD) and Oil Change International.
The G20 Scorecard on Fossil Fuel Funding, which tracked spending on fossil fuels from 2017-19, found a 9% decline in total funding compared to the 2014-16 average. However, 2020 data has revealed that government responses to the pandemic are undoing the progress made between 2014 and 2019.
"G20 governments were already not on track to meet their Paris Agreement commitments on ending public support for fossil fuels before Covid-19. Now, disappointingly, they are moving in the opposite direction. G20 funds for fossil fuels are likely on course to remain constant or even trend upwards again in 2020 compared to the last few years where we've seen a slight drop in support," says Anna Geddes, energy programme associate at IISD.