China is sticking to its timetable for removing renewable energy subsidies. Faced with delays caused by Covid-19, developers are under pressure to not only restore production and get supply chains up and running again, but to get extra capacity installed and connected to the grid before subsidies end.
Despite the disruption, the government is set on having wind and solar compete with coal power on price and on schedule – ushering in an era of "grid parity". Renewables have received subsidies since 2011 and their removal is expected to increase competition in the sector.
Grid connection delays
The pandemic has made it harder to get grid connections in place before subsidy windows close. In May 2019, the National Development and Reform Commission (NDRC), the top agency for economic policymaking, said that onshore wind power projects approved in 2019 and 2020 and connected to the grid before the end of 2021 would get a lower subsidy than those approved in 2018 and connected to the grid by the end of 2020. After 2021, there would be no more subsidies for new projects. Some solar farms that are not connected to the grid by 30 June will lose subsidies.
Many developers that planned their work around the subsidy deadlines have seen their plans thrown into disarray, according to Qin Haiyan, general secretary of the Chinese Wind Energy Association's wind power expert committee. Many planned and under-construction projects are now unlikely to be completed in time and so will miss out on the expected subsidies. Feasibility studies and investment decisions had assumed the subsidies would be in place. If they are not, the risk of investments failing to make their expected return will increase and projects could be shelved or cancelled.
Writing in China Energy News recently, He Genxin, head of the State Power Investment Corporation's subsidiary Jiangxi New Energy Generation, said: "There are over 400 megawatts of projects which need to connect to the grid by the end of the year if they are to get subsidies. About 60% of those are confident of doing so, another 20% might manage it, and the other 20% face huge difficulties."
70%
of the world's solar panels are manufactured in China
He added that the company was facing twin challenges: dealing with the pandemic and getting grid connections in place. Wind power capacity that is under-construction by the firm is equivalent to 63% of its current renewable capacity.
The solar sector has been less affected. Chen Junying, an analyst with consultancy EnergyTrend said at an event held by the China Photovoltaic Industry Association that solar farms facing delayed connection to the grid will still be hooked up in the third quarter of the year, so annual grid connection figures will not be severely affected. And as 70% of all solar power manufacturing is concentrated in China, particularly in the west and south-east of the country, manufacturing has not been too disrupted despite logistics restrictions.
Nonetheless, both the solar and wind power sectors would like to see the government push back grid connection deadlines. Qin Haiyan said in late March that this was an essential measure to help the wind sector cope, and suggested an extension of at least six months for onshore wind projects and approved offshore projects. In March, the solar industry body China Photovoltaic Industry Association also requested more time for the sector to complete grid connections.
The Ministry of Finance has turned down these requests, except in the Wuhan region, as reported by In-en.com and Jiemian News, meaning the subsidy door will close as scheduled.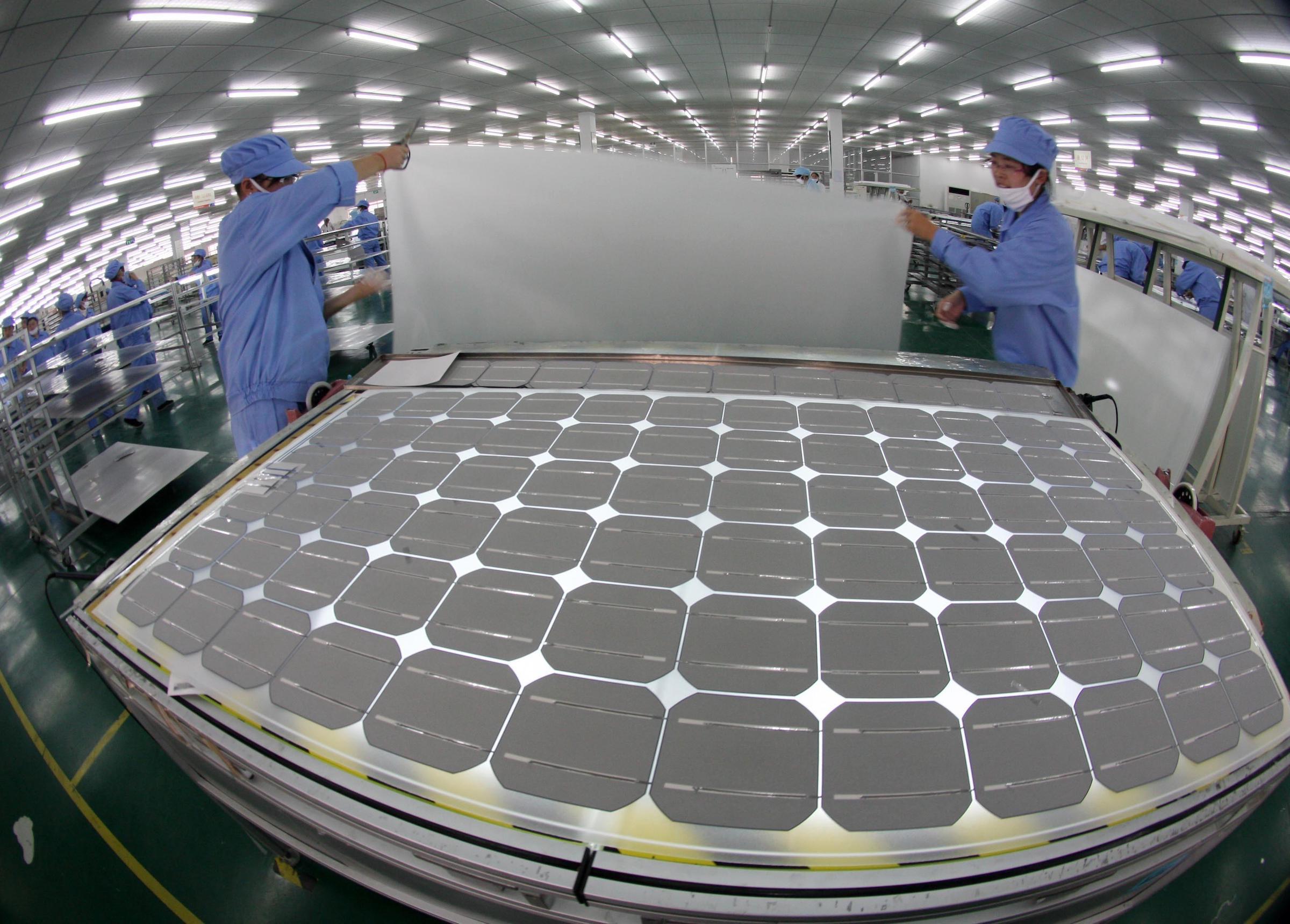 Subsidy solutions
The renewables sector has longstanding subsidy issues. Many payments are long overdue, and the squeeze on government finances caused by the coronavirus is making it harder still for wind and solar power firms to receive their money.
Current levies are only enough to pay subsidies to projects hooked up to the grid before 2015, according to a late-2019 report from the National People's Congress Standing Committee on implementation of China's law on renewable energy. And over 90% of new renewable projects during the 13th Five Year Plan period (2016-2020) did not get subsidy funds.
Subsidies are paid from funds earmarked in the national budget and from an electricity price surcharge for renewable energy. But Ma Lifang, an expert with the Chinese Renewable Energy Industries Association, told China Dialogue that the surcharge is not collected as widely as it could be. All electricity users, excluding agricultural producers, are expected to pay it but in practice some household consumers and users of captive power (off-grid power plants) are also excluded by local governments. Ma pointed out that central government oversight of the collection process has not been strict enough.
During an online workshop in late March, Wang Sicheng, a researcher with the NDRC's Energy Research Institute, said that as of 2019 there was a subsidy gap of 300 billion yuan (US$42 billion).
Ma Lifang thinks the subsidy scheme ran into trouble as no adjustments were made once it had achieved its aims. "The scheme aimed to support the early development of the renewable energy sector, but that's now been achieved," she told China Dialogue. Both wind and solar power have benefited from rapid technological improvements, falling costs, and large-scale adoption. In some regions renewable power is ready to compete on the market without subsidies, providing a more sustainable path to future growth.
While the government has taken some steps to address unpaid subsidies, a quick solution seems unlikely. Early this year, the Ministry of Finance, the NDRC and the National Energy Administration made changes to two policies to improve the subsidy payment process. Projects that already qualify for subsidies will receive a percentage of them. Ma explained: "Currently, they're just telling everyone this is what'll happen. Later there will be more detailed instructions on what percentage to pay, and how." On 23 April, Qin Haiyan said at an online seminar on a new energy law that the huge sums involved means that percentage is unlikely to be very high.
Wang Sicheng is sceptical that historical subsidies will even be paid – and as the solar sector still needs those subsidies, arrears are likely to continue growing. Ma Lifang is more optimistic: the pool eligible for onshore wind power subsidies will stop expanding in 2021, and innovation will help solar power gradually reach grid parity. This means the number of projects requiring subsidies will shrink, while the funds available to pay subsidies will hold steady and the funding gap will shrink after reaching a peak: "And by 2035 or 2040, that gap should be closed."
A new era of grid parity
Regardless of how the subsidy problems will eventually be resolved, renewables are en route to grid parity.
The China National Nuclear Corporation's 50 MW Heiyzi wind farm in Yumen, Gansu province, was the first of China's wind power grid parity trials to be connected to the grid when it started operating in August last year. According to project officials it can generate 152 million kilowatt hours annually, and match local coal power generators on price, at 0.3078 yuan (US$0.043) per kilowatt hour. Similarly, the China General Nuclear Power Group's 260 MW solar farm in Ma'anshan, Anhui – China's first solar grid parity trial – is currently matching local coal generators, at 0.3844 yuan per kilowatt hour.
Despite these successes, experts point out that while wind and solar can compete with coal on cost, renewables generators remain concerned about bringing existing projects off subsidies or applying for approval for new grid-parity projects.
According to a 2019 list of the first wind and solar projects to connect at grid parity, 25 subsidised projects voluntarily switched to a grid parity basis – only about 5% of the total. Companies are unwilling to make the switch, as profits are higher with subsidies. But a change in policy this year may encourage them because those making the switch will be the first to receive outstanding subsidies.
And while new wind and solar projects do benefit from cheaper technology costs, other costs remain high and a barrier to grid parity. Non-technology costs include curtailment costs, land taxes, financing and initial development, according to industry magazine Energy Review. These can account for 20% or more of wind and solar project costs. Curtailment costs arise when the grid has no capacity to take power being generated, and this has long been a problem for the sector.
China's new Energy Law, currently being drafted, will improve things. Li Yanfang, director of the Energy Law Centre at Renmin University's Law School, said during an online meeting on the consultation draft of the law that it includes systems for grid take-up of power and guaranteed purchases to reduce curtailment rates. The draft also sets rules for monopoly firms such as power distribution networks, requiring the provision of fair and unbiased access. Li thinks the grid firms are not currently well-disposed towards renewable power, and that the new law aims to change that.