The future of a 700 megawatt (MW) coal-fired power plant in Bosnia and Herzegovina is uncertain after it was unable to secure financing from Chinese banks.

"This is the first time the Chinese commitment to exit from overseas coal has been applied retroactively to a project announced before Xi Jinping made his pledge in September 2021. And it opens a realm of possibilities to move away from other coal projects in the Western Balkans," said Wawa Wang, director of Just Finance, an NGO advocating for transparency in public financing. "But Chinese banks' refusal to provide financing for the Ugljevik III project is not enough."
China and the EU after the pandemic
Read more from this series, in which we compare the post-Covid policies of China and the European Union, and how their relationship is evolving
The expansion of Ugljevik III, which is located in Republika Srpska (one of the two entities of Bosnia and Herzegovina), has been on the cards since 2013, when Russian-owned Comsar Energy was granted the concession for it. In June 2021, the China National Electric Engineering Company (CNEEC) and Sunningwell International Ltd, a company registered in Poland, signed a contract to construct the plant.
In 2020, Republika Srpska's commission for concessions had found that Comsar Energy "was not fulfilling its obligations", by failing to progress with the project within the agreed time limits. The Center for Environment, an NGO from Republika Srpska, twice challenged the environmental permits for the project. "Yet, the government of Republika Srpska extended Comsar Energy's concession from 30 to 44 years, and even [planned to] increase the capacity of Ugljevik III to 700 MW, contrary to Republika Srpska's Energy Development Strategy," says Majda Ibraković from the Center for Environment. "And now, despite the announcement that the financing is not secured… the permitting process for the plant is still ongoing." It is unclear where the financing for Ugljevik III might come from. It would not qualify for any export credit support from OECD countries, as late last year the OECD approved a ban on export credits to new unabated coal plants.
Since Chinese banks refused financing, Sunningwell has been "exploring other alternative sources" according to an open statement. It is not clear yet where this may come from given the strong international signals of an end to coal finance coming from last year's COP26 climate summit in Glasgow.
Shifts amid growing cooperation
In the last decade, China's footprint in the Western Balkans' energy sector has grown. Research, published in December 2021 by the Balkan Investigative Reporting Network (BIRN), identified 136 Chinese-linked projects in the Balkans worth more than 32 billion euros (US$36 billion). Most of these projects are in Serbia (61 in total) and Bosnia and Herzegovina (29), in the field of infrastructure and energy.
Over the years, various environmental NGOs have expressed concern about the hefty environmental cost of the 11 coal-related projects in the region, stating that most of them breach environmental, procurement and state-aid law, at both national and EU levels.
In Serbia, the China Exim Bank signed off a loan for a third unit at the Kostolac B3 lignite power plant in 2014, even though it had an incomplete environmental impact assessment. The 2017 installation of a desulphurisation system on the existing two units, supposed to reduce pollution levels, is still not operational. Meanwhile in Bosnia, the Tuzla 7 coal power plant and coal mine project received a loan from China Exim Bank in 2017, despite irregularities related to the environment.
In both Serbia and Bosnia, despite environmental and transparency controversies, the coal-related projects were able to move forward because they brought the promise of quick investment, new jobs and infrastructure, without wider conditions. China's approach to financing is characterised by its non-interference philosophy, Wang stated: "Unlike Western donors and multilateral development institutions, China does not typically condition the financing – either debt or equity – onto reforms such as economic, environmental or social reforms."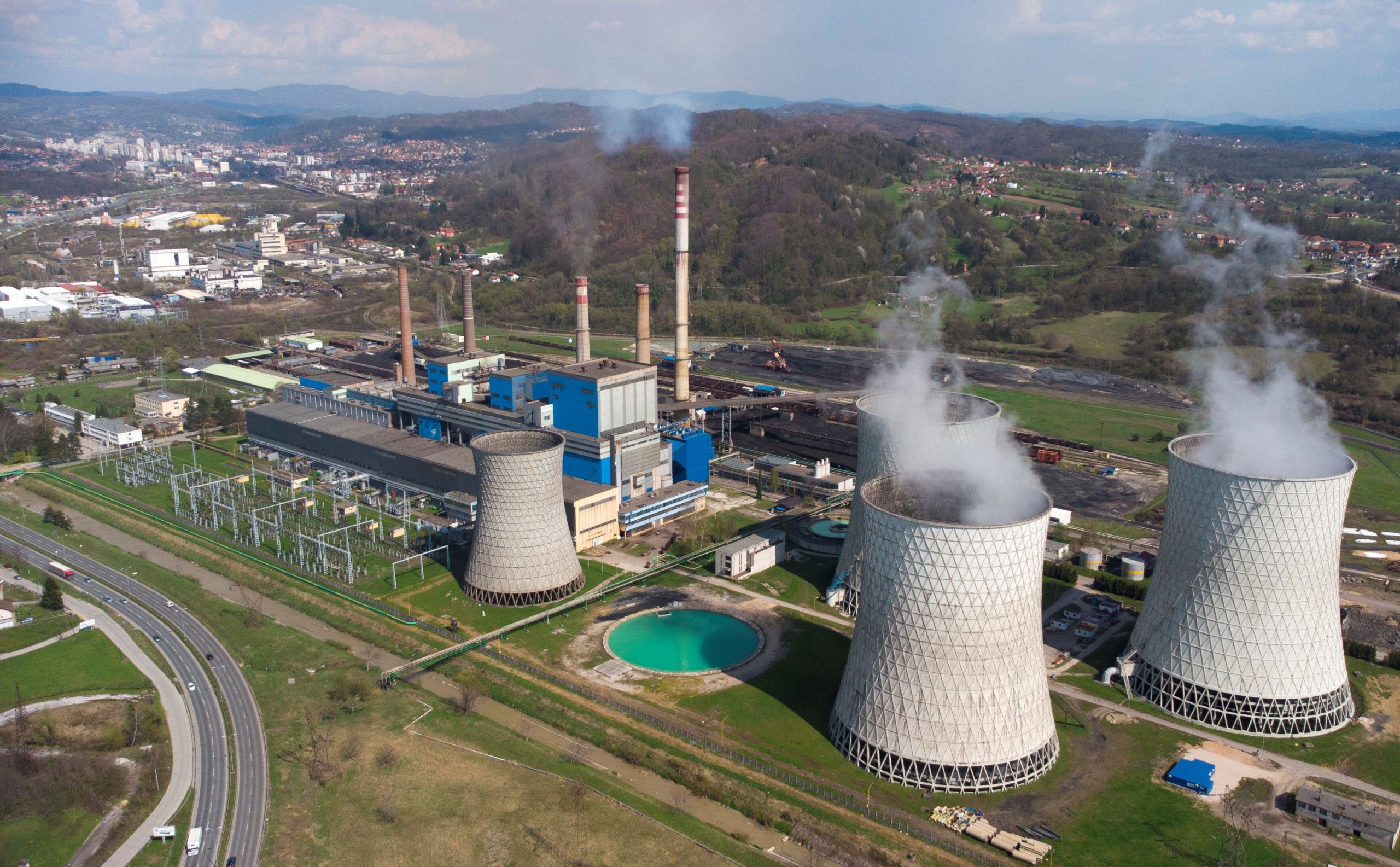 In Bosnia, the seventh unit of the Tuzla thermal power plant has been stalled for years, and currently has no valid environmental permit. The 450 MW plant has been criticised by the Energy Community, an organisation aiming to create a pan-European energy market integrating the EU and its neighbours. In December 2021, its Secretariat ruled that the Bosnian state guarantee for a Chinese loan for Tuzla 7 constitutes state aid and violates Energy Community rules. In an email to China Dialogue, a representative explained: "This means concretely that the State aid authority has to review its decision (…) Should the incompliance not be remedied by next summer, the Secretariat can ask [its] Ministerial Council to find that Bosnia and Herzegovina commits a serious and persistent breach of Energy Community law."
Then, in summer 2021, the contracted equipment supplier, US conglomerate General Electric, decided to pull out from the project, after announcing in 2020 that it would stop building coal-fired power plants. So far, the project's leading contractor, Chinese firm Gezhouba, hasn't managed to secure a replacement supplier. Despite the setbacks, Amir Andelija, general manager of the Public Electric Utility of Bosnia and Herzegovina (EPBiH), the state-owned company that generates and distributes electricity, said in October 2021 that there was "no alternative" but to continue building Tuzla 7.
The company's outlook is contested. "I believe that the government is well aware of the fact that the project has no future. It has been delayed for so long; it would make our energy more expensive in the future because of the EU carbon tax… But it is hard to change the narrative, after supporting the project for the past 15 years," said Denis Žiško, energy and climate change programme coordinator with the the Center for Ecology and Energy, an NGO based in the city of Tuzla. "They need to find a way to pull out of the project, without losing the votes of those working in the mining industry in the next election in autumn," he believes.
Žiško says that people's attitude towards coal has also changed. "Five or even three years ago, when I was fighting Tuzla 7, people weren't necessarily against the project. Now, they have grown tired of pollution and failed promises."
Can China's pivot aid the energy transition?
Serbia and Bosnia remain among the most coal-dependent countries in the world, with Serbia still producing 70% of its electricity from coal, and Bosnia's share hovering at around 65%.
Such a reliance can present challenges. In December, more than 100,000 people went without electricity in Serbia for several days when the Nikola Tesla station went offline. EPS, the state-owned national electricity company, has been importing electricity at a high cost ever since. The country's president, Aleksandar Vučić, publicly said he made "the mistake" of not moving forward with another stalled coal power project, Kolubara B, having "listened to the ecologists instead."
The road away from coal to renewables will be long, experts warn.
"Despite the intention to turn to wind and solar, and no new coal-fired power plants announced, it is still unclear how much time this will take," said Nenad Jovanović, an energy consultant based in Belgrade.
He also pointed out that the future of the existing coal mines and other coal projects in the country is unclear. "There is another ongoing project linked to coal – construction of the Obrenovac–Novi Beograd district heating pipeline, which should supply Belgrade with heating from the Nikola Tesla coal-fired power station. It seems that the government is moving forward with it," he said.
Meanwhile in Bosnia, the transition strategy is "more a list of wishes than an actual working document," said Damir Miljević, an economist and energy transition expert for the Secretariat of the Initiative for Coal Regions in Transition in Western Balkans and Ukraine. "We are trying to postpone the unavoidable – the exit from coal – as much as we can, in lack of a clear strategy" he explained.
Yet, in recent years both countries have made important steps towards including more renewables in the energy mix. In November 2020, nations in the region signed the Sofia Declaration on the Green Agenda for the Western Balkans in which they committed to working towards the 2050 target of a carbon-neutral continent, together with the EU. In April 2021, the Serbian parliament adopted legislation that aims for an increase in the share of renewables in the country's energy production, with a goal of 40% renewables by 2040 previously discussed.
While avenues for coal assistance may be closing, the Western Balkans could yet benefit from the parallel pledge made during President Xi's September announcement, that China "will step up support for other developing countries in developing green and low-carbon energy". In a meeting with representatives of Chinese construction conglomerate Sinomach in November 2021, Serbia's minister of mining and energy, Zorana Mihajlović also said that companies working on large infrastructure projects in power generation and renewable energy are "especially welcomed" in Serbia.
"I would personally welcome Chinese investments in other [non-coal] energy projects," said Zvezdan Kalmar, coordinator for energy and climate change at the Center for Ecology and Sustainable Development (CEKOR), which has long been opposed to coal projects in the country. "Serbia's energy market needs wind, solar and pumped-storage hydropower plants, such as Đerdap 3 [2,400 MW] and Bistrica [680 MW]. These are big hydro projects, and I think there's potential for Chinese companies to get involved, as Serbia still hasn't managed to attract investors."
In Bosnia, various Chinese companies are already present in the hydro and wind sectors. On 17 December, China National Technical Import & Export Corporation and PowerChina Resources began the construction of the 130 million euro (US$148 million) Ivovik wind farm near the town of Tomislavgrad, in western Bosnia and Herzegovina. The 84 MW wind farm is set to become the country's largest renewable energy project.
Elsewhere, various Chinese companies have entered Bosnia and Herzegovina's hydro sector, with agreements for three hydropower plants signed. However, these have not come without controversies. The construction of the Ulog hydropower plant, in the country's southeast, has been challenged by environmentalists, who claim it endangers the river ecosystem. The construction of the 35 MW plant, which has already been abandoned and revived several times since 2013, has now been paused.
Such controversies and internal conflicts will continue to require careful attention, but as global financing trends shift and the significance of President Xi's call to support low-carbon development becomes clearer, nations in the Western Balkans will hope to see hastening progress in their delayed energy transitions.