In March, Thailand announced it will draft a master plan to reach net zero carbon emissions.
Though it has not set a date for net zero, that deadline will proably be announced in November at the COP26 UN climate talks. According to energy secretary Kulit Sombasiri, talking to the Bangkok Post, it is expected to be similar to the US and the EU, which have committed to 2050.
Thailand is in the midst of a policy shift toward solar projects. China's foothold in producing solar panels in Thailand, as well as investing in and building solar power stations there, will be essential if the country is to continue to move away from fossil fuels with sufficient speed.
The road will be tricky, however, as Thailand is still heavily reliant on coal and gas and is unlikely to fulfil its current climate commitments made under the 2015 Paris Agreement on climate change.
Domestic manufacturing
"Thailand has become a panel production location for Chinese solar PV players – in part to address US sanctions," says Ingo Puhl, co-founder of South Pole Group, the carbon finance consultancy.
Many of China's solar panel production companies have set up in Thailand in part to circumvent anti-dumping duties in Western countries; by 2014, US tariffs on Chinese solar products were as high as 165%. Companies like Lingyi opened shop in Thailand's Eastern Economic Corridor. Each year since 2016, Lingyi has been producing photovoltaic panels with a total generating capacity of 300 megawatts.
2036
The year by which Thailand aims to achieve a 30% share of non-hydro renewables in energy generation
"This localised production capacity will help drive solar PV deployment in the region, including Laos and Cambodia," Ingo Puhl says. "China has a substantial role in supporting the international transition to net zero in countries like Thailand."
The Talesun solar panel factory in Rayong, majority owned by the state-run Chinese Zhongli Sci-Tech Group, aimed to reach 2 gigawatts of production capacity last year. Most of these panels are exported to the US, where demand continues to grow.
In terms of generation, Thailand currently only has around 3.3 MW of solar power installed. In 2018, its energy authorities raised their 2036 target for non-hydro renewables generation in the energy mix from 20% to 30%. About half of the 29.4 GW allocated to renewables in the update was set for solar, including existing capacity and rooftop solar.
While the country is on track to meet its goals for solar energy, these goals fall far behind what is needed to align with the Paris Agreement. Environmental groups have criticised the 2018 power development plan for its lack of ambition. While it did stop two planned coal plants, it solidified and expanded plans for gas plants, they say. Thailand's energy ministry and the state-run Electricity Generating Authority of Thailand (EGAT) had close connections with the oil and gas industry.
Thailand's solar projects pipeline
"I wouldn't say that China has a monopoly on the technology," says Courtney Weatherby with the Stimson Centre. "That said, it's hard to argue with the fact that Chinese solar panels dominate the sourcing for many solar projects around the region because they've historically been the most affordable."
China has a hand in building some of Thailand's most ambitious upcoming solar projects. Near the confluence of the Mun and Mekong rivers in Thailand's east, work on Thailand's largest floating solar plant continues apace: the hybrid hydro­–floating solar at Sirindhorn Dam is expected to be completed in June.
Replacement of fossil fuels is an important benchmark for the 2018 power development plan. According to Egat, the Sirindhorn project can replace the use of 348,000 litres of fuel oil per year, reducing CO2 emissions by 851.1 tonnes per year. Funded by Egat and built by B.Grimm Power and China Energy Engineering Corp, the 45 MW project is expected to be one of the largest of its kind in Thailand. Egat claims the floating project will be replicated at eight more dams over the next 16 years.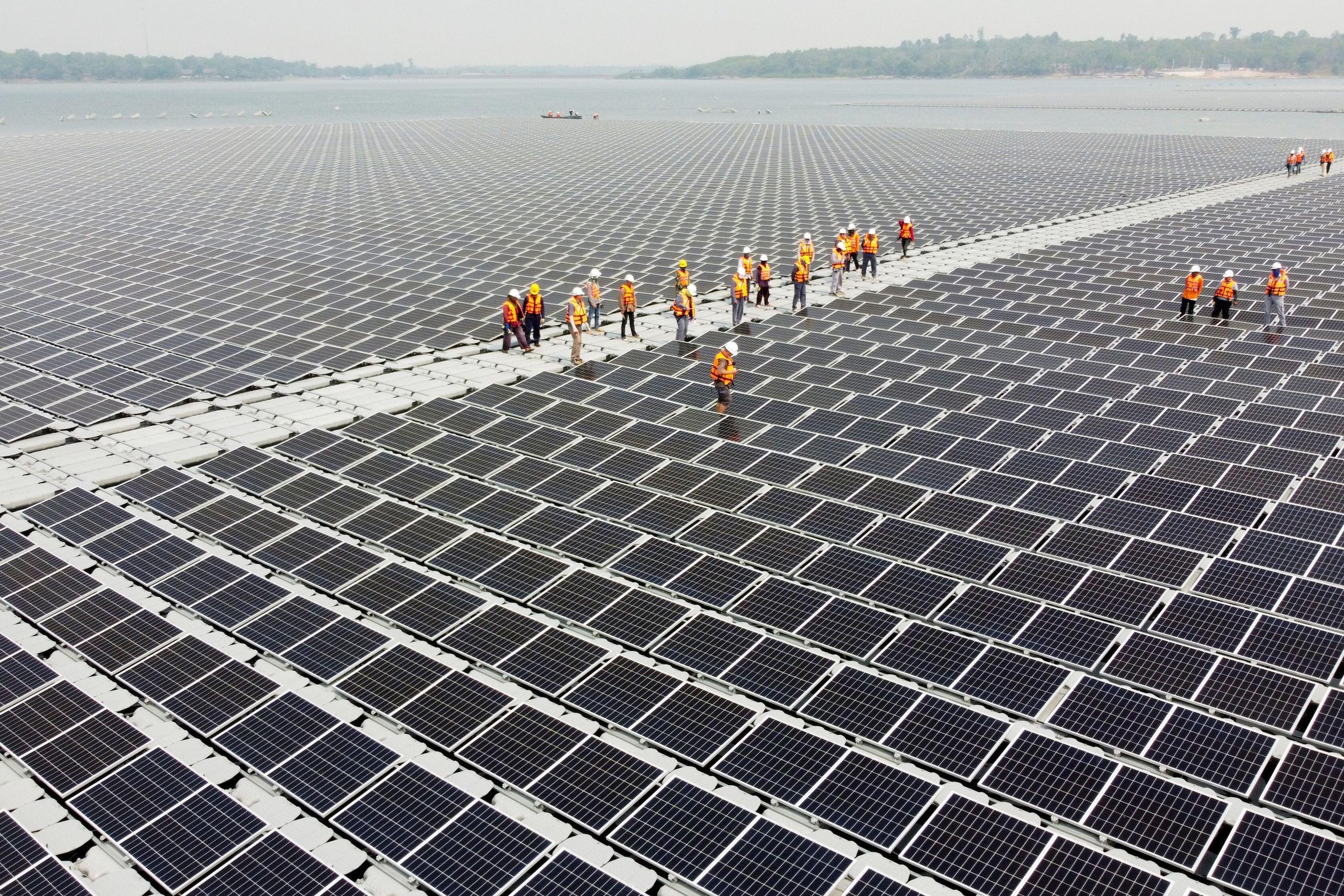 "Thailand's solar stock has slowly been rising over the last 15 years. We now see a convergence of significant price drops, clear funding and regulatory processes for solar projects," says Weatherby. "This makes a domestic boom in solar a possibility in a way that was not true 10 years ago."
Up in northern Thailand's Khon Kaen, work is just beginning on a two-kilometre solar power station from China Gezhouba Group International Engineering, a subsidiary of China Energy Engineering Corp. The photothermal and photovoltaic hybrid station is slated to cost US$500 million and provide 90 MW.
In Thailand we now see a convergence of significant price drops, clear funding and regulatory processes for solar projects
Courtney Weatherby, the Stimson Centre
"There is definitely a need for further analysis of the solar equipment supply chain since that's a gap in the literature right now," Weatherby says. "But I wouldn't say that China's outsized role is a problem for Thailand, in part because China's efficiency of scale in producing solar panels has been a key factor in making solar affordable and competitive as an alternative electricity source."
Despite large exports of panels to foreign markets, solar makes up just 2.3% of Thailand's energy generation. This is in part due to Thailand's National Energy Policy Council banning ground-mounted solar projects from being connected to the state grid in 2015 to favour grid efficiency.
To the rooftop
"A concern we have is that more than 90% of solar power installations in Thailand are large-scale solar farms rather than solar rooftops on households," says Tara Buakamsri, Greenpeace director for Thailand, rooftop being a more scalable option. "This is true despite technological advancements that allow consumers to generate electricity on their rooftops."
Environmental organisations are looking to adopt a "net metering" system, a billing system that would make rooftop solar more popular. Under this mechanism, the flow of electricity generated by solar goes to the grid transmission line during the day, when most homeowners aren't home, when the owners return home it flows back into the house.
"We believe that the net metering mechanism for solar rooftops will provide more incentives for 'prosumers' [producer/consumers] to install more rooftops," says Tara Buakamsri, adding that the Energy Regulatory Commission (ERC) has started using a "net billing" mechanism in which excess solar energy is sold to the utilities authority. "It is our work to mobilize public opinion to keep the ERC under pressure to adopt net metering."
Greenpeace has been critical of Thailand's 2018 power development plan, and grades Thailand a D+ in its 2020 Southeast Asia Power Sector scorecard.
Rooftop solar makes up around half of the plan's solar strategy, and companies like Talesun have stated their willingness to work with the Thai government on commercial and industrial rooftop goals.
Net zero chance
Chinese-made solar panels in Thailand could bring down the cost of solar project investment in the country and help create jobs, Buakamsri says, but adds that "photovoltaic production investments need to strictly follow environmental and social guidelines of PV production."
While domestic production addresses the issues of cost, there are still concerns over pollution from factories in Thailand's environmentally hard hit Eastern Economic Corridor.
Solar panels have a lifespan of around 30 years, and questions remain about the recycling of the hazardous waste produced by ageing panels. In May, anticipating an "overload of solar panel waste", Egat partnered with the Department of Industrial Works to push for plans to build a complete solar panel and battery recycling plant.
Even as Thailand experiences its worst outbreak of Covid-19 to date, authorities are turning to solar to deal with its coming power demand. Egat announced plans in July to increase power generation capacity at its nine floating solar farms to a total of 5GW and hopes to shorten the completion time frame for those projects, from 16 years, to between 5 and 10 years.