"All of Reykjavik might be able to fit in that apartment block," remarks Einar Magnusson, the vice president of business development for Iceland-based Arctic Green Energy Corporation (AGEC), as he drives past miles and miles of Beijing's residential skyscrapers. Following Jiang Zemin's visit to Iceland in 2002 – the first-ever by a Chinese President – the two nations opened a new chapter in their partnership, which was originally founded upon shared strategic interests. China's interest in cleaner energy sources has led to a fruitful area of cooperation with Iceland, where geothermal plants generate 66% of the country's primary energy and provide nine in ten households with heat.
In 2012, seeking to increase its Arctic presence, China signed a framework agreement with Iceland to support greater cooperation on geothermal energy, along with marine and polar science. Industry players in both countries – state-owned Sinopec in China and Iceland's AGEC – have moved quickly to jointly develop geothermal projects in 23 cities and counties in China. AGEC provides technical expertise, while Sinopec shares seismological data on subterranean resources in China and maintains the political and economic guanxi (relationships) necessary to drive the projects forward. Going forward, Magnusson said AGEC "will play an important role" in heating Xiong'an New Area, a planned new megacity southwest of Beijing.
Cooperation between AGEC and Sinopec offers the Icelandic company access to one of the largest energy markets in the world. Moreover, other aspects of the Iceland-China relationship continue to flourish. Since both countries signed a free trade agreement in 2015, they have engaged in a series of bilateral initiatives including a Joint China-Iceland Aurora Observatory. Additionally, Iceland has allowed China's National Offshore Oil Company to explore oil and gas resources in Iceland's territorial waters. While China gains expertise and an increased presence in the Arctic, Iceland gains an economically beneficial partnership and global role in energy disproportionate to its size.
A wellspring of energy – and support
China has great potential for geothermal energy development, as it is home to an estimated one-sixth of the world's geothermal resources. But, as of 2015, the nation had only produced a mere 15% of Iceland's annual geothermal power output. Instead of Iceland's high-temperature geothermal veins, China's resources are largely low-temperature, falling below 300°F. This temperature range is better suited to direct-use applications, such as direct heating, rather than electricity generation. Only one high-temperature region has been discovered: the Himalayan geothermal zone, so China has only a handful of geothermal electricity plants, primarily supported by the Yangbajing Geothermal Field in Tibet. The greatest potential for Chinese geothermal progress is via low-temperature sources, primarily for the direct heating applications AGEC is pioneering.
Today, geothermal energy is on the rise in China. In its 13th Five-Year Plan for Economic and Social Development, the Communist Party of China's Central Committee identifies the development of geothermal resources is a priority, and sets a goal of 530 megawatts of geothermal energy capacity nationwide by 2020. The mere articulation of geothermal as a national priority carries weight. Sun Caixia, AGEC's chief technical officer, explained that companies like AGEC can explicitly reference the 13th Five-Year Plan to encourage county governments to adopt geothermal energy, despite the initial investment costs.
A world without chimneys
"There are no chimneys here in Xiong county," declares Sun, with a hint of pride in her voice. "We are a smoke-free city." The county, which is located in Hebei province, used to rely heavily on coal-fired plants. Today, 90% of the county's buildings are tapping geothermal heat from one of the 36 stations AGEC runs. The remaining buildings, she explains, use a combination of geothermal energy managed by other companies and traditional sources such as natural gas and coal.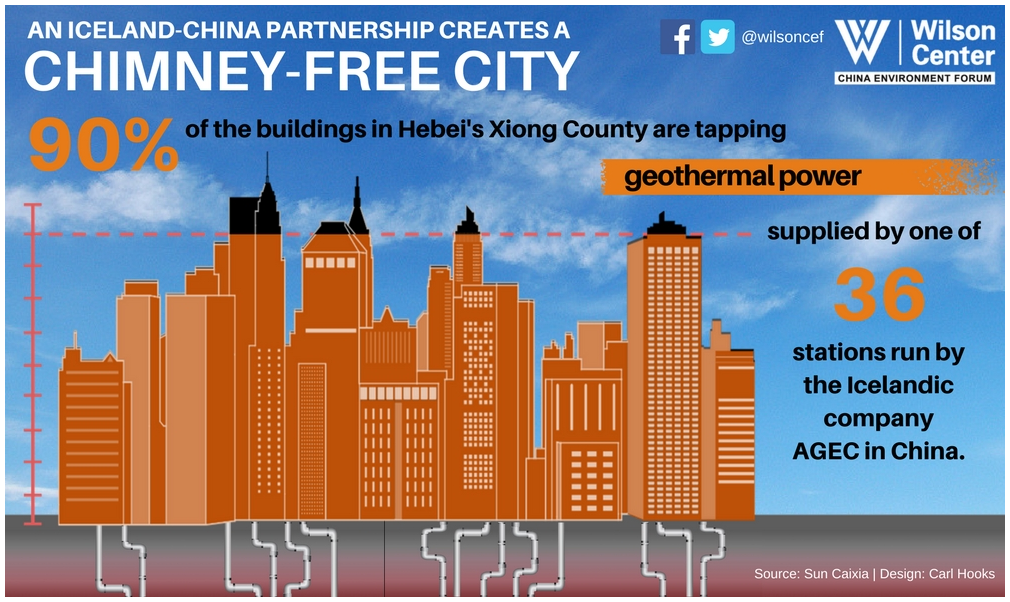 AGEC's systems in Xiong county are a model of direct-use heating technology in China. Five production pumps usher hot water from underground, through a maze of stainless steel pipes, and into thin tubes that run beneath 500,000 square metres of floor space. Three pumps reinject the water into the original wells to complete the circuit and elongate the lifetime of the resource. A purifier filters corrosive elements from the water as it is being pumped to prevent plumbing damage. The entire operation is akin to a human's vascular system: the heart pumps blood through arteries that split into thin capillaries, then that blood is filtered and returns to the heart in a closed circuit. Both the re-injection and anti-corrosion measures are technological improvements brought by the Sino-Icelandic partnership; neither existed in Xiong's primitive 1970s geothermal systems.
The result is cheap heat. During China's government-sanctioned heating season, which stretches from November to February, customers in Xiong purchase geothermal heat at a cost on par with coal heating: the price of heating a standard apartment for the four cold months is just over $200.
​
Hebei often tops the list of most polluted provinces
But Xiong county is not pollution-free. Hebei province, which snakes around Beijing, is home to many of the coal-fired power plants and production centres that fuel the Chinese capital, and often tops the list of China's most polluted provinces. In December of 2016, the Air Quality Index (AQI) in Hebei province exceeded 1,000 microgrammes per cubic metre (far above the EPA's "good air quality" goal of 50 microgrammes), causing the provincial government to set specific targets for reducing particulate matter and prioritising pollution mitigation in its work report. Geothermal energy can reduce reliance on coal, thereby creating better breathing conditions; and a geothermal produces six times less carbon dioxide than a natural gas-fired plant, thus providing better climate benefits.
The future is geothermal
In January, China's National Energy Board stated that geothermal would replace 42 million tonnes of standard coal by 2020 – less than 2% of the more than four billion tonnes of coal China burns annually, but still a welcome outcome in Xiong and other places where skies will turn blue thanks to concentrated geothermal power. Both Magnusson and Sun anticipate the positive growth of the geothermal industry will continue, with more regions seeking geothermal technologies to heat residential buildings. With further national and local government support, geothermal energy would grow from a lesser known renewable to an indispensable clean energy source in China.
This blog was first published on New Security Beat and is used here with permission.