When Germans cast their vote in the national elections on September 24 they will also be deciding on the direction of the country's energy policy.
The economy, security and refugees have dominated the campaign trail so far but, a recent, unexpected vote on whether to legalise same-sex marriage showed, the campaign agenda can pivot at speed.
A key decision for voters in the coming election will be who guides the country's Energiewende. Germany's much feted transition to a low carbon economy is going to face challenging circumstances in the next legislative period (2017 – 2021).
First, 2020 will be a year of reckoning for the incoming coalition. Germany is likely to meet its renewable targets but fall short on goals to cut energy consumption and increase energy productivity under its EU obligation. Most damaging for the Energiewende's international credibility, the government will miss its national 2020 climate target by a wide margin. Instead of cutting emissions by 40%, the latest estimates see the country hitting only 32%.
Will Germany meet its 2020 energy targets?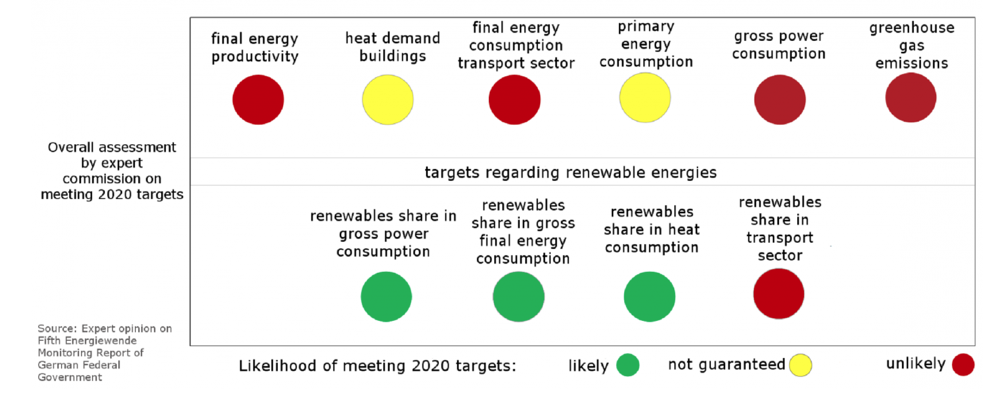 Click on the image to enlarge it. Source: cleanenergywire.org
The second issue is that many coal and nuclear power plants will shut down over the next few years. Under the government's law, eight nuclear reactors which currently provide around 13% of gross power generation, with a total capacity of 10.8 gigawatts will be taken offline by 2022.
In addition, the government has moved eight lignite coal-power plants into what's called a "cold capacity reserve". These plants, totalling 2.7 gigawatts of capacity, will only be re-activated if Germany's power supply unexpectedly cannot meet demand. However, experts think it is unlikely the plants will ever be used again; with many referring to the reserve as "Jurassic Park".
The third consideration is the European Union's (EU) climate and energy agenda, which will demand significant input from Germany's next government.
To set the course for achieving its 2030 energy and climate targets, the EU plans to revise several of its directives. The wide-ranging Clean Energy for All Europeans package covers renewable energy, reform of the EU's emissions trading system, the design of electricity markets, security of electricity supply and governance rules.
To improve efficiency across the EU, the EU Commission is also proposing more ambitious standards for technical appliances under its eco-design directive, such as tablets and televisions, as well as a strategy for building renovation and automated mobility.
Policy agenda
Although the Energiewende faces setbacks, the country's integrated approach to climate and energy policy has provided a solid foundation for it to move away from nuclear and fossil fuels to renewable energy sources by mid-century.
Merkel's Grand Coalition has already shifted away from feed-in tariffs to auctions; it passed an electricity market law to improve price signals when demand is low to activate peaking power plants and pushed through changes to the grid by promoting underground power lines, limiting additional wind turbines and requiring grid operators to integrate, so-called, peak shaving as a key instrument of their planning.
With near-term targets likely to be missed, the challenge ahead is to meet the country's mid-term targets. These include cutting greenhouse gas emissions by 55% from 1990 levels and increasing the share of renewables in the power supply to at least 50% by 2030.
Targets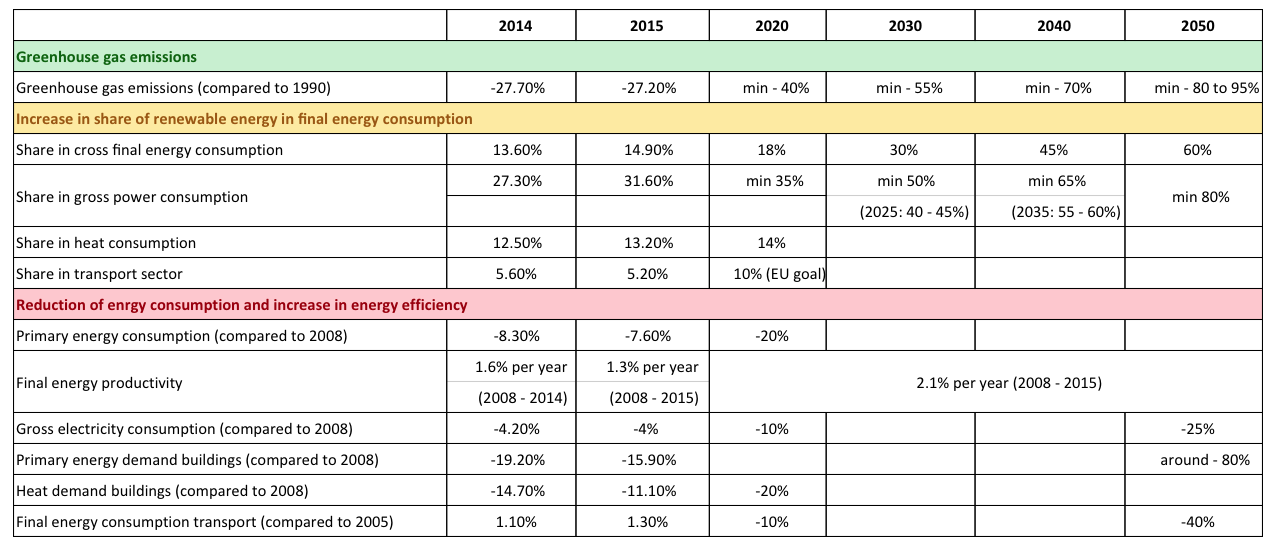 Click on the image to enlarge it. Date: Monitoring Report 2016, Source: Cleanenergywire.org
The next era of the Energiewende will also see major structural changes to Germany's energy supply.
Wind and solar power will become the main pillars of the country's electricity supply. To cope with fluctuations, Germany must increase its grid flexibility and back-up capacity.Fundamentally different generation patterns will emerge.
Wind and solar power will become the main pillars of the country's electricity supply
And sooner or later, inflexible, baseload power plants such as nuclear will disappear altogether, leaving the remaining gas and coal power plants to operate on a part-time basis.
Another priority will be sector coupling, in which renewable electricity is used to supply buildings, industry and transportation.
So what policies can address these challenges?
Government to-do list
At the top of the next government's list will be a roadmap for the phase-out of German coal mining
At the top of the next government's list will be a roadmap for the phase-out of German coal mining and coal-fired power generation.
In its recent Climate Action Plan 2050, the government already announced the establishment of a commission for structural change and regional development to address a coal phase-out. Its mandate is still to be defined.
While the mining union opposes a planned phase-out, coal regions have slowly accepted that the end of coal mining is in sight; and their leaders are already bargaining for federal funds to finance the economic transformation of their states. In the end, the question is not if, but when, Germany finally says goodbye to coal.
Another task is a fundamental reform of energy levies and surcharges. Germany's main instrument to support renewables expansion – the renewable energy surcharge – is under intense scrutiny. Demands for a fairer distribution of costs, as well as the prospect of rising power demand as heating and transport switch from fossil fuels to electricity, have led to calls for a new system to support investment in the sector.
Experts argue that pricing carbon higher would be a far more efficient way to finance the Energiewende. Thus, calls for a national carbon floor price are growing, similar to what the UK has introduced and to what France is planning. The idea will gain traction if the EU doesn't improve its carbon price under the emissions trading system (EU-ETS), which for years has been plagued by low prices due to an oversupply of permits.
Though the current government claims it has established an "efficiency first" principle, ambitious policies to cut energy consumption remain to be seen. The roll-out for "smart metres" is coming late and with low ambition. Other upgrades, such as, time-of-use energy pricing, smart grids and load shifting offer economic benefits and energy savings but better policies are needed.
Finally, Germany needs to adjust its power grids to accommodate growing flexibility and decentralised generation. Despite a high share of renewables, Germany has one of the most reliable power supplies in the world. But to keep the grid stable with large influxes of renewable power, the Federal Network Agency has proposed expanding it.
These plans are highly controversial and already face delays. The next government will have to decide how to deal with these.
Where the political parties stand
Implementation of these policies falls to the next coalition government. In Germany's pluralistic system, no party alone expects to win a majority. The need to form coalitions forces parties to cooperate. A change in government, therefore, does not necessarily result in a complete policy reversal.
So does it matter who wins the September elections? You bet.
All five established parties support the Energiewende, in general, and see the need for climate protection. But they differ on priorities, ambitions and pathways.
Current polls give Chancellor Merkel's conservative party (CDU/CSU) a double-digit lead over the Social Democrats (SPD). The left-wing Die Linke, the Green Party and the pro-business Free Democrats (FDP) are likely to make the 5% threshold needed to re-enter parliament. So is Alternative for Germany (AfD), a nationalistic far-right party that embraces climate denialism.
Germany polling trends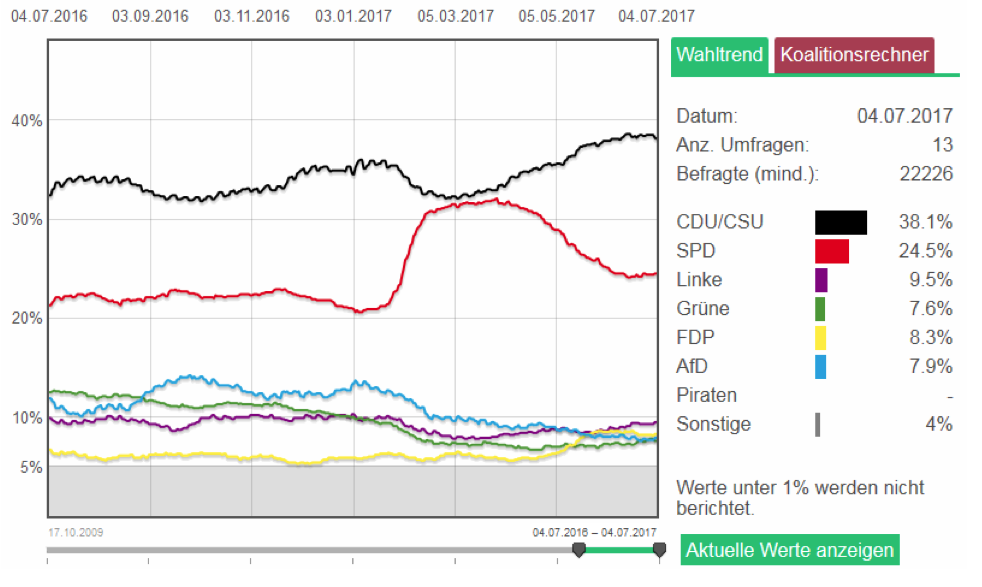 Click on the image to enlarge it. Source: pollytix.eu
With her strong lead, Angela Merkel is hoping to win a fourth term. Although she has the nickname of "Climate Chancellor", in Brussels and Berlin her record is not as green as her reputation would suggest. Critics say she puts the interests of German carmakers and coal utilities ahead of climate and the health of Europeans.
With the conservatives strongest, and both the AfD and Die Linke unlikely to form a government, a number of coalition constellations are in play. This includes another Grand Coalition or a centre-right coalition between the CDU/CSU and the FDP, which could lower the pace and ambition of the energy transition. In the state of North-Rhine/Westphalia, the two parties recently formed a coalition and announced a roll-back of the state's climate protection law and drastically slow the expansion of wind power.
There is one party though whose participation in the next government would likely raise ambition on the Energiewende. The Greens are putting climate protection and ecological modernisation at the heart of their campaign. They want to shut down the 20 dirtiest coal plants immediately, initiate a coal phase-out by 2030, promote citizen energy, and ban the sale of cars with internal combustion engines by 2030.
The transformation of Germany's energy sector is in full swing. The focus on the triple challenges of decarbonisation, decentralisation and digitisation will have to be addressed by the new coalition will have to address. Germany will continue to demonstrate that even a highly-industrialised country can decarbonise while growing its economy.