China's 1.37 billion people, many of them fully connected to the Internet, use an enormous amount of energy as they email, search the Web, or stream video. Indeed, the Chinese government estimates that the country's data centres alone consume more electricity than all of Hungary and Greece combined.
With China's electricity produced mainly from coal, every WeChat message Chinese citizens send helps to speed up global warming. Meanwhile, a large amount of water is being used to cool data centres, further exacerbating shortages in this already water-stressed nation.
But as Chinese technology and Internet businesses look to burnish their environmental credentials and lower costs of operation, many are working to reduce electricity and water usage at their massive computing facilities. The data centres are installing energy-efficient equipment and water-saving cooling towers, as well as making fundamental design changes in data centres to cut energy demand.
In Hangzhou, next to eastern China's Qiandao Lake, the e-commerce giant Alibaba Group has developed a data centre tapping natural water bodies for cooling — the first of its kind in the nation. By using water from the lake to cool servers, Alibaba has been able to stop employing mechanical chillers for most of the year. The water then flows through a 1.5-mile-long canal until the water temperature drops and returns to the lake with minimal impact.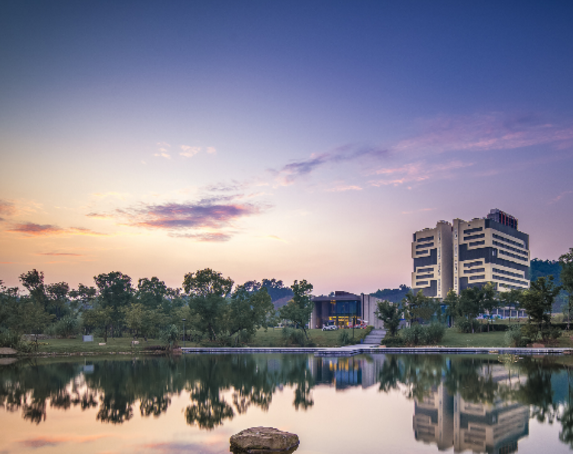 E-commerce giant Alibaba Group's new green data centre on Qiandao Lake. (Image by Alibaba Cloud)
Technicians at the Alibaba facility also monitor heat output of individual servers and provide cooling only if necessary. The company says both efforts have enabled the data centre to use 80% less energy compared with conventional methods.
"Chinese data centre players in recent years have begun to take energy conservation seriously," said He Chunhua, the secretary-general of Beijing-based China Green Data Centre Advancing Federation. Her organisation has already attracted dozens of companies to join the group, He Chunhua said.
In the United States, technology giants Microsoft, Google, and Amazon have emerged as leaders in the field of making giant data centres more efficient and powering them with renewable energy. Microsoft's operations have been 100% powered by renewable energy since 2014, either by purchasing the alternative energy or by generating it, as it does using 2,200 solar panels on its Silicon Valley campus. Google is aiming to power its data centres and other operations entirely with renewable energy, and so far has contracted with alternative energy suppliers to buy more than 2.2 gigawatts of electricity. Amazon is building wind farms to power its data centres and other operations, has set a renewables goal of 100%, and by the end of this year is hoping to power its infrastructure using 40% renewables.
No one knows exactly how many green data centres exist in China, partly because the country doesn't have a clear definition of what a green data centre is. But anecdotal evidence suggests computing facilities with smaller environmental footprints are growing in popularity.
Last year, China's Ministry of Industry and Information Technology launched the country's first green data centre pilot program. Among 84 participants are Chinese banks, factories, telecommunications firms, and even the Prison Administrative Bureau in the northern China city of Harbin.
Yang Peijun, the director of Shenzhen-based Pacific Business Solutions, said that as a data centre operator, his company's chief goal is "to strengthen information technology infrastructure." However, he said that the government also is now insisting on greater environmental accountability. "The two somewhat conflicting responsibilities have left us no choice but to optimise our operation," said Yang. To do so, Pacific Business Solutions has been taking part in the government's pilot program, which enables the company to compare notes with others in the industry and develop higher environmental and efficiency standards.
While the Chinese central government has yet to cap the amount of electricity and water that domestic data centres can use, some cities have made it clear that they don't welcome water-intensive, energy-guzzling computing facilities. Beijing, for one, has drawn a red line on the energy efficiency of data centres, and any centre with a power usage effectiveness rating above 1.5 is not allowed to operate there. (Most data centres in China have a rating of 2.2) He Chunhua said that Beijing's restrictions have already forced some companies to leave the city.
Data centre operators are also aware of the value of going green, both for environmental and financial reasons.
"If you look at our cost structure, you can easily understand why we pay so much attention to saving energy," said Li Yong, an engineer at a major Chinese data company. Li asked that his company remain anonymous because he is not authorised to discuss these matters publicly.
According to Li, energy consumption accounts for more than half of operating costs at Chinese data centres. To mitigate the energy demand for cooling, Li said his company has minimised the use of windows in facilities to prevent heat from seeping in, while others have located new data centres in areas with cooler climates.
At its data centre in Beijing, Li and his team take advantage of cold air in winter to blow away heat from servers, in a move to avoid overtaxing the area's water supplies. And in Shanghai, the company has installed advanced cooling systems that cost twice as much as conventional ones, but that reduce water consumption by 25%.
"Although data centres are becoming increasingly water-efficient, the total volume of water they consume remains huge," Li explained. "In water-scarce cities like Beijing and Shanghai, we can't always get the water we need. It's really about securing our supply amid water shortage."
Still, some environmentalists say Chinese companies could do more. "Data centres in China have done a lot to improve energy efficiency, but they haven't done enough in [the] energy transition [to renewables]," said Ada Kong, a Greenpeace researcher who tracks sustainability of the country's data centres.
Unlike Amazon, Google, and Microsoft, Chinese data centre operators are hesitant to make the switch to renewable energy, Kong said. She blamed the addiction to coal, as well as fear that computing facilities couldn't run reliably with fluctuations in solar and wind energy generation.
But there are signs of change. One case in point is Alibaba Group. For now, the only renewable energy deployed at the company's data centres is a rooftop solar project in Hangzhou, which generates enough electricity to light up its office. But the company says it is building a new data centre near Beijing, which will run in part on wind and solar energy.
This article was originally published on Yale360 and is republished here with permission.