Babcock Ranch, located on cypress swamplands and pastures near Fort Myers, is marketed as "an eco-centric new town embedded in nature and powered by the sun, by innovation, and by the great outdoors."
Up to 50,000 residents eventually are expected to live sustainable lives here, hailing rides on driverless electric cars or bicycling on trails through miles of lakeshore greenbelts.
The sun will power a cutting-edge smart grid, electric vehicle charging stations and universal internet access. On the state-owned nature preserve bordering Babcock Ranch, wild alligators, panthers and herds of boar roam on 73,000 acres.
At the Earth Day re-launch in April, the hyperbole was reminiscent of international hoopla for far grander projects such as Masdar City in Abu Dhabi, Dongtan near Shanghai, or Songdo, in South Korea. Not one of these pop-up metropolises has achieved all its green goals. Will Babcock Ranch be any different?
"It's hard to measure sustainability," observed Julie Sze, author of Fantasy Islands: Chinese dreams and ecological fears in an age of climate crisis. "Nature is being marketed here. They're selling houses by invoking purity," she told chinadialogue.
Sze added: "When nostalgia and high tech values are promoted together, I tend to approach it with scepticism. This feels like green gentrification – aimed at the upper middle class. Climate justice issues may be overlooked."
Sydney Kitson, the driving force behind Babcock Ranch, is a retired professional Gridiron football player who has been dubbed "Solar Syd" by the local press due to his zeal to push through alternative energy for his latest vision. Most of his real estate is located elsewhere in Florida and New Jersey, where he is best known for upscale homes and golf courses.
His aim is to bring green and sustainable building into the mainstream. "We want to be as innovative as possible: unique but not weird," he said. "I hope people will use us as a model for smart growth."
Kitson, the developer, has faced considerable hurdles. Even before the financial crisis of 2008 pushed back his start date, the local Sierra Club had threatened to sue and block his purchase of the land from the Babcock family, owners since 1914. He took pains to meet environmentalists' demands.
The location of the brand new commercial centre, named, without irony, Old Babcock Village, was shifted so it would not encroach on a critical wildlife corridor used by a handful of endangered Florida panthers.
Advised by a coalition of green advocacy groups, Kitson also agreed to protect the wildlife at night by lowering speed limits, to address storm water retention and filter run-off, as well as to restrict the use of chemical fertilisers and pesticides.
According to his media spokesperson, Lisa Hall, within a portion of the Babcock Ranch property will maintain existing sod farms, cattle ranching and mining ventures for around 20 years. Meanwhile, the rural area "incubates and goes vertical" to a functioning town with 19,500 homes. Drinking water will come from wells and grey water will be used for irrigation. Drained wetlands are to be restored, too.
While Kitson insists that Babcock Ranch is not destined to be another elitist gated community because he is offering smaller units and condominiums, America's demographic trends may not be in tune with his corporate plans. Since more young adults are moving back home with parents after college, increasing numbers of ageing baby boomers have delayed downsizing or moving to a retirement haven.
Fewer young singles are setting up households with roommates. Young professionals may struggle to afford to live here.
A mighty 75 megawatt photovoltaic solar plant is being erected on 443 acres that the developer donated to the state utility company, Florida Power & Light. (FP&L) When it's finished by the end of the year, this plant is expected to generate even more energy than Babcock Ranch will consume when it's up and running.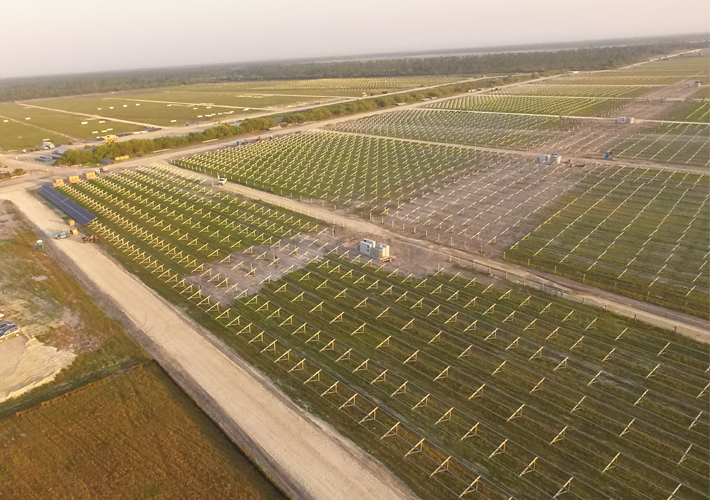 Image from The FPL Babcock Ranch Solar Energy Center
The array of glittering photovoltaic panels is already impressive, as seen from a drone aerial shot (above). This powerful solar field will feed the state grid as soon as it goes operational, enabling the utility company FP&L to meet government targets. So much new solar power will up their percentage of renewable energy, and "clean" natural gas will offset the "dirty" electricity derived from coal-fired plants from out of state. "It's to everyone's benefit. So more power to them. Literally," said Craig Tyler, a veteran energy consultant on the west coast.
Tyler pointed out that the region's torrid climate requires year-round air conditioning at Babcock Ranch. Rooftop solar panels would be more susceptible to hurricanes than the ground level system being built now. "But I hope it's more than just solar window dressing. I'd wait to see whether materials and equipment in the homes and buildings really is green and how much high efficiency is built in."
"They're trying to do it right by considering the energy first. But it's very complicated," he added.
Most international eco-cities aim to reduce the municipal carbon footprint; reduce food waste; educate the population about sustainability; develop integrated and more eco-friendly use of water and energy; and promote realistic financing schemes for green architecture. But technology often moves faster than the permitting and financing of such green mega-projects.
As time passes, expenses will mount, and the planners' strict goal of net carbon neutrality tends to give way. Strict energy efficiency standards get downgraded and become merely "environmentally friendly". Too often the project ends up being more costly than retrofitting existing urban areas or instilling habits for conservation and recycling. If the carbon footprint of actually constructing a model eco-city is reckoned in, very few could be considered carbon neutral.
Yet the concept of futuristic sustainable urban planning has become a growth industry in the time of climate crisis. In South Korea, "smart city" technology is about to take off and will be marketed across rapidly urbanising Asia. China may move 250 million people to eco-cities by 2025, and India's prime minister, Narendra Modi, has pledged to erect 100 new smart cities across the subcontinent.
It remains to be seen whether Babcock Ranch, the solar experiment, can be a model for future planned cities. Some pessimists warn that unless emissions are curtailed and the population of people decreases, these new cities are just token gestures on the way to oblivion.