In the midst of economic and political uncertainty, Argentina has doubled down on a major Chinese nuclear power deal. The new nuclear plant in Buenos Aires province will help meet Argentina's energy needs with the support of Chinese technology and finance.
With China looking to increase its nuclear power exports and countries seeking low-carbon electricity, the project in Argentina could be the beginning of a China-led renaissance. However, concerns over the cost and safety of nuclear power continue to plague the technology.
Striking a deal
Four years after formally agreeing to its construction, Argentina is moving forward with the Atucha III nuclear power plant that will likely become operational in 2021.
In April, Argentine president Mauricio Macri's administration signed a letter of intent with China's National Energy Administration. The contract, which is expected to be signed in the coming weeks, will include a US$10 billion loan from the Industrial and Commercial Bank of China (ICBC), which will cover 85% of the plant's construction costs.
Foreign minister Jorge Faurie recently confirmed the project at the second Belt and Road forum in Beijing.
The Atucha III project is part of an agreement signed in 2015 by former president Cristina Fernández de Kirchner, which approved two nuclear plants: one using Canadian technology in Argentina's existing plants, and one using Chinese technology.
Macri scrutinised the deal on taking office, amid doubts over whether nuclear was a sufficiently economical energy source. He eventually approved construction, but Argentina's economic crisis led one of the plants to be shelved to reduce the size of the loan.
"Argentina is going through an economic crisis and money is tight. Investing in nuclear requires a long-term commitment, but China can offer subsidised capital to its foreign customers," said Mark Hibbs, senior fellow at Carnegie's Nuclear Policy Program.
"This gives China an advantage over other nuclear exporting countries."
Strengthening ties
The nuclear deal is in line with Argentina's "integral strategic alliance" with China, a high diplomatic status the latter reserves for only a few countries. Under Fernández de Kirchner, the two signed more than 20 treaties.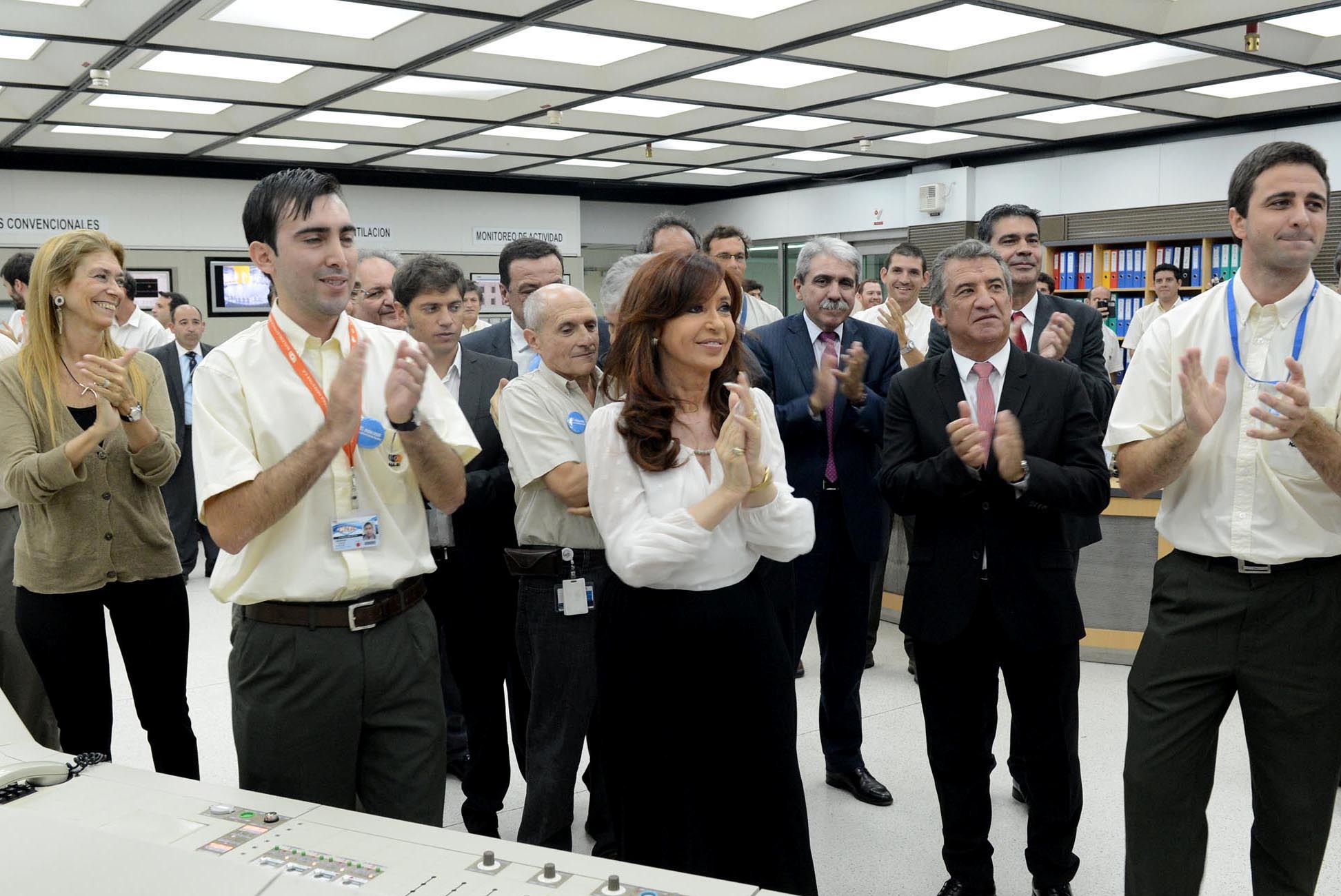 Former president Cristina Fernández de Kirchner applauds the opening of the Atucha II plant in 2015 (Image: Presidencia de la Nación)
Macri and Chinese president Xi Jinping then signed a joint five-year action plan (2019-2023) at last year's G20 Summit in Buenos Aires, but Xi did not secure Argentina's formal endorsement of China's Belt and Road infrastructure initiative. The nuclear project was also expected to get the green light, but negotiations stalled.
The current government has now justified the project as a way of reducing the country's energy deficit and fostering closer ties with China. "The agreement shows the level of maturity of our strategic relationship," Diego Guelar, Argentina's ambassador said recently.
Macri agreed to build the plant using Chinese technology, a condition of the ICBC loan.
State-owned China National Nuclear Corporation was originally slated to build the plant with Argentina's state-owned Nucleoelectrica. The former's presence at the letter signing last month signals that it will remain involved.
Backlash
The nuclear deal attracted criticism from a group of former energy secretaries, who claimed in a November press release that it would be cheaper to develop solar and wind projects.
"Any future energy projects have to be part of a national and long-term energy plan, which now doesn't exist. All new projects should be economically competitive and should be in line with the country's mitigation commitments," said Jorge Lapeña, a former energy secretary.
Environmental organisations that prioritise wind and solar proliferation agree.
"We don't consider nuclear as renewable energy, it has many risks regarding the functioning of the reactors and waste. It's not suitable for Argentina," said Andrés Nápoli, head of Fundación Ambiente y Recursos Naturales (FARN).
He added: "A new nuclear plant would require risk and impact studies and we haven't seen any."
Argentina's nuclear history
Argentina was the first country in Latin America to adopt nuclear power. The first Argentine nuclear project, the 362-megawatt Atucha I plant, started operation in 1974. It was followed by Atucha II, which is located in the same complex, and the Embalse plant in the interior Córdoba province.
Today, these projects account for around 3% of Argentina's energy mix, which mainly relies on hydrocarbons, the production of which is subsidised. Solar and wind energy have scaled up recently after tenders for 147 projects totalling 4,466 megawatts.
The original deal with China would have added Argentina's fourth and fifth (Atucha III and IV) nuclear plants, adding 1,700 megawatts to the grid. The one plant will add 745 megawatts.
Argentina has always imported nuclear power reactor technologies, but it also has an advanced research industry of its own.
Created 40 years ago, state-owned Argentine firm INVAP develops nuclear reactors for global markets. INVAP has recently sold simpler research-scale reactors (which operate at lower temperatures) to the Netherlands, Saudi Arabia and Brazil, but does not have the capacity to export power plant-scale technology.
"Argentina can only compete in a few areas on an international scale and developing nuclear reactors for research is one of them," said Diego Hurtado, former head of Argentina's nuclear regulatory authority.
A notch in China's belt
As countries like Argentina debate whether nuclear power is worth pursuing, China has emerged as a global champion. Driven by air pollution, climate change and energy security concerns domestically, China now has the world's largest pipeline of nuclear power projects.
In the past, China has also relied on imported technology. But in recent years it has produced its own reactors, including the Hualong One reactor (HPR1000), to be used in Argentina. According to the government's Made in China 2025 plan, China aims to use more domestic technology and make its nuclear industry a global leader.
The Argentina deal is one of the first success stories for Chinese nuclear overseas. Since 2000, Russia has dominated overseas nuclear power, supplying 45% of total capacity. China is the fifth largest exporter, supplying just 9%. So far, the only Chinese reactors constructed overseas are in Pakistan.
Beyond the Argentina and Pakistan deals, it is unclear whether China's nuclear power reactors will find other markets.
"After the Fukushima accident, global demand for nuclear power hasn't been strong, and the US, Germany, South Korea and others are phasing it out," said Zhang Hua, a senior engineer at the State Power Investment Corporation's Institute of Science and Technology.
"Demand from South Africa, Turkey, Argentina and other countries is also not as high as expected. The current outlook for China's nuclear power exports is not optimistic," Zhang added.
Jiang Kejun, senior researcher at China's Energy Research Institute pointed out that the reactor design China plans on exporting is Generation III, which has enhanced safety features compared to the era of reactor technology used in Fukushima.
In 2014, China's Hualong One reactor passed the International Atomic Energy Agency's safety review and is now undergoing assessments in Europe.
Alongside this, the economic competitiveness of Chinese nuclear exports will be a major determining factor in its success as cheaper forms of energy have made nuclear less attractive.
The US, home to the world's largest fleet of nuclear power plants, has been prematurely retiring plants that cannot compete with cheaper natural gas and renewable electricity generation. The Hualong One's deputy chief designer told the South China Morning Post that the reactor's price would rival French and US technologies.
As China ramps up construction domestically, the cost of its reactors may fall significantly in the coming years, Jiang said. Although China also faces stiff competition from "legacy" exporters, especially Russia, its overseas nuclear expansion could benefit from domestic development.
"If we make a good case for nuclear, I believe the world will come back," Jiang Kejun said.
Edwin Lyman, acting director of the Nuclear Safety Program at the Union of Concerned Scientists, said: "If the HPR1000 indeed delivers increased safety at reduced cost, then it would represent a significant advance in nuclear power design. But it will take considerable operating experience before its safety features can be proven."
Is nuclear a solution to the climate crisis?
According to the Intergovernmental Panel on Climate Change's landmark 2018 report, the role of nuclear power will increase under most scenarios that keep the global temperature increase below 1.5C.
Nuclear power is one of few carbon-free options that can balance variable energy resources like wind and solar. Energy models show that utilising nuclear as well as carbon capture and sequestration (CCS) for fossil fuel plants makes the decarbonisation of the power grid cheaper than a switch to 100% renewable energy.
However, worldwide, new nuclear power plants are not keeping pace with retirements, meaning that a key source of zero-carbon power is decreasing.
With less nuclear, countries would have to rely more heavily on other options like battery storage, better grid transmission, and CCS to balance a grid that approaches 100% renewable energy.
Weighing risks
Even as the climate crisis deepens, countries may reject nuclear because of concerns over safety and cost.
While Generation III reactors are safer, nuclear power still poses myriad risks. These include radiation exposure from uranium mining, meltdowns like Fukushima and using the technology to produce nuclear weapons.
Advocates say that even with meltdowns and accidents, nuclear causes far fewer deaths per unit of electricity compared to coal and gas.
Geopolitical tensions could also stymie China's export ambitions. In the UK, where the utility China General Nuclear Power has gained a foothold through investment in nuclear plants and plans to build a Hualong One, critics have raised concerns over China's involvement in sensitive infrastructure.
In markets new to nuclear power, researchers also warn that the regulatory environment may not be mature enough to assess and safely manage new Chinese plants.
In Argentina, several civil society groups oppose nuclear. Rio Negro province has already passed a law banning it.
As the Argentina deal is formalised in the coming weeks, it will provide a test case for how open the public is to the risks of nuclear, and technology from a new exporter, in return for a long-term supply of zero-carbon electricity.
This article is republished from Diálogo Chino