In 2011, a Boston-based battery startup took a bet on China. The company, Boston Power, was facing a funding setback when Chinese firm Golden Sand River swooped in with a compelling investment offer. It had a Chinese electric vehicle company in its portfolio that needed a boost. Within two years, Boston Power had a commercial-scale factory up-and-running in Liyang, a city west of Shanghai.
This deal is one of many cases where Chinese companies have turned to US technology to solve environmental problems. China plans on pouring US$361 billion (2.5 trillion yuan) into renewable energy by 2020. US cleantech companies have welcomed this fresh source of capital after enduring funding dry spells over the last decade.
A new investment fund is looking to strengthen this relationship. The California-China Cleantech Partnership Fund was launched at the Global Climate Action Summit in San Francisco in the autumn. It aims to help investors and companies operate across borders to rapidly scale up their clean energy technologies.
But a new US law scrutinising Chinese investments poses a threat to the fledgling initiative. Clean technology trade has been snagged by similar policies in the past. Now this law is testing, once again, whether clean energy cooperation can overcome economic nationalism.
A new partnership
President Trump renounced US leadership on climate change when in 2017 he announced the US would withdraw from the Paris Agreement. However, days later, California governor Jerry Brown met with President Xi in Beijing to discuss climate change, defiantly signalling that California would take on the mantle jointly with China.
Fan Dai, the governor's special advisor on China, says that during the trip Chinese investors "were actively seeking opportunities to work with us on clean technology". Brown's delegation envisioned a new cross-border fund as a way to demonstrate California's commitment.
Formally launched in September, the California-China Clean Technology Partnership Fund is a conglomeration of Chinese private and state-affiliated investment funds facilitated by the California government. The Chinese funds intend to invest in the state's clean technology sector. The fund is similar to the US-China Green Fund, an investment initiative launched through the US-China Strategic and Economic Dialogue under Obama.
The Intergovernmental Panel on Climate Change recently called for US$2.4 trillion (16.54 trillion yuan) in clean energy investment annually to meet the Paris Agreement ambition of staying below a 1.5C temperature rise. These bilateral funds, though relatively small, contribute by funnelling Chinese money into the sector while providing rare opportunities for US-China climate cooperation.
Innovation wanted
Among the various regional and corporate funds that compose the partnership, the Beijing fund is the most developed, according to Ashley Xiong, the initiative's China partner. Its genesis was a memorandum of understanding signed by the California and Beijing Haidian District governments during Brown's visit. In its first phase, the fund has raised over one billion yuan (US$145 million) from Beijing companies as well as overseas funds.
The Beijing fund has trained its eye on the advanced battery, smart grid, and electric vehicle technologies coming out of California. China's ambitious clean energy targets and its campaign to reduce air pollution are driving demand for such technologies domestically.
Leveraging California's technological advantages is a key aim of the Chinese funds. Although China has dominated global renewable energy installations and become a major clean technology innovator in recent years, the US maintains some key advantages.
Leo Zhang, research manager at the Cleantech Group says: "The US still leads the globe in clean technology innovation." He points to energy storage and battery materials in particular.
To assist the group of funds in identifying relevant technologies, the California government has supplied a database of 170 local companies for their investment pipeline, according to Dai. She says that it is an opportunity for the companies, too.
"We definitely would support Californian companies that have an interest in exploring the Chinese market to use this clean tech fund as a vehicle or bridge to get to their destination in China."
A new battlefield in the innovation war?
Chinese investment in the US has fallen dramatically since 2017, but not in clean tech. However, the sector is not immune to geopolitical tensions.
The new US law will target foreign investment in "critical technologies", a category that spans 27 industries, including some related to clean energy such as battery manufacturing. Research from the Rhodium Group found that almost 40% of China's US investments last year could be subject to review depending on how the rules are applied.
Meanwhile in China, the trade war has spurred rising nationalism in the technology sector. President Xi has called for "self-reliance", echoing the country's goal to build its own advanced technologies, as articulated in the Made in China 2025 plan. Clean technologies, including power technologies and new energy vehicles, feature in this strategy.
Chinese investment in US clean tech companies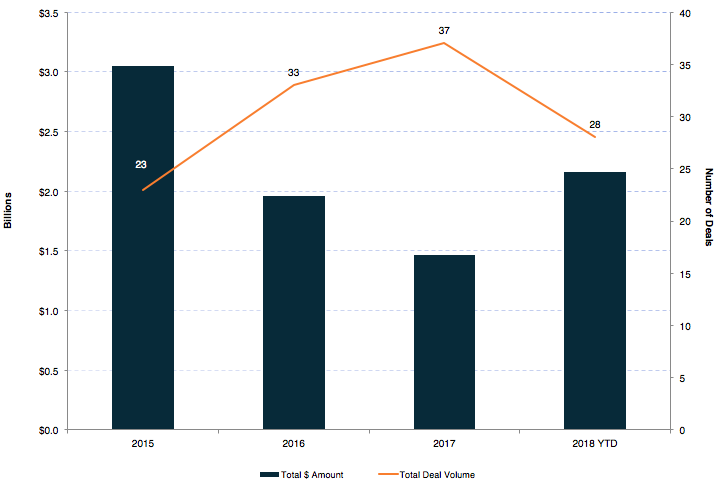 Data source: Cleantech Group; Chart: Cleantech Group
Chinese investment in US companies often explicitly includes plans to scale technologies in China. Over 50 China-affiliated incubators and business centres have sprung up in Silicon Valley to facilitate this flow. "We are building the door or bridge to the Chinese market," Wei Luo, chief operating officer at ZGC Capital Corporation, which runs the ZGC Innovation Centre – a group with ties to the Beijing government – told Reuters.
Some US companies said they were unaware that their Chinese investors had ties to the government. This has stirred fears given the government's stated agenda of building expertise in key technologies.
Fair play?
Past concerns about competitiveness in the clean technology sector have led governments to act, in some cases slowing the adoption of clean energy technologies.
Following China's global rise in clean tech manufacturing, countries have frequently barred cheap Chinese solar imports. Even before Trump, the European Union levied tariffs on Chinese solar panels after a similar decision from the Obama administration in 2012.
The Trump administration followed suit in January, imposing a tariff on solar panel imports that has caused US renewable energy companies to cancel or freeze over USD$2.5 billion (17 billion yuan) in projects. India enacted a similar policy this summer. The governments contended that China had unfairly subsidised solar panel production making it impossible for other markets to compete. However, the Brookings Institution argues such policies, at least in the US, will cause greater economic losses than gains.
Intellectual property infringement has also been a longstanding concern. In a survey of California clean tech companies conducted by the state, some reported hesitation about entering the Chinese market due to fears that their intellectual property would be stolen, according to special adviser Fan Dai.
Julien Mialaret, operating partner for investment firm Idinvest, has helped companies enter the Chinese market. He says these risks are more relevant for some sectors than others. For instance, bringing a clean tech data analytics company to China had proved challenging. "We have to have the data centres in China, and we have to have the algorithms run in China, and that's a risk right now that we are not willing to take."
The future of clean tech collaboration
When Boston Power decided to take investment from China in 2011, the chairman of Golden Sand River said, "Boston Power is still a US company, it's just becoming a global company now, taking advantage of a market opportunity and government support in China. When the US is ready to expand its electric vehicle market, we'll be here." However, last year Boston Power – once considered one of Massachusetts's leading clean tech businesses – announced it was downsizing its Boston team.
Instead of adopting a cold war mentality and blocking Chinese investment altogether, Julien Mialaret said that the US could develop policies like those in China and California to give US clean tech companies incentives to flourish. Research from the Brookings Institution shows that China now spends three times more on energy research and development than the US.
As the US closes its borders, China-US clean tech cooperation and the new partnership fund may be at odds with the protectionist era. If the new US investment rules make it prohibitively difficult to access the Californian market, the fund may have to invest in other countries rather than the US.
"If we do not have collaboration between China and the US, everyone is going to lose out," warned Mialaret.