The world produces 400 million tonnes of plastic every year but only 10% is recycled. Much of it seeps in to the ocean, causing at least US$13 billion (89 billion yuan) worth of economic damage to marine ecosystems annually. Alarming statistics on the impact of plastics on our environment are piling up almost as fast as the material itself.
A transformation of our global recycling system is needed, however, not all regularly used plastics can be processed. This means that even if all consumers and businesses recycled everything they could, a large proportion would still go to waste.
The majority of plastics that do get recycled undergo a mechanical process that breaks them down into pellets. They're then reused in the manufacture of new plastic products, such as packaging, seats or in clothing (polyesters). However, this process cannot be used on plastic film, pouches and other laminated plastics, and these materials are typically sent to landfill or incinerated.
What can be done with all these hard-to-recycle plastics, which account for around 40% of the total? One answer is chemical recycling. This can be used to turn plastic back into pure oil, removing the chemicals and other substances added to it during manufacturing.
From oil to plastic and back again
Chemical recycling isn't new, but so far no-one has managed to develop a successful business model for transporting lots of small, lightweight plastic waste such as film to a centralised processing plant. Virgin material is cheap, so there has been little incentive to set up the necessary networks.
A UK company believes it has the answer. Recycling Technologies, based in Swindon in the south-west, says its RT7000 machine can be installed in existing waste plants where it can turn hard-to-recycle materials into oil. This product, which it calls Plaxx, replaces fossil-fuel derived oils in the production of new polymers and synthetic waxes.
The company also claims the process cuts carbon emissions – each tonne of plastic treated in the firm's machines will save 1.8 tonnes of CO2 – compared with incinerating it in an energy-from-waste plant.
Recycling Technologies is setting up an assembly facility in Swindon to build up to 200 machines per year to meet anticipated demand for plastic recycling. The company says each machine can pay for itself in three years. It can also fit into a shipping container, so it can be easily transported to waste processing plants. Transporting the equipment to the site reduces the number of lorry trips required to move the plastic to a central site by a factor of 6:1.
It is also installing a machine at a recycling innovation hub in Scotland called Project Beacon. Backed by the Scottish government and European Regional Development Fund, the project will demonstrate technologies that will enable households to recycle all plastics in the future.
The firm has already secured £65 million (580 million yuan) in sales contracts for Plaxx from the first 12 machines that will be installed in the UK and Northern Europe. It has signed a business alliance with InterChem, a global commodities trader that specialises in shipping, storage and blending in the petroleum and petrochemical industry.
It has also forward sold £15 million (134 million yuan) of the wax it will produce to Kerax, a European wax manufacturer. Wax is used in the manufacture of waterproofing, all weather surfaces, candles and toiletries (such as petroleum creams) but there is a global shortage. It was typically sourced as a by-product of oil refining, but modern refineries do not produce any, explains Rupert Haworth sales and marketing director at Recycling Technologies.
"The supply of traditional waxes is set to decline sharply in the coming years. To have a source of wax from recycled plastic is a major innovation that fits in perfectly with our aim of supply source diversity," says Ian Appleton, chief executive of Kerax.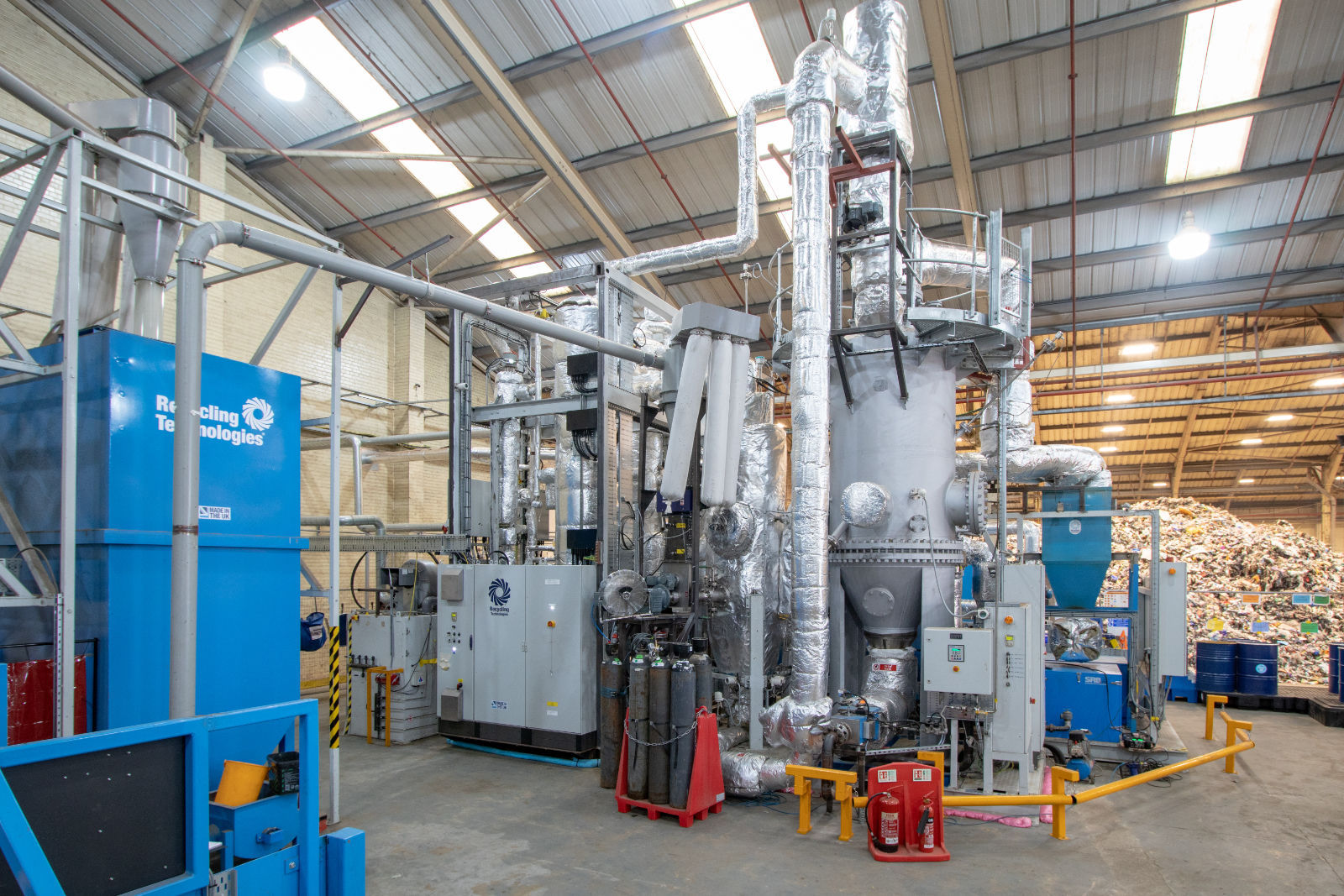 Recycling Technologies is setting up an assembly facility in Swindon to build up to 200 machines per year to meet anticipated demand for plastic recycling (Image: Recycling Technologies)
Fixing a global problem
In order to make a dent in the world's plastic pollution problem, use of the technology will have to be scaled up. Recycling Technologies is aiming to have 1,700 machines installed globally by 2027, which will have the potential to recycle 10 million tonnes of plastic each year.
"We've had inquiries from literally every corner of the globe because this is a world-wide problem," says Haworth. It plans to build, own and operate the first few machines itself, then scale up. "As soon as people get to know the technology and accept it, we will sell the units," he says.
Demand for the output of chemical recycling is also coming from food and drinks manufacturers. Many of these have committed to action on plastic packaging through initiatives such as the UK's Plastic Pact, run by waste advisory organisation WRAP.
Signatories to the pact include brands that are responsible for more than 80% of the plastic packaging on products sold through UK supermarkets, including Asda, Coca-Cola, Unilever and Tesco.
Alongside eliminating unnecessary plastic packaging, companies have pledged to make 100% of plastics packaging reusable or recyclable, and to use 30% recycled content across all plastic packaging.
Currently, there are concerns that there will not be enough supply to feed the demand created by such initiatives. Food and drink packaging for use in the EU is required to pass strict safety tests set by the European Food Safety Authority, and most of the plastics produced by mechanical recycling cannot be used, as the process does not typically remove substances such as chemicals and heavy metals that were used in the manufacture of the plastics' original use.
Helen Jordan, sustainability issues executive at trade body the British Plastics Federation, says: "There have been a lot of companies committing to a certain amount of recycled content in packaging. That has to come from somewhere, and they need material that can come in contact with food. There was concern about whether there would be enough of this around, so if chemical recycling can provide another source of that, it would be great."
There are plans to replicate the pact globally through Ellen MacArthur Foundation's New Plastics Economy, which will further boost the demand for products such as Plaxx that can be used for food-grade packaging.
Stuart Foster, chief executive of Recoup, says that the technology and business model being developed by Recycling Technologies both have potential in African and Asian countries where most of the leakage into soils and the ocean occurs.
"It would allow for lower-spec plastics to be recycled so if you can use it in those places it could be used to stop global plastic pollution," he says.
Foster adds: "There are benefits to using plastic in packaging, so the best solution would be to keep the material if we can find sensible things to do with it. We hear about plastic free and so on, but if it is the best product to keep things fresh, then the utopia is to keep the material, but have these solutions in place."
The feedstock produced from chemical recycling can also be used as a shipping fuel. Plaxx produces far less sulphur dioxide (SO2) than heavy fuel oil when burnt, with emissions of 0.09-0.5kg of SO2 compared with 20.5kg SO2, according to Scottish organisation Zero Waste Scotland.
The feedstock produced from chemical recycling can also be used as a shipping fuel
Some might question the sustainability of burning it, which creates more pollution and ultimately means the resource is lost. However, Foster insists that, in the short-term, the most important thing is to stop waste plastic leaking into the environment, and human and wildlife food and drink streams.
"Possibly some uses are more sustainable than others. But we shouldn't worry about that at the moment because as long as we can stop the leakage and get some kind of reuse, we'll be infinitely better than we are now," he says.