From Montana beef to Boeing jets, China and the US struck a flurry of deals yesterday during President Trump's inaugural state visit.
As tensions continue to simmer over North Korea and trade, natural gas has emerged as an area of mutual interest for the two countries. Energy agreements, mostly for US liquefied natural gas (LNG) reached US$140 billion, half of the total signed by the US trade delegation.
But as China negotiates at the UN climate talks in Bonn, the deals are raising questions about whether China can expand consumption of gas whilst meeting its climate commitments.
Natural gas demand in China has more than quadrupled in the past decade. Lacking easily accessible sources domestically, China has been eyeing the abundant supply of US shale gas in recent years. Approximately 35% of China's 2016 natural gas demand was met by imports – mainly from Qatar and Australia, but the US has also been gaining a foothold.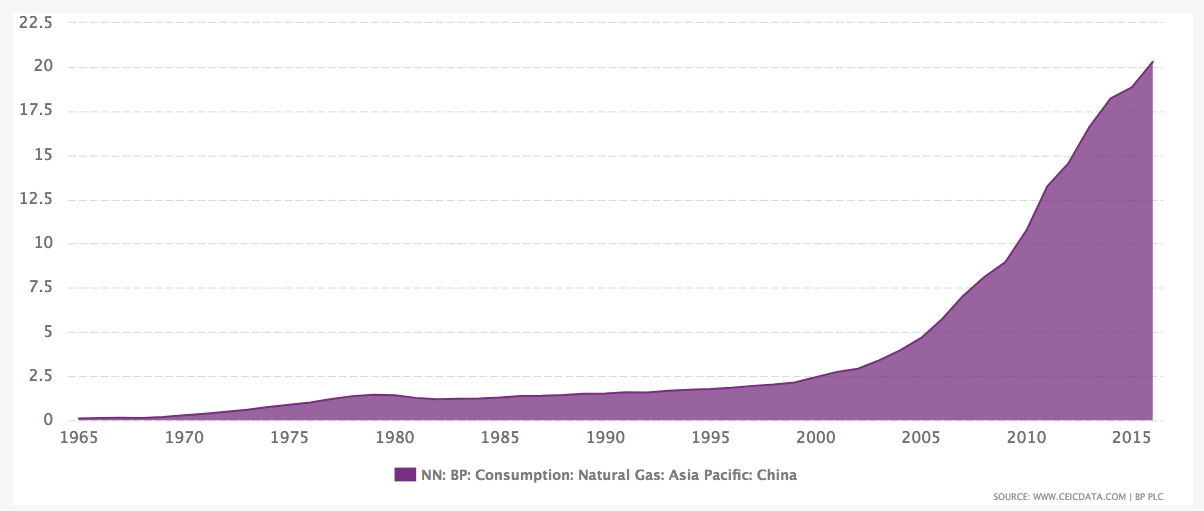 Source: CEIC
At least five deals were signed during Trump's Beijing visit. The agreements include the first long-term agreement for the export of LNG from the US to China by Cheniere Energy, an initiative to develop Alaska's gas production, LNG exports to China from Delfin Midstream, Chinese investments in a West Virginia shale gas development, and the construction of a coal-to-syngas production facility in China.
Cleaner than coal
According to the International Energy Agency's 2016 World Energy Outlook, LNG trade is expected to double by 2040, mainly on the back of exports from the US to China.
Anders Hove, research consultant at the Paulson Institute noted that natural gas "prices are too low and LNG markets are oversupplied, but I think that perception will change quickly if China's push to switch heating and industry in northern China to gas results in another banner year of LNG imports."
China's 13th Five-Year Plan for Energy calls for natural gas and renewable energy to replace coal consumption. The plan sets a 2020 target for natural gas to provide 10% of primary energy, up from 5.9% in 2015. Looking farther ahead, China's Energy Production and Consumption 2016-2030 Strategy calls for natural gas to provide 15% of the country's energy by 2030.
Coal's share of total energy consumption fell by 2% to 62% in 2016, displaced by renewable energy and natural gas. "LNG exports from the US to China could contribute to China's efforts to improve air quality and transition to a low-carbon future by quickly switching from scattered coal to gas," commented Vance Wagner and Zou Ji of Energy Foundation China.
Modelling conducted in 2016 by China's Energy Research Institute and others, shows natural gas contributing to China's energy transition through to 2050. Under their model, which is based on current policies and cost-effective technology, China's emissions would peak in 2025 and continue to drop thereafter. Natural gas demand would plateau in 2035 but still play a strong role in the energy system until 2050.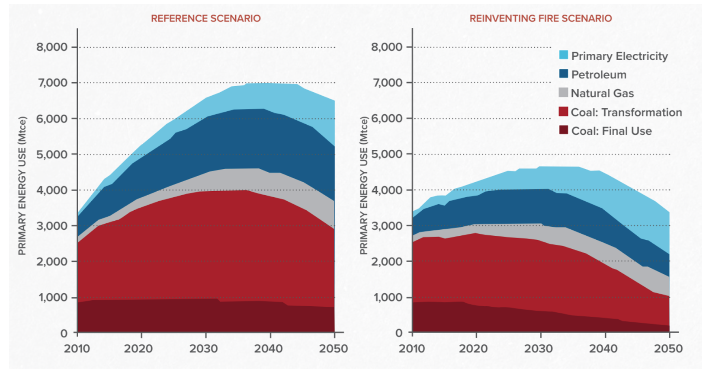 Source: Reinventing Fire: China, 2016
Long-term implications
Some experts argue that natural gas is a "cul de sac" that China should avoid. Although burning it is less harmful than coal, natural gas still emits greenhouse gases, and promoting it would require significant investment in long-lived infrastructure. Countries have committed to becoming carbon neutral by the end of the century so the continued use of natural gas would require emissions to be captured and stored.
The recent set of deals, while reducing CO2 and local air pollution in China, would also require the US to expand export capacity to increase its LNG exports to the country, locking the US into more fossil-fuel infrastructure.
The US investment in a coal-to-syngas plant is also concerning. China is pushing to utilise its deep coal reserves to produce gas but this process is highly energy intensive.
The nature and timing of the energy deals sends the wrong signal, according to Alvin Lin, climate and energy policy director of the Natural Resources Defense Council in China. "This is disappointing given the UN climate conference happening now in Bonn, which is focused on implementing the Paris Agreement and pushing forward the transition to low carbon energy sources as rapidly as possible.
"Trump and his administration would do well to recognise, as the Chinese have, the enormous business opportunities in leading the race on renewables and low carbon energy technology."