Vietnam's government faces crucial choices as it draws up a new national energy plan for 2021-2030. Due to be published this summer, the Power Development Plan 8 will provide a vision for power supply up to 2045. Experts are hoping that Vietnam will use the plan to further its position as a renewables leader in Southeast Asia, and provide clarity on the role of coal in meeting the country's rapidly rising demand for electricity.
It has become regional leader in the past couple of years. Its installed capacity reached 5.5 gigawatts (GW) last year, accounting for 44% of Southeast Asia's solar capacity, according to Reuters. It has already reached a solar power target it had set for 2025.
There is great potential for the development of wind power as well, with the minister of industry and trade, Tran Tuan Anh, stating in June that Vietnam plans to increase wind power by 7,000 MW to 11,630 MW by 2023 due to delays and opposition to coal plants.
However, electricity from fossil fuels still accounts for 62% of Vietnam's total installed power capacity, according to a 2018 study from the Beijing-based Global Environmental Institute (GEI).
Under the government's current power development plan, released in 2016, this is expected to drop to 53% by 2030. But the finance and construction of new power plants is nevertheless ongoing, much of it with the support of major Chinese banks and companies.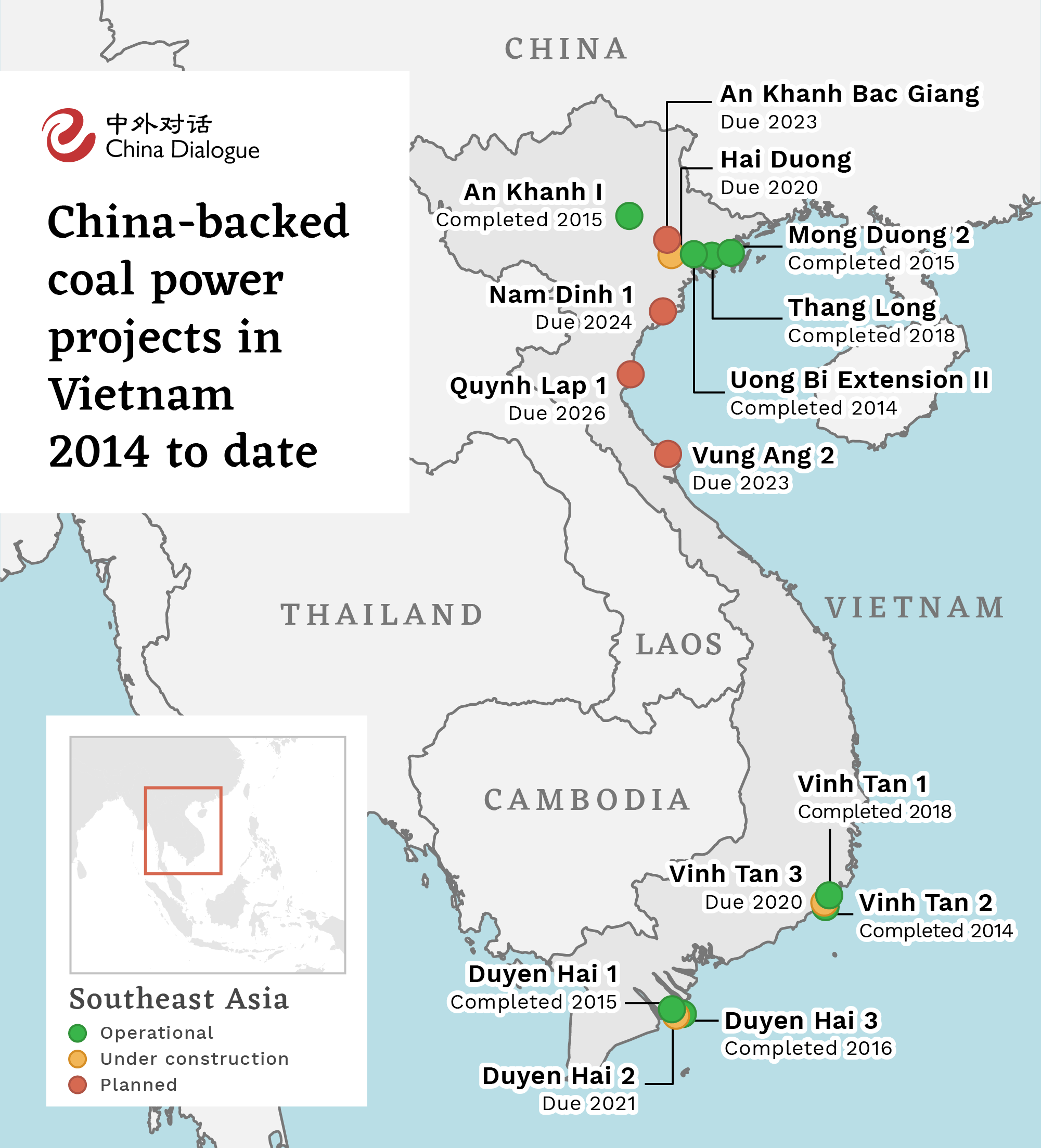 Rising demand
The new power development plan is expected to emphasise the further development of renewables. Though officials have said little in public and the government faces hard choices. Demand for electricity is growing faster than supply, as both industrial and residential usage continue to rise. Thermal power will continue to play a large role.
"China is a top investor in both coal and renewable energy globally," says Nguyen Trac Duc, a project coordinator at Green Innovation and Development Centre (GreenID), an environmental NGO in Hanoi.
With Chinese funding likely either way, it is up to the Vietnamese government to "seize the opportunity to mobilise financial resources for renewable energy development," says Duc.
"This is an opportunity for Vietnam to act."
Furthermore, the push to use coal to close the energy gap has stalled.
According to WWF Vietnam, there are currently 68 coal-fired power plants in some stage of planning or development nationwide. But many of these projects are delayed.
An August 2019 article by Market Forces, an Australian organisation that tracks fossil fuel investment, found that 57% of planned coal power capacity is delayed while, of those projects, 93% of the projects financed through the build-operate-transfer (BOT) model have been postponed. All told, investors in Vietnamese coal power projects face a cumulative delay of 100 years.
Why the wait?
Market Forces lists three main causes for these delays: corruption; issues with engineering, procurement and construction (EPC) contractors; and local opposition. The Long Phu 1 and Thai Binh 2 plants, for example have run into problems because of corruption charges against the former chairman of PetroVietnam, the state-owned oil giant.
Both of them, along with the Nghi Son 2 project, have also been slowed by financial struggles among their investors.
Local opposition and environmental concerns have delayed work elsewhere, such as in the Mekong Delta province of Long An and in Khanh Hoa province on the south-central coast, where residents have raised concerns about the environmental impact. Resettlement has also proved difficult, as residents and officials tussle over land compensation fees.
Another major contributing factor in these delays is the global movement away from coal power. South Korea, Japan and China have long been the three biggest investors in thermal power in Vietnam. For example, in April, the governor of the Japan Bank for International Cooperation (JBIC), a major investor in overseas coal plants, said the institution would stop accepting loan applications for these projects, though it remains unclear whether this is a set policy shift.
Peng Ren, program manager at the Global Environmental Institute (GEI), says a debate is underway in China too. "There are discussions among Chinese industries to be aware of the risks of continuing to invest in coal in other countries."
"But you have to think about new developments in the global pandemic, and the country has released an economic recovery package, and we're really concerned about fossil fuels or coal being one of the tools to stimulate the economy," he adds.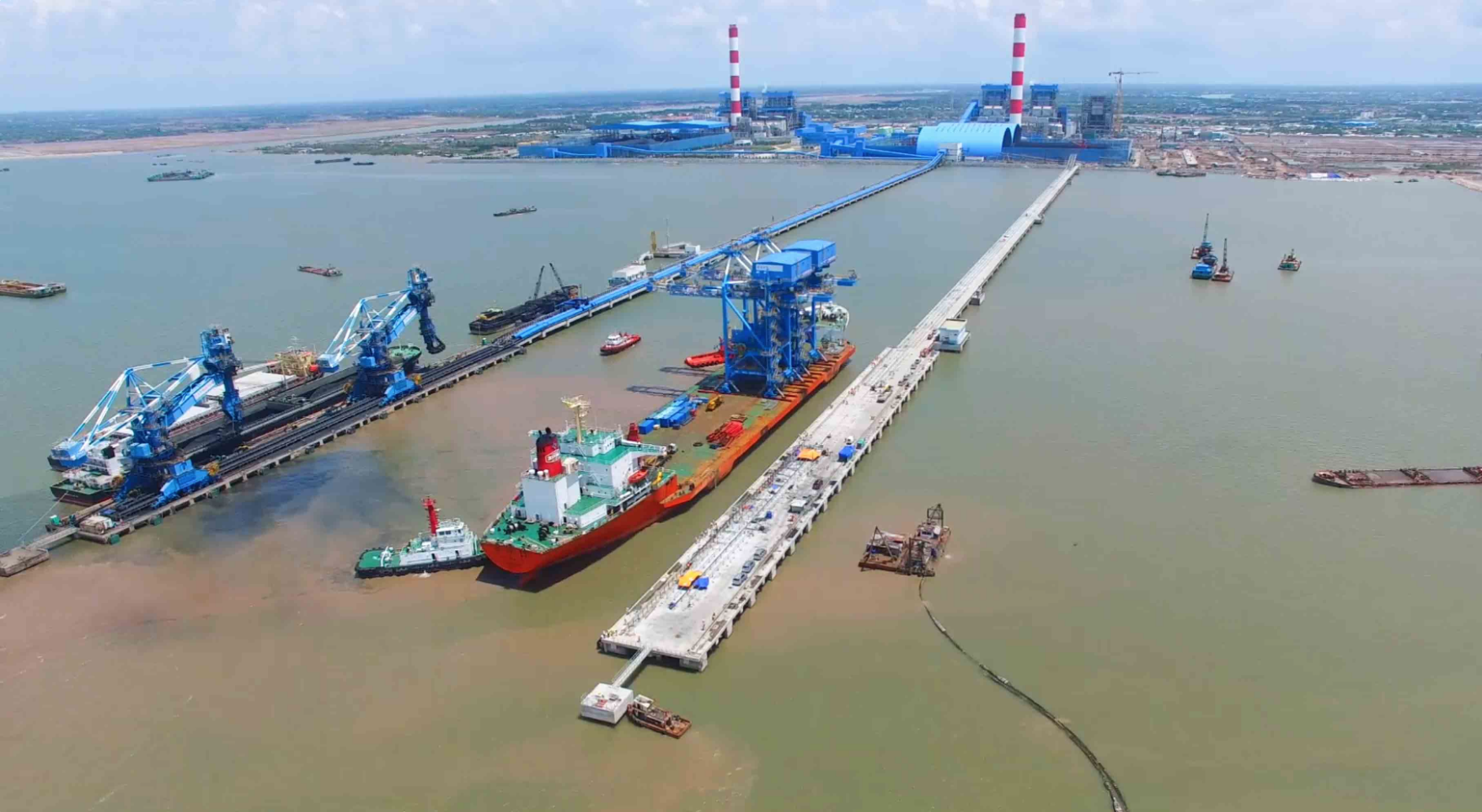 Lack of transparency
Several Chinese firms are involved with thermal power development in Vietnam, though lack of transparency makes it hard to know exactly who is involved and to what extent, says Bernadette Maheandiran, a researcher and legal analyst at Market Forces.
"Unless it's disclosed in the Vietnamese media or on financial subscription sources, we might not see it," she says, whereas Japanese and South Korean firms will disclose their projects in official filings.
Sources contacted for this article had differing figures. GreenID has identified five China-backed projects – two coal plants currently under construction that involve Chinese EPC companies or banks, and three planned projects. WWF Vietnam, meanwhile, says there are at least eight plants with Chinese involvement.
The recently launched Mekong Infrastructure Tracker lists seven under-construction plants with Chinese funding or technical involvement, all of which are delayed, and seven China-funded thermal plants that were completed between 2014 and 2018.
These engineering companies and banks include the Bank of China (BOC), the China Development Bank (CDB), the Industrial and Commercial Bank of China (ICBC), and China Power Engineering Consulting Group (CPECC).
A sure bet
Despite the frustrations of chronic delays, analysts expect Chinese banks and engineering firms to remain involved, especially as South Korean and Japanese lenders pull back.
"There's no one else with that kind of capital to fill the void," Maheandiran says.
"What we see is that in many projects which face difficulties in mobilising finance, or if banks from other countries say no, Chinese banks are willing to jump in," says GreenID's Duc.
"For example, in the Nam Dinh 1 coal power project, Chinese banks jumped in when Korean banks moved out. An Khanh Bac Giang is another case in which Chinese banks were involved as a last resort after the investor failed to find financial sources for a long time."
This shift is evident in data from the Global Coal Public Finance Tracker. The top three financial investors in Vietnam's completed thermal power plants were the Export-Import Bank of Korea, the Japan Bank for International Cooperation and Nippon Export and Investment Insurance. For planned thermal capacity, on the other hand, the five largest sources of finance are China Development Bank, China Export & Credit Insurance Corporation, BOC, China Construction Bank (CCB), and ICBC.
A turning point for renewables
However, analysts believe that Vietnam's growing renewable energy sector could provide great opportunities for Chinese financing and engineering companies.
Maheandiran sees a potential turning point, given the falling cost of renewable energy and ongoing delays for coal power plants.
"The government of Vietnam needs to look at the current situation and perhaps adjust its forecast accordingly and figure out how necessary many of these short-term [thermal] plants are," she says. "Everyone sort of salivates at the Vietnam renewable story because it's been so successful. I think that's where it would be interesting to see China provide some backing. I think it's a cusp moment both for Vietnam and China, where the decisions could go either way," she says.
Ren, however, cautions that this investment is not always easy. "Chinese banks and companies have a mindset to really shift their project activity away from coal to other renewable energy projects, with potential for profits," he explains. "They are getting ready to invest, but they often face discrimination or difficulties in investing in renewables in other countries."
Chinese companies often struggle to develop renewable energy projects overseas due to intense bidding competition, incomplete policies on energy pricing and a lack of recognition among financial institutions of the viability of renewable projects. These issues are less present when it comes to building thermal power.
Data from Greenpeace shows that Chinese equity investments funded 10,400 MW of coal power capacity in countries signed up to the Belt and Road Initiative from 2014 to 2018, compared to 1,277MW of solar and 433MW of wind.
The Belt and Road Initiative
First announced by Xi Jinping in 2013, the Belt and Road Initiative (BRI) is a global infrastructure development strategy designed to boost trade and economic growth.
The Belt refers to the Silk Road Economic Belt – a series of overland routes linking China to Europe via Central Asia and the Middle East.
While the Road stands for the 21st Century Maritime Silk Road – a sea route connecting China's southern coast to the Mediterranean via East Africa.
A vast range of projects, including motorways, ports, power plants and factories, have been defined as part of the BRI. You can read our Belt and Road Initiative reporting here.
In Vietnam, which is not a BRI nation, the government has established pricing policies for renewables, but it has to balance approving Chinese investments with widespread anti-China sentiments among its people.
Coal, meanwhile, remains a proven investment path that Chinese companies have long experience with, a reality that will take time to overcome. "Chinese companies still want to explore markets, and if the Vietnamese government is still open to other coal projects, of course they're going to do that," says Ren.