Every day, Jia Peng wakes up early to wheel a pair of contraptions into the cattle shed of a dairy farm on the outskirts of Heze in China's Shandong province. He fixes the metal-clad machines to the outer side of the animal pen. Then he waits for the cows to return.
Once the animals have finished their morning milking round, they lumber back into the high-roofed shed. While some nap, a few are enticed by the feed Jia has prepared and stick their heads into the devices. As they eat, the "gas flux quantification" instruments measure how much methane the animals belch and exhale.
Jia is part of a research team trying to tackle an often-overlooked climate conundrum: what to do about the vast amount of greenhouse gases that result from the way we produce our food?
China is the world's largest source of agricultural greenhouse gases, emitting 830 million tonnes of carbon dioxide-equivalent gases in 2014, the latest year for which official figures are available. This carbon footprint is equal to that of all the country's cars, planes and boats. Over one-quarter of the emissions from Chinese farms come from grass-chewing ruminants such as cows, goats and sheep.
Until now, China — like many countries — has focused its efforts to combat climate change on the energy and industrial sectors: subsidising renewable energy, capping coal consumption and controlling industrial emissions. Emissions from agriculture have received far less attention.
But as China reaffirms its commitment to the Paris Agreement – with President Xi Jinping pledging in September that the country will reach peak carbon emissions before 2030 and become carbon neutral before 2060 – farms could come under greater scrutiny.
Worldwide, agriculture is responsible for one-tenth of the emissions that cause human-made global warming. The sector is also the largest source of greenhouse gases other than carbon dioxide, such as methane and nitrous oxide, which are 25 and 300 times more potent at trapping heat respectively.
With Xi's pledge of carbon neutrality understood to cover these non-carbon dioxide gases, figuring out how to get cows to burp less – among other measures to lower agriculture's carbon footprint – looks set to acquire national importance.
The researchers at the Shandong dairy farm hope a change in the cows' diet will make them less gaseous. For five months, they've been tweaking the composition of the cattle feed, adding dietary supplements, and improving feed manufacturing techniques in an attempt to aid the cows' digestion.
"Methane emissions are connected to dietary energy loss," says Diao Qiyu, the leader of the project and a professor at the Feed Research Institute under the Chinese Academy of Agricultural Sciences (CAAS). "A higher feed utility rate and better metabolisation results in less methane production."
Finding the right feed will not only aid the climate, but also help Chinese livestock farms produce more meat and milk. As a by-product of the cows' digestion process, methane is a sign of inefficiency – up to 12% of bovine energy intake is estimated to be lost in the form of greenhouse gas excretions.
"Methane itself is a waste of energy and pollutes the atmosphere," says Diao.
The prospect of making his farm more efficient convinced Tian Zhonghong, vice president of the dairy farm, Yinxiang Weiye, to greenlight Diao's project. "I don't have strong feelings about climate change, melting ice caps or rising sea levels," he says. "But I believe waste has its value. Methane that's emitted into the air can have some use – that's why I'm interested in their research."
The researchers chose to focus their project on dairy farms because they're more standardised than other Chinese livestock businesses. After tainted milk caused a major food safety scandal in 2007, the government introduced a raft of regulations, which has also made the industry more suitable for experimentation, says Dong Lifeng, an associate professor involved in Diao's study.
Beef-producing farms are more numerous and thus the bigger climate threat. But they tend to be small-scale and use non-standardised methods, making it hard to conduct measurements, Dong adds. Overall, China has the world's fourth largest c attle herd, with 89 million animals.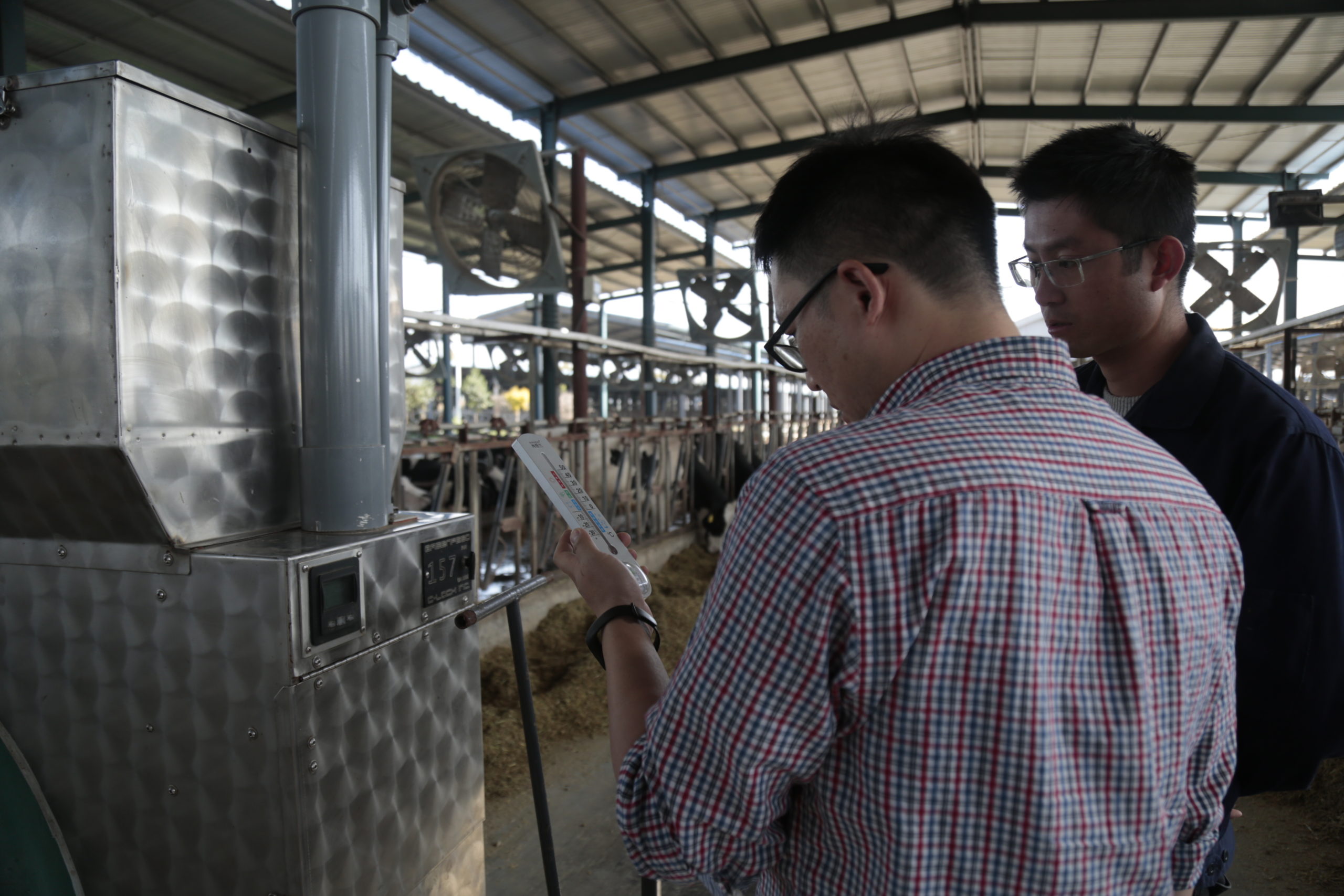 Reducing emissions from paddy fields
It's not just animals that are to blame for agriculture's climate footprint. China is the world's top rice-producing country, harvesting 209 million tonnes of the grain in 2018. Rice is grown on paddies, fields flooded with a shallow layer of water. The more waterlogged the soil, the more microbes decompose organic matter, releasing methane. If there's too little water, however, yields suffer.
On the outskirts of Shanghai, Zhou Sheng, a professor at the Eco-environmental Protection Research Institute under the Shanghai Academy of Agricultural Sciences, leads a team of researchers studying rice paddy emissions.
When we visited their experimental field in early November, researchers were installing a transparent cube on a patch of soil that had been drained of water following the rice harvest the previous month. The device monitors methane emissions, absorbing air from the field and sealing samples inside small bags connected to the cube.
"Various changes could take place in farmland, which requires year-round monitoring and research," says Zhou. The researchers will analyse the air samples and collect data for computer models assessing agricultural greenhouse gas emissions.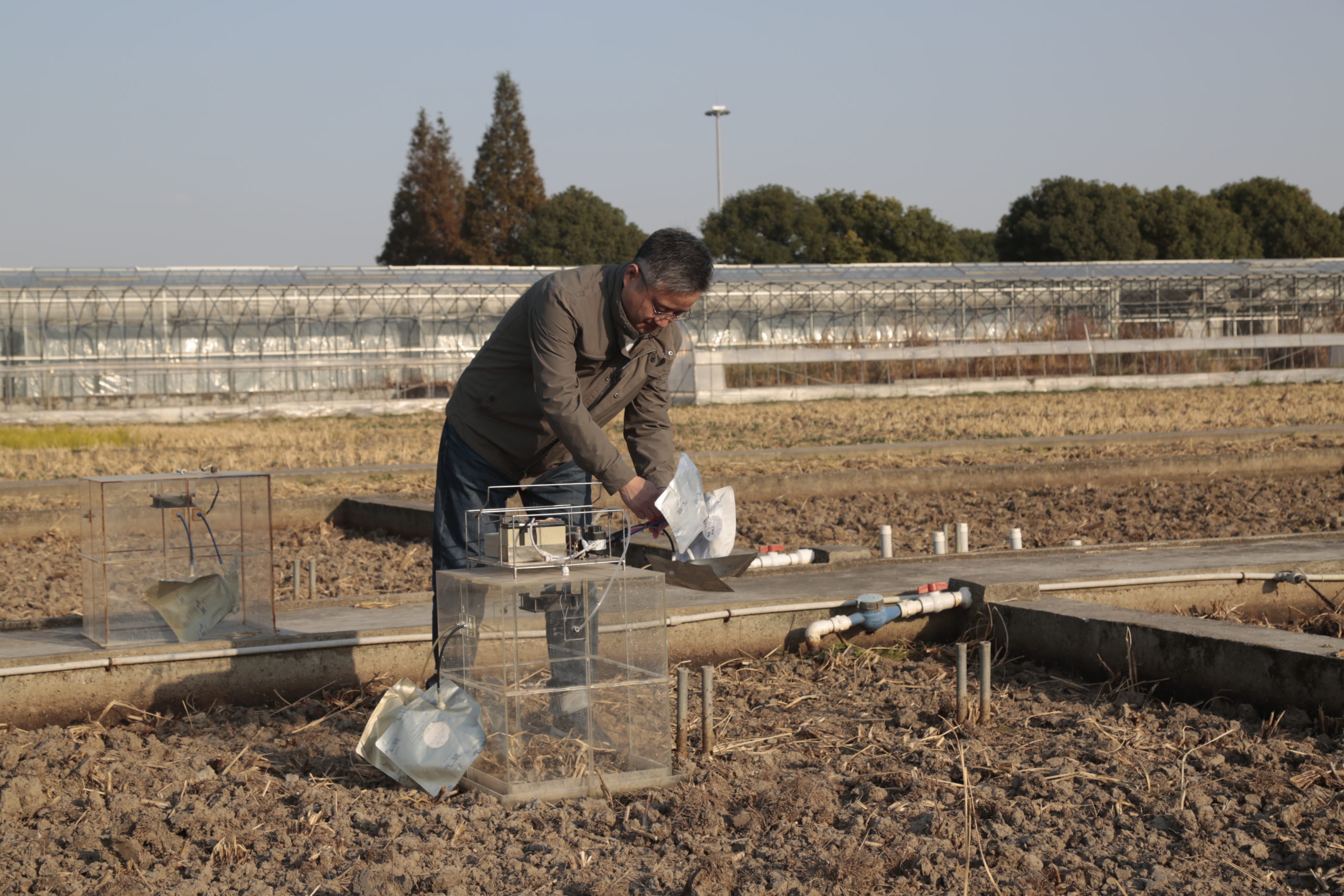 Over the past decade, Zhou has researched several methods to control methane emissions from rice paddies. Carefully managing a rice paddy's irrigation time and water level can reduce emissions by 10-20%, he estimates. He's also working on a technique to convert rice straws – often burned or discarded in rural China – into biochar. The charcoal-like substance can be used to store carbon in a stable form, and also applied to fields to improve soil quality and crop yields.
Another promising project Zhou is currently pursuing with another team of Shanghai researchers involves creating a new drought-resistant strain of rice. Because paddies using the grain require little water for irrigation, they produce up to 90% fewer methane emissions, Zhou says.
The new rice variety is currently being promoted in the eastern provinces of Anhui and Jiangxi, and Zhou believes it could offer a green solution to farms across China. Researchers are now working to raise the rice's quality and yields.
Convincing farmers to adopt emission-reduction techniques, however, is a challenge. This is one reason Zhou is excited about the new rice variety: it doesn't cost the farmers much to implement.
"It's impossible for farmers to precisely control water levels and it's too costly to introduce automatic systems," says Zhou. "If the technology is too advanced, the cost and maintenance becomes a problem. But if it's too simple, it might not be effective enough."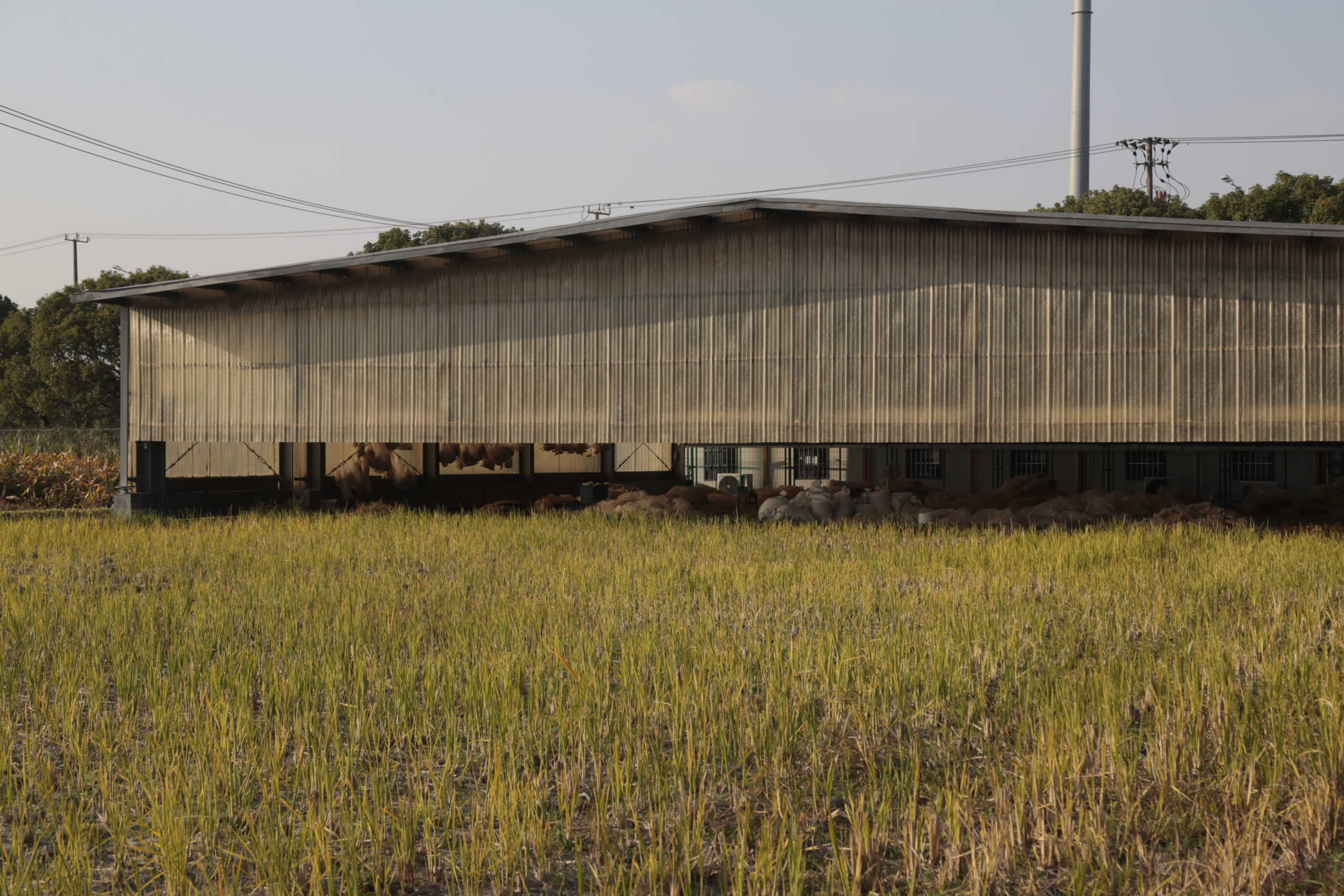 Food security still a priority
Despite these efforts by China's scientists, the country's government doesn't seem to be prioritising the reduction of agriculture's climate impact: it has set no emission targets for the sector. Food security remains paramount.
"The most important thing is that everyone gets sufficient food," says Li Yu'e, a researcher at CAAS and one of China's top experts on agricultural greenhouse gas emissions. "If [a measure cutting emissions] reduces food production, it won't be considered a real solution."
Experts recognise there's still a long way to go before any new emission-reduction techniques can be implemented nationwide. Many questions remain unanswered, including how the new solutions will be promoted among rural communities, how they'll be implemented and made cost-effective, and who will pay for them.
"The economic benefit of agricultural emissions reduction is a main concern," says Cai Zucong, professor of soil science at Nanjing Normal University. "There has been a lot of research, but the problem is in the application. Who should pay for the cost? Farmers will only do it if there's a benefit."
Another problem is that many rural areas simply lack the workforce. Cutting agricultural emissions requires precise management, but many Chinese farmers let their paddy fields lie fallow in the winter to go and work in the cities. As a result, the farmland is left soaked in water and releases large amounts of methane, says Cai.
But Michael Clark, food systems researcher and James Martin Fellow at the Oxford Martin School and the Nuffield Department of Population Health, doesn't think humanity can afford to compromise on efforts to reduce emissions. The result of not addressing climate change now, he says, is that in a few decades' time "we [won't be able to] grow the crops that we'll want to because the climate isn't suitable for them anymore".
Even if all other sectors brought their greenhouse gas emissions down to zero immediately, global agriculture's carbon footprint is big enough to inhibit the Paris Agreement's target of limiting warming to 1.5C, according to a paper Clark co-authored, published November in the academic journal Science.
"I think it's pretty urgent that we do need to start thinking about changes to food systems," he says. "It's like the saying on planting a tree. The best time to do it was 20 years ago. The second-best time is today."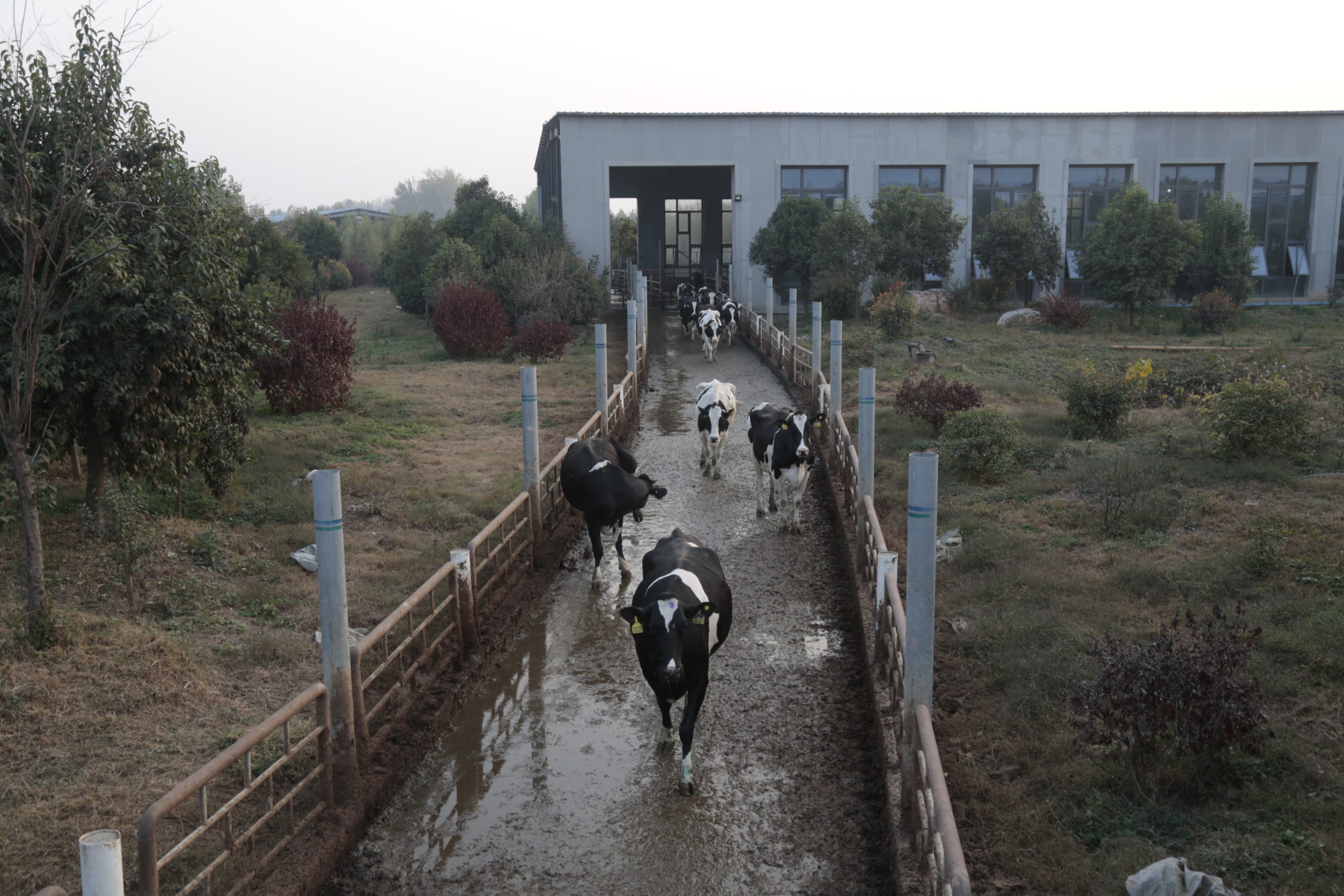 Despite their alarming call for action, Clark and his co-authors also offered several strategies for lowering emissions. They even predicted that, in the best-case scenario, these strategies could lead to negative emissions, whereby agriculture absorbs more carbon dioxide than it emits in equivalent gases.
"We're basically going to have to do just about everything that we know," Clark says. "And we might have to do more." He points to large-scale field trials conducted in China between 2005 and 2015 that showed how improved farming methods can reduce greenhouse gas emissions by over one-fifth, depending on the crop.
China has already made some progress on issues such as nitrogen fertilizer overuse. The country currently accounts for 30% of global fertilizer consumption, as Chinese farmers tend to use massive amounts on their fields to boost crop yields. These fertilizers cause run-offs that affect water quality, and also lead to soil microbes emitting nitrous oxide, which accounts for 34% of China's agricultural carbon dioxide-equivalent emissions.
The Chinese government did commit to controlling methane emissions from paddy fields and nitrous oxide released from farmland in its Nationally Determined Contributions submitted in 2015 as part of the Paris climate talks. And while there has been little movement on the methane front, China's fertilizer usage volume and intensity have both been declining since that year.
Zhou, the rice paddy researcher, hopes President Xi's climate pledge will bring new impetus to efforts to cut farm emissions. "I'm still optimistic about the future," he says.
Carbon trading for agriculture?
Researchers suggest carbon trading – systems where polluting companies can offset their emissions by paying for reductions elsewhere – could offer a way to accelerate the rollout of effective agricultural emission-reduction techniques. Such methods would have to be officially recognised as tradable carbon reduction credits.
The challenge, however, will be how to integrate China's farms into a carbon trading system. Unlike industrial sectors – where emissions are concentrated and easier to track – agricultural greenhouse gases are diffuse, emanating from large tracts of land. This is especially true when it comes to emissions from paddy fields, as growers are mostly smallholder farmers whose paddies add up to nearly 300,000 square kilometres – about half the size of France.
A possible solution would be ensuring that county governments, rather than individual farmers, are made responsible for reducing emissions under any carbon trading system, Zhou suggests. That way, it will be much easier to assign responsibility for emissions.
Currently, China's emission trading scheme only covers the power sector. Agricultural emission reduction projects certified under China's offset mechanism – the Chinese Certified Emission Reduction scheme – can produce credits to offset carbon emissions voluntarily.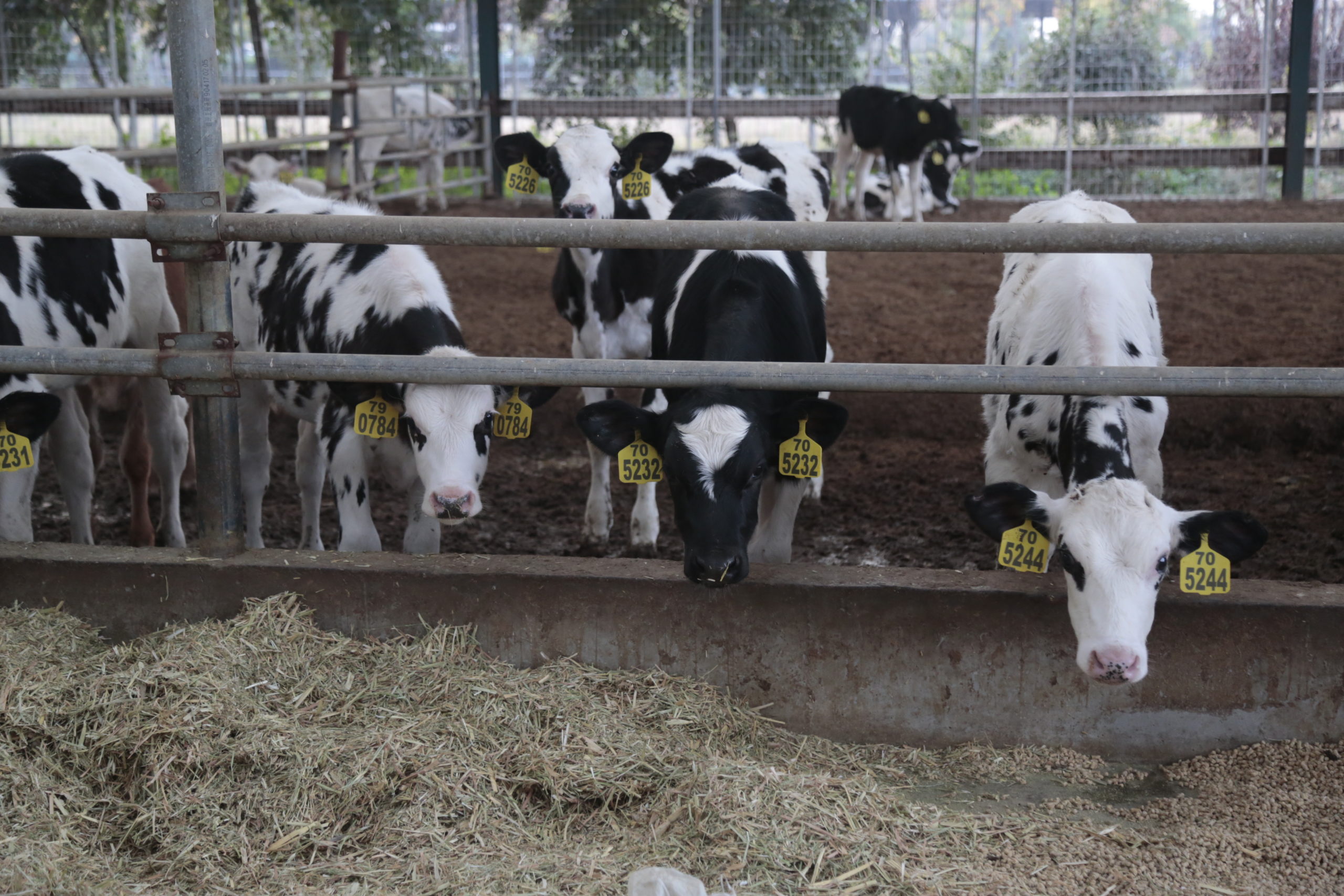 Researchers also hope China will provide more funding for projects aiming to reduce agricultural emissions. Up till now, some Chinese projects in this field have been supported under the Clean Development Mechanism, a Kyoto Protocol programme that allows developed countries to offset their emissions by supporting greenhouse gas reduction projects in developing nations. But the future of this programme is uncertain, as the current commitment period was set to end in 2020.
"Agricultural emissions are a neglected area," says Dong. "People think the industrial sector is the main source (of greenhouse gases). So agricultural emissions lack standards and targets. Research projects are difficult to get funded."
Back at the dairy farm in Shandong, Jia is simply focusing on the task at hand. After five months' work, he's managed to collect data on 150 cows in the shed. He has another 120 to go.
This article was first published on Sixth Tone. The editor was Dominic Morgan.