Three candidates are vying to succeed Angela Merkel as chancellor on 26 September, in the most unpredictable German election in decades.
The outcome will determine the country's next steps on the path to climate neutrality, and shape relations between Europe's largest economy and China. A recent shift in public opinion has unexpectedly made Olaf Scholz of the Social Democrats (SPD) the frontrunner, overtaking rivals Armin Laschet from Merkel's Christian Democrats (CDU), and the Green Party's Annalena Baerbock. Climate and energy policy are key issues in the campaign, particularly after the pandemic and this year's major flooding and droughts. All three contenders have committed to making the country climate neutral by 2045, but differ in their plans to get there.
The outcome of the election could prove critical for the speed of the energy transition in this decade. Germany is traditionally governed by a party coalition – currently a CDU–SPD alliance – as no single party usually garners an absolute majority of votes. At present, none of the three largest parties has managed to build a convincing lead which means that for the first time since the 1950s Germany could end up with a tri-party coalition government. Voters face a confusing array of possible alliances.
The prospect of a three-way coalition also indicates arduous and drawn out negotiations with many months before a new government is formed. Germans vote for their members of parliament, who then choose the chancellor once the coalition is agreed. Until then, the current government, led by Merkel, will continue to carry out its official duties.
Despite the possible variations, it is highly unlikely the outcome will result in a drastic departure from Merkel's stance on climate change or relations with China, as all major parties advocate fairly similar policies.
All three candidates claim to be firmly committed to making the country climate-neutral by 2045, the official government target, but a closer look reveals significant differences in their approaches.
Social Democrat Olaf Scholz
In the final stretch of the election campaign, German finance minister and vice chancellor Olaf Scholz has become the clear favourite to succeed Merkel. Polling a distant third just a few months ago, he now enjoys the highest approval ratings of the three candidates. If Germans could elect the country's next chancellor directly, more than 40% would vote for Scholz, compared to less than 20% for the conservatives' Laschet and the Greens' Baerbock.
Many voters believe the 63-year-old Scholz, who served as employment minister in a previous Merkel cabinet, best embodies her cherished virtues of caution and stability. Most credit him for a solid record as finance minister, where he calmly oversaw Germany's massive funding package to help businesses and workers during the pandemic.
Scholz has not yet made a name for himself in energy and climate policy, but he has promised an "immediate fresh start" after the elections. He called for a focus on expanding renewables, including a new law to ensure industry has enough renewable electricity to decarbonise over the coming decades. "As chancellor, I will ensure we pick up speed in the first year," Scholz said in an interview last month, adding that he plans to accelerate approval procedures for wind turbines and other investments in renewable energy.
For the SPD, climate protection is an industrial project, not a re-education course.
Scholz's party, the SPD, is open to speeding up Germany's coal phase-out, currently set for 2038, and plans on embracing some controversial climate decisions such as a general speed limit on German motorways. The party emphasises that climate protection measures must be socially compatible and should also promote the economy. "For the SPD, climate protection is an industrial project, not a re-education course," Scholz said, suggesting voters won't have to face significant behavioural changes.
However, environmentalists question Scholz's climate convictions. He has on occasion ranked industry concerns higher than environmental issues, and suggested Germany should stick to its existing timetable for phasing out coal. "We have made clear agreements that are important for the companies, for the workers, and also for the region. And these agreements apply and should be respected," Scholz said during a campaign stop in East Germany's coal mining region. 
According to climate scientists, Germany will need to phase out coal by 2030 at the latest to achieve its climate targets.
Scholz also rejected a Green Party proposal to increase the price of CO2 transport emissions faster than currently planned. "Those who now simply keep turning the fuel price screw show how little they care about the needs of the citizens," Scholz said. 
As far as China is concerned, Scholz is expected to continue Merkel's accommodationist policies. His party has led the foreign ministry under Merkel's chancellorship, and Scholz has defended the 2020 investment deal between China and the EU that she helped negotiate. However, he has been vague on future China policies, and criticism of Beijing has grown within his party. 
Christian Democrat Armin Laschet
Armin Laschet started out as the heir-apparent to fellow conservative Merkel, but his CDU party has plummeted in the polls following a lobbying scandal, accusations of mishandling the pandemic, and his clumsy reaction to the deadly floods.
The 60-year-old premier of Germany's largest federal state, the traditional industry and coal mining heartland North Rhine-Westphalia, is a Merkel loyalist who is in favour of continuing her centrist course.
But the uncharismatic Laschet struggles to motivate his party base, which faces the challenge of keeping former Merkel voters on board while quelling an internal power struggle over the CDU's identity.
Even though he has been an ardent supporter of Germany's planned transition to a hydrogen-based economy, Laschet's reputation in climate policy is dominated by his pro-industry positioning in the country's coal exit negotiations, and his regional government's heavy-handed eviction of a protest camp against coal mining.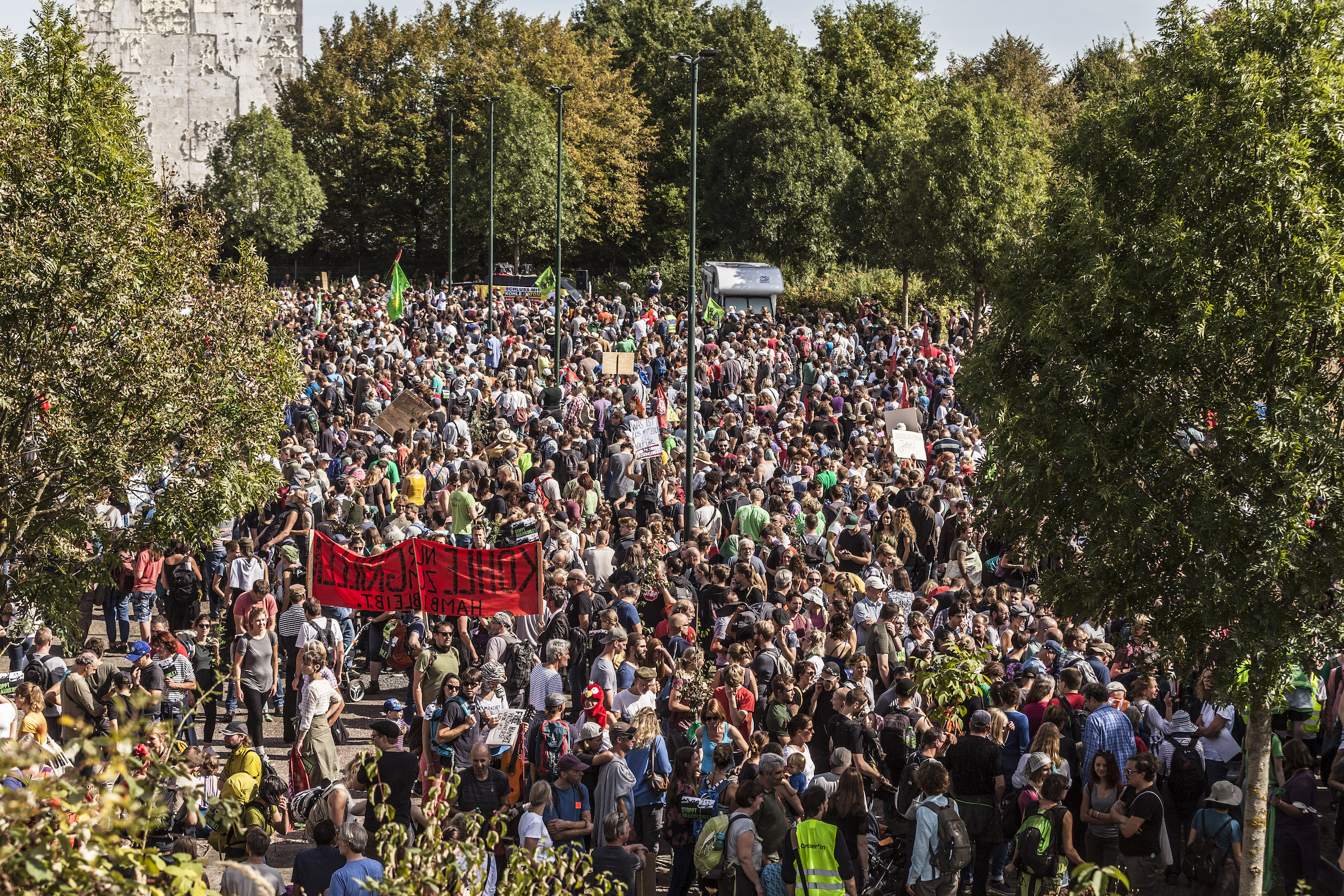 Laschet – who has invoked his father's job as a coal miner to emphasise his working-class background – has been criticised for his generous stance on granting coal companies comfortable compensation payments and his defence of a newly opened coal plant. He has warned against curtailing Germany's economic opportunities through "excessive" climate action that scares industrial companies away with high power prices and tight regulation.
Regarding China, Germany's most important trading partner, Laschet is expected to keep to Merkel's course. Laschet has been critical of China but has emphasised the importance of the two country's "business relationships, scientific relationships, technological relationships."
The Greens' Annalena Baerbock
Annalena Baerbock is her party's first ever candidate for chancellorship, but after a brief lead in the polls earlier this year, the Greens have fallen behind Scholz's Social Democrats and Laschet's CDU. Baerbock apologised for mistakes that were at least partly to blame for the drop in her party's popularity: having to clarify her public curriculum vitae several times, and failing to directly declare some payments from her party in her role as party leader. But even if the Greens don't win, polls indicate they will likely form a part of Germany's future government.
Baerbock is a 40-year-old career politician with a reputation for prudence and diligence but without any government experience. As a climate expert and member of parliament for the eastern German coal state of Brandenburg, she gained recognition during Germany's coal exit negotiations. In contrast to her competitors, she has a reputation for being "media-savvy and charismatic".
The Greens have proposed a climate ministry with the power to veto other ministries.
In her nomination speech, Baerbock said she wants to make climate action "the yardstick for all sectors" in order to fulfil the Paris Agreement. "Climate action is the task of our time, the task of my generation."
The Greens' election manifesto is the most ambitious on climate of the major parties. It calls for a coal exit and a ban on sales of new cars that emit CO2 by 2030, as well as 100% renewables in power consumption by 2035. The Greens have also proposed a climate ministry with the power to veto other ministries.
However, Germany's climate movement, which includes student protest movement Fridays for Future, has accused the Greens of not doing enough to limit global warming to 1.5C.
When it comes to future relations with China, Baerbock is expected to put more emphasis on human rights issues than either Scholz or Laschet. She said earlier this year that the EU had failed to address such issues in relation to the EU–China investment deal, and has warned against Chinese companies such as Huawei collecting data in Europe.