"I have devoted a great deal of energy to climate action… Nevertheless, I am sufficiently equipped with a scientific mind to see that the objective realities show that we cannot continue at this pace, but that they require us to speed up."
Those were the words of German Chancellor Angela Merkel – a physicist by training – at her last annual press conference in July this year, just days after floods killed more than 200 people in Germany and neighbouring countries. As reporters flung questions at her, Germany's leader of 16 years strongly defended her reputation as "climate chancellor", now brought into question. "I believe that I have used a considerable amount of strength and also a high degree of continuity" to protect the climate, she said.
But ahead of the German election on 26 September, many critics disagree. Europe's most powerful leader faces a mass movement of climate protests accusing her and her fellow politicians of remaining idle on the issue for too long and of favouring German industrial interests over climate action. Many say Merkel's long-standing international engagement on emissions cuts, including attempts to keep challenging partners such as China at the table, stands in contrast to lacklustre efforts at home.
A wasted decade?
Under Merkel, "climate policy has gone through many twists and turns and we almost wasted the decade between 2010 and 2020," says researcher Ottmar Edenhofer, who has advised the chancellor on climate policy.
Although Merkel's government did get a lot done in the end, this was not through Merkel's proactive leadership, says Edenhofer. Instead, it was largely forced by the Fridays for Future protests, a landmark climate ruling by Germany's supreme constitutional court, and guidelines set by EU agreements. The government's last-minute achievements included a coal exit plan, a new climate law setting the target for climate neutrality by 2045, and a national carbon price on transport and heating fuels.
Merkel had often worked against "an incredible number of influences from all directions" and held her course during laborious processes like convincing the G7 and G20 leaders to aim for more ambitious climate targets.
Two years after she took office, German media started calling Merkel the "climate chancellor". In 2007, she made climate a theme of Germany's EU presidency and as host of the G8, she managed to elicit climate target agreements from both forums.
Climate action has been a big part of her political life since 1994 when she became environment minister. The following year Merkel presided over the first UN climate change conference, COP1, held in Berlin. There she developed her trademark negotiating style: overnight talks with sleep-deprived delegates that eventually culminated in agreements.
"When she was in the room with other heads of state and governments she was the one who really cared and understood why this was important," says Connie Hedegaard, first European Commissioner for Climate Action from 2010-2014, and former Danish environment and climate minister.
Merkel's special knack for finding compromise sets her apart from other world leaders. "Her approach is that you cannot move forward without compromise," says Andreas Rinke, chief Berlin correspondent for Reuters. "This distinguishes her from other politicians who tend to think in terms of victory and defeat." Rinke, who first interviewed her before she was sworn in in 2005, and over the years accompanied her on more than 50 foreign visits.
Several of these trips took her to China, Germany's most important trading partner in 2020, for the fifth consecutive year. In line with Merkel's search for compromise and efforts to keep diplomatic channels open, Germany under her leadership had a "pragmatic and pro-business approach" towards China.
However, China sticks out as Merkel's biggest foreign policy blind spot, according to Noah Barkin, managing editor at Rhodium Group and senior visiting fellow at the German Marshall Fund, in a collection of expert statements by the American Institute for Contemporary German Studies. The chancellor has been "too slow" to acknowledge the risks of the shift in China's trajectory under President Xi Jinping and adjust her policy accordingly, said Barkin.
Merkel's approach helped to keep dialogue open at the international level, even after she identified China as a hindrance to a deal at the Copenhagen climate COP in 2009. She has frequently highlighted that global challenges such as climate change could not be tackled without China. During Germany's EU Council presidency in 2020, she had aimed to put a focus on EU–China relations, but the coronavirus pandemic meant that the carefully timed in-person Leaders' summit to build momentum for the UN COP in Glasgow could not take place. Instead, several video conferences with a smaller circle of leaders put climate high on the agenda – including three-way calls between Merkel, Xi and French President Emmanuel Macron.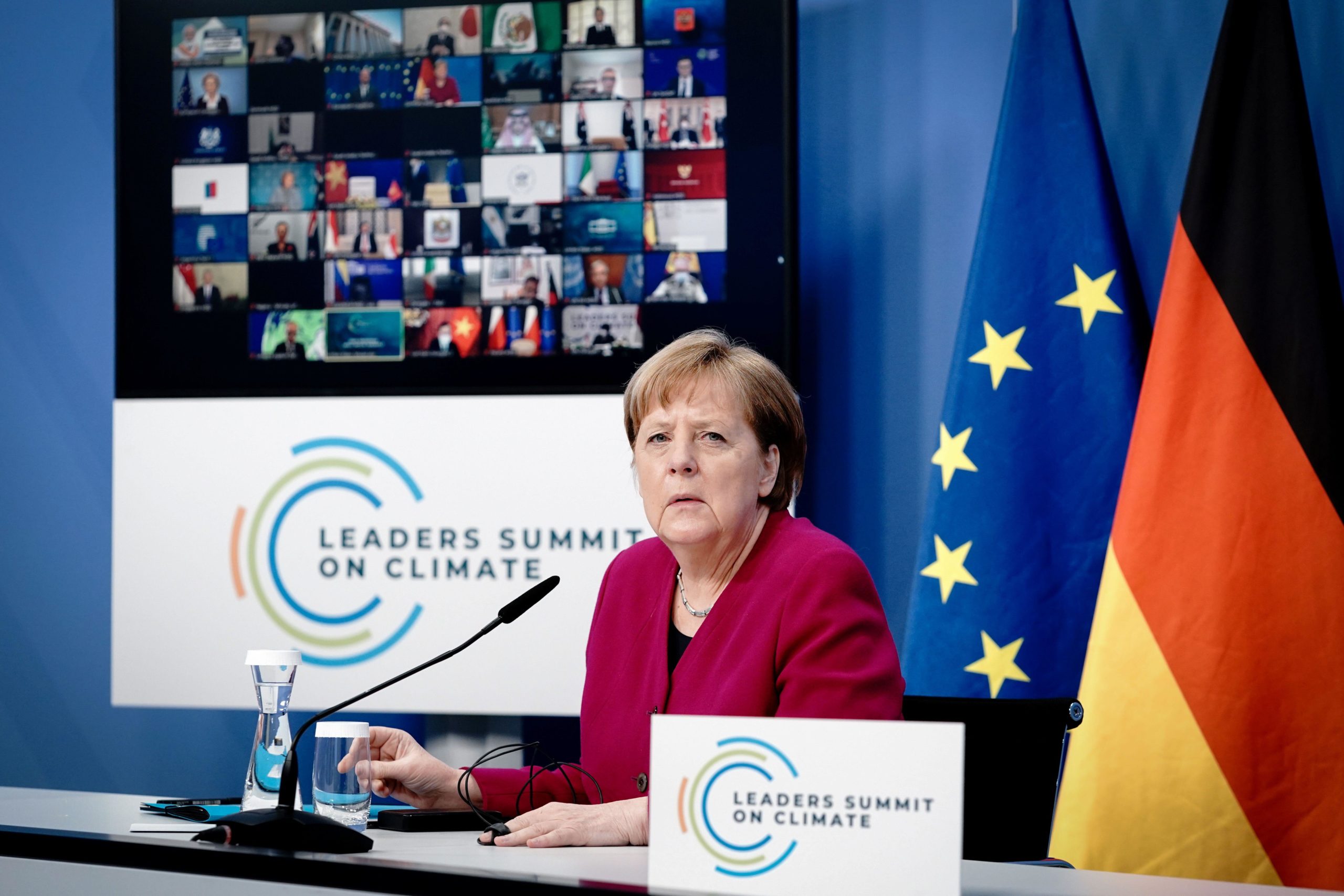 Merkel's style rankles with some. While supporters see it as a "model of rational, steadfast leadership", helping to steer Germany and the EU through many crises during her four terms, critics say she lacks vision or the will to push through grand ideas of her own. They accuse her of acting only when pushed, of procrastinating and dithering – waiting until a debate has unfolded and everyone weighed in before making any decisions.
Merkel's style has thus elicited few surprises in climate policy, says Rinke, with one notable exception: her government's flip-flop on nuclear plants after Japan's Fukushima nuclear disaster. Having just decided to extend their life, Merkel said Germany would quit the technology days after the disaster.
Fukushima changed her thinking, says Rinke. Until then, Merkel had thought of the technology as a more climate-friendly alternative with manageable risks. "It was surprising for many to see the determination with which Merkel reversed 180 degrees in the other direction."
Merkel's decision took other EU member states by surprise. "That was a very unilateral move, which a lot of neighbouring countries were not happy with, to put it mildly," recalls Hedegaard.
The energy challenge
As Merkel's last year in office draws to a close, her legacy may now be tainted by a strong rebound of emissions after the coronavirus crisis. Instead of presenting a perfect image of Merkel's goal of a green recovery, the rise would throw the country off course to meet its 2030 target.
Germany now faces huge energy transition challenges: it must urgently ramp up renewables expansion, kick-start the transition in industry, develop its power grid, tackle costs and become more digitalised.
When Merkel took office in 2005, the country's Energiewende – plan to transition to a low-carbon, nuclear-free economy – was already in full swing. The nuclear exit had been agreed by the Social Democrat and Green coalition after the 1998 election. By the time she became chancellor, Germany had already introduced feed-in tariffs for wind and solar and 10% of the country's power production was being generated by renewable sources.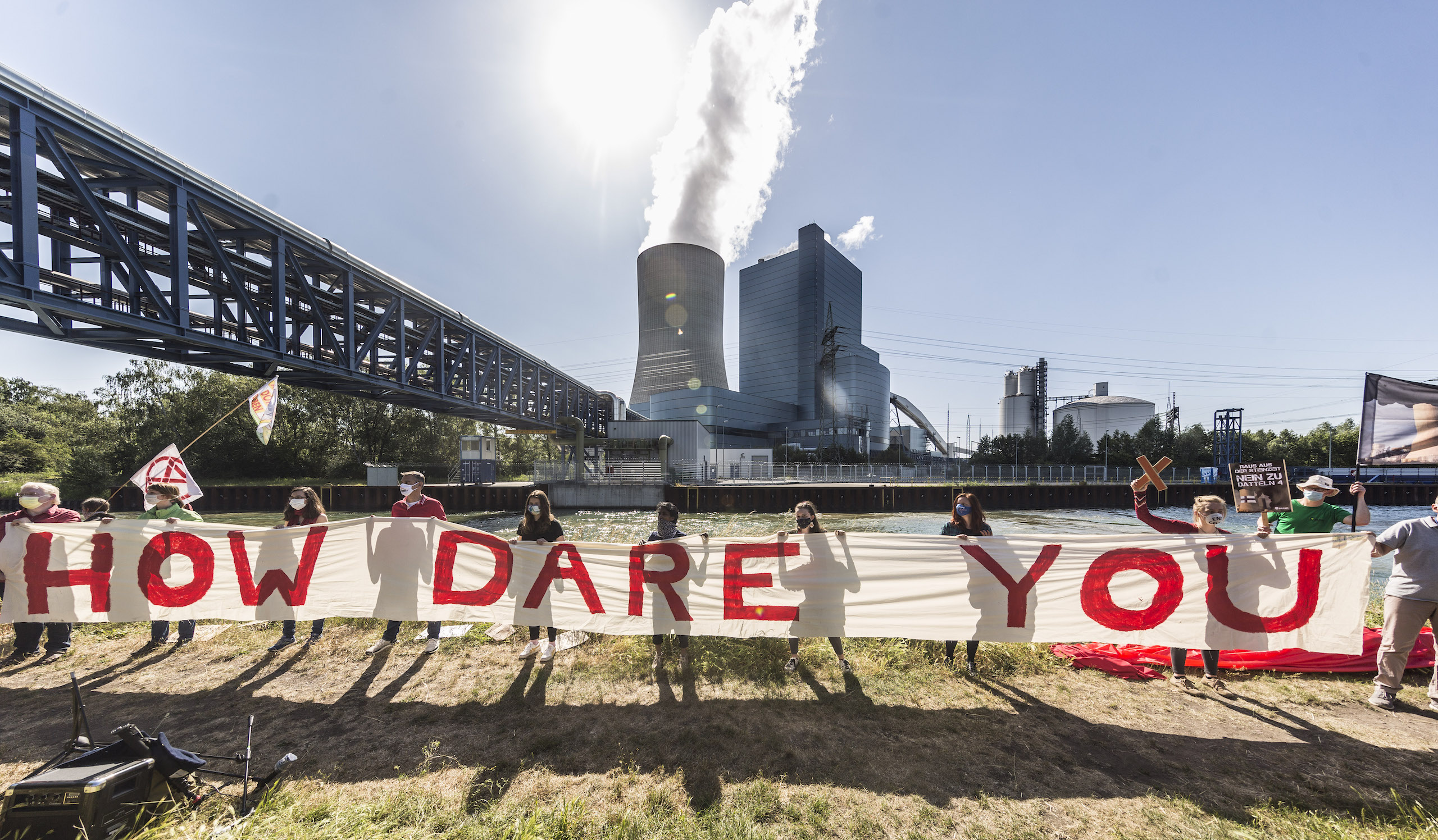 By 2020, this had risen to almost 45%. Installed generation capacity of wind, solar, biomass and hydropower rose from less than 30 gigawatts (GW) in 2005 to more than 130 GW today.
However, expansion of renewables has recently stalled, due to regulatory hurdles, long permit procedures and the auction system for renewables support, which Merkel's government had introduced to replace fixed feed-in tariffs. Since she took office, greenhouse gas emissions remained largely unchanged before a steady decline during her last term.
National interests and the 'auto industry chancellor'
Critics also say she has actively prevented more progressive decisions when national interests were at stake – especially those of industries like coal or cars. She was labelled the 'auto industry chancellor' after reportedly personally intervening in 2013 to prevent stricter CO2 limits for cars at EU level.
Hedegaard recounts: "When we finalised trilogue negotiations between the Commission, Parliament and Council about CO2 emission standards for cars in overnight talks in 2013, Germany was against it, but the agreement went through."
Later that day, however, "the German government made calls at very, very high level to other member state governments to make them change their minds," says Hedegaard. The process was delayed by a year until after the German election. "To me that shows that when really big German interests were at stake it was a tough power game."
This was also the case in relations to China. Critics have called Germany's China policy "automobile foreign policy". The industry has been the focus of many bilateral issues – including the debate over whether to allow Huawei to help build Germany's 5G mobile network. Merkel had been wary of alienating China for fear that this could hamper trade relations, especially in the automobile sector – despite a pushback from within her own party.
She has also supported the contentious Russian–German natural gas pipeline project Nord Stream 2 – in the face of heavy criticism from almost all European neighbours and international partners like the US, and despite the climate consequences of such a fossil fuel link, designed to last for decades. The reason is that Nord Stream 2 promises an abundant low-cost energy supply to German industry and consumers, write Matthias Matthijs and Daniel Kelemen in Foreign Policy.
Will Merkel be remembered as the 'climate chancellor'?
Researcher Edenhofer says Merkel's legacy as climate chancellor is as yet undecided. If future governments are successful in combatting climate change, then Merkel will be "judged and honoured as a precursor," says Edenhofer. If not, "her politics will be described as merely the art of the possible," says Edenhofer.
Having entered its final four weeks, the German election race is wide open as the Social Democrats have caught up with the conservatives in the polls, with the Greens trailing slightly behind. This could mean difficult and long coalition negotiations after the vote on 26 September – giving Merkel a couple more months to govern – albeit as a lame duck chancellor.
Looking ahead, the next government will pick up where she left off, with the G7 presidency 2022 and the EU negotiations on the 'Fit for 55' package of climate and energy legislation. The package will be difficult to get through the member states, especially some of the eastern countries, says former Commissioner Hedegaard. In her view, Germany must weigh in and a chancellor must be willing to spend time, energy and diplomatic capital. "It's really hard to see who else could fill that space. We need Germany to play a strong role."