Expectations were limited for this year's G7 summit in Taormina, Italy. The two-day informal gathering between Germany, France, UK, Italy, Japan, Canada and the US was unlikely to offer a strong signal on climate, unlike two years ago in Elmau, Germany, when the seven countries committed to decarbonising the world economy.
The conditions in Taormina were missing for such a commitment. For the Italian, French, British and US leaders it was the first such meeting with the other heads of state and governments.
Strong differences were expected given Trump's position on climate protection. Prior to his election as president, he repeatedly questioned the science behind climate change and announced that the US would withdraw from the Paris Agreement as soon as he was elected.
Since then, he has voiced no public opinion on the subject and his advisors are divided. Scott Pruitt, who leads the Environmental Protection Agency wants the US to leave the Paris accord, while the US Secretary of State and former Exxon Mobil chief Rex Tillerson is committed to the US remaining.
In Taormina, the other six leaders tried in vain to win Trump over to climate protection. By the end of the meeting's second-day, the US president stood isolated on the issue when the other countries reaffirmed their commitment to reducing greenhouse gas emissions. In contrast, the communiqué also said:
"The United States of America is in the process of reviewing its policies on climate change and on the Paris Agreement and thus is not in a position to join the consensus on these topics."
The issue of climate protection was also relegated towards the end of the final communiqué, illustrating the lack of unity on the issue.
The German Chancellor Angela Merkel tried personally to convince Trump of the urgency of climate action on the Friday evening. "In the context of climate protection, we have been talking to the United States of America," Merkel said, referring to German-speaking media.
Trump has so far not made any decision on whether to leave the Paris Agreement. EU diplomats saw this as progress. The US president was still in talks, had listened to the arguments and asked questions.
However, Trump appears to prefer his own communication channels to the formal joint declarations announced by states at such international meetings. On Twitter, he announced that he would reach a decision on the Paris Agreement this week.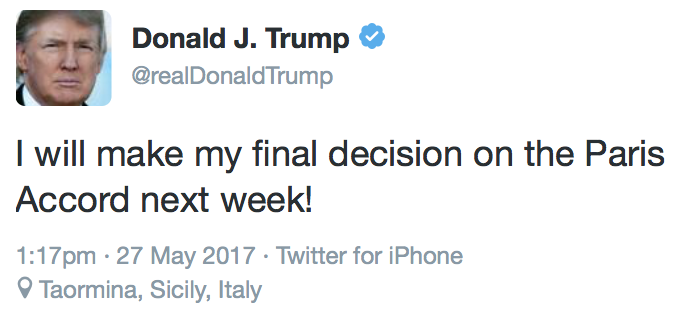 In other areas, the G7 made slight progress on trade policy, committing to action against protectionism and working jointly in favour of open markets and free and fair trade. Before the summit, Trump had announced protectionist measures for the US economy.
On migration, Italy was left dissatisfied. It had wanted to adopt a joint declaration on the positive aspects of immigration and measures to better cope with refugees, which it failed to secure.
This blog was originally published on Klimaretter.info.