A novelty football song surfaces before every major international competition that in English combines meat pies, sausage rolls and scoring goals with rhythmic predictability. In Nailsworth, a picturesque parish of scarcely 5,000 inhabitants nestled in the valleys of southwest England, local team Forest Green Rovers has severed the connection.
Forest Green, who compete in League Two – England's fourth tier – have challenged convention and even earned plaudits from the UN on the way to becoming the world's first fully vegan, carbon neutral football club.
"I like to think of it as serendipity," chairman Dale Vince says of his involvement with the club, unbothered by the sleet lashing the East Stand at the New Lawn, Forest Green's largely solar-powered stadium. Bright hoardings promoting dairy-free cheese, an oat-based milk alternative and Ecotricity, the renewable energy company Vince founded in 1995, skirt its organic pitch.
The story of Vince, 58, who left school at 15 and lived itinerantly for years in a van with a wind turbine, is part of local folklore. He installed his first turbine on the hills overlooking the New Lawn in 1996. Only in 2010, as the 125-year-old club faced relegation from a regional league and financial ruin, did Vince, by then a millionaire, begin a formal association. He soon undertook to neutralise the club's carbon footprint.
"I had to bring all of our learnings in energy, transport and food, our ethics and our sustainable approach to actually create a green football club," he tells China Dialogue.
Forest Green: the vegan football team
A meat ban seemed a logical early move. The livestock sector is responsible for about 15% of all planet-warming gases released into the atmosphere via human activity.
In 2015, Forest Green replaced their beef burgers with vegetarian equivalents, upsetting a minority of fans. But Vince says the carnivores' distaste didn't last: "They came, they tried it, they loved it. Our attendances have quadrupled in that time, our food sales gone up fivefold."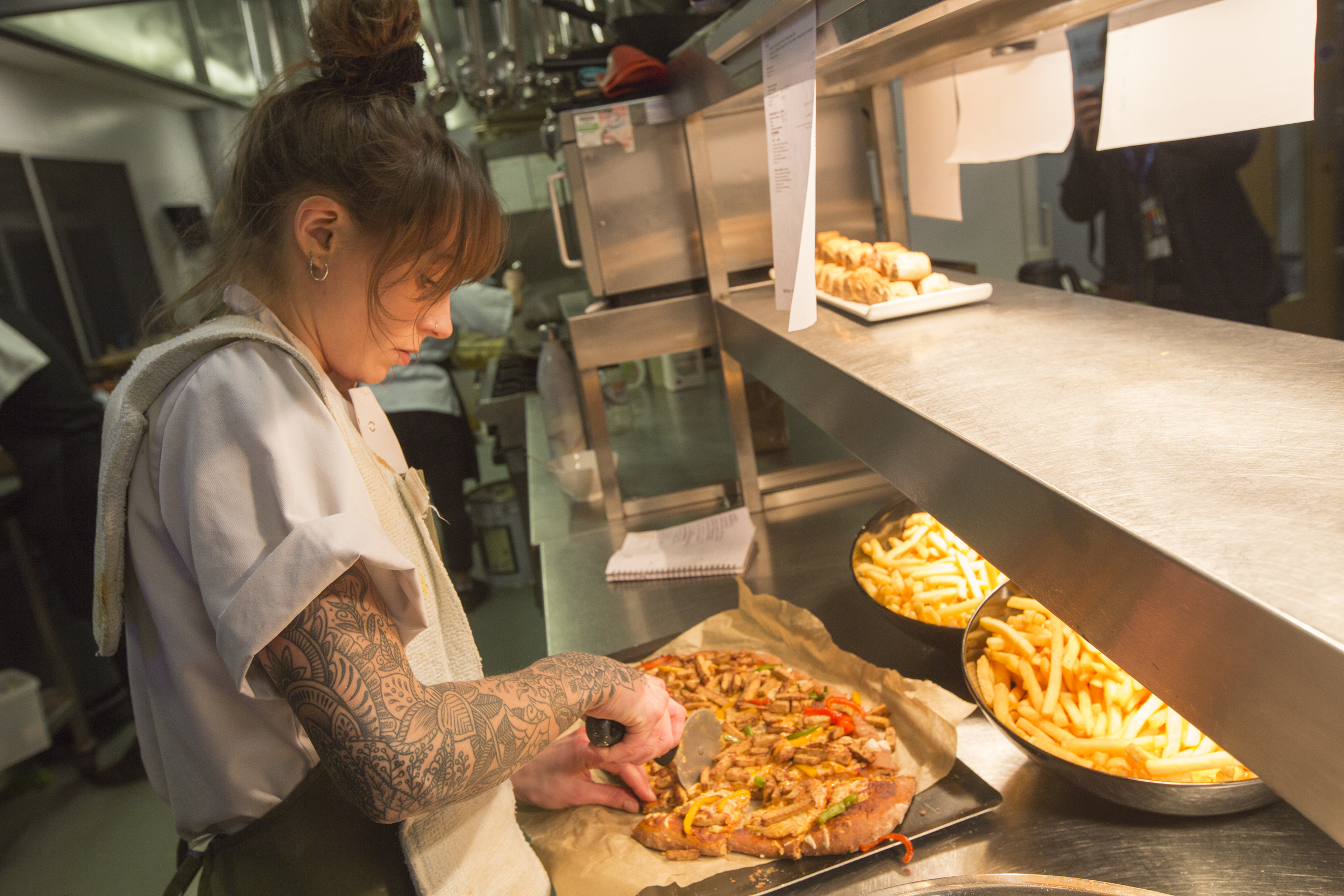 Forest Green's status has also risen sharply, in both football and media terms. Never has the club played in a higher league, and Vince aims to take it to the Championship, one step below the Premier League. The local council recently approved a new 5,000-seater stadium, the Eco Park, a state-of-the-art timber construction designed by world famous architects Zaha Hadid. Vince says it will be "the world's greenest stadium".
Long-time Forest Green fan Katie Hyde, 40, says the lack of beef burgers was the first major change she remembers on Vince taking over: "It's a culture thing. It's people's mindsets… we're all a bit stuck in our ways." But she has since embraced the culinary overhaul.
Advertising revenue at Forest Green is also up: "We've never had so many companies want to sponsor us," Vince says, gesturing at brands such as soy-based food producer Quorn, whose TV commercials in the 1990s featured Manchester United icon Ryan Giggs.
A lot of people haven't grasped the urgency. We have ten years and if we don't start now it's just going to get harder
Dale Vince
Premier League team Chelsea recently introduced an entirely vegan menu at one of its kiosks. But elsewhere at English grounds, animal-based snacks, such as those supplied by 56-year-old manufacturer Pukka Pies, have long been ubiquitous. Pukka Pies also sponsors professional clubs, including Oldham Athletic, where the "meat pie, sausage roll" song originates.
Meat prohibition extends beyond serving supporters at Forest Green, who Vince says are only expected to suppress a taste for animal products for two hours once or twice a fortnight.
As for players, none can eat or bring meat on club premises.
For club captain Joe Mills, 30, it has been a rewarding learning curve.
"When you come into football, it's all chicken and eggs," he says. But Mills is one of a handful of players to fully convert to veganism. He belies the stereotype of the arrogant, uncaring footballer: "If we are able to leave the planet in a better state than when we came onto it, then why shouldn't we?"
Mills echoes elite footballers including Arsenal's environmentally conscious fullback Hector Bellerín, who has also adopted a plant-based diet. Mills says other Premier League footballers have approached him for tips.
Forest Green's fitness coach and nutritionist Tom Heulin says the performance advantages of veganism are clear: "Plant-based food is much quicker to digest when you're playing sport and exercising."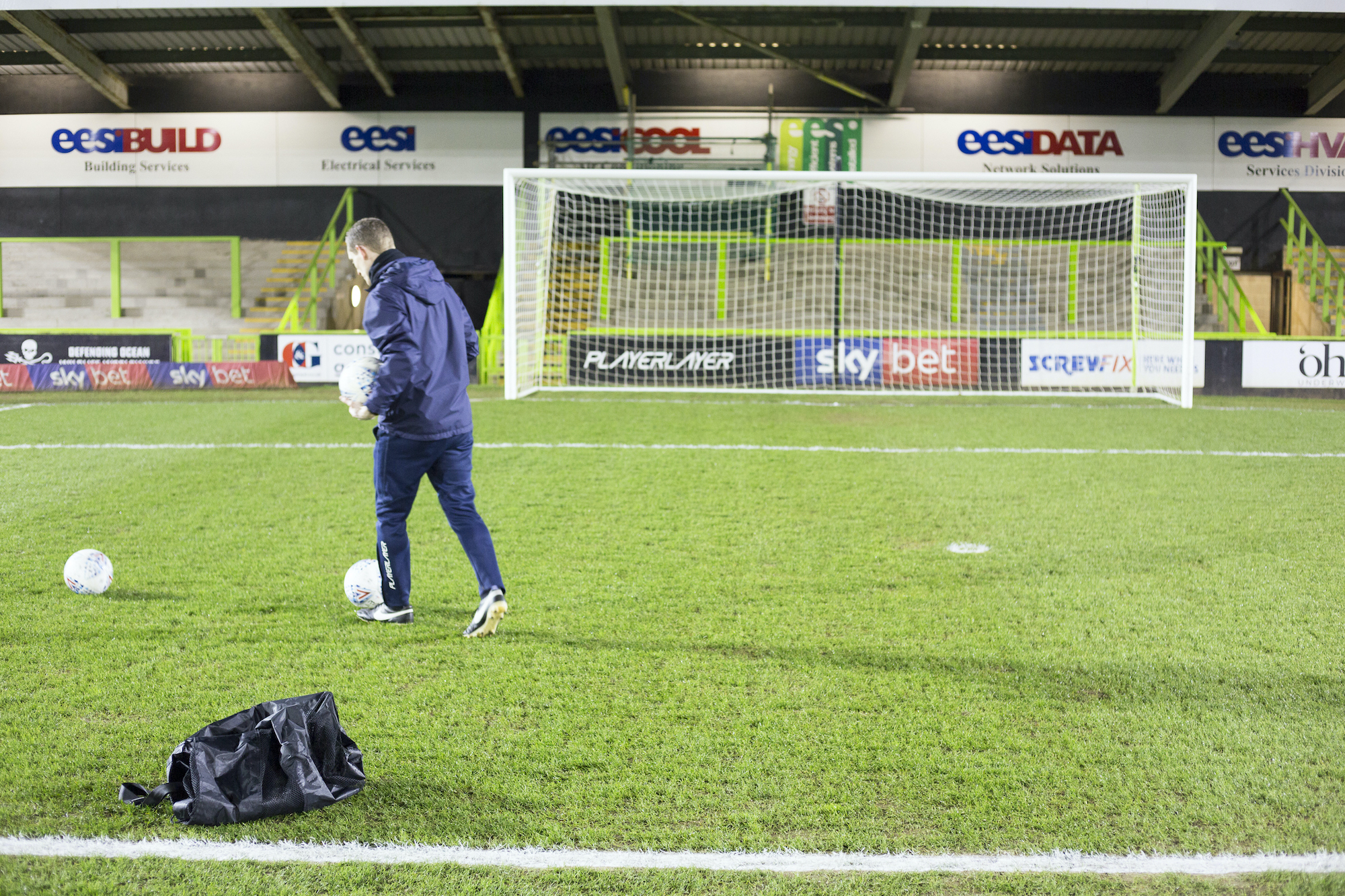 The club doesn't enforce veganism outside its grounds but always promotes the benefits. Its efforts have not gone unnoticed.
A vegan circus?
It's matchday at Forest Green and French and Swiss TV crews tour the facilities, sampling the locally sourced cuisine. For a lower league club, the media operation is impressively slick. But at no point does anyone "preach" veganism.
Opposition supporters have hurled accusations of "tree-hugger" (along with ham sandwiches and inflatable pigs) at players during games, according to fan Joe Hill, 36. But disparaging Forest Green as whimsical nature lovers doesn't hurt Hill, who, prior to the postponement of the league due to coronavirus, was most concerned with the club's form, injury list and proposed move to the Eco Park some 20 km away.
"What you get is: 'Forest green fans eat all the grass. That's why there's no grass on the pitch. Because all the vegans have eaten it,'" he laughs.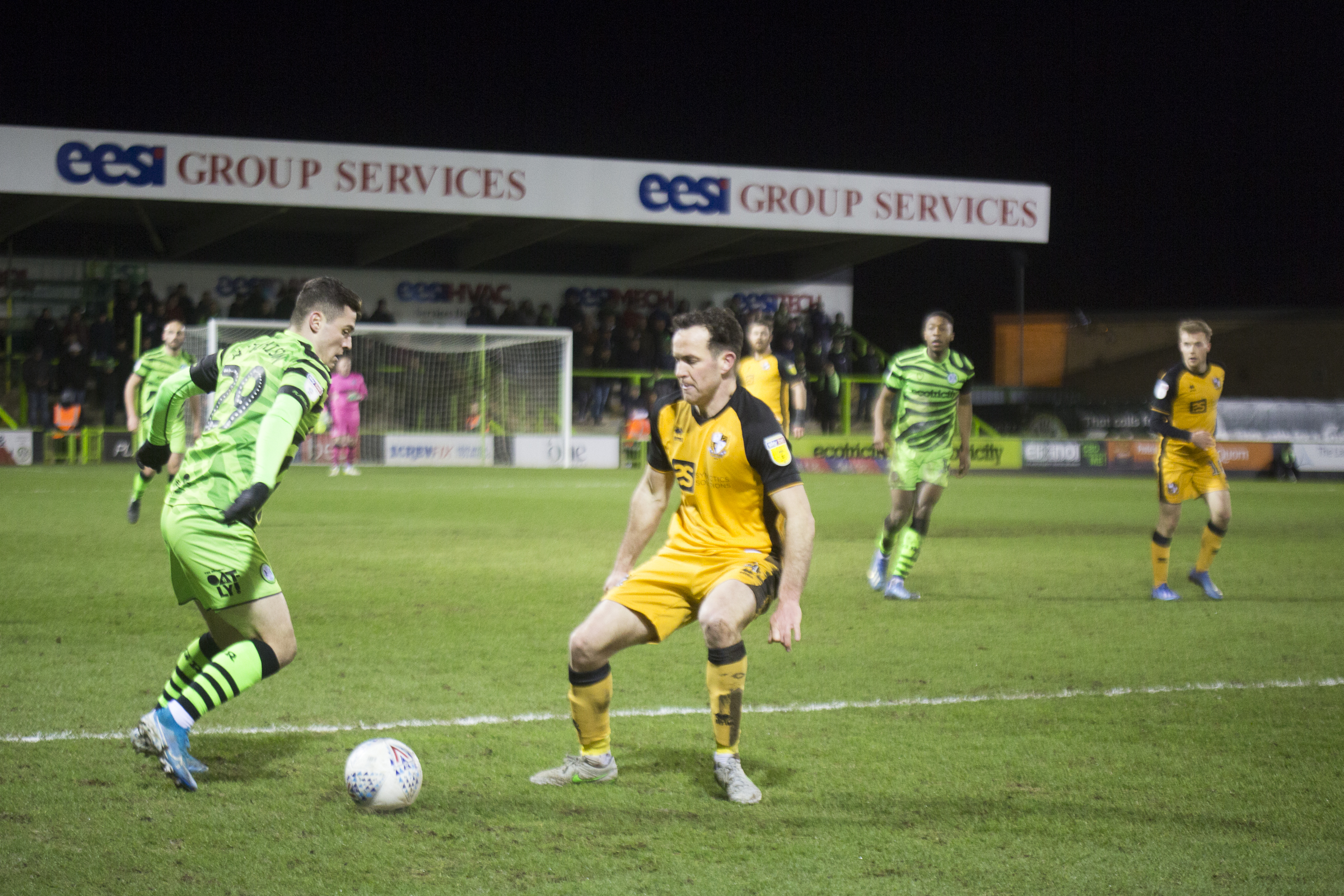 These taunts, however light-hearted, feel outmoded as popular attitudes towards veganism and sustainability warm. Meanwhile, the UN has given Forest Green special recognition. Vince is now an ambassador for the UN's Sport for Climate Action initiative, targeting fan bases with messages about low-carbon living.
Some of Hill's friends and fellow Forest Green fans ("the ones you wouldn't expect") have become vegan or vegetarians. The message is getting through.
Groundsman Adam Witchell, who feeds the grass a chemical-free diet, perhaps best exemplifies the club's incremental and un-sanctimonious approach.
"Under the soil there are a lot of microbes, we try to feed them little and often to keep them busy and active. The more they eat and excrete will help the roots go down," he says, explaining that deeper roots enhance grass's capacity to store carbon below the surface.
Witchell likens the effects of using chemical plant feed to those of steroids on the human body: "If you then miss out [a dose], your body will wilt. And that's when infection comes in."
If there is a downside to omitting chemical products, it's that pre-season weeding can be painstakingly slow: "It takes about a week, with four of us on our hands and knees – with just a fork."
Witchell constantly reviews operations and seeks to make small gains. He now recycles water, uses grass cuttings in eco-friendly handwash in the club's toilets, and plans seed deliveries long in advance to cut packaging and transport.
Transport challenges
In 2019, the 20 players shortlisted for the Ballon d'Or prize, which honours the best footballer of the year, were responsible for emitting some 505 tonnes of carbon via travel that year, equivalent to burning around 20 tonnes of coal, according to researchers at the University of Manchester.
Brazilian internationals Marquinhos (110,787 km) and Roberto Firmino (97,907 km) travelled furthest. Private jets contributed heavily to players' footprints.
While Vince says many of Forest Green's lessons are transferable to teams in bigger countries, he is pragmatic about the travel challenges they and their fans currently face.
"It's important not to worry about what you can't do, but focus on tackling the things you can. Across energy, transport and food, there's a lot that every club can do," he says, identifying the potential of Chinese-pioneered electric buses to precipitate a sustainable transport future.
Forest Green's car park is equipped with charging stations for electric vehicles. And the club also compensates for carbon emitted by fans travelling to games by factoring an offset scheme into ticket prices. Proceeds are re-invested in carbon mitigation elsewhere.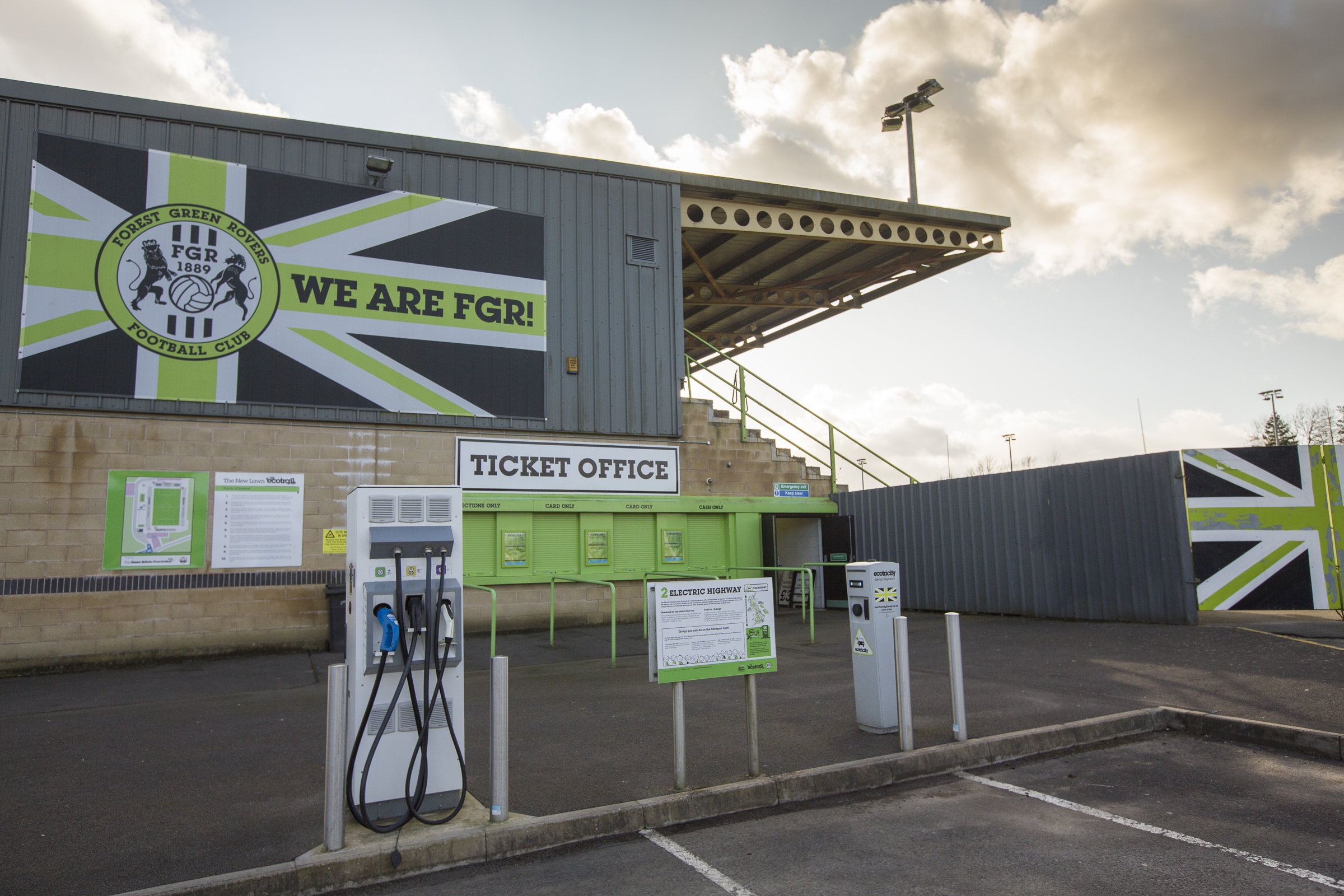 Vince dismisses claims that the transition to a cleaner economy is necessarily expensive: "There are some things you have to buy, like solar panels… but then you save on your energy bills every year for 20 years," he says. "It's swapping capital investment for operational expenditure. It's just a different way of looking at things."
Urgency and resistance
Vince is a highly successful businessman with a simple message. In the microcosm of Forest Green Rovers, a seamless green transition feels imminent.
So, what's holding it up?
Vince believes "businesses don't want to make the change, members of the public are resistant to change and politicians don't want to force big change on voters. There's resistance in the system."
"A lot of people haven't grasped the urgency. We have ten years and if we don't start now it's just going to get harder," he says, nodding to the Intergovernmental Panel on Climate Change's landmark 2018 study urging immediate action.
With sport and other areas of UK culture including fashion and music festivals "only just getting started" in efforts to curb carbon emissions, they should share experiences before the country hosts postponed international climate talks, known as COP26, Vince says.

His message to world leaders ahead of the next round of negotiations, which broke down in Madrid in December, is characteristically clear:

"We have renewable energy. We have the possibility to electrify transport, and we need to move from eating animals to eating plants. If we can do that, we solve the problem."
This article was originally published on Diálogo Chino