In an anonymous high-rise hotel in Birmingham, a group of 110 strangers has gathered to sort one of the thorniest problems facing Britain today: how to reach net zero.
Last year, the government pledged to cut the UK's greenhouse gas emissions to an overall zero by 2050, with any stubborn emissions negated by tree planting and other more technical means. Britain was the first major nation to set such an ambitious target but reaching it will require a major rethink of the way the country is run and how people shop, travel, eat and live.
In a bid to come up with practical ways of meeting net zero, six committees comprising members of parliament from across the political parties set in motion a "citizens' assembly", the event currently taking place across four weekends in Birmingham. It is the first time such an exercise has been used in the UK to influence national climate policy.
Citizens' assemblies, sometimes called "reference panels" in Canada, are becoming increasingly popular in democracies around the world as a way of securing popular support for difficult decisions. In Ireland, for instance, a citizens' assembly was set up in 2016 to crunch matters dividing the country, from abortion to the future of the constitution. In Paris, an assembly on climate change is currently taking place in a palatial building on the banks of the river Seine. And in Japan, NGOs are urging the Abe government to hold a public consultation that could generate bolder climate targets.
Every citizens' assembly is unique but most share characteristics. Ordinary people are brought together to discuss a big problem and decide how best to solve it. Participants are selected at random, but care is taken to ensure that the assembly reflects the makeup of society at large. At the assembly in Birmingham, for instance, 22.7% are aged between 16-29, which more or less reflects the proportion of people in that demographic in the UK (21.7%). The organisers of the assembly also ensured that there is a spectrum of views about climate change amongst those chosen to participate. If all the citizens picked were, say, fervent environmentalists or embattled climate-change deniers, the recommendations the group would come to would be skewed.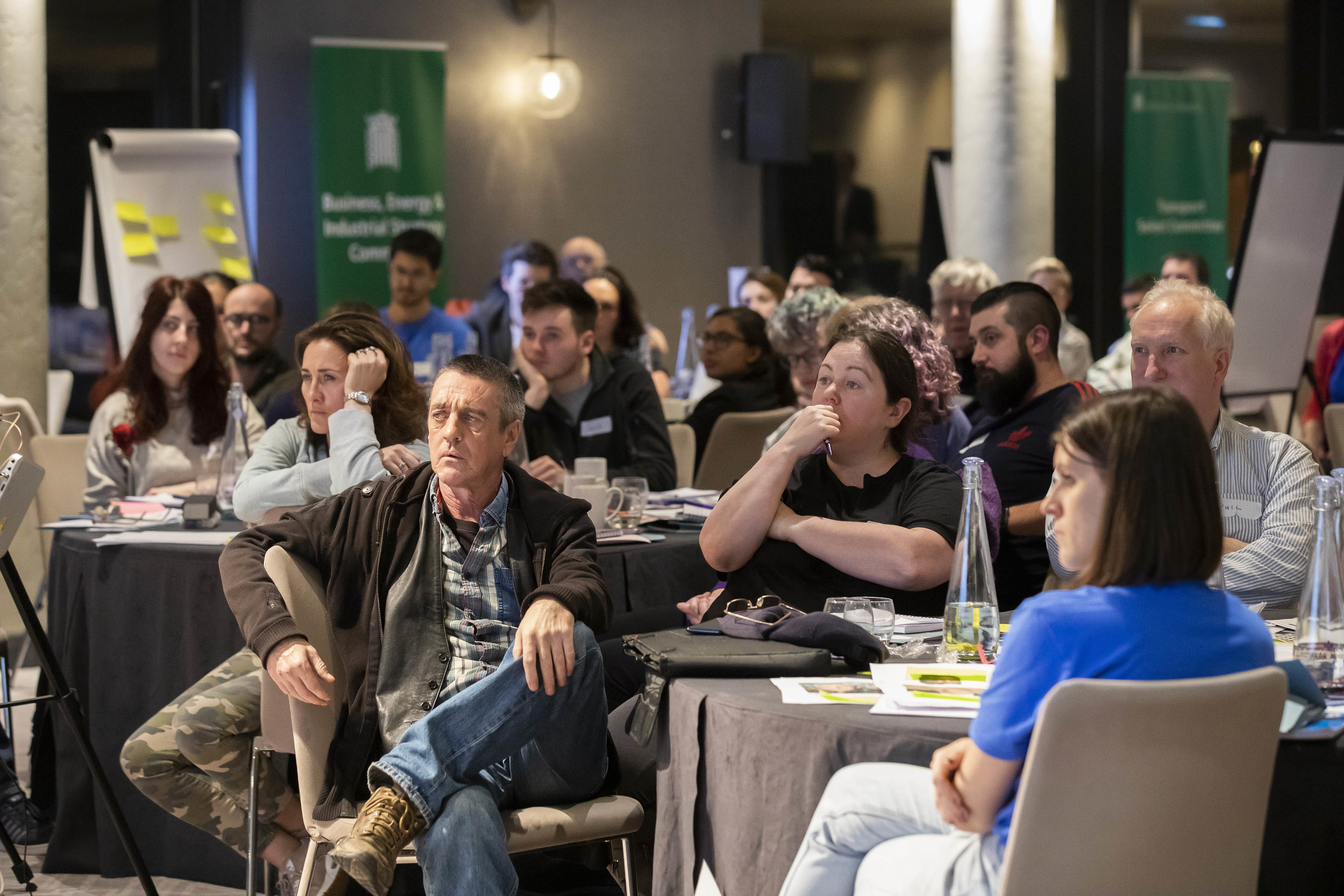 Participants of the citizens' assembly on climate change listen to a presentation (Image: Fabio de Paola / PA Wire)
"It's been really eye-opening," reports Ellie, a 21-year-old graduate at the assembly. "Meeting such a diverse group of people is interesting. Everyone's coming at the issue from different angles, with different motivations and stories behind them. It's really good fun."
Each day, she and the rest of the assembly members listen to experts from the best universities who are there to explain the situation facing the country and to set out ways forward. After every talk the members discuss what was said in groups and ask the experts questions. Topics range from what sort of food we should be eating to whether it is wise to stash excess carbon in the ocean. A talk I attend, for instance, is on how to make Britain's transport system greener – should the UK expand its fleet of hydrogen cars or focus on hybrid vehicles? Should we stop building roads? Another presentation examines cities in Europe that have either free or popular public transport networks, which can disincentivise personal car use. Information is imparted in clear and accessible language to ensure that no one in the room is left behind.
Chris, a 32-year-old mechanical engineer from Oxfordshire, tells me that he was "sceptical" about the assembly when he got a letter asking him to take part. While he accepts that carbon in the atmosphere causes global warming, he resents the panicked rhetoric that encases the debate. "Looking at it as a climate crisis is irrelevant to me," he says. "Crisis is an antagonising word." Yet Chris wants his two children to breathe cleaner air and he appreciates having been given the opportunity to shape their future.
It's really important that we achieve net zero in a way that brings people with us, rather than terrifies them.
In April, the four weekends of consultation will be over and the assembly will deliver its recommendations to parliament, setting out what actions are needed to reach net zero. There is no guarantee that Boris Johnson's government will pay much attention. It wasn't the prime minister's idea to have a citizens' assembly, and he is not thought to be that interested in climate change. There is a real possibility that the citizens' ideas – and their time – could go to waste.
I put that possibility to Hamish, a 48-year-old from rural Aberdeenshire. Would he feel betrayed if the assembly resulted in no tangible change? "In the end, I'm not a baby," he smiles. "If they decide not to accept our recommendations, okay. But the decision to reach net zero by 2050 has been implemented in law, so it's up to them to reach that target."
Hamish has his doubts about how much impact a greener UK could actually have. When huge economies like India, China and the US are not taking drastic action to slash their emissions, he points out, how much of a difference can the UK realistically expect to make?
I ask Hamish whether his mind has been changed by any of the experts he has heard from so far. He nods. "I spent 20 years working in oil and gas. I was sceptical about how much impact mankind's CO2 emissions was having, to be honest, because it is a trace gas in the atmosphere." But his mind was changed by the weight of scientific evidence presented to him. "I was persuaded that we were having a significant impact." He adds, with a grin, that it was "nice" when David Attenborough came to the assembly on the first weekend to thank the citizens for taking part. "He looked like he does on the TV," Hamish tells me.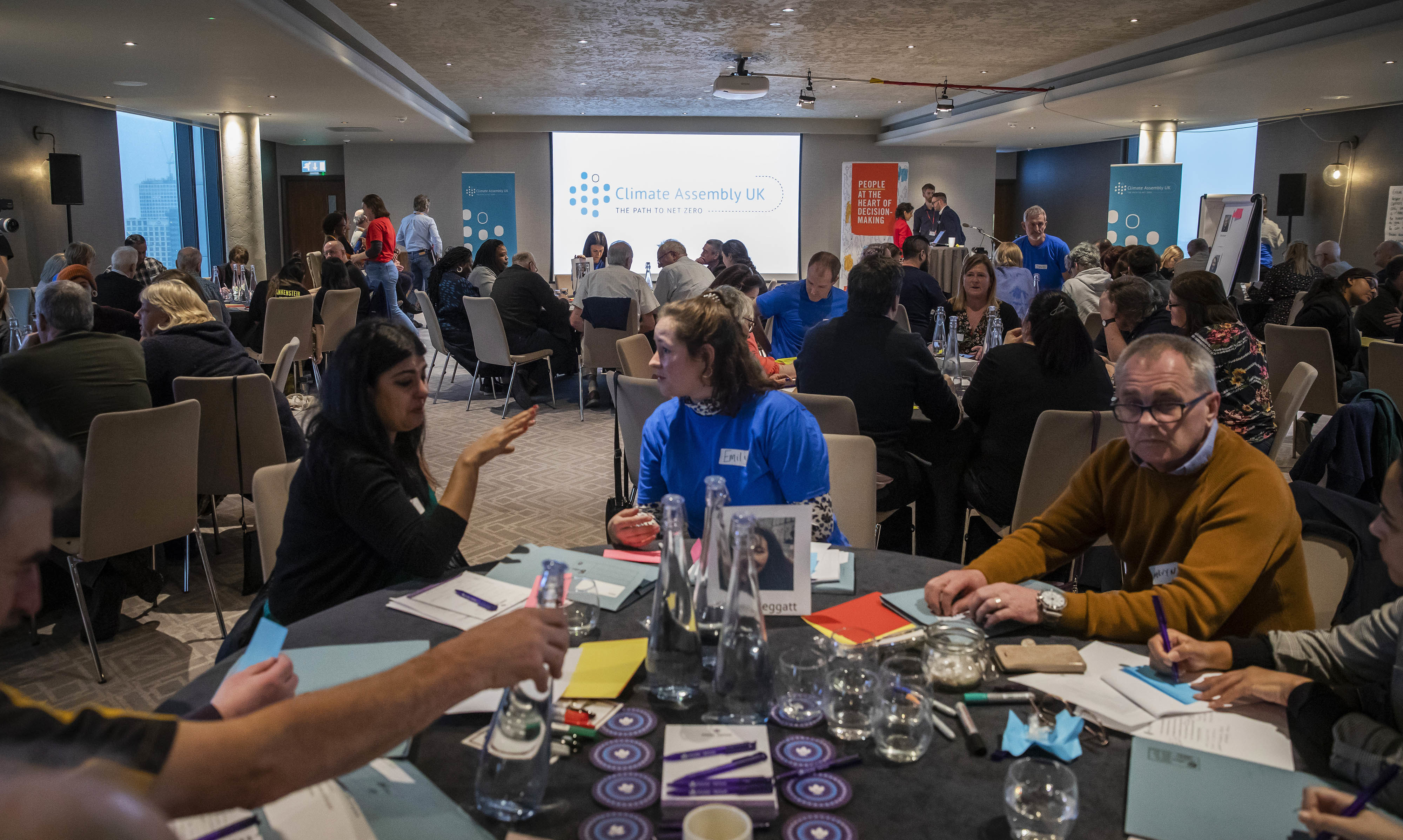 "I am still concerned about climate change but to be part of the decision-making process around it has been empowering." (Image: Fabio de Paola / PA Wire)
Vicky Ford, a Conservative politician, takes some time out of her weekend to pop into the assembly. She is one of the MPs that pushed for it to take place. I ask for her impressions. "I didn't know what to expect and I'm actually really impressed by how seriously the participants are engaged," she tells me. "The experts are really knowledgeable and they're not shying away from the complicated issues."
I ask why she wanted the citizen's assembly to take place – it seems slightly counter-intuitive to be outsourcing decision-making to members of the public; isn't that what MPs are for?
"Climate change is the biggest issue that we face," she says flatly. "I think it's really important both that we achieve net zero, but that we also do it in a way that brings people with us, rather than terrifies them."
Reaching net zero by 2050 will be a mammoth task for both politicians and ordinary people alike. Britain's democratic system rewards short- and medium-term thinking over long-term, potentially unpopular change. Yet the great advantage of this citizens' assembly is that it sits outside of party politics. When the recommendations are made, they will not have emerged from one side of the House of Commons chamber, but from a representative sample of the public.
One Northern Irish father I speak to, Adrian, tells me he has been struggling with "eco-anxiety" for some time. Taking part in the assembly has been therapeutic, he says. "An anxiety comes from not knowing what to do. If you do know what to do, it diminishes. I am still concerned about climate change but to be part of the decision-making process around it has been empowering."