Climate activism in the UK has exploded this year, engaging record numbers of people, from thousands of schoolchildren to a 91-year-old arrestee in Dover.
Extinction Rebellion burst onto the scene demanding government plummet emissions to net zero by 2025. In a scorching summer that saw temperatures reach 38.7C in Cambridge – a UK record – politicians registered a deepening public unease. Just before stepping down as prime minister, Theresa May committed the country to carbon neutrality by 2050. Members of the Labour party then backed a motion to achieve the same by 2030, and the party may well include the pledge – long advocated by the Green Party – in its next manifesto.
But can a party standing on an urgent climate policy platform win an election? And are people willing to make the necessary lifestyle changes – to what we buy and eat and how we get around?
Filmmakers, writers, musicians, artists can play a part in answering these questions. Through their stories they hold up mirrors to the way we live, satirising the absurd aspects (see Carnist by Simon Amstell), highlighting our embeddedness within natural systems, envisioning more regenerative societies.
This may seem woolly but such narratives have real-world impacts. In her book Doughnut Economics, Kate Raworth shows that the more economics students are taught to see human nature in the mould of classical economics – rational, self-interested, competitive – the more they begin to value those traits over altruism and cooperation, and behave more selfishly themselves. "Our beliefs about human nature help shape human nature itself," says another economist, Robert Frank.
Given that stories form as well as reflect our attitudes, the creative industries should perhaps be doing more on climate. Though the idea of prioritising nature and climate in everyday actions is gaining traction, it remains pretty fringe. In the US, the rapper Lil Dicky tried to mainstream it in April with "Earth", a planetary love song featuring Ariana Grande, Justin Bieber and Leonardo DiCaprio which has been viewed 200 million times on YouTube.
With some notable exceptions, novelists have been slow to engage with climate change. Climate fiction, or "cli-fi", such as Barbara Kingsolver's Flight Behaviour (2012), can help people contemplate the unfolding crisis in a way climate models and statistics cannot. This year, John Lanchester added to their number with The Wall, which chillingly imagines a beachless UK entirely surrounded by a 10,000km vertical fortification to keep climate migrants out. The clif-fi genre has been gathering steam in China too, through pioneers like Xiaolu Guo.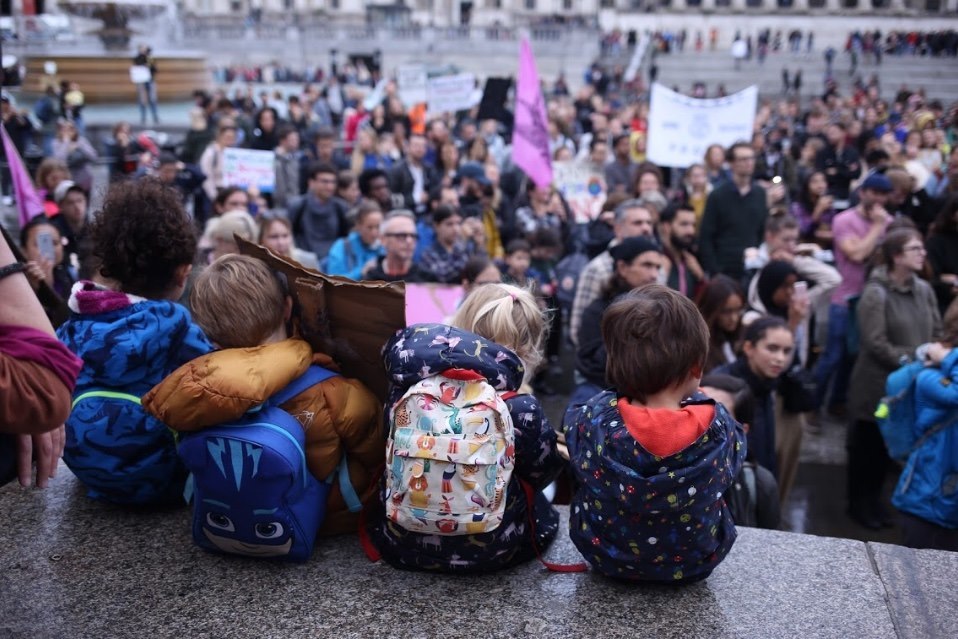 Rally for the Imagination, London, 27 September (Image: Culture Declares)
More and more people in the arts feel it's time to speak up and get involved. In April, a few high-profile UK museums, theatres and creatives made a declaration of climate and ecological emergency – Culture Declares – having been inspired by Extinction Rebellion (XR) and the school strikers. Last week, the Royal Shakespeare Company announced it would sever its sponsorship deal with BP following pressure from the group Culture Unstained and the resignation of legendary actor Mark Rylance. When he left in June, Rylance said the deal had let BP "obscure the destructive reality of its activities". More recently, schoolchildren also came out strongly, saying they would boycott the RSC until its relationship with the fossil fuel giant ended.
On the heels of Culture Declares came Architects Declare, which stated in its manifesto the need to do much more about the 40% share of global CO2 emissions coming from buildings and construction. The movement aims include accelerating "the shift to low embodied carbon materials in all our work". Hundreds of practices have signed up.
As for XR, such a driving force behind the breaking wave of climate consciousness, more than a thousand "arrestables" have put their bodies directly on the line. But with its punk pink boats, garden bridges, skate ramps, museum die-ins and funeral processions, XR's success in disturbing the general complacency has been as much about theatre as civil disobedience.
Young activists from Stockholm to Nairobi and Melbourne to Bangkok have also been pushing the climate crisis up the political agenda by turning Fridays into a weekly protest. An opinion poll carried out a few days before the Global Climate Strike of 20-27 September suggested that people in seven out of eight polled countries now rank climate change as the most important issue facing the world, ahead of migration, terrorism and the global economy. In the UK, 64% of people agreed with the statement "Time is running out to save the planet".
There has also been a sharper focus on how societies will adapt to a more volatile climate system. In a recent interview Microsoft founder Bill Gates said of the Paris Agreement aspiration to limit global warming to 1.5 degrees: "We're not in that universe, period." More people are coming to see the situation in these terms, with the so-called "deep adaptation" movement gaining traction. People are asking what on the planet and our way of life do we want to save? What would and could a better society look like? How can we bring it about?
These questions are as much for culture makers as they are for policymakers. XR's next big push is the International Rebellion, starting on Monday 7 October, which seeks to "peacefully occupy the centres of power and shut them down until governments act on the Climate and Ecological Emergency". Around seven million people took to the streets for the Global Climate Strike. Such numbers reflect a fast-growing appetite for change which we can only hope is met with urgent action from individuals, businesses and governments alike.
As Naomi Klein put it recently: "I don't see this as either we do it all or we should all just give up and drink ourselves to death. I think it all matters because every quarter-degree is hundreds of millions of lives, if not more."