Perched on a steep hillside overlooking Regent Village in Freetown is Mortomeh, a densely packed community that was once brimming with life. Behind this urban suburb of Sierra Leone's capital stood lush green forest full of biodiversity. The view was breathtaking, but not any more.
On 14 August 2017, part of the hill collapsed, bringing down huge piles of earth and boulders on top of Mortomeh. Over 1,000 people lost their lives that morning, with thousands more displaced and millions of dollars' worth of damage to property and infrastructure. Abnormally heavy rainfall was the main cause of the tragedy, echoing examples from across the world of the worsening impacts of extreme weather as global temperatures rise.
In Sierra Leone, the effects of climate change are already being felt through unusual rainfall patterns, rising sea levels and heatwaves. In the capital, the impact of these changes is aggravated by deforestation and poor urban planning, which increases the risk of flooding and landslides and reduces shade.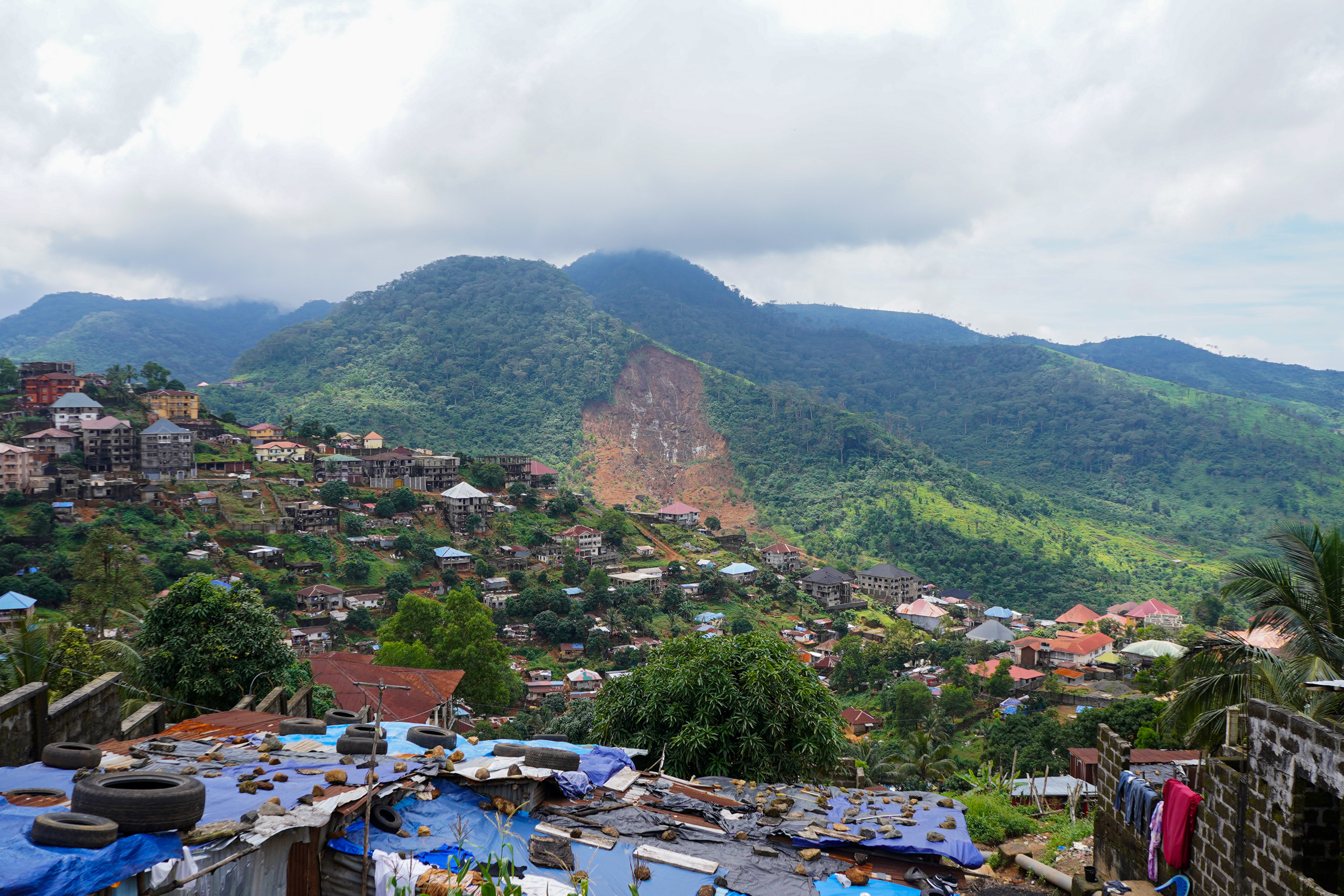 In August this year, heavy rain again caused flash floods and landslides in parts of the city, killing dozens and displacing hundreds. According to USAID, flooding alone accounts for 85% of disaster-related mortality in Sierra Leone, followed by landslides and storms.
High levels of rural to urban migration, driven in large part by the negative impacts of changing weather patterns on farming, is contributing to the growth of informal settlements and rates of deforestation around the city, exacerbating the risk of tragedies such as the 2017 landslide.
Freetown's population doubled over the last two decades, now standing at over 1.2 million and continuing to grow. Around 35% of the city's population live in informal settlements. These sprawling communities are often built on reclaimed land and with substandard building materials.
In the face of these problems and the mounting impacts of climate change, Sierra Leone's updated national climate plan (known as a nationally determined contribution, or NDC) estimates that the country will need to spend US$1.1 billion between 2021 and 2030 for adaptation needs alone.
Local leaders will be at the front line of planning and implementing the adaptation required.
Currently, 85% of funding towards climate action is going to the global north. That needs to change.
Freetown Mayor Yvonne Aki-Sawyerr
In 2020, Freetown Mayor Yvonne Aki-Sawyerr launched the "Transform Freetown" initiative, her flagship mayoral programme with 11 priority sectors, including environmental management and urban planning. As part of this, under the #Freetown-the-Treetown campaign, Aki-Sawyerr set out to increase vegetation cover around the city by 50% over two years. She hopes that by October next year, her target of planting 1 million trees will be achieved.
"A million trees in two years will not fix the climate challenge we face, but they will reduce the risks of landslides and flooding, [and] they will reintroduce biodiversity and protect our water catchments," the mayor tells China Dialogue.
Mayor Aki-Sawyerr's efforts to find solutions to this is just one example – governments and local leaders across the continent are stepping up to do the same. Last week at the UN climate conference in Egypt, a panel of elected representatives from across Africa highlighted the importance of action and engagement at the local level.
But local solutions will only go so far. As the continent hosts COP27 in Egypt, Africa's position within the global climate crisis has come into sharp focus. What are the continent's expectations and demands?
Mayor Aki-Sawyerr notes that the flow of climate finance from the developed to the developing world will be key for Africa's fight against climate change. According to the African Development Bank's most recent economic outlook, the continent requires between US$118.2 billion and US$145.5 billion in climate finance per year up to 2030.
"Currently, 85% of funding towards climate action is going to the global north, and that needs to change, because there has to be equity and justice in the way we respond to climate," she says.
Africa has contributed just 3% to cumulative global carbon emissions since the beginning of the industrial revolution. In contrast, the US, Europe and China have contributed 25%, 22% and 12.7% respectively. Yet Africa is experiencing some of the most devastating impacts of the changing climate.
China Dialogue spoke with Mayor Aki-Sawyerr ahead of COP27.
Video filmed and edited by Abdul Samba Brima.