Indonesia generates nearly 7 million tonnes of plastic waste each year but only 10% of that is recycled. The proportion is even lower in rural areas due to a lack of collection facilities. Waste is often burned or dumped on vacant land, and into rivers, lakes and seas.
Editor's note
This article was co-produced with the Wilson Center and first appeared on their New Security Beat blog 
Meanwhile, 3.7 million pemulungs (the Indonesian word for "scavenger") collect unsorted waste that includes plastic. "The industry needs to sort and clean the plastic waste before recycling it," said Wilson Pandhika of the Indonesian Plastic Recyclers in a webinar, explaining that this increases the cost of the process.
To help informal waste collectors do their jobs and receive better payment, several apps have sprung up linking them directly to customers and redrawing negative stereotypes prevalent in Indonesia.
Pemulungs collect more plastic waste than government facilities collect. But despite their crucial role, they continue to suffer from precarious work conditions and stigma. Underpaid and without job security or health coverage, many are perceived as a social problem and often denied entry to residential areas, further hindering waste collection.
Public policy analyst Angeline Callista of the Asia Group Advisors wrote in a Jakarta Post article that granting waste pickers legal status and recognition would improve their working conditions. Integrating them into the system would also improve the quality of the recyclable plastic waste they collect, providing a better supply for the recycling industry, she added.
Start-ups and apps enter the scene
In the past three years, waste collection apps and digital platforms have stepped up to formalise the position of waste pickers by providing them with real job descriptions and training, giving them uniforms and proper equipment, and allowing them to generate a fair income. Some apps even include medical insurance.
Among them is waste management start-up Waste4Change, which provides services in 10 cities across the country; the E-Recycle app in Jakarta; the Rapel app in Yogyakarta and Central Java; the Kepul app in North Sumatera's Medan; and the Octopus app in eastern Indonesia, Bali and West Java.
Apps like E-Recycle, Rapel and Octopus allow users to exchange recyclable waste for cash or points that can be redeemed as vouchers, or transferred to an e-wallet.

Registered pickers visit users who post their plastic waste and an address on the app.
Octopus rebranded the term pemulungs (scavengers) to pelestari (preservers of the environment)to move away from the negative popular image of the waste picker. Pelestaris are not just professional waste pickers, they are also college students, drivers, or people who have lost their jobs because of Covid.
Rapel picker Joko Sulistiyono, 31, said there are advantages to wearing a Rapel uniform while collecting waste. "It's like I've got a pass. Now I can pick up waste at upscale residences," he said.
The app had made his job easier because he no longer needs to "hunt" around town for waste like he used to. "I just have to take the already sorted waste in agreed locations, saving time and fuel," adding that he now earns at least US$207 per month, unlike before when his income was uncertain.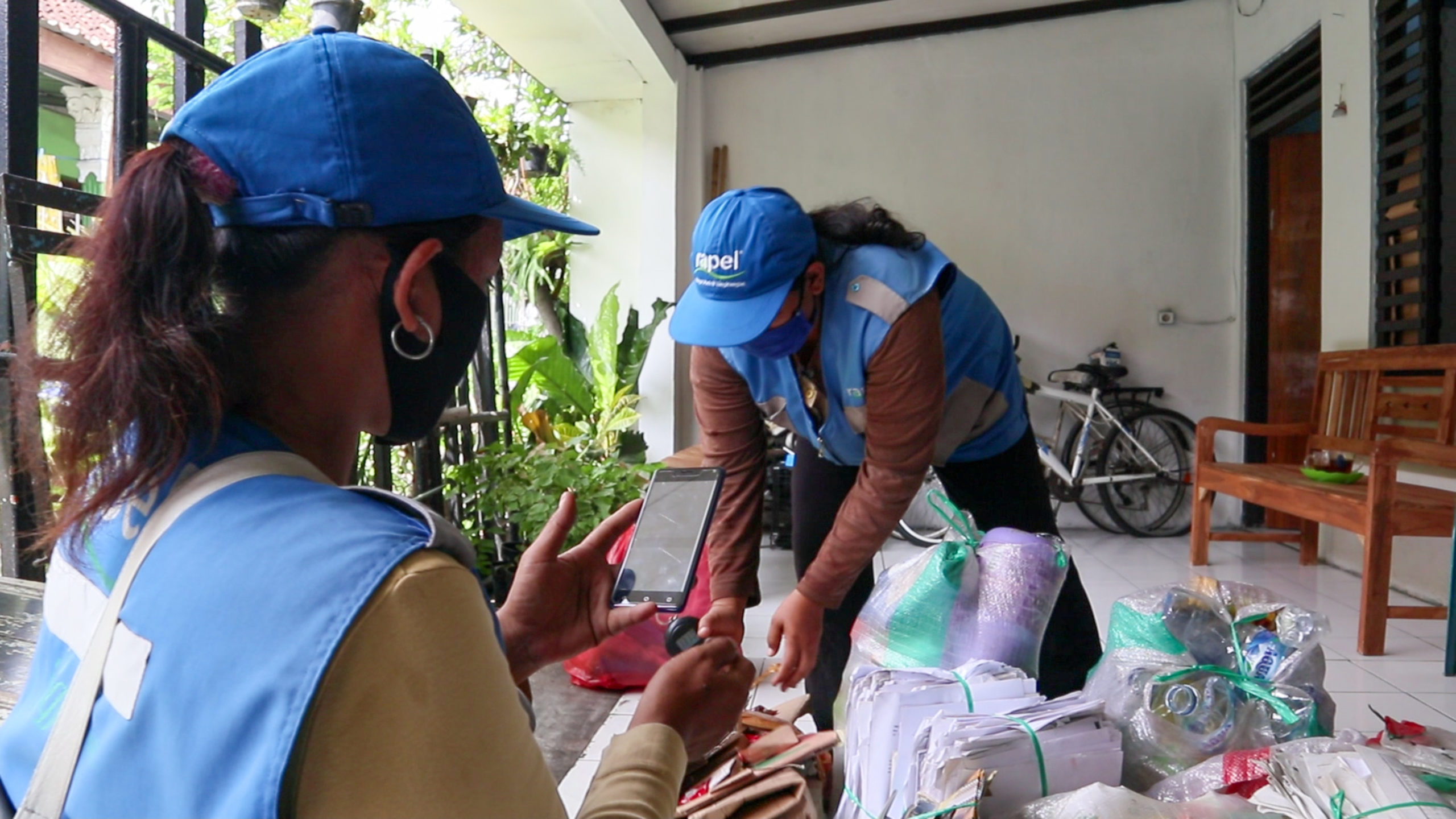 Different apps accept different types of waste. Octopus only takes plastic bottles made of PET (polyethylene terephthalate), while Rapel accepts plastic, paper, metal, electronic and cooking oil waste. E-Recycle and Rapel send collected plastic waste to their recycling facilities and process them into plastic pellets, while Octopus connects its 8,000 waste pickers with 1,600 waste banks and other collection facilities, as well as a nappy recycling facility in Bandung.
Another Jakarta-based app, PlasticPay, does not recruit waste pickers but provides drop boxes at shopping centres and schools in Jakarta and Tangerang for people to hand over their plastic bottles in exchange for credits that can be exchanged for money. The plastic bottles are later recycled into cotton-like fibre.
Residential sources only make up 20% of Indonesia's recycled plastic, but this rate could rise as waste from households is being better separated thanks to these apps.
Sasa Rahmadhani, a university student in Yogyakarta who uses the Rapel app, said she can gather up to 25kg of inorganic waste and then post it on the app for collection. She then shares her activity on her Instagram and TikTok, inviting her friends and followers to join her cause.
Waste collection through apps has proven effective. The Octopus app, co-founded by Hamish Daud, an Indonesian actor, TV personality and ocean advocate with two million followers on Instagram, has been downloaded more than 14,000 times. Over the past six months, more than 300 tonnes of plastic waste have been collected through the app in three regions.
Other apps to reduce plastic waste
Also flourishing is the Siklus app, which offers refills for homecare products – such as shampoo, detergent and cooking oil – to homes in the Greater Jakarta area. When the app was launched in 2019, it offered products at 10-20% below retail price. Siklus attracts middle- to lower-income buyers who used to buy products in small sachets that often pollute the environment, because they could only afford to buy small amounts on a daily basis.
Husaifah, a 55-year-old housewife, said she was happy she could buy liquid soap for US$0.28 at her door. "I can buy in small quantities, but it's better because it comes without the sachet or pouch packaging. And I can reuse my plastic bottle to keep the products. It's simple and easy," she said.
The app gives encouraging messages such as: "You have saved Rp 35,390 and prevented 52 sachets from ending up in the ocean." It also promotes a campaign #isiulangbarengtetangga (#RefillingWithNeighbours), giving discounts for group purchasing.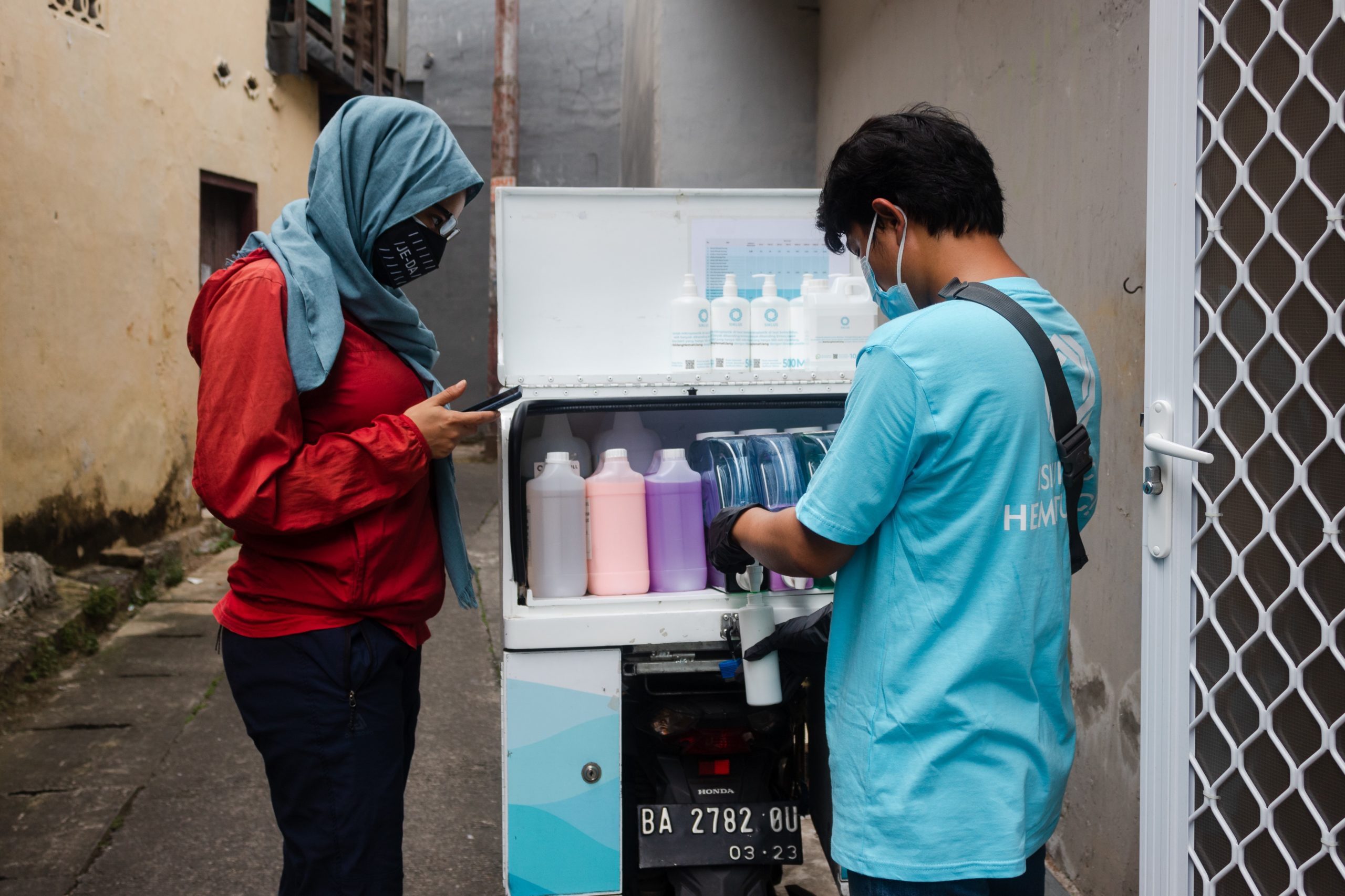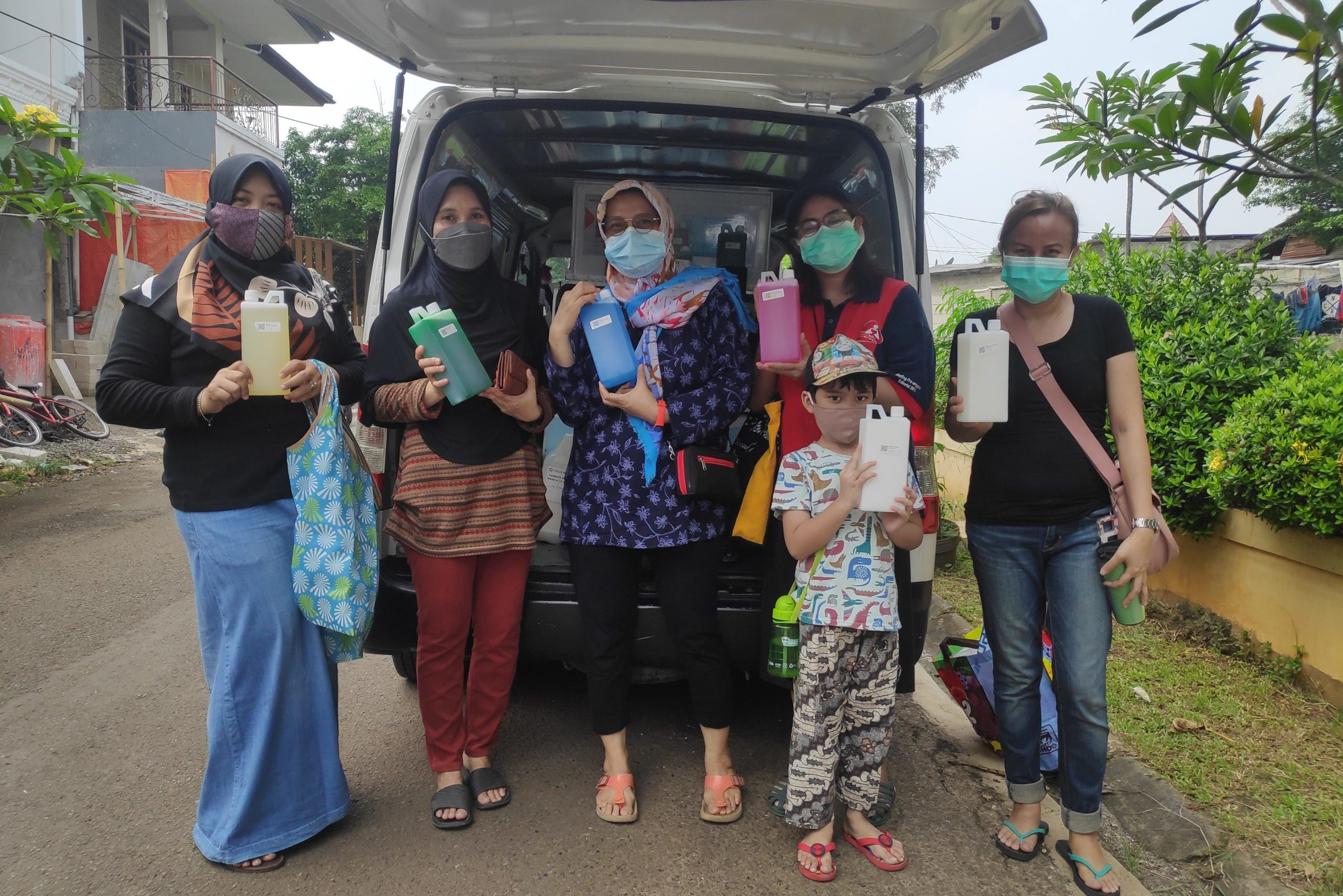 Siklus CEO Jane Von Rabenau said the uptake has been good with 10,000 customers so far. "People have always told me: 'You're never going to change the behaviour, Indonesians don't care.' I really don't think so. We offer lower costs, but I think Indonesians across all classes see the plastic problem. They care about the country. This is why the responses have been good," she said.
Indeed, on the social media page of Siklus, and Octopus, almost every post receives hundreds of comments from people across Indonesia requesting the services to be available in their respective region.
Government support critically needed
While the app-based initiatives are a stepping-stone to better waste management, and improved welfare for waste pickers, support from the government is still sorely needed.
Waste4change CEO Bijaksana Junerosano said partnerships between local governments and private companies were vital to increase capacity in collecting, transporting and processing waste.
"Among the many challenges [for the government] are equipping existing regulations with effective enforcement instruments, establishing standards and certification for all waste management players, and preparing [a] fair and sustainable financing scheme," he said.
Indonesians across all classes see the plastic problem
Jane Von Rabenau, Siklus CEO
Novrizal Tahar, director of solid-waste management at the environment ministry, said the ministry plans to partner up with waste management start-ups and empower waste pickers, among other means, in order to triple the nation's waste collection capacity to 4.29 million tonnes by 2030.
He said formalising the status of waste pickers was a long-term multi-stakeholder task. The ministry had at least officially asked local governments to register waste pickers and recognise them as a part of solid-waste management planning in their respective cities and regencies.
"We have issued regulations such as the Ministerial Regulation No.75/2019, which stipulates that plastic producers must establish a waste reduction road map. This will prompt companies to, for example, discuss and set up safety and other standards in plastic waste management, and recruit and train waste pickers," he said.
The mushrooming app-based initiatives are transforming Indonesia's waste management scene, along with the adoption of the circular economy by some consumer giants recycling their used packaging, said Novrizal. Danone Aqua and Coca-Cola Amatil, for example, launched new recycling plants this year in East Java's Pasuruan and West Java's Bekasi, respectively.
Novrizal said his party was committed to nurturing the circular economy ecosystem, including by pushing the finance ministry to reduce tax on recycled plastic products to 2%, from 10%.
"I think the app-based waste initiatives will dominate waste management in the future, because the people trust them," he said. "Their system allows, for example, regular reports that let consumers know how much of their waste has been recycled. Knowing such a thing also gives a sense of pride," he added.