Officials in Cavite, a commuter town across the bay from the Philippines' congested capital Manila, are planning a new international airport and waterside residential communities along the mangrove-lined coastline that protects the area from high tides and storm surges.
Cavite's plans are part of a package of Manila Bay development projects under President Rodrigo Duterte's signature "Build, Build, Build" infrastructure programme.
Residents in Cavite City and nearby Bacoor who oppose the developments say the government is using the Covid-19 pandemic restrictions on public gatherings to evade accountability and push through decisions.
At least 700 families living in informal fishing communities say their livelihoods, homes and the region's environment will be destroyed by the developments.
Sealed deal
City officials have awarded contracts to a major Chinese construction firm, ignoring calls from experts and environmental and citizen advocates for sustainable development in the vulnerable area.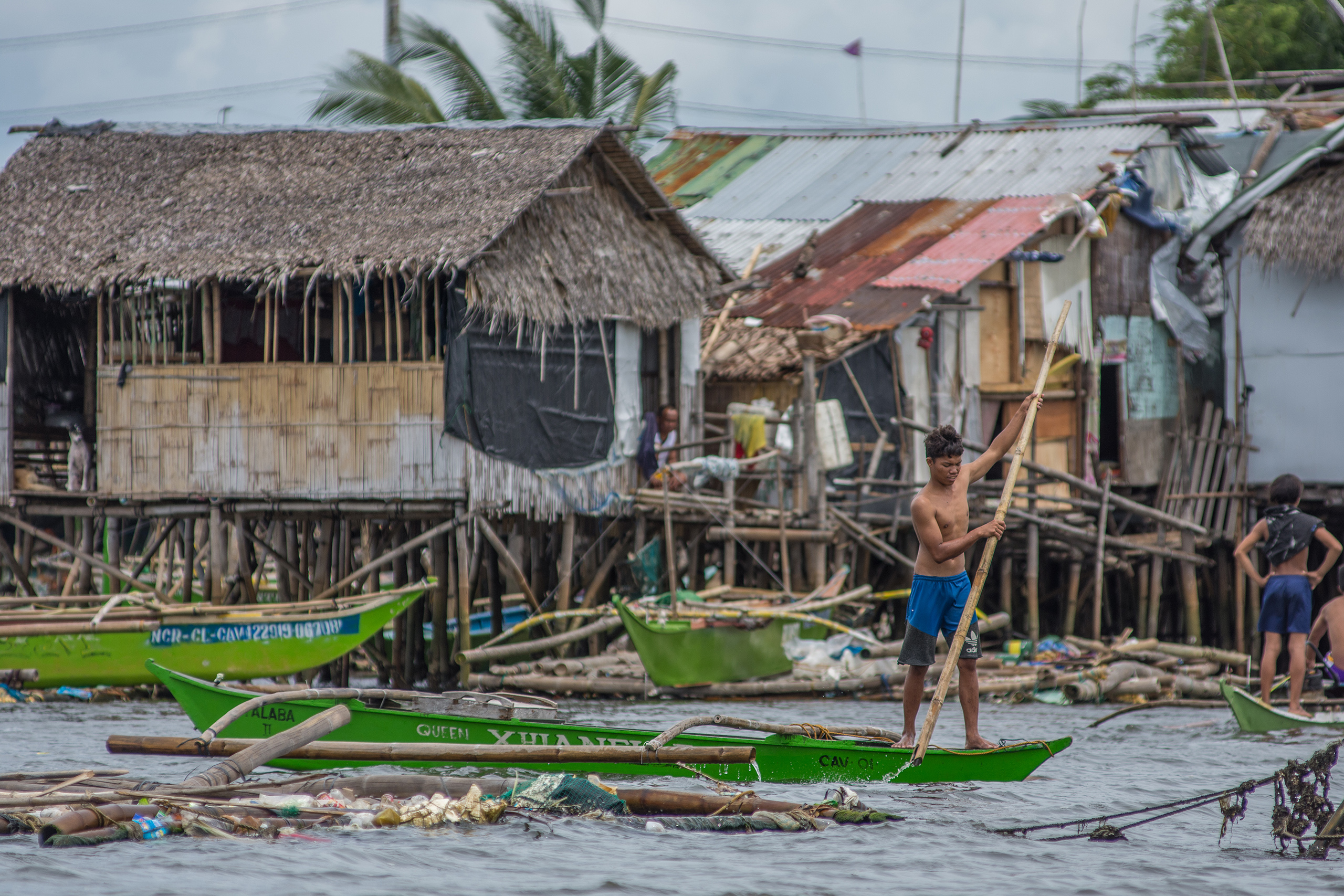 President Duterte has given mixed messages on land reclamation projects in Manila Bay. On 15 February he said he would not approve more private sector reclamation projects due to environmental risks that would "choke Manila". Duterte said firms would have to "wait until the next presidency" in two years' time and their involvement should be closely scrutinised, according to local media reports. Duterte transferred powers to approve land reclamation to his own office in 2019, allegedly to prevent large-scale projects by private firms not on an approved list.
Yet Duterte made those February remarks at the Sangley Point domestic airport during an event to initiate commercial operations as part of the airport expansion programme, attended by Cavite province governor Jonvic Remulla and mayors of its main towns. And the same day, Remulla's office awarded a contract for the first phase of expansion of the existing airport into the much larger Sangley Point International Airport, located at the tip of Cavite City, to a consortium backed by China Communications Construction Co. Ltd. (CCCC). The new airport will require major land reclamation.
On 26 September, the Cavite province government gave the CCCC-backed consortium a 90-day extension to finalise the US$10 billion project.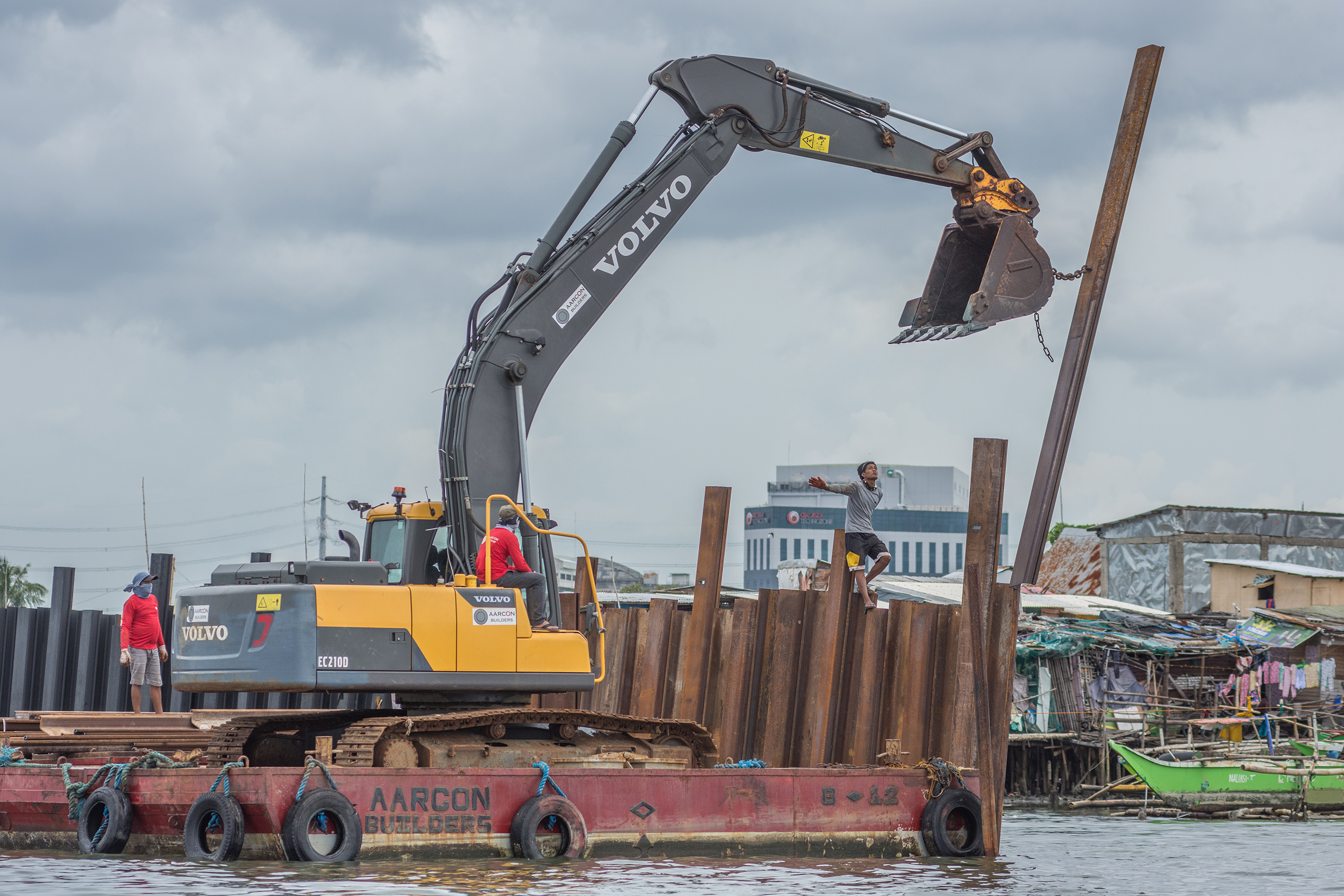 Residents and activists say neighbouring developments on reclaimed land also threaten the area's environment.
Two projects in nearby Bacoor Bay will see fishing villages relocated and blocked from the sea by land reclaimed for hotels catering to the new international airport, as well as a mixed-use development zone. Residents said reclamation has already harmed the area's mangrove forests, killing crabs and mussels that sustain the local fishing industry.
"Even a child knows that when you put a stone in a bucket, the water level will rise," said Shane Bohol, a Bacoor Bay resident. "It's impossible that nothing will happen when you reclaim the sea."
An offshore gambling centre in the city of Kawit that will create a hub for controversial Chinese online casinos has also been given the green light by city officials.
The controversy has not stopped the development. The reclamations in Bacoor, which sits midway between Cavite City and central Manila, were granted an environmental compliance certificate by the Philippines Department of Environment and Natural Resources just weeks after the Sangley Point International contract was announced.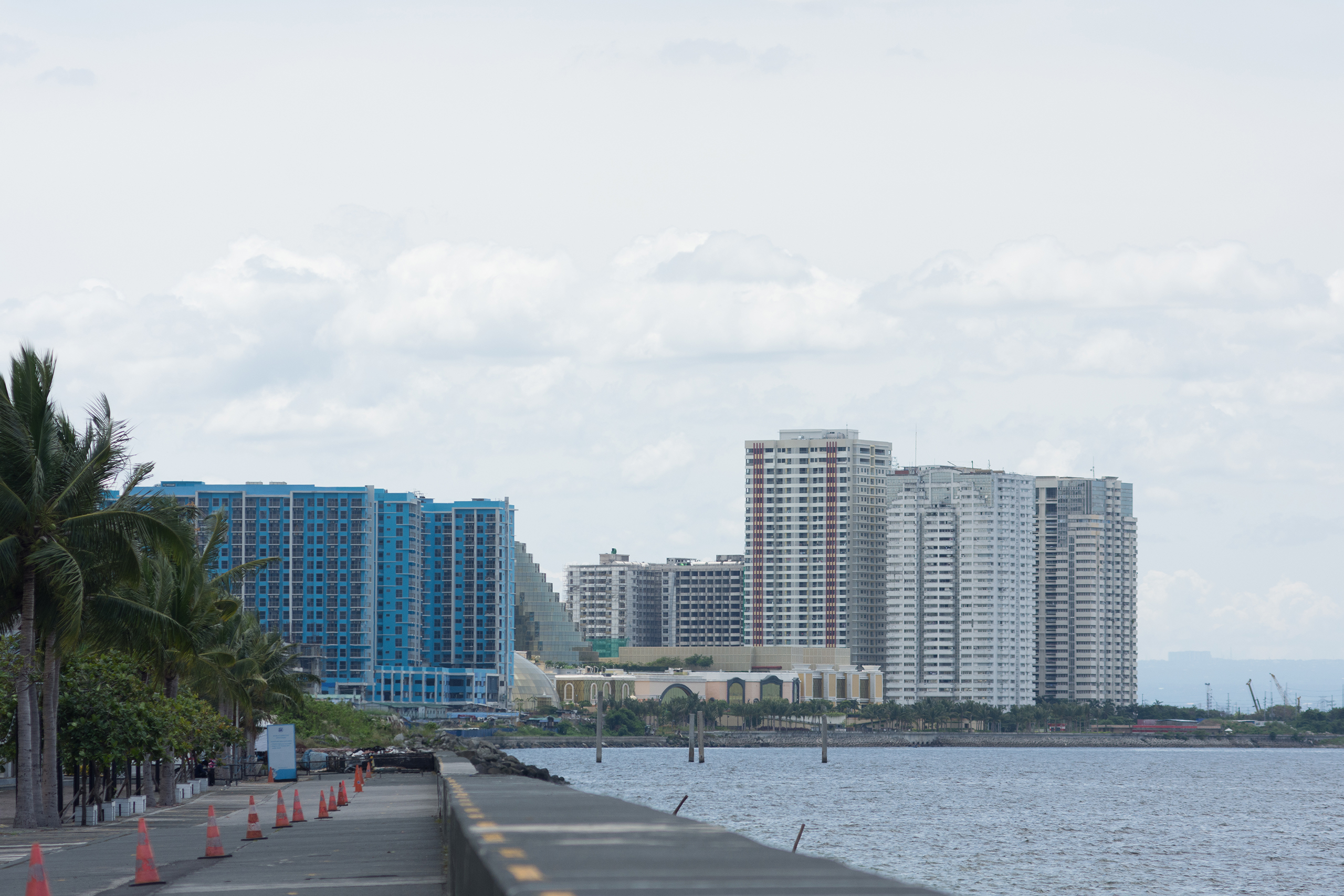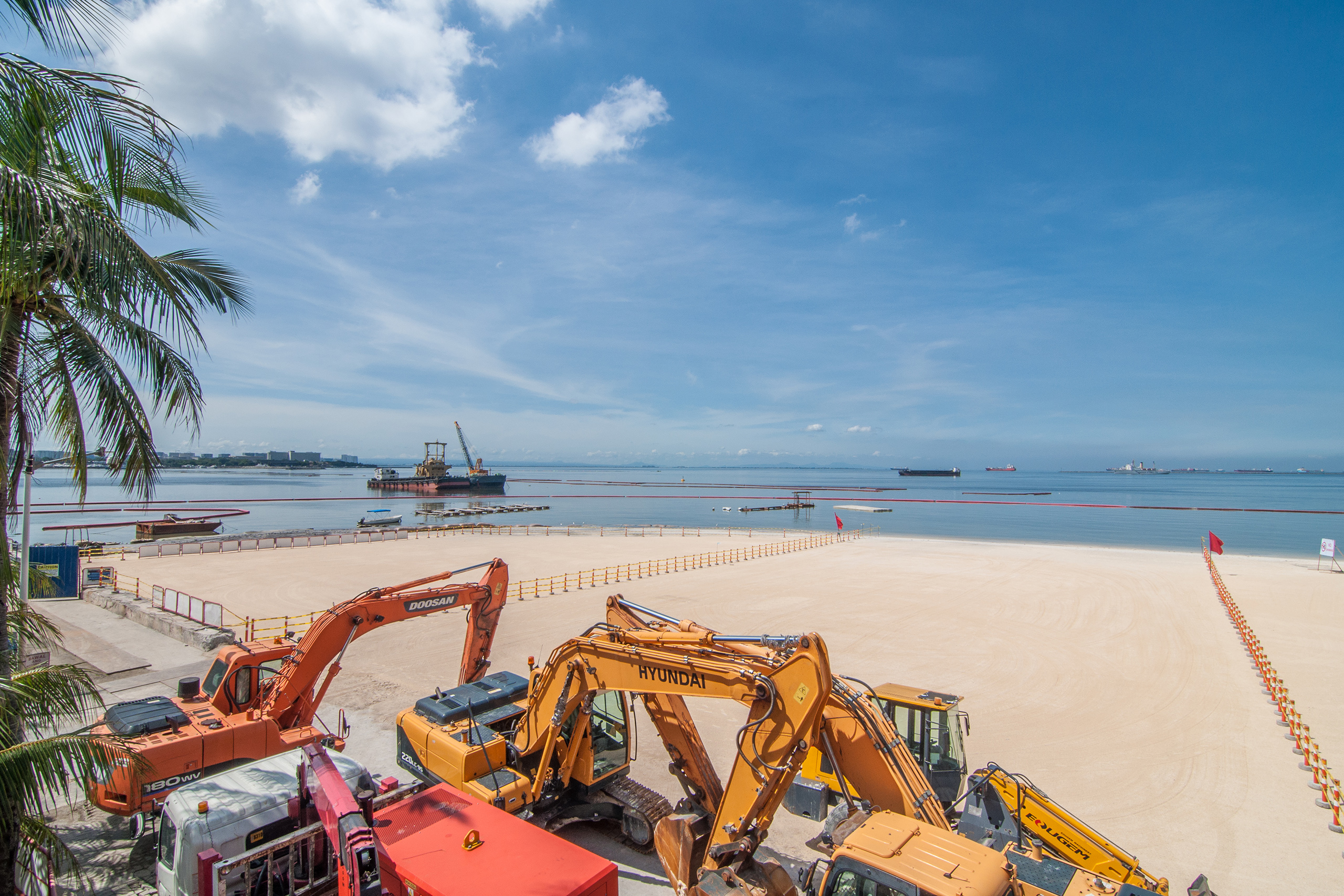 Bacoor residents have fought for years against the developments, which threaten the environmentally crucial mangrove forests and will force them out of their traditional fishing areas. They were furious to learn that the environmental compliance certificate had been granted during the period when public health laws introduced to manage Covid-19 prevented community groups from organising.
"I feel that they're rushing the project so we can no longer complain about it once it's completed," Bohol said. "We're in the midst of a pandemic, but they're still managing to pick up the pace of construction."
Exploiting the pandemic
"We feel that they did that because they know we can't do anything about it," said Myrna Candinato, president of the community organisation Alyansa Magdaragat sa Bacoor.
Duterte's government has prioritised its Build, Build, Build programme during the pandemic despite growing civic opposition. Critics have been silenced by the new anti-terror law, which allows the government to decide who is a terrorist.
"If you say something, you can be arrested without a warrant and sent to prison," said Candinato.
Community members in Bacoor said the police were patrolling early in the morning to monitor community leaders opposed to the reclamation project.
The Anti-Terrorism Act, signed by Duterte on 20 July, contains a sweeping definition of terrorism that could cover many forms of protest and unrest, including "damage to public property" and interference with critical infrastructure "where the purpose is to intimidate the government," US public radio station NPR reported. It has provoked widespread concern and condemnation from Filipino groups and the Catholic Church.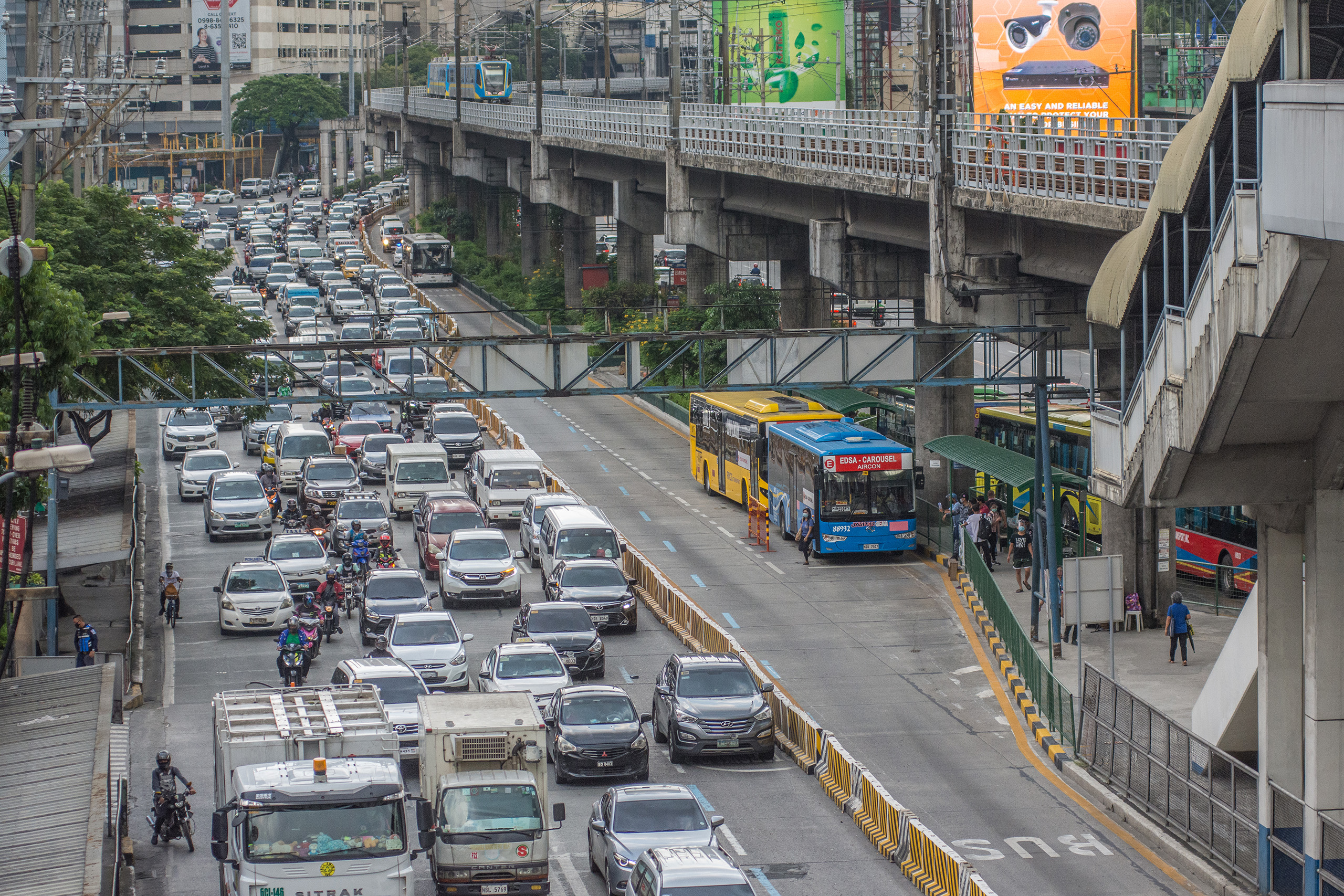 Risky financing
Chinese investments in the Philippines have also featured shadowy financing agreements reliant on loans the country may struggle to repay. Financing agreements are generally not made public, but two major China-backed projects – a pump irrigation project and the Kaliwa dam – are subject to agreements that could see Chinese companies take control of the projects should the government fail to repay its loans.
The Philippine Inquirer reported earlier this year that the project was listed in a 2018 bilateral agreement on China's global infrastructure network, the Belt and Road Initiative, signed in Manila. Documents reviewed by the Inquirer also revealed that Chinese banks and enterprises could fund up to 98% of the project.
Remulla, the Cavite provincial governor, has played down concerns about Chinese firms taking control of the airport, saying the city government has put "step-in rights" into the contracts if the airport fails financially.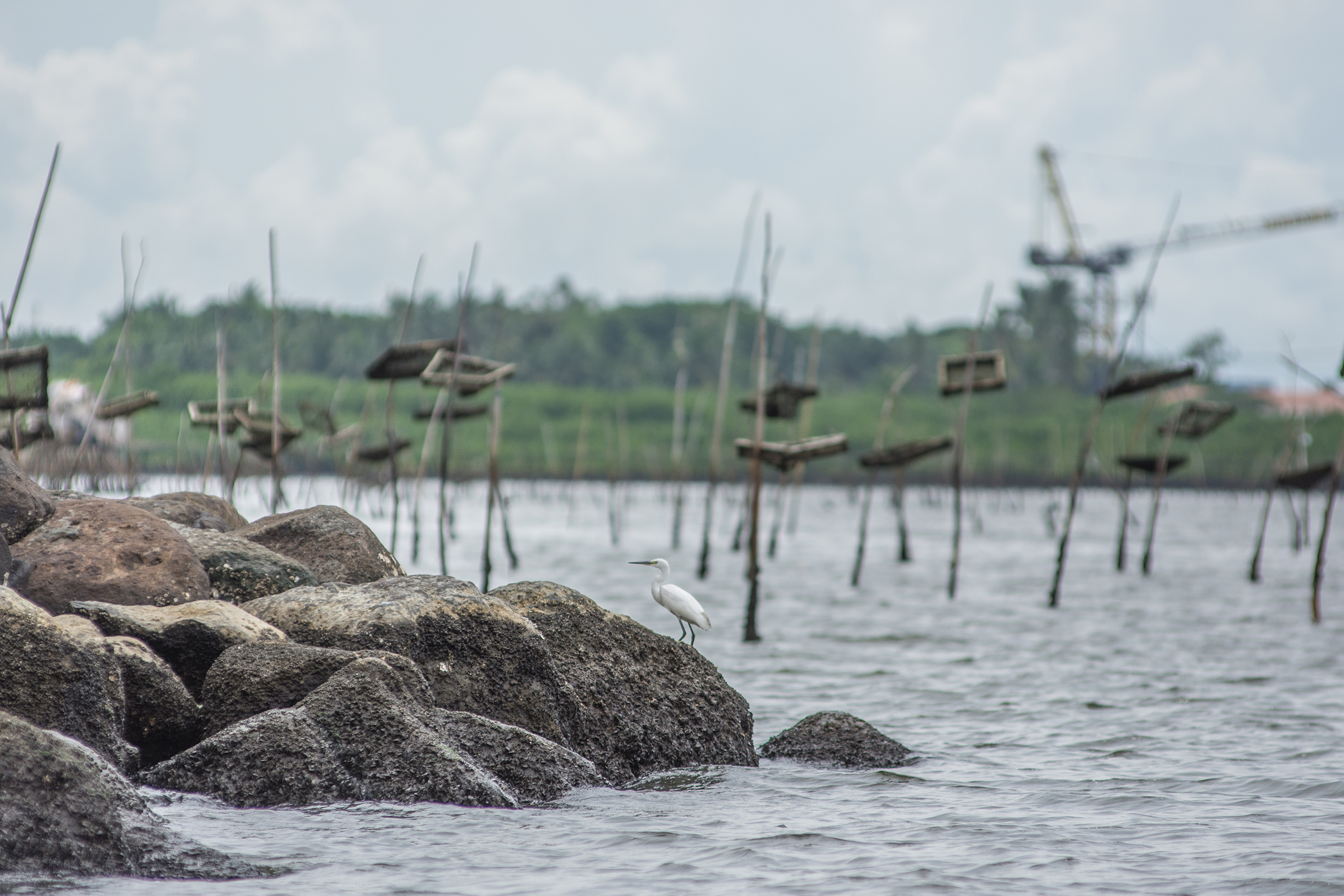 The Cavite expressway, completed in 2011, runs along the coastline on land that was reclaimed despite promises made to the community that it would be built as a viaduct to preserve access to fishing areas. Bacoor's 420-hectare mixed-use development project would see a further 320 hectares of land reclaimed beyond the expressway.
Pamalakaya, an organisation of activist Filipino fisherfolk, has lodged several complaints against the Bacoor and Sangley Point projects, saying community members were excluded from consultations. Houses are already being marked for demolition even though the occupants have not agreed to relocate, said Jam Pinpin, deputy secretary-general of Pamalakaya.
"We don't have high hopes that our legal actions and our lobbying with this government will have significant results," he said.
In April 2017, a fire ripped through fishing communities near the Bacoor proposed reclamation site and residents were offered compensation if they agreed to relocate. Many residents told China Dialogue they suspected arson, noting that mysterious blazes had decimated neighbourhoods in Manila slated for development after residents refused to leave. "The cheapest yet most effective way of wiping out an entire community," Pinpin said, is to "set the shanties and houses on fire". Authorities have not determined the cause of the blaze.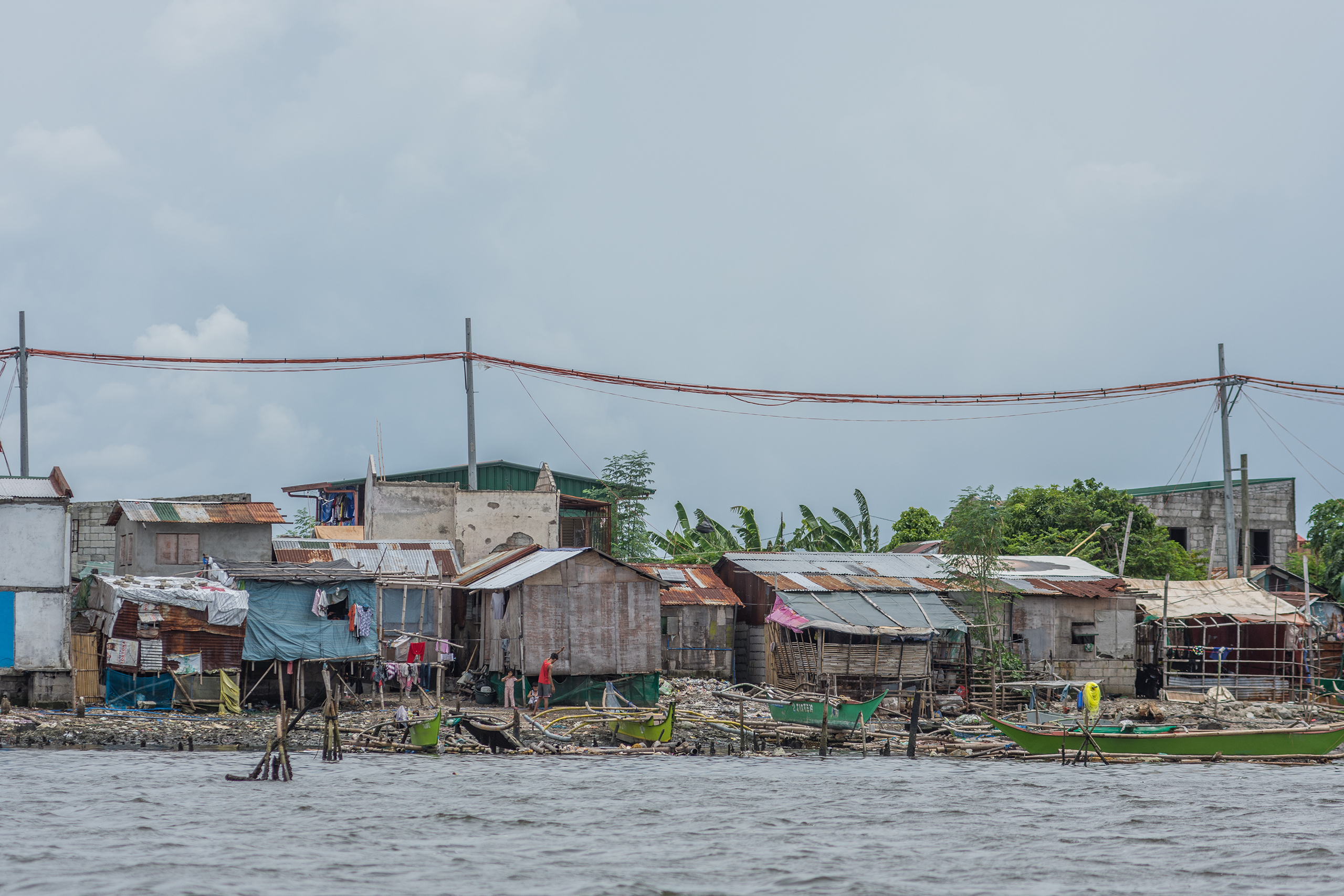 Bacoor Bay was once a centre of oyster and mussel fishing, a place where coastal residents have drawn their livelihood from the sea for decades. But recent developments, including the new expressway, have forced them to go further from home to fish.
Bohol, whose husband is a fisher, said the average catch has decreased drastically since the expressway was constructed. "Before [it] was built, fishers here would bring home boatloads of crabs – around 30, 50, 70 kilograms," she said. Nowadays, "more likely than not you'll just end up with five kilos."
Although city officials have insisted the project would not affect nearby mangrove forests, residents are worried that further development will wreak havoc on the bay's remaining marine life, which rely on mangrove areas as breeding grounds.
The expressway and other past developments have already harmed the forests. "There used to be more mangroves here, Bohol said, gesturing toward the shore. "Those mangroves would have been bigger by now… but the water's turned green now."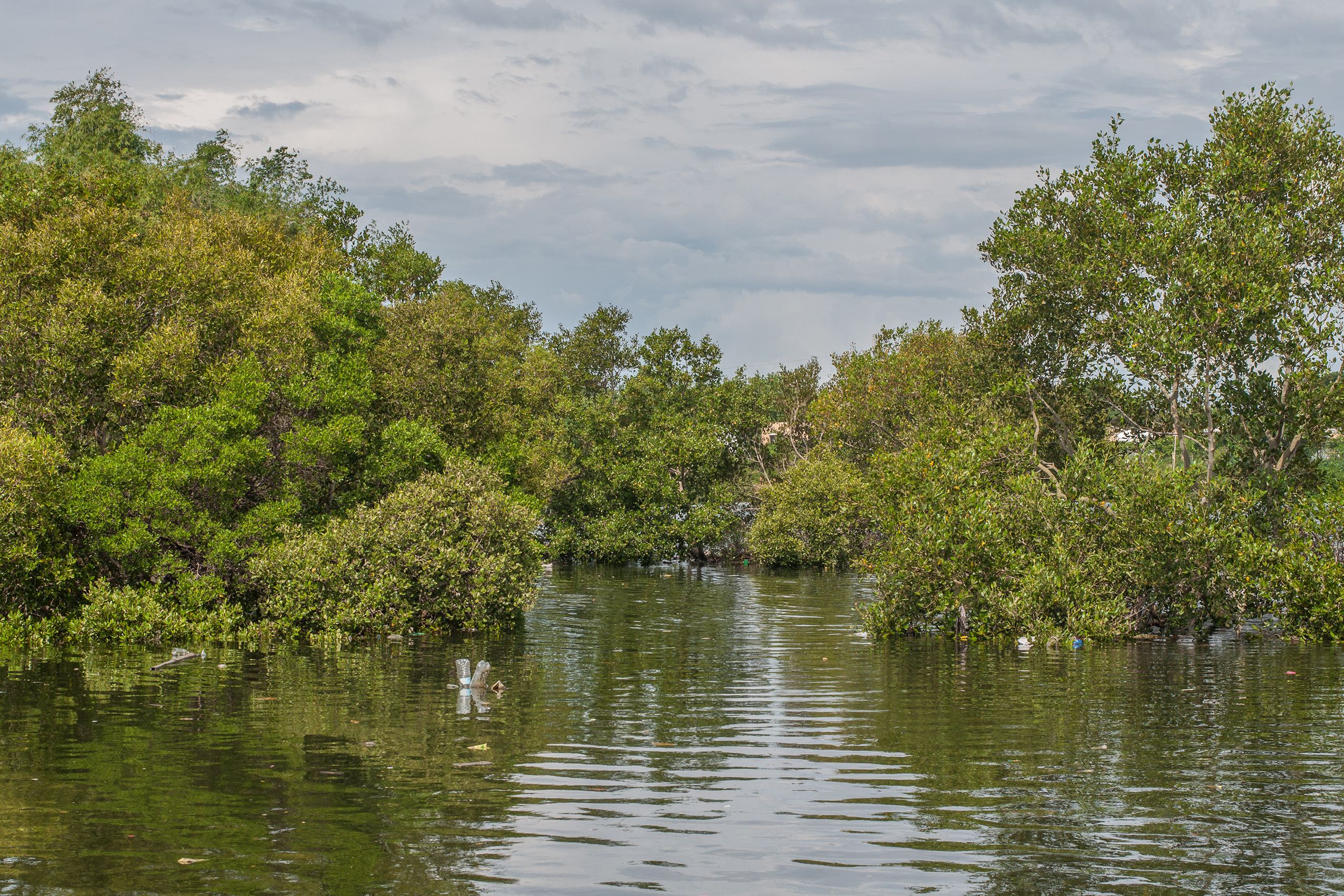 Pinpin said residents are also worried that reclamation will worsen flooding, especially as sea levels rise. "The environment is connected to their livelihood," he said.
Threatened and excluded
The government has responded by cracking down on groups like Pamalakaya, which has been accused of being a front for communist rebel groups – a label the state has given without evidence to several environmental NGOs and activist groups. Randall Echanis, an environmental activist who was formerly a consultant for Pamalakaya, was stabbed to death in Manila in August.
Echanis, like other Pamalakaya members, had been included on a government list of alleged terrorists. Progressive groups have accused the state of being complicit in his death while his widow criticised the slow response of police, who initially said Echanis may not have been the main target and removed his body from a funeral parlour against her wishes. The groups believe the police may have done this so they could do their own autopsy, preventing an independent one and concealing their involvement.
Fishing communities know their home is set to change forever; gleaming waterfront casinos and condominiums will overlook the bay, and flights from around the world will land in Sangley Point. But the plan doesn't allow for those residents to be a part of it. They are being offered around US$400 to relocate to a site miles from the sea, disconnecting families who have fished for generations from their livelihoods.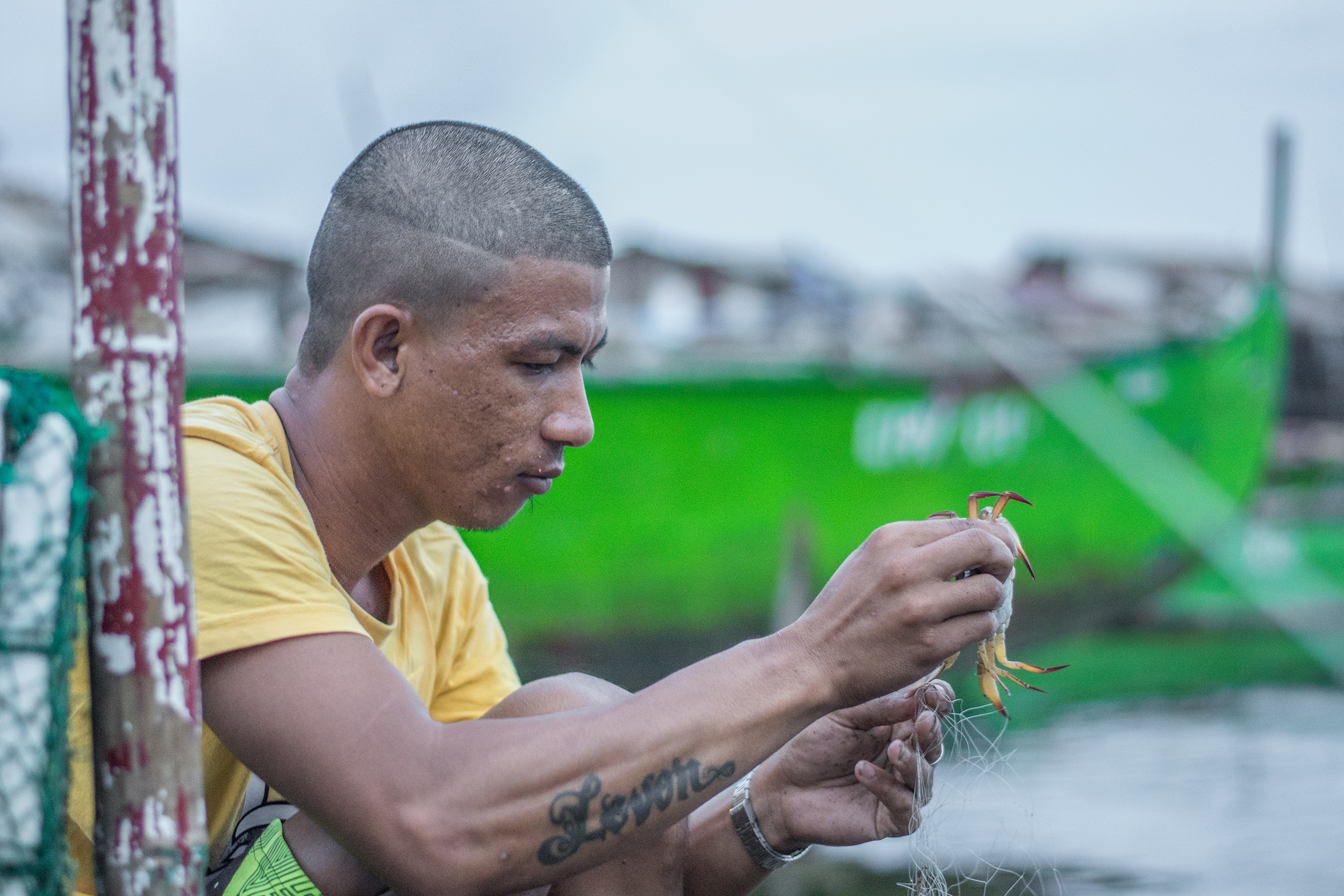 "We're not like flies you can just shoo away," Candinato said. "If we can make arrangements, then that would be great. Just don't take our livelihood away from us."
"We're barely receiving any assistance from the government," she said. "We're among the poorest, we strive daily to get by, and yet you would still treat us like this?"